TURN 14 DISTRIBUTION PARTNERS WITH EVASIVE MOTORSPORTS FOR 2020 PIKES PEAK INTERNATIONAL HILL CLIMB
Text by Turn 14 Distribution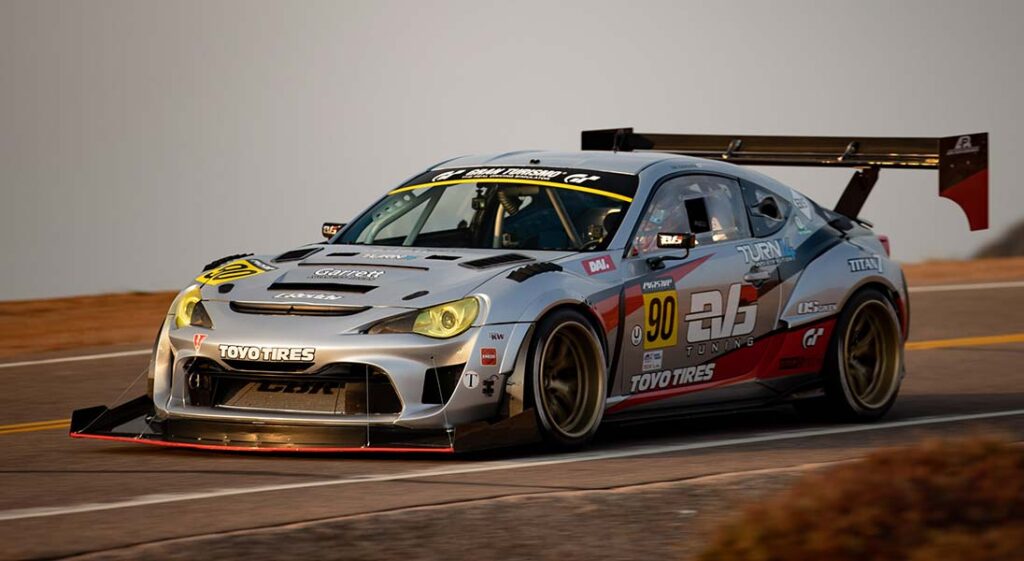 Horsham, PA (August 27, 2020) — Turn 14 Distribution, the industry leader in performance parts distribution, has again partnered with Evasive Motorsports for the 98th running of The Broadmoor Pikes Peak International Hill Climb (PPIHC) presented by Gran Turismo on August 30, 2020. The Evasive Motorsports x Turn 14 Distribution 2013 Toyota 86 is being piloted by Turn 14 Distribution-sponsored athlete and 2011 Formula Drift Champion, Dai Yoshihara, marking Dai's second time competing in the race, after his rookie attempt in 2019.
"Turn 14 Distribution is pleased to extend its five-year partnership with Evasive Motorsports and our Formula Drift driver Dai Yoshihara as they make another attempt at conquering the infamous Pikes Peak hill climb this weekend," said Daryl Sampson, Turn 14 Distribution's Director of Marketing.
A Toyota 2JZ engine powers the 2013 Toyota 86 with a 3.4-liter stroker kit outfitted with a new Garrett G42-1200 turbocharger to provide improved power, producing approximately 700 whp at 20 psi of boost. Utilizing this new turbocharger removes air restriction and alleviates the overheating issues that Dai experienced during 2019's race. Further upgrades over last year's spec include Titan7 T-S5 forged two-piece prototype wheels in a non-staggered setup, Toyo Tires Pikes Peak special compound slicks, a new Artisan Spirits Japan Aero Wide Body Kit, and EVS Tuning in-house 3D-printed air ducts for increased airflow to keep engine bay temperatures down.
The Broadmoor Pikes Peak International Hill Climb, presented by Gran Turismo, also known as The Race to the Clouds, is an invitational automobile hill climb to the summit of Pikes Peak – America's Mountain in Colorado, USA held on the last Sunday of August. The PPIHC's automobile categories feature a wide variety of vehicles representing multiple forms of motorsport; everything from production-based Time Attack challengers to purpose-built Open Wheel racers and state-of-the-art Unlimited vehicles take on America's Mountain pursuing victory.

About Turn 14 Distribution, Inc.
Turn 14 Distribution is an award-winning national warehouse distributor, which sells vehicle parts and accessories into the automotive aftermarket exclusively through the business-to-business channel. With distribution centers in Pennsylvania, Texas, and Nevada, the company boasts ground shipping coverage to 43% of the U.S. population in one day and 100% within two days. Turn 14 Distribution leverages proprietary technology and innovative logistics solutions to drive growth, while simultaneously developing robust, symbiotic relationships up and down the supply chain to accelerate that growth. Turn 14 Distribution is privately owned and operated.