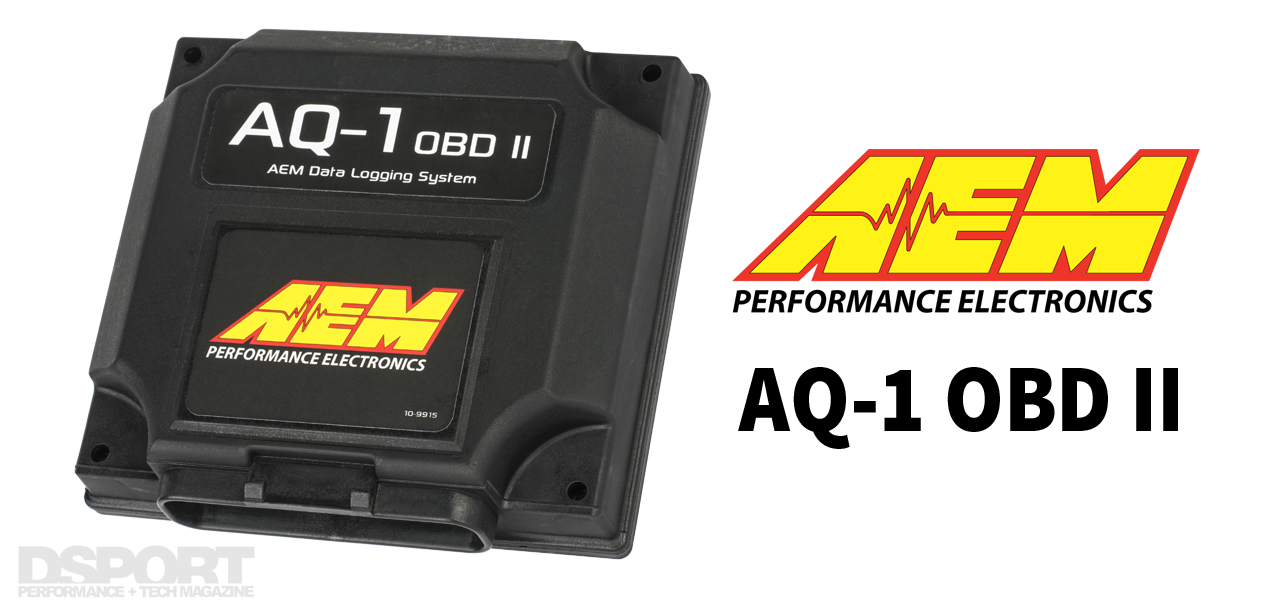 What's the point in upgrading your car if you don't know how to drive it? There are countless options in improving your performance on track, yet improving the driver is one of the most commonly overlooked. It can be a tough task, as it requires you to set your ego aside and learn how to do something you may think you're already good at. It doesn't sound as sexy as a bigger turbo or a shiny new set of coilovers, but once driving techniques start to click in your mind and become second nature, you'll discover an entirely new element of fun on the race track. Only at this point will you experience the full benefits of your car's performance and any upgrades you've made to it.
Text by Cameron Parsons // Photos by Joe Singleton
DSPORT Issue #182
---

Track Duty
Before heading to the track, the BRZ took to a few upgrades to improve its handling and durability. With power modifications set aside for later, Gianni could focus more on his car control techniques, using the new hardware to his advantage in carrying more momentum through the corners.
---
Cooling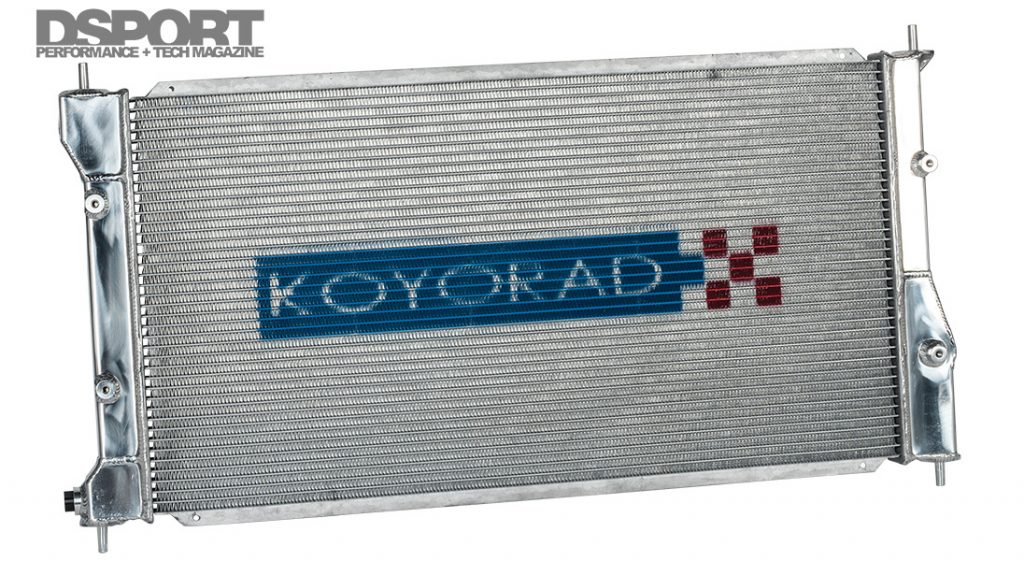 The stresses of extended driving sessions on the likes of Buttonwillow Raceway Park, Willow Springs International Raceway, Auto Club Speedway and Chuckwalla Valley Raceway call for improvements in cooling. Gianni had already equipped the BRZ with an aftermarket oil cooler, so he proceeded to install a Koyorad aluminum racing radiator to take the place of the factory equipment. The 36mm core enables greater heat transfer for better cooling, while still managing to snugly fit as if it were an OE part.
---
Coilover Suspension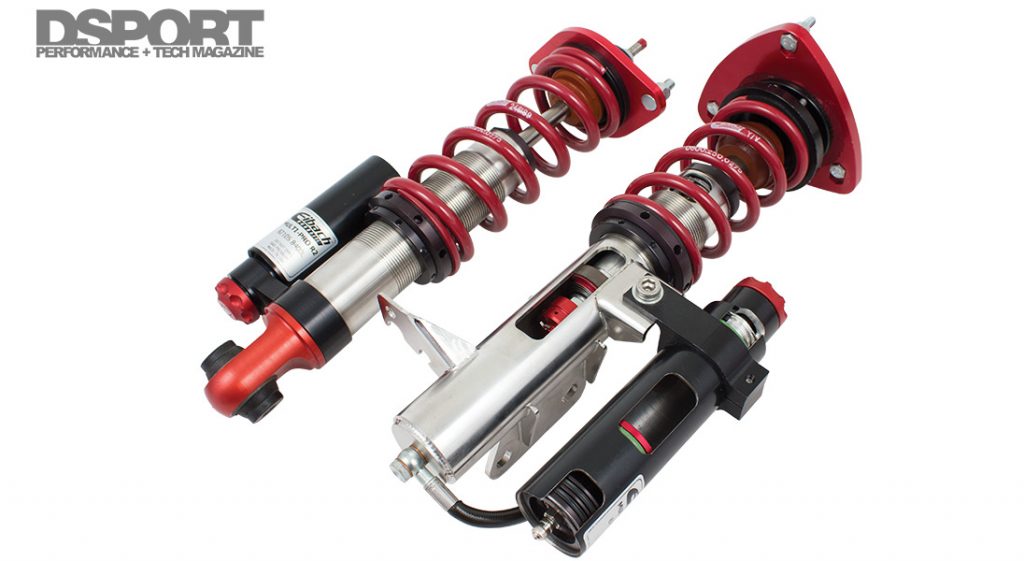 The BRZ's low center of gravity at 18.1 inches and minimal roll angle of 2.3 degrees calls for a more aggressive setup to extract the chassis' full potential. This led to the Eibach Multi-Pro-R2 Street Coilover Kit, enabling both height and two-way damper adjustability. The coilovers feature a monotube design and enough rebound and compression damping options for them to function appropriately for daily drivers and club racers alike. A performance alignment with mild front toe-out and an aggressive 2.7 degrees of negative camber all around finalize the BRZ's suspension setup for the track.
---
Sway Bars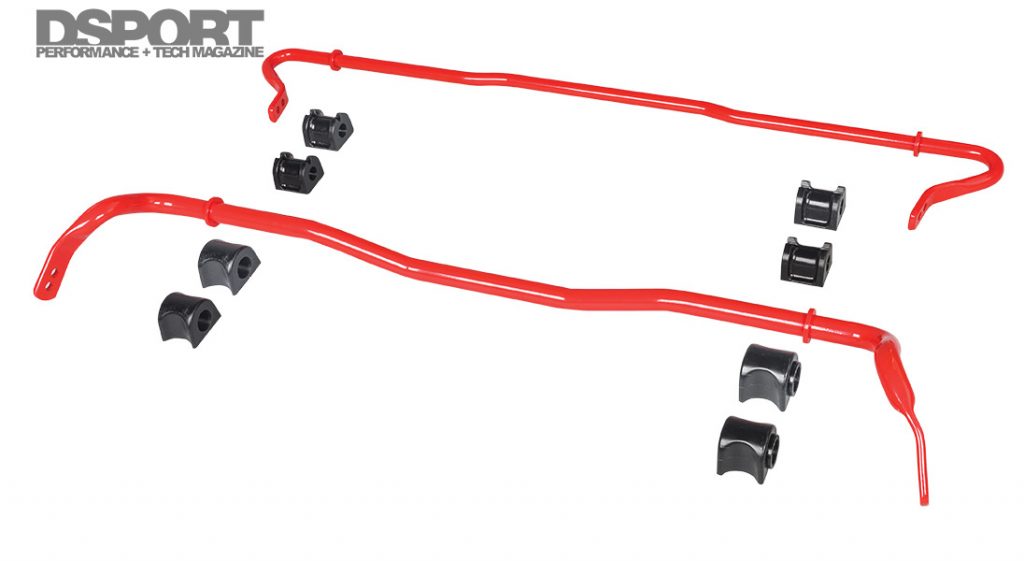 Eibach's Anti-Roll Kit for the BRZ offers increased stiffness to reduce body roll, while improving responsiveness and overall grip. Both bars are adjustable with two positions, the front 25mm bar delivering either a 167-percent or 248-percent increase in stiffness, while the rear 19mm bar offers either a 92-percent or 153-percent increase in stiffness. In an effort to improve turn-in responsiveness and allow a neutral-oversteer handling characteristic, Gianni set the front bar to the softer option and the rear bar to the stiffer setting.
---
Brake Rotors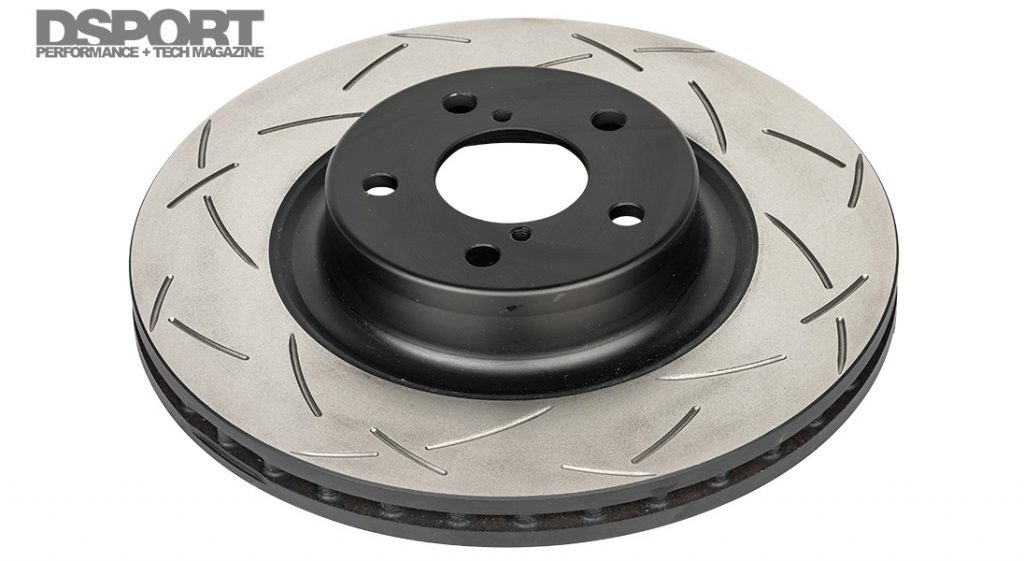 To exaggerate the benefits of the new brake hardware further, DBA 5000 Series T3 two-piece vented and slotted rotors replace the BRZ's original discs. The T3 rotors employ a unique "Kangaroo Paw" ventilation design and X6150 high carbon alloyed iron to improve its heat-handling characteristics.
---
Brake Pads, Fluid and Lines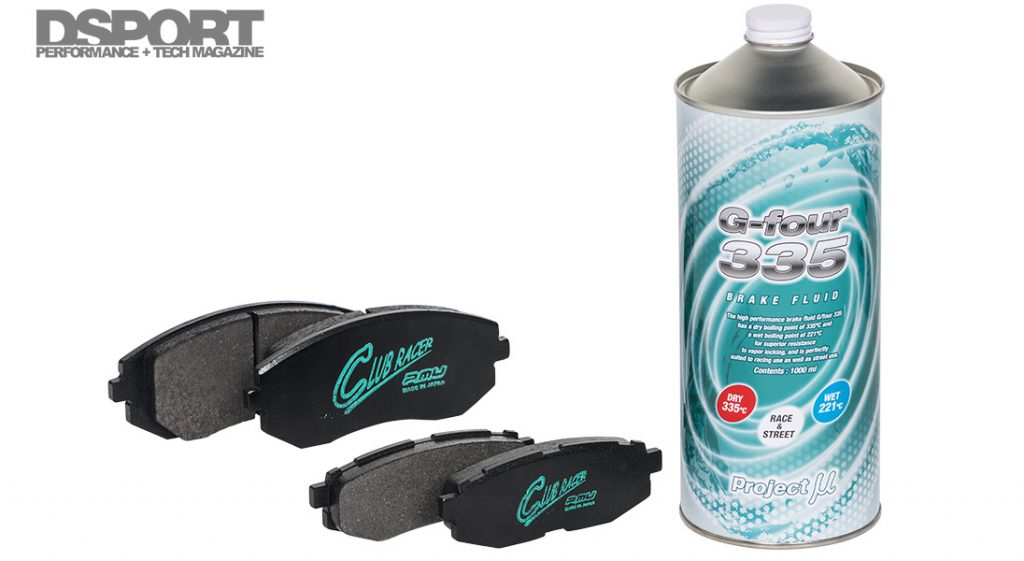 Project Mu's G-four 335 brake fluid fills the brake system, allowing for operating temperatures up to nearly 300 degrees Celsius (572 degrees Fahrenheit). The Project Mu Club Racer C09 brake pads clamp down on the rotors, offering a friction coefficient in the range of 0.42 and 0.55μ at 300 degrees to 800 degrees Celsius. The pads ensure that the brakes deliver a strong bite with minimal fade over the course of a session on track. With quality pads comes improved pedal feel and control, especially with the help of steel-braided brake lines at each corner.
---
Wheels and Tires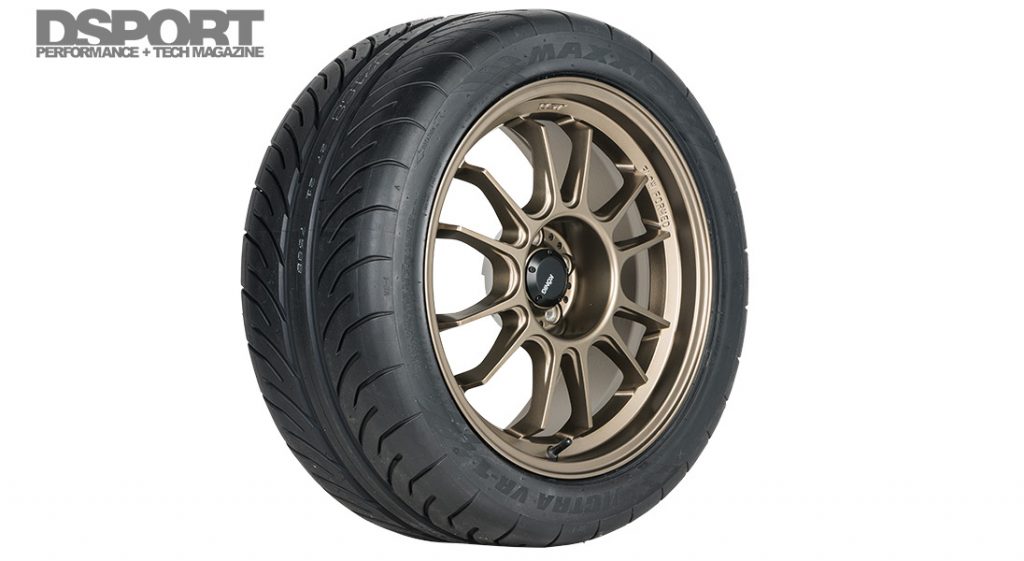 Four Race Bronze 17×9-inch Konig Hypergram wheels with +40 offset mount to the hubs on ARP extended wheel studs. The 12-spoke, flow formed wheels are designed for low weight and strong construction, with the ability to clear upgraded braking systems. The wider wheels allow for a set of much fatter 255/40R17 Maxxis Victra VR-1 tires. These UHP tires feature a compound designed to reach operating temperature quickly, while enduring through many heat cycles with minimal drop-off. With a UTQG 200 treadwear rating, they also meet the minimum treadwear requirements for many time attack and autocross classes.
---
When it comes to driver development, nothing replaces the effectiveness and level of detail that data loggers can provide. To prove the benefits of learning through data analysis, we took Club DSPORT intern Gianni Jeong to Buttonwillow Raceway Park. Here, he lapped his 2013 Subaru BRZ while the AEM AQ-1 OBDII Data Logger recorded his every move, giving us the information necessary to fine tune his driving technique.

The AEMdata Logging Analysis Software lets users view sensor parameters alongside video, a track map, and other custom measurement windows.
The Right Tools
You can't develop your driving skills without some extra help. This comes in the form of coaching, onboard cameras, predictive lap timers, and data loggers. Each of these brings its own share of benefits to the table, but data loggers offer the most detail of the driver's inputs and the car's response to them. For our track test at Buttonwillow Raceway with Gianni behind the wheel, we equipped AEM's new AQ-1 OBDII logger to track all of the car and driver input information. This data logger offers plenty of features for drivers of various skill levels to connect the hardware, drive laps, import their video into the analysis software to create overlays, and analyze all the data they need in order to trim lap times.
Although the AQ-1 OBDII logger includes the ability to monitor all kinds of custom-wired sensors (12 additional inputs), it can also pull CAN data from the OBD port on 2008-and-newer cars. We elected to use just the OBDII connector and GPS sensor in conjunction with the unit's on-board accelerometer. In this configuration, the AQ-1 uses its built-in 3-axis accelerometer to provide longitudinal and latitudinal forces, the GPS sensor measures speeds and driving lines, and the OBDII connector provides vehicle-specific information like throttle position, RPM, various pressures and temperatures, and other engine data that can be used for diagnostics. The AQ-1 OBDII also has the ability to read and clear trouble codes should a problem rear itself. Data from these parameters alone do wonders in picking out any driver's weak spots and showing how they can improve. We set out to lay down some laps, log data, and review the information in order to go even quicker.
AQ-1 OBDII Data Logger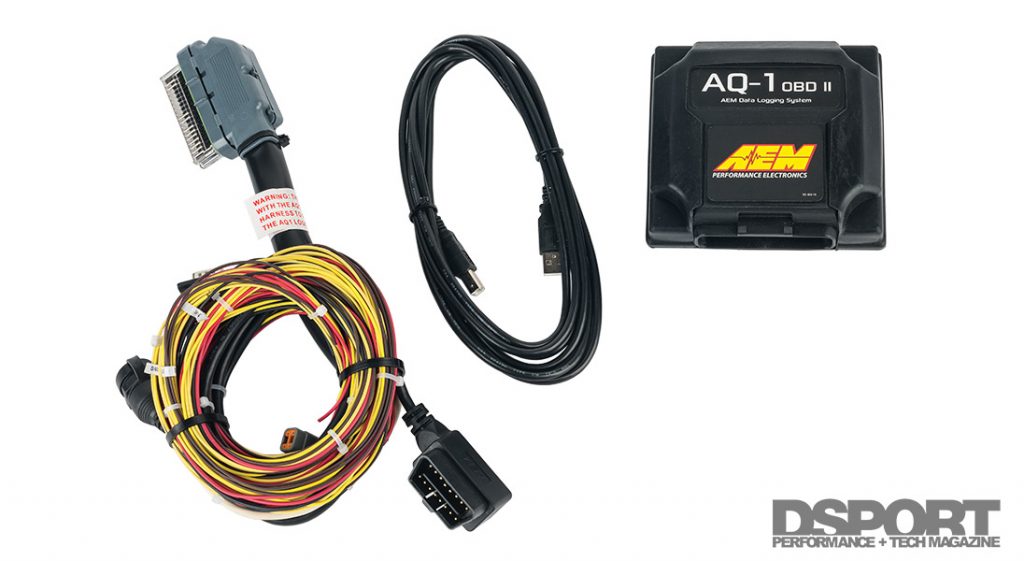 The AQ-1 OBDII logger's strengths lie in its flexibility for providing all kinds of data. With its built-in 3-axis accelerometer and option for 12 custom inputs, you'll find great expandability. Or if you want to keep wiring simple and rely just on OBDII, the harness provides that option as well. The standard AQ-1 with harness can be had for under $700.00, while the AQ-1 OBDII logger with harness like we used is under $750.00.
Beginning Basics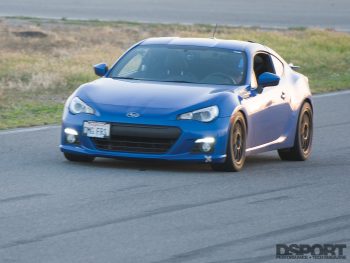 This was only Gianni's fifth ever track day, so we expected to have plenty of time to gain. We started with a couple slow pace laps during which we reviewed the driving line, braking zones, apexes and other driving markers. I then jumped in the driver's seat to wring out the car on track to collect some reference data. With this information, we'd have a better idea of the car's capabilities in braking, cornering and rolling speeds through the turns. Next, it was time for Gianni to take the wheel and see what lap times he could manage. He quickly familiarized himself with the track and picked up the pace. By the time the session was over, he achieved a 2:23.0 best lap time.
The data made it clear that braking was the first driving element to address. His longitudinal forces under braking maxed out at approximately 0.7 g, while deceleration time was excessively long and overslowing for the corners. According to the reference data, nearly half of a g more deceleration force was available in the car's brakes and tires. While more aggressive braking alone does little to improve lap times, getting comfortable with maximizing braking force enables more time on the throttle in the straightaways and a more natural tendency to trail-brake into corners.
The data also made it clear that some of Gianni's speeds through medium and high-speed bends were lacking. For example, his speed through Buttonwillow's "Bus Stop" set of corners was down to approximately 75 MPH, when the car is capable of handling it at 90 MPH. Over the course of just 640 feet in the first half of this area, that makes for a difference .97 seconds in only one turn. In longer, faster turns like "Riverside," his speed averaged at 80 MPH while the reference shows that 90 MPH is within reach. This adds up to 0.95 seconds of potential time lost. With his mind set on more aggressive braking and higher cornering speeds, Gianni took to the track again, in hopes of bringing his lap times down below 2:20.0 by the end of the day.

Fine Tuning
In his second session on track, Gianni bested his time of 2:23.0 with a 2:22.0. Some of the same habits of too little brake pressure and too slow of cornering speeds hung around, but still showed improvement. Deceleration forces climbed up to 0.8 and 0.9 g in multiple corners, while mid-corner speeds neared closer to the reference lap speeds. As his technique showed progress, we discovered other areas of potential in the data.
This time, we focused on the throttle position graph, where we spotted two major points of concern. First, Gianni's throttle inputs were very erratic in some corners. When matched alongside the longitudinal acceleration graph, there were multiple instances where sudden lifts and presses off and on the throttle caused the car to rock forward and back. This caused unwanted weight transfer, making the car's front and rear grip balance unpredictable. The other area of concern in the data showed a long delay from the time he lifted off the throttle to when he applied the brakes before a corner. The initial lift off the throttle showed a small weight transfer to the front end, and then the delayed application of the brakes caused a second, larger weight transfer onto the front tires. By lessening the time between the throttle to the brake pedal, we'd find a smoother transition of weight to the front end that essentially leads to better braking performance.
Decrypting Data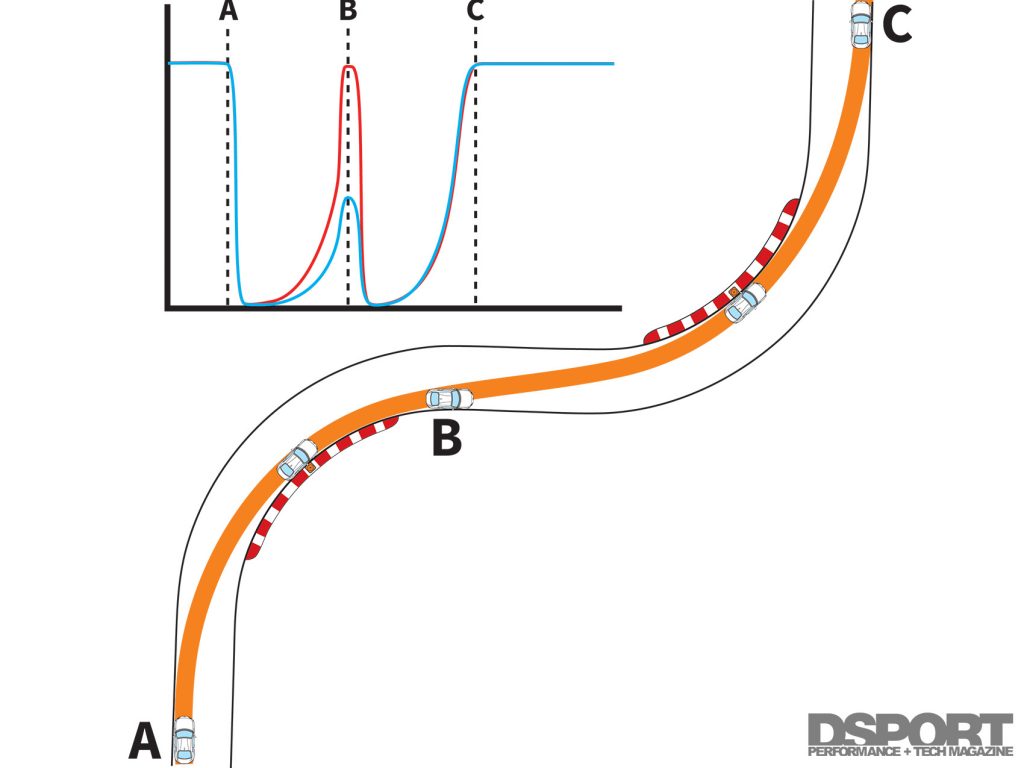 We noticed that Gianni struggled with understeer when entering some corners. In Buttonwillow's right-left-right "Cotton Corners," this was the result of lack of weight transfer to the front wheels. His throttle trace (blue) showed that between the right and left turns (section B), he used little to no throttle. Yet according to our reference throttle graph (red), there was an opportunity to use full throttle for just a short moment. This extra bit of throttle not only shaved a few tenths of a second by adding a bit of speed, the lift back off of the throttle assisted in weight transfer to the front wheels. This added grip back to the front end and helped the car rotate on entry. With this technique practiced in this corner, Gianni applied the concept to the rest of the track to help reduce understeer.
Best for Last
In just the third and final on-track session of the day, Gianni managed to outdo the 2:20.0 goal by 1.8 seconds with a 2:18.2 best lap time. Transitions from brake to throttle were near instantaneous, throttle inputs became much smoother, and cornering speeds made giant gains. Although there's still room for further improvement, Gianni managed to improve his lap times by a total of 4.8 seconds in only three 20 minute sessions on track. While progress comes in bigger strides when you're only getting started, these sorts of gains couldn't have been reached so quickly without the data to learn from. Like with any other aspect of performance, there's only so much you can learn or accomplish by feel. But when using the right equipment that delivers the hard numbers, that sort of information is irreplaceable for moving forward. In our case, AEM's AQ-1 OBDII logger provided simple access to that information with the ability to expand the hardware further when more data is desired.