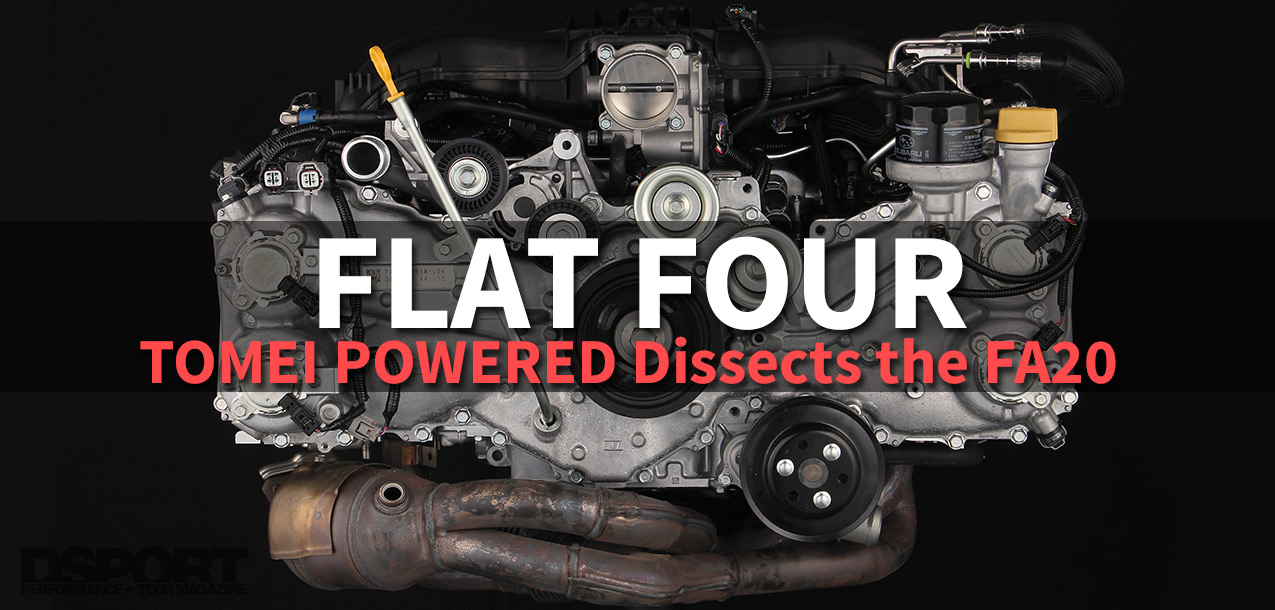 If the Toyota 4AG is a firecracker, the Subaru/Toyota FA20 is a stick of dynamite. Featuring direct injection, high compression, four valves per cylinder, and variable valve timing for both intake and exhaust events, the FA20 showcases today's latest engine technologies. This compact, all-aluminum, 2.0-liter boxer engine delivers performance through efficiency. At just 7,000 rpm, the FA20 hits the 100 horsepower-per-liter mark. For comparison, the 4AG would require extensive modifications, race gas and over 8,500 rpm to generate 160 horsepower (100 horsepower per liter).
Introduction by Michael Ferrara, Engineering by TOMEI POWERED
DSPORT Issue #138
---
| FA20 ENGINE SPECS | |
| --- | --- |
| DISPLACEMENT: | 1,998 |
| ENGINE TYPE: | Flat 4 / Boxer |
| COMBUSTION CHAMBER: | Pentroof |
| VALVE TRAIN: | DOHC 16 Valve/Chain Driven |
| VARIABLE VALVE TIMING: | Intake and Exhaust |
| BORE X STROKE: | 86mm X 86mm |
| COMPRESSION RATIO: | 12.5:1 |
| FUEL SYSTEM: | Direct Injection with Port Injection |
| MAX HORSEPOWER: | 200 hp @7000RPM |
| MAX TORQUE: | 151 lb-ft @ (6400-6600) |
| INTAKE VALVE TIMING: | Open / 44° ~ -24° BTDC |
| | Close / 31° ~ 99° ABDC |
| EXHAUST VALVE TIMING: | Open / 81° ~ -27° BTDC |
| | Close / -9° ~ 45° ABDC |
| FIRING ORDER: | 1-3-2-4 |
| FUEL: | Premium Unleaded |
–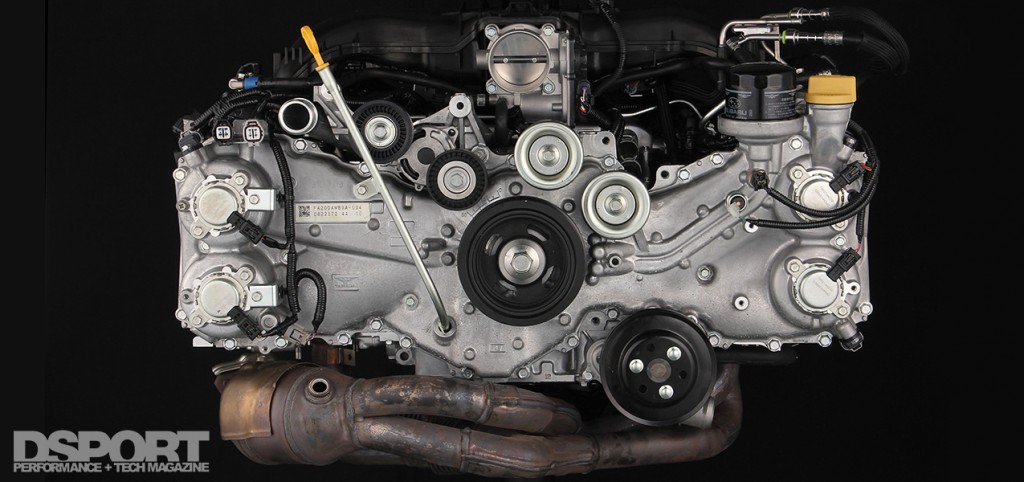 While the "86" moniker of the FR-S/BRZ platform evokes comparisons to the 4AG, the new FA20 engine represents the evolution of another popular engine series: Subaru's EJ20 boxer. While there were many improvements and evolutions to the EJ engine series since its introduction in 1989, the clean-slate design of the FA20 allows for a more refined engine. This made possible for the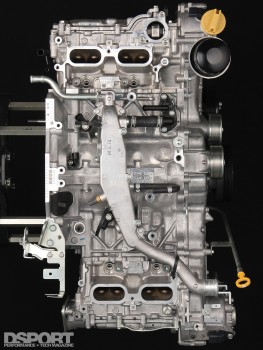 FA20 to meet stringent emission and fuel economy requirements with a design that is both simple and more advanced. For example, the FA20's improvement in variable cam control eliminates the need for both the secondary induction system and a mechanical Exhaust Gas Recirculation (EGR) system to achieve peak performance and emissions compliance.
So what are the secrets behind the quieter, easy-to-service, less-cluttered, higher-performance engine design? TOMEI POWERED set out to answer that exact question. As a company rich in engineering heritage, simply making parts that look good isn't the goal. Performance through engineering is a must. Hence, as soon as an FA20 engine became available, the first stage of development was initiated. TOMEI POWERED conducted a complete engine teardown and measuring session to build a blueprint of the engine. Comparing this blueprint to that of the EJ20's allowed TOMEI POWERED to establish a solid basis for identifying potential weak links and areas of opportunity for product development. DSPORT is grateful to TOMEI POWERED for providing this information to the DSPORT performance family.
Over 150 lb-ft of torque is an impressive achievement from a 2.0- liter engine. Likewise, hitting the 100- horsepower per liter mark at 7,000RPM is equally impressive.
BREAKDOWN OF MAIN COMPONENTS
The intake port size is quite large, similar to what's typically found in an inline race engine. The intake choke diameter measures 33 mm. On the exhaust port, many similarities are found to the EJ design.
Primary fuel injection is handled by a direct-injection system that delivers high- pressure fuel straight into the combustion chamber. A set of low-pressure port injectors provides additional fuel delivery before the intake valve. This design eliminates valve deposit issues that plague many direct-injection engines.
Displacement
Bore Stroke
Comp. Ratio
Combustion Chamber Vol.
Piston Crown
EJ207
1994cc
92.0 x 75.0
*7.9
49.2cc
8.5cc
EJ255
2455cc
99.5 x 79.0
8.2
–
–
FE16
1599cc
78.8 x 82.0
10.5
–
–
FB20
1995cc
84.0 x 90.0
10.5
–
–
FB25
2498cc
94.0 x 90.0
–
–
–
FA20
1998cc
86.0 x 86.0
*12.5
40.3cc
2.7cc
FA20T
1998cc
86.0 x 86.0
10.6
–
–
*FA20 MEASURED VALUE (R BANK): 12.7
Here's a comparison of bore, stroke, compression ratio, combustion chamber volume and piston crown volume across various EJ-, FB- and FA-series engines. The direct-injection nature of the FA20 allows a high static compression ratio of 12.5:1, for superior thermal efficiency. Even the turbo FA20T sports a high 10.6:1 ratio.