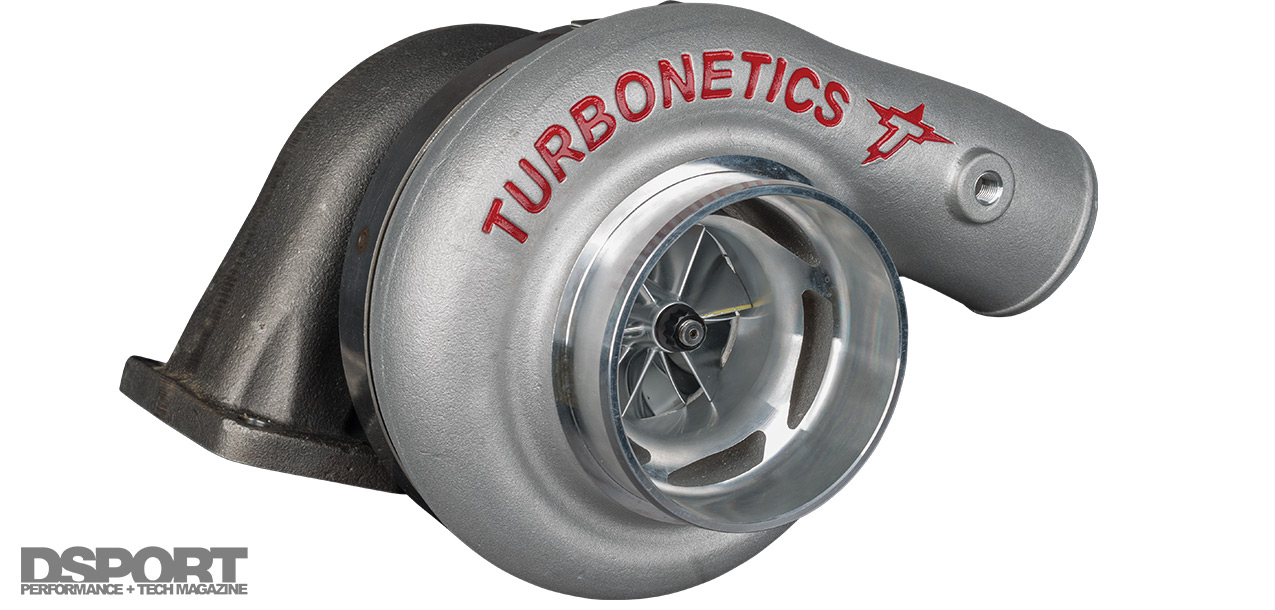 THE FACT THAT NASCAR'S SUCCESS TRUMPS ALL OTHER forms of motorsports in the United States proves that the concept of performance from efficiency still hasn't fully caught on.
Even with its steel tube frame and purpose- built chassis, the behemoth of a NASCAR Sprint Cup car weighs in at over 3,400 lbs. While other racecars and select streetcars utilize carbon-disc brakes or rack and pinion steering, the Sprint Cup vehicles stop with heavy cast-iron disc and caliper braking systems and steer with a clunky recirculating ball mechanism. Yes, these cars go fast, but doesn't it sound like they could benefit from a design that's more efficient? In the world of forced induction, old technologies and excessively heavy parts will surely leave you eating other cars' dust. It is for this reason that Turbonetics stresses only the newest technologies and high efficiency in its new TNX series turbochargers.
Text and Photos by Cameron Parsons
DSPORT Online Content
---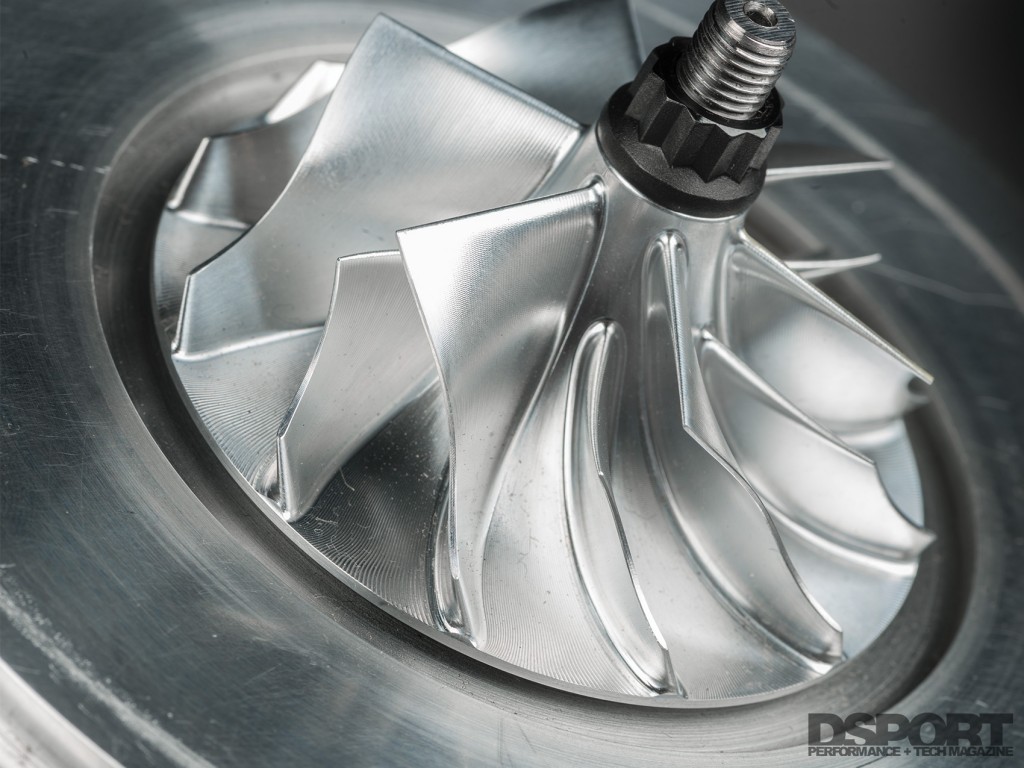 We Have the Technology
The whole idea of turbochargers revolves around the idea of making more with less. The common phrase "there's no replacement for displacement" remains a controversial topic within the automotive community. Opinions aside, there's no denying that forced induction brings a highly efficient method of adding power to your car, simply by packing more air into the air/fuel explosive cocktail. Turbonetics recently launched its TNX Series turbochargers to further enhance what's available today in the world of forced induction. Durability, performance and reliability each are on the docket for Turbonetics' TNX Series.

The TNX Series introduces Turbonetics' newly designed TNX D Compressor Housing, for the TNX 40 and 45 models.
The TNX family utilizes some highly-advanced concepts from the Turbonetics drawing board. First, the compressor and turbine stages are designed using Computational Fluid Dynamics (CFD) and Finite Element Analysis (FEA) tools to optimize performance and durability. These technologies aid in producing a highly-detailed product that has run through nearly every environment and situation imaginable, thanks to complex computer simulations. The common goal with nearly all things automotive lies in less weight, more strength and less heat. Turbonetics did no different in its TNX designs, keeping low inertia and high exhaust temperatures in mind to essentially deliver fast boost response and longevity under extreme conditions.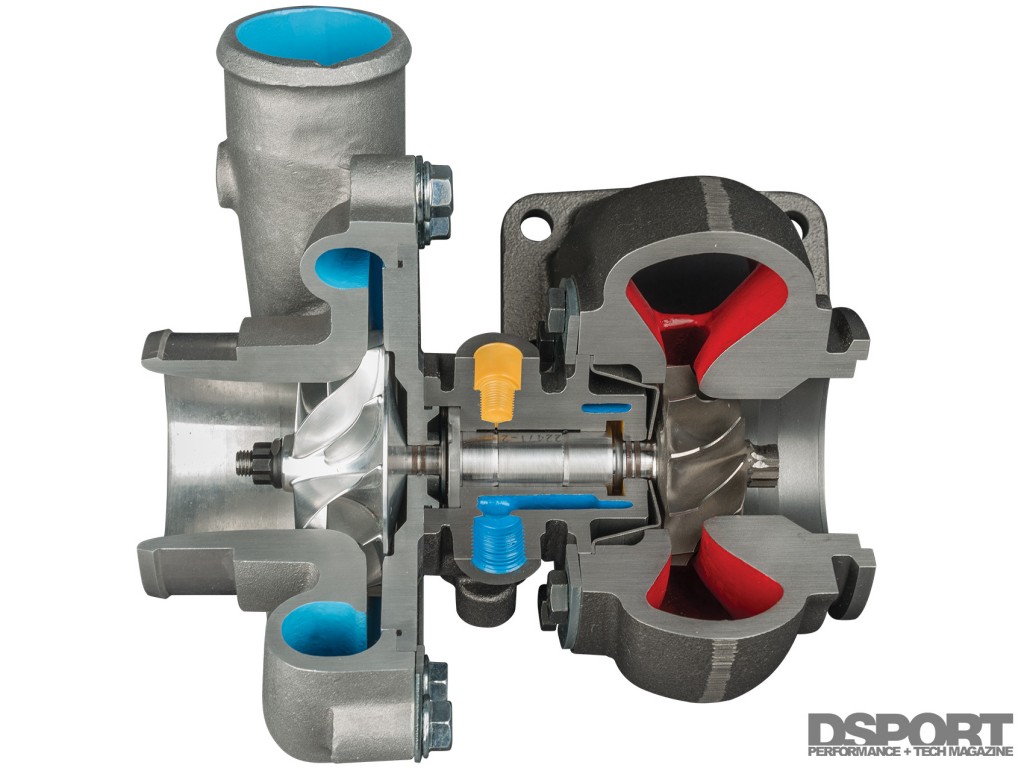 The TNX Series utilizes stainless steel dynamic piston rings on both sides of the compressor and turbine shaft for a better seal. Instead of journal bearings, Turbonetics went with a patented Angular-Contact Ceramic Ball Bearing design that offers big strength by acting as a loading surface.
Going With The Flow
Computational Fluid Dynamics (CFD) is a form of fluid mechanics that uses numerical analysis and algorithms to solve and analyze problems related to fluid flow. Computer systems simulate the characteristics of liquids and gasses in the user-designed environment in order to fully interpret the advantages and disadvantages of the design. Finite Element Analysis (FEA) is a special method of predicting how a component will react to heat, fluid flow, various forces and other physical effects. Proper utilization of these tools produces highly accurate simulations and results to base future designs on.
No Friction, No Problem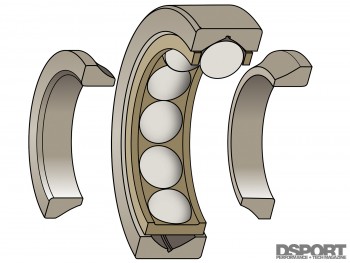 Turbonetics offers the TNX series with 16mm water cooled bearing housings and patent pending floating dual-ball bearing design. Although the ball bearing layout may not result in the explosion of power at full throttle that other turbos provide, this type of construction carries some significant advantages. Turbonetics ball bearings utilize a patented Angular-Contact Ceramic Ball Bearing design. The use of silicon-nitride ceramic balls makes these bearings especially effective and efficient. This type of ball is lightweight, extremely round and incredibly tough. In the harsh environment of shaft speeds over 100,000, the silicon-nitride ceramic material does not suffer from heat-induced expansion like other metals would. Taking the levels of strength a step further, the Angular-Contact Ceramic Ball Bearings withstand anywhere from 1,000 to 2,200 lbs of loading. So what does this mean in terms of performance? These ball bearings, as opposed to steel journal bearings, offer a stronger package that better retain their original form under load when revving to high RPMs. These qualities, paired with lightweight low friction characteristics should result in quicker response and faster spooling.
Sealed Tight
The more you stress a car and its components, the more difficult it becomes to hold all the pieces together. Stories of suspension failures, heads lifting, valves dropping and other gut-wrenching problems are all too familiar to most racers and auto enthusiasts. Forced induction may sound as simple as bolt-on power to some, but every user eventually faces some reality of the delicacies that come with it. Delivering oil everywhere that needs lubrication and cooling in a turbocharger and nowhere it shouldn't, isn't always easy. Oil weight, level, pressure and other factors require certain specifications, or else you may find yourself burning or leaking oil from the turbocharger. Turbonetics took extra precautions to keep these issues out of its turbocharger lineup. The level of precision and testing that goes into each turbocharger is tough to match, ensuring a longer-lasting product that can handle most anything you throw at it. Focusing particularly on controlling lubrication, a pair of piston ring seals sit on each side of the compressor and turbine shaft. These stainless-steel dynamic piston rings ride in precision-machined surfaces. This design helps prevent oil from leaking out of the center housing while also keeping pressurized air/exhaust gasses from entering the turbocharger and the crankcase. As for installation, this seal configuration allows for turbocharger mounting in low or rear mount applications.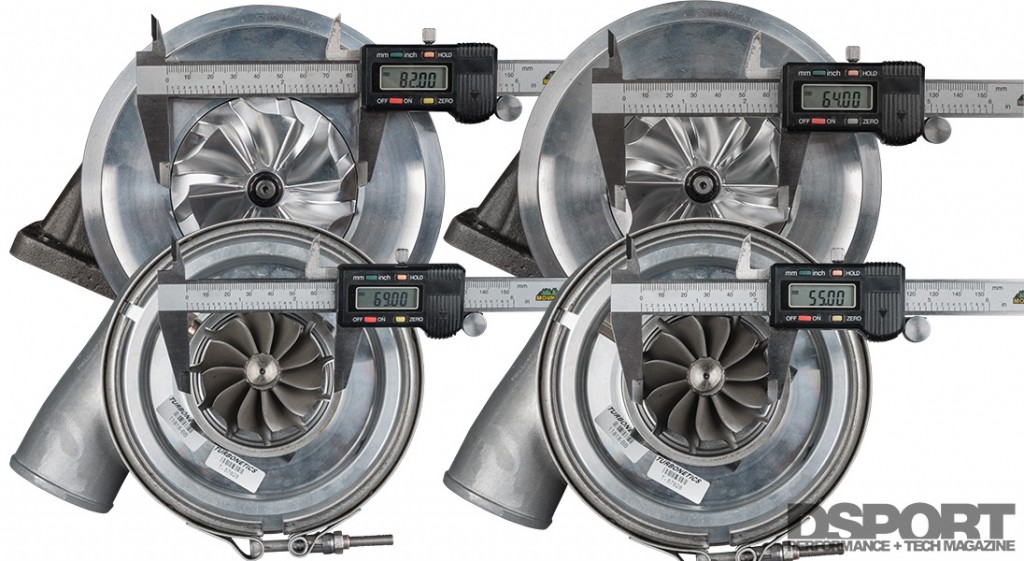 Optimizing the Wheel
A redesign of the blade shapes for the TNX series steps these turbochargers up to new realm of efficiency and flow, which for the end user means more power and better response. On the cool side, heat treated and hipped cast 354 aluminum, A-2618 forged aluminum, or titanium make up the compressor wheel, depending on the application. On the hot side, 713C Inconel, a nickel-based super alloy, makes up the turbine wheel. This material brings not only high-strength but also high heat tolerance, relative to other turbine wheel materials. The blade design utilizes a tall tip height configuration to maximize exhaust gas energy while keeping backpressure low.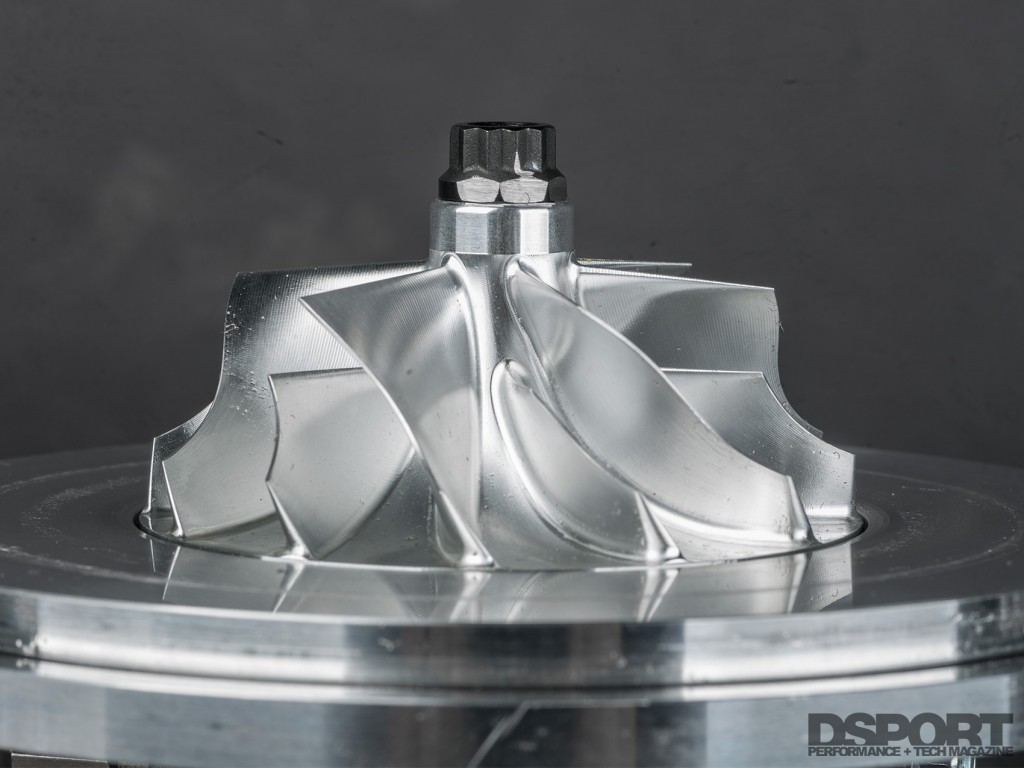 Meet the Family
The TNX lineup includes several different models that work with engines producing 200 to 800 horsepower and more, each available with four-bolt or three-inch V-Band discharge outlet configurations. The TNX 20 series, the most compact of the lineup, introduces Turbonetics' very first T2-based turbocharger to the market. This unit supports up to 450 horsepower and features an internal wastegate design. The TNX 30, the company's next-generation T3/T4E turbocharger, replaces the current 40 trim through 60 trim turbos and supports up to 600 horsepower. The TNX 40 and 45 complete the family at the larger end, sporting the newly designed TNX D compressor housing. These models replace the current 60 Series turbochargers and support up to 750 horsepower.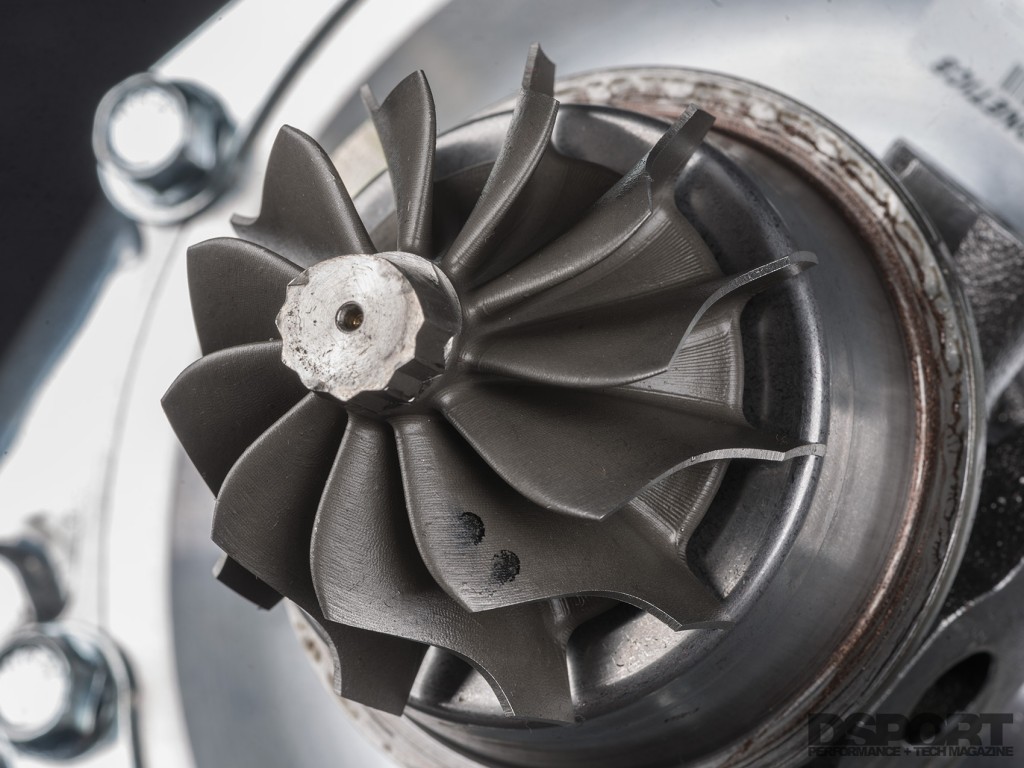 The Bottom Line
Avoiding the NASCAR approach of cramming more power-making parts into the product and hoping it goes faster, Turbonetics took the more calculated road toward enhancing the turbocharger. Durability, efficiency and precision drove the design and construction of the TNX series. The use of advanced technologies in design and testing, paired with strong and lightweight materials in construction shows promise for a long-lasting, fast responding snail. We can't wait to see what the resulting product can do.