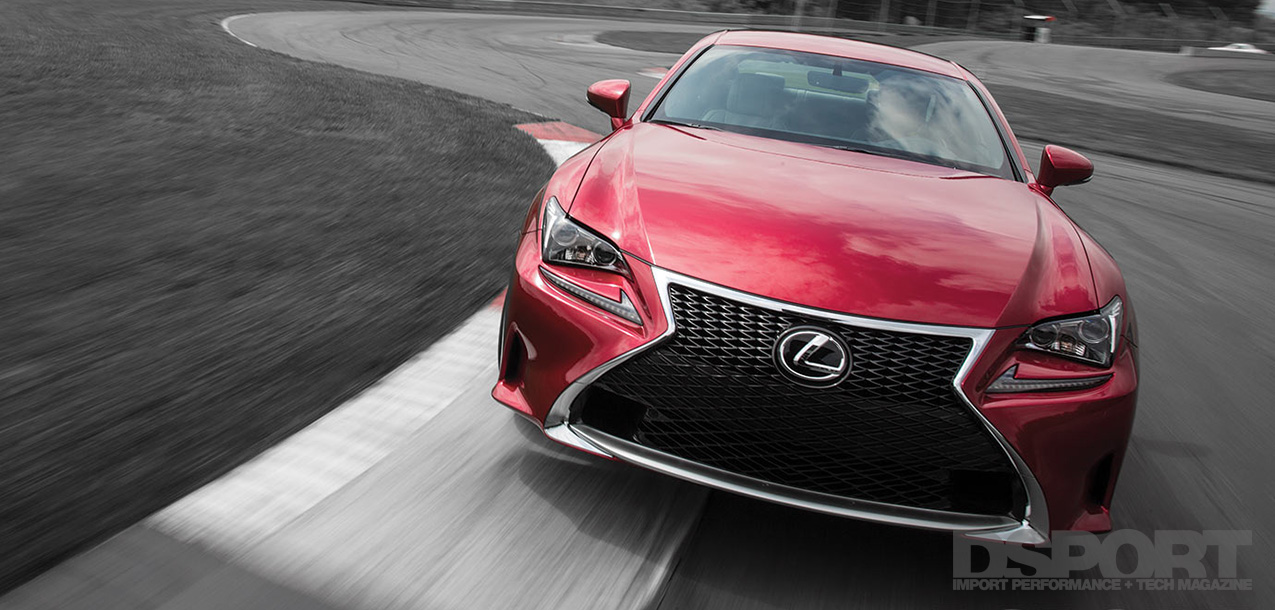 V6 and 8-speeds
The 3.5-liter 2GR-FSE engine is a carry over from the Lexus IS and GS350s. While the engine's peak horsepower rating of 306 horsepower is very respectable, the engine's ability to deliver a broad and flat torque curve is truly impressive. The 2GR-FSE delivers 90-percent of its maximum torque output across nearly 4,500 RPM. Dual VVT-I cam timing controls along with the combined direct and port injection systems of the D-4S system allow for some incredible efficiencies. Despite producing a very broad power curve, Lexus decided to optimize efficiencies ever further by mating the 2GR-FSE to the eight-speed Sports Program Direct Shift (SPDS) transmission that originally debuted in the Lexus IS-F. The transmission can employ full torque converter lock-up from Second to Eight. Downshifts can be as quick as 0.10 seconds in the manual mode. For those selecting the AWD platform, a six-speed auto is used instead.
---
F-Sport
Where the "D" in DSPORT has many meanings, the "F" in F-Sport was originally intended to reference "Fuji Speedway." This iconic track has been the test bed for F-Sport product development. Put the F-Sport in its exclusive Sport+ mode and the fun begins. The F-Sport edition of the RC 350 features another acronymal technology, AVS or Adaptive Variable Suspension. Think of it as an adjustable suspension coupled with a computer co-pilot that selects the best setting for road surface, vehicle dynamics and driving conditions. The system tunes damping on rough surfaces to improve the ride, increases damping on braking to prevent nose dive and increases damping on the proper corners during cornering to reduce body roll.
[pullquote]FRONT ROTORS GROW FROM 334MM to 357MM IN DIAMETER WHILE ALSO TAKING ON A TWO-PIECE DESIGN[/pullquote]Combining the AVS with the optional Dynamic Rear Wheel Steering allows the vehicle to behave even better on a race track. The F-Sport also receives a brake upgrade over the standard RC 350. Front rotors grow from 334mm to 357mm in diameter while also taking on a two-piece design. Brake pads are also upgraded, along with the rear calipers. Inside, F-Sport editions feature aluminum pedals and an F-Sport exclusive perforated leather trimmed steering wheel and shift knob.
---
Driving Impression
With a curb weight of 3,750 pounds and 306 horsepower for propulsion, I wasn't expecting the RC 350 F-Sport to be at home on a race track. However, I was pleasantly surprised by the vehicle. While acceleration wasn't blazing, it was adequate. The F-Sport brakes get a passing grade too. However, the handling of the RC 350 F-Sport is really impressive. For a vehicle that delivers as much luxury and comfort on the road, one would expect an ungodly amount of body roll, understeer and tire howl on a race track. [pullquote]WE BELIEVE EVERY CAR CAN USE MORE POWER[/pullquote]To my surprise, the RC 350 F-Sport got around a race track in impressive fashion. You could beat on it and race it around the track at an enjoyable pace. The rigid chassis, tuned suspension and rear wheel steering did their job. At the same time, they didn't take the fun away from the driver. At no time did I feel disconnected from the car. Could the RC 350 F-Sport have used more power? Of course. Then again, we believe EVERY CAR can use more power and that's why we are DSPORT.
---