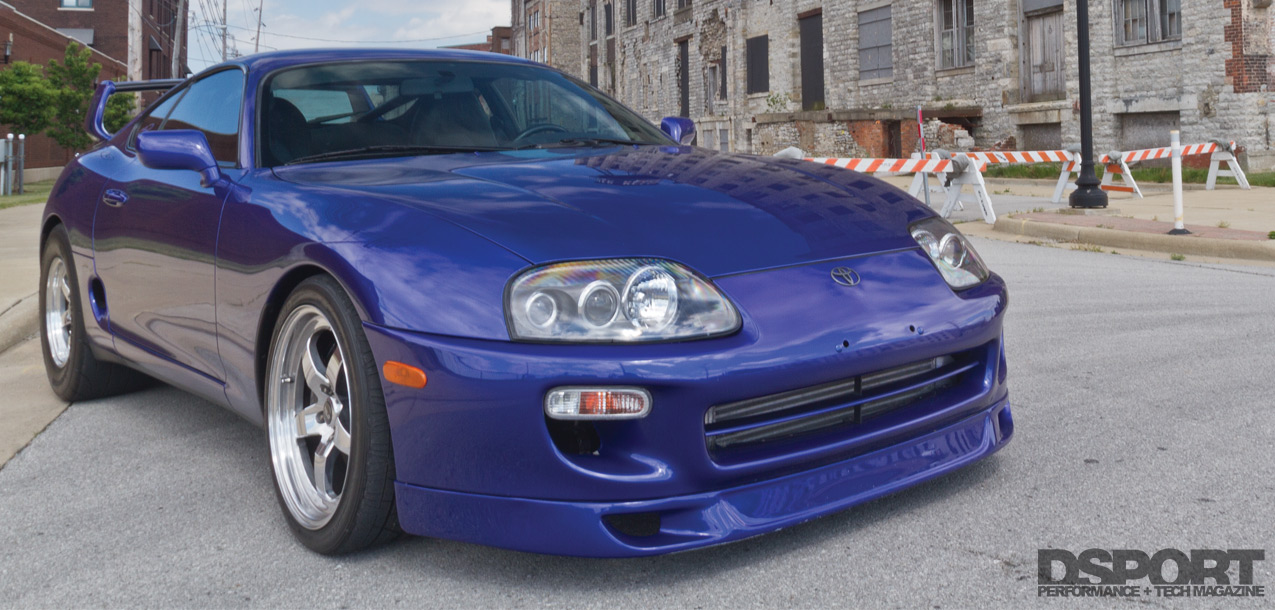 DON'T BE FOOLED BY THE TITLE, THIS ISN'T A CRIME DRAMA starring Burt Reynolds and Rachel Ward. This is a garage project starring a rare 1998 Royal Sapphire Pearl JZA80 Supra Turbo. This pristine example is said to be one of only 31 6-speed models that were sold stateside in this color. John Sharkey is the proud owner. Besides the rare color and the late model year, this Supra stands out from the rest because John and his friend, Robert Wilkinson, built it in a two-car garage. "My goal has always been to build a 1,100+ wheel horsepower streetcar with my own two hands. I wanted it to have as many factory options still installed and functional, without sacrificing a single thing when it comes to being a streetcar. Drivability, full interior and A/C topped the list of requirements."
Text and Photos by Richard Fong
---
A Unique One in 31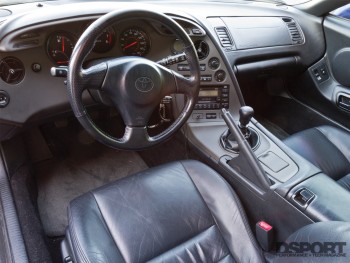 John is no stranger to Supras as this sapphire gem is actually the third JZA80 to reside in his garage. Neither of the previous builds could rival the game plan he laid out for this machine. Despite the negative opinions of some members of the Supra community regarding modification to this rare machine, John pulled out all of the stops in hopes of becoming the best Royal Sapphire Pearl Supra ever. Part of this motivation stems from his competitive spirit. John had helped Robert complete a 1,100 horsepower Supra build that ended up surpassing his second Supra, a Silver JZA80. He then sold that Silver Supra in order to fund this new project. In addition to the 1,100+ horsepower streetcar criteria, John targeted the 8-second barrier in the quarter mile and 200 mph in the ½-mile as project goals.

Homegrown Resources
A boilermaker by trade, works seasonally. This leaves him a portion of the year without regular work to contend with and plenty of time to put his welding skill set to work, fabricating parts for his build. Robert, who is both an ASE certified technician and a paintless dent removal specialist, shared his mechanical knowledge and helped with the build. The project's lofty goals required a "built" 2JZ-GTE engine. Before the engine internals could be upgraded, the block took a trip to Sound Performance to be overbored, something John couldn't do at home. Once the block was back in the garage, John and Robert fortified the 2JZ shortblock with Brian Crower rods and Wiseco pistons that bumped displacement to just over 3.0-liters. Up top, the cylinder head received a full Supertech valvetrain along with port work and a three-angle valve job before being cinched to the block.

Shark-Fab Refinement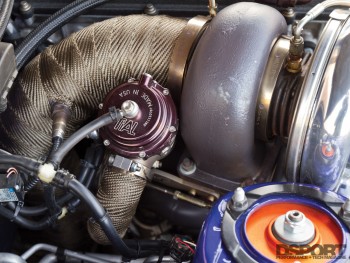 John cranked up his welder and began crafting components that complement both the performance and the appearance of his Supra. On the hot side, he cut and welded tubular stainless steel into an exhaust manifold for the mammoth PTE8285 turbocharger. He also crafted the downpipes, dump tubes and intercooler piping that completed the forced induction plumbing assembly. He then customized the Sound Performance intake manifold for improved airflow distribution to the intake ports. He put his finishing touch on the engine bay with a custom oil catch tank and ancillary brackets throughout the engine bay, most of it powder coated black.