TRUE NISSAN FANATICS ALMOST IMMEDIATELY revere any platform that wears the "Z" badge. From the first 240Z to hit American shores to the latest 370Z, every successive Zcar combines some elements of its past combined with the latest "next big thing." This tradition of passing on and adding to the Z legacy results in fans being treated to advanced (for their respective times) technological implementations like factory-turbocharged engines. While Puyallup, Washington resident Morris Malone is barely old enough to know even half of the Z's 40-plus-year performance history, it was his one and only choice to be his first car. "Since I was young, I have always loved the look of the Nissan Z platform," Malone explains. "When it was time to buy a car that I planned on modifying, I went straight to the 350Z." A set of wheels and tires, performance intake and cat-back exhaust system fulfilled Malone's original vision for his Z. A little bit of knowledge and a lot of restlessness soon changed his tune.
Text by Arnold Eugenio // Photos by Richard Fong
---
IDEA FACTORY
When Malone purchased his VQ35HR-powered Nissan 350Z, he gained access into an exclusive and long line of Z-owners that share a strong sense of community. This access afforded Malone with a collective pool of knowledge, experience and ideas for improving his platform. "As I became more involved in the community and online forums, I did a lot of reading about what the newer VQ35HR was capable of doing," Malone offers. "My build plans quickly turned more in-depth than the original build plan." Combined with his sense of honoring tradition, Malone set out to create a new version of his dream car that encompassed many of the Z's best-exhibited traits throughout the years.

GOING OVERBORED
One of the notable traits of Z-car powerplants over its history has been the almost-steady increase in engine size, starting first with the 2.4-liter L24 in the 240Z up to the 3.7-liter VQ37VHR currently rolling off the Nissan factory floor. In keeping with tradition, Malone's build plan included a stroker kit that would increase his VQ35's displacement to a massive 4.1 liters. Malone dropped the car off at Intec Racing in Kent, Washington, where they immediately removed and dismantled the engine. The factory rotating assembly took to the sidelines as Intec Racing installed the Darton M.I.D. sleeve system. The sleeves were then bored and honed to a 96mm finish size in preparation for the new pistons.

METALWORK ROTISSERIE
The target displacement increase not only required enlarging the bores, but also increasing the stroke. While the BC Brian Crower Stroker Kit exists in multiple configurations with several bore sizes and static compression ratios, Malone's plan ultimately called for the VQ to receive more airflow than natural aspiration could supply. Boost was on the horizon, so Malone employed the BC stroker kit including 8.5-to-1 lower compression CP pistons to meet his goal. A set of BC Brian Crower billet connecting rods join the slugs to the 86.4-mm long-stroke billet crankshaft.
HEADS UP
While the VQ35HR engine already represents Nissan's higher-breathing update to the VQ35DE engine, Malone believed the increased displacement and addition of forced induction could benefit from performance camshafts. Malone employed a set of Jim Wolf Technology 262-degree camshafts on both the intake and exhaust side of each cylinder head. A set of Jim Wolf Technology high-rate valve springs complement the new camshafts and help prevent valvetrain damage at high RPMs. ARP L19 head studs ensure the cylinder heads stay locked down under the most extreme pressures.
WONDER TWINS, RESURRECTED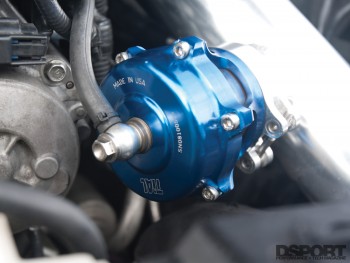 [pullquote]TWIN TIAL BLOWOFF VALVES HELP PREVENT HARMFUL COMPRESSOR BACK-SURGE ON THROTTLE LIFT.[/pullquote]Z-fans lamented the loss of a turbocharged engine variation after the death of the Z32 300ZX. While the replacement VQ35 engine produced similar amounts of power without the use of forced induction, the lack of boost made the 350Z feel like less than a supercar. Malone's plan was to bring back "the good old days" so his Z would wear twin turbochargers as well.With the built engine in place, Intec hung a pair of Garrett GT3076R ball-bearing turbochargers from twin GTM Motorsports exhaust manifolds. Malone decided on the T3- framed turbochargers to provide the desired response from the enlarged engine while still allowing for high, power-producing levels of boost. A pair of TiAL Sport 38mm wastegates provides boost control, while TiAL Sport 50mm blow-off valves prevent harmful compressor back-surge on throttle-lift.