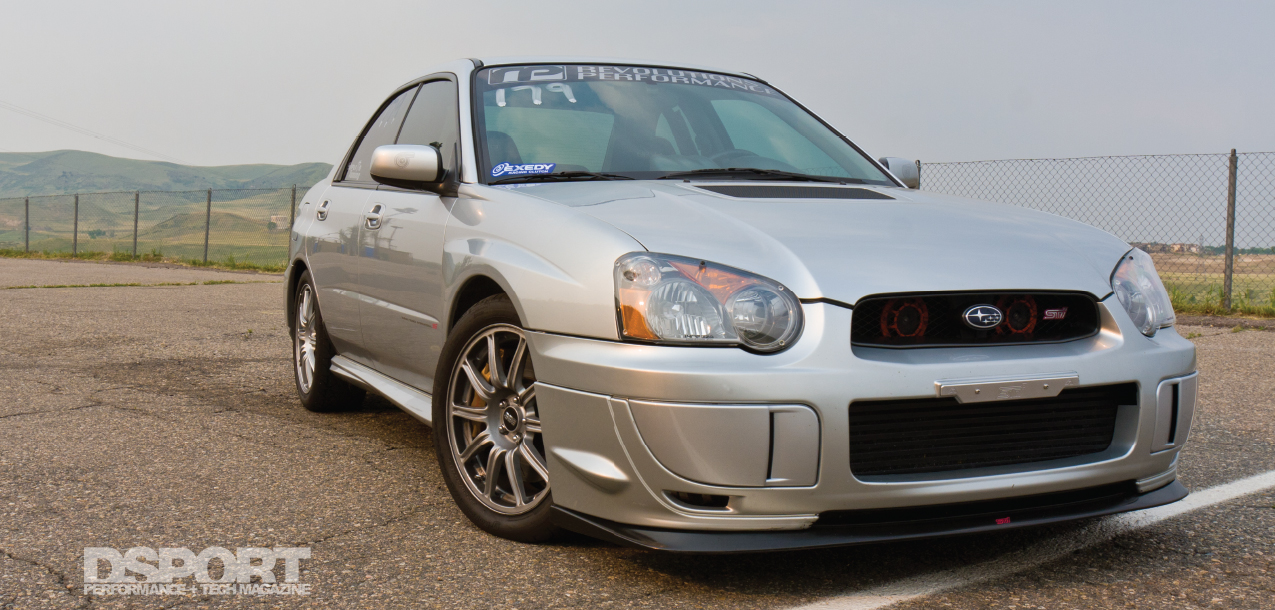 Motorsports showcase the technological prowess of the competing manufacturers, and Subaru's efforts and achievements in the World Rally Championship have earned the company a loyal following.
The Impreza caught Aaron Wells' attention as he watched Colin McRae and then Petter Solberg represent Subaru on WRC podiums in the 90s and into 2000. When Subaru announced the release of the WRX in America in 2001, Wells put his deposit down. After taking delivery, he invested into his WRX with a goal of making it just like an STi. This brought him temporary satisfaction until Subaru announced the release of the STi two years later.
Text and Photos by Richard Fong
---
No Test Drive!?
Yes, no test drive. When the first of the STi units arrived stateside, the demand far outweighed the inventory, so each unit was sold before being test-driven. Aaron knew he would own one someday, but he wanted to know how different it was compared to his WRX. Shortly after the STi was launched, he saw one with only 3,000 miles on a used car lot. The sales manager offered Wells the test drive that sold him.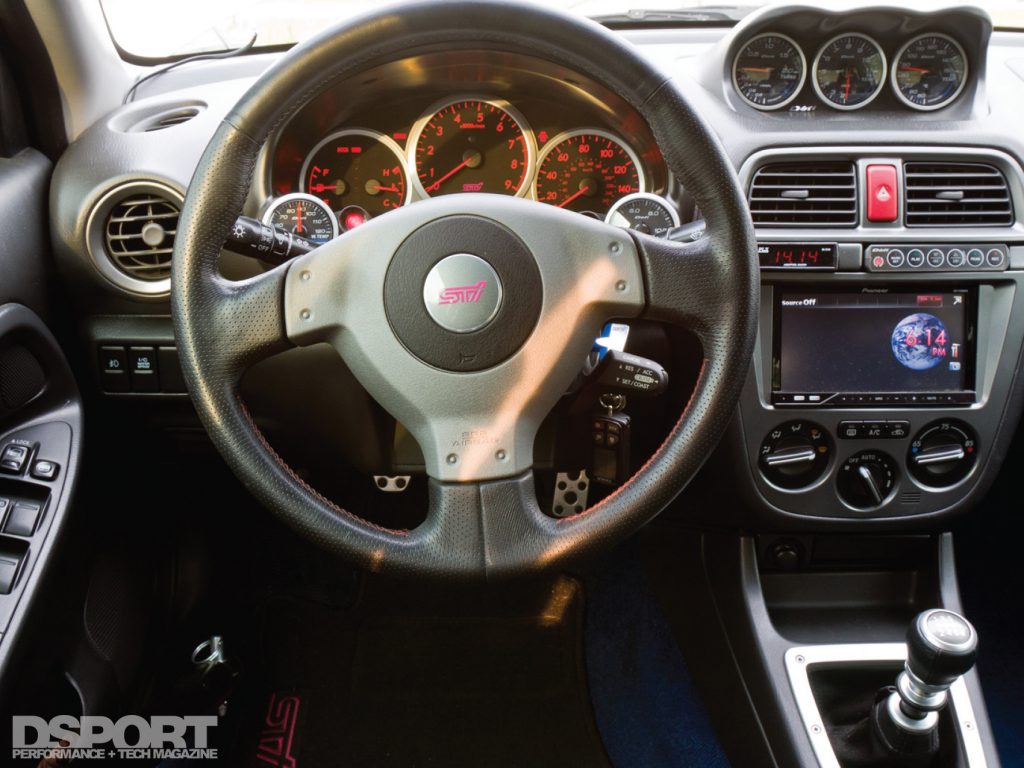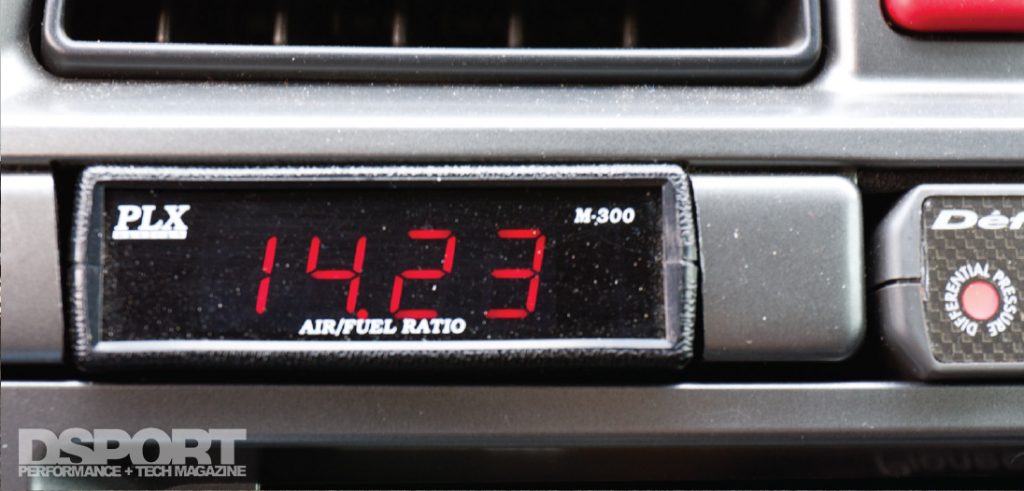 Easy On The Mods
After spending two years trying to make his WRX into an STi, Wells stated that he had no intention of modifying the engine of his new Subaru. Instead, he focused on the handling aspect, adding lowering springs, Hotchkis sway bars, heavy duty tie-rod ends, and harder urethane suspension bushings throughout. He also improved the STi's braking performance with a set of DBA 4000 vented rotors, Hawk Performance HPS brake pads and Goodridge stainless-steel braided brake lines.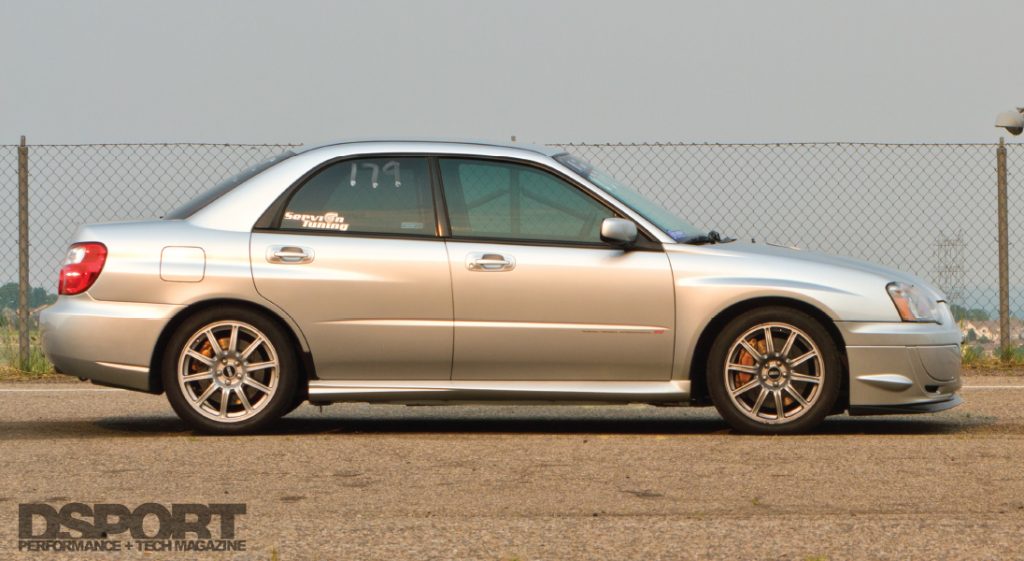 Snowball Effect
Just as sure as snow falls in Colorado, Wells could not leave the car alone. He soon grew tired of the stock setup and started looking for more power. He progressively increased power starting with an 18G turbocharger, followed by a 20G turbocharger. Finally, he decided to step up to a Garrett GT3582R with a rotated-mount configuration. At the same time, Revolutions Performance fortified the stock block with aftermarket pistons and rods. The engine was dialed in to make 527 horsepower on a Dyno Dynamics dynamometer, about 25 horsepower below what Wells had learned was the maximum threshold prior to cylinder failure. He took the STi to the Sand Hills Open Road Challenge (SORC) in Nebraska to compete in the 1⁄2-mile shootout. Sitting in second place after the first round to a C4 Corvette, he wanted to go for the top spot. He turned up the boost by 3 psi and attempted to best the Corvette's performance, only to have the stock sleeves let go.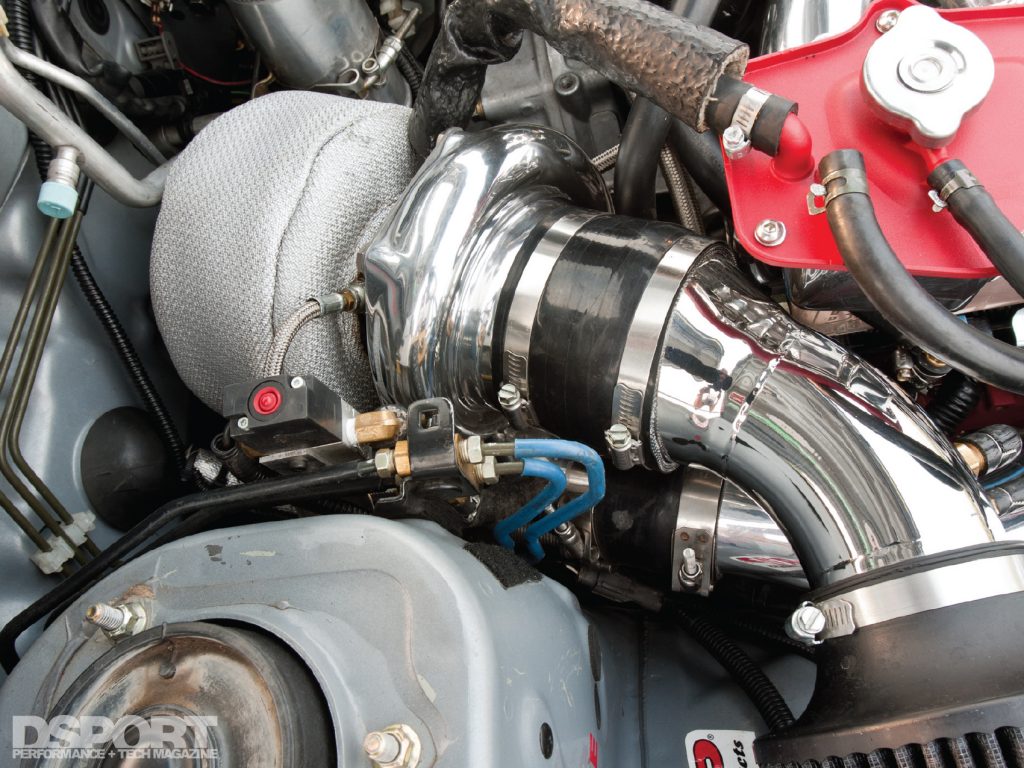 EJ Improvements
Undaunted, Wells brought the STi back to Revolutions Performance to be rebuilt. The shortblock was stripped down and sent to Darton International to have a set of ductile-iron sleeves installed. The block then returned to Colorado to be bored and honed to 100mm by Stan at Rocky Mountain Machine. The cylinders were then filled with a set of CP Pistons that rely on Pauter rods to make the connection to the factory crankshaft. Before completing the longblock assembly, the cylinder heads were equipped with +1mm Supertech valves, dual valve springs and titanium retainers. Kelford 272-degree camshafts were installed to deliver increased lift and duration. The heads were then secured to the shortblock by way of ARP L19 head studs. The factory cast manifolds are joined by a GrimmSpeed crosspipe to improve exhaust flow from cylinders one and four to the Garrett turbocharger. An Ultimate Racing downpipe and Invidia exhaust route gasses from the turbine to the atmosphere. On the cool side, the compressor forces ambient air through aluminum piping to an APS front-mount intercooler before being distributed to the intake ports.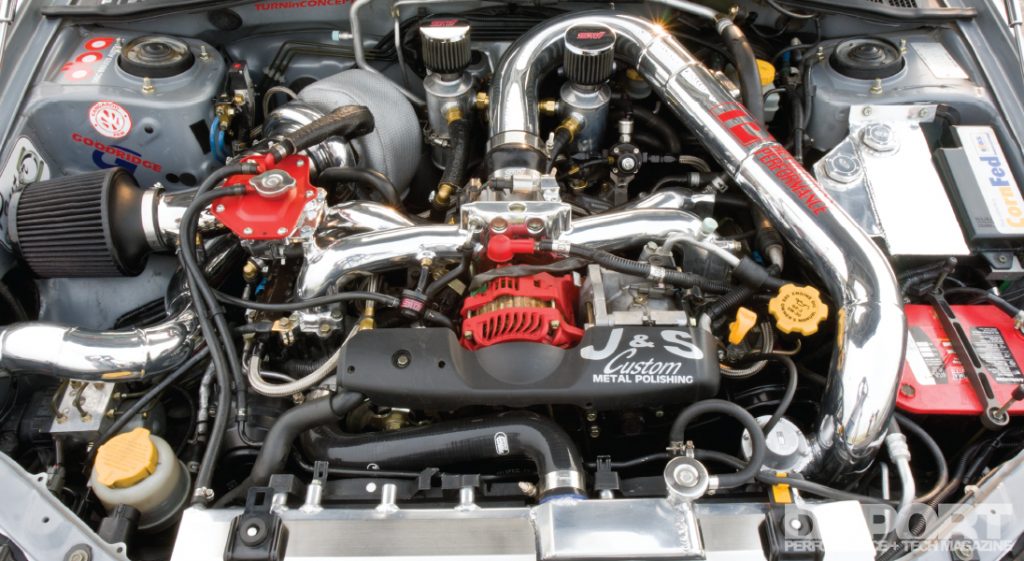 The Darton-sleeved block remained 2.5 liters but features CP Pistons and Pauter connecting rods. Combined with a rotated-mount Garrett GT3582R turbocharger offers greater power potential compared to stock.
Is More Pump Better?

Poor oiling is a known shortcoming of the EJ engine that has claimed its fair share of pistons and blocks. One solution that tuners have turned to is upgrading pre-2008 (GDB and older) 10mm oil pumps with higher-flowing 2008+ (GRB) 11mm oil pumps. As an added measure, the passages are lightly ported and the pressure relief piston polished. The pressure relief spring is carefully shimmed to deliver additional oil pressure to the engine. According to Adam at Revolutions Performance, "It never hurts to have a little more oil flow. We did have an 11mm pump's relief valve get stuck in the open position once, but our polishing service resolves that issue."
Race Fuel Replacement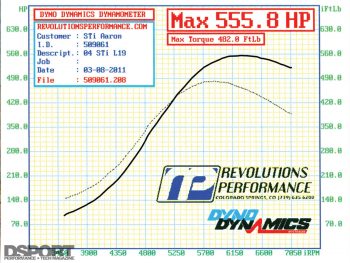 Attention then shifted to the fuel supply. Burning E85 delivers race gas performance at a fraction of the cost, but requires nearly double the capacity of a typical fuel delivery system so a MagnaFuel MP-4302 fuel pump was installed. A custom fuel surge tank by Tom Rockwell Race Cars maintains an E85 reserve in case of in-tank starvation due to fuel slosh under high lateral g- forces. Beyond the surge tank, a BDL fuel rail distributes the E85 to a quartet of Fuel Injector Clinic 2,150 cc/min injectors. An AEM EMS tuned by Jeremy at Servion Tuning meters fuel to each of the intake ports and directs ignition-timing events. At 34 psi boost pressure, the reinforced EJ produced 555.8 horsepower and 482 lb-ft torque to the rollers of a Dyno Dynamics dynamometer at over a mile above sea level. Compared to its baseline pass of 220 horsepower, the STI put down a 152-percent increase in power.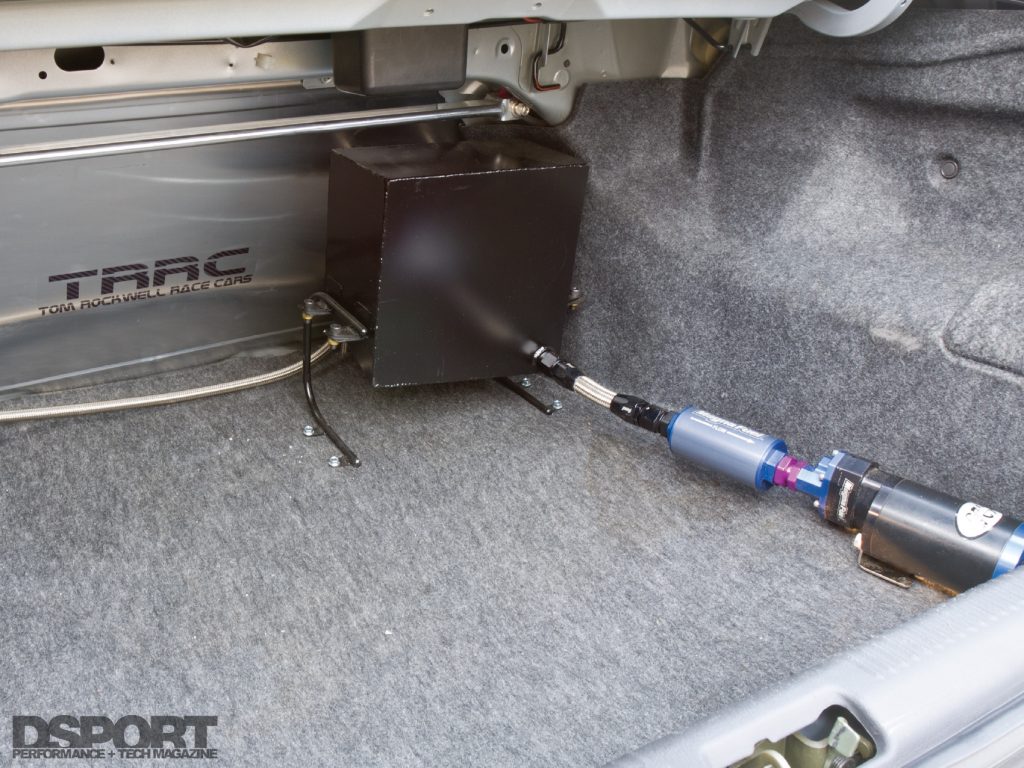 Power Transfer
To ensure reliable and consistent power transfer from the engine to the transmission, an Exedy Triple-plate clutch and lightened flywheel were mounted to the crankshaft. The STi gearbox received a fifth and sixth gear from a JDM STi transmission, tightening the gear ratios at the top. Finally, Drive Shaft Shop's "Rear-Bar Upgrade" improves on the factory axles at the rear tires.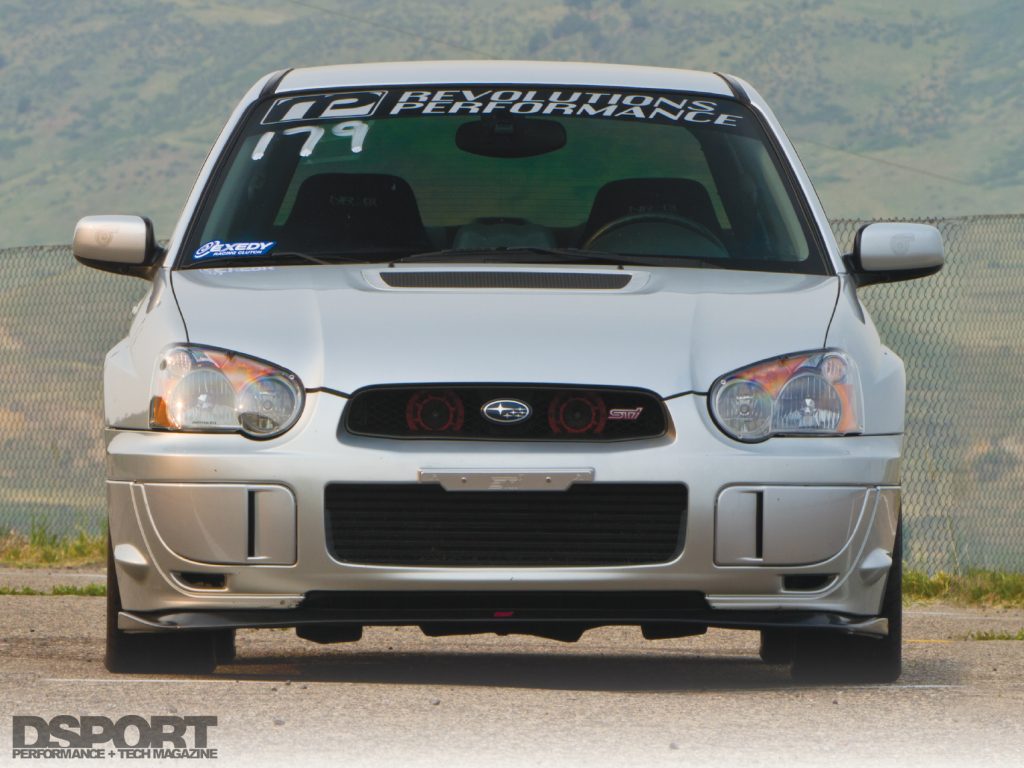 Back At It
Wells wasted little time returning to motorsports in his STi. He competed at the 2011 IDRC Tuner Mayhem event at Bandimere Speedway finishing runner-up in the Exedy Clutches USP-Street Sport Compact Class. In August 2011, Wells returned to the SORC event that had claimed his last engine. He placed runner-up for the third time in the 90 MPH class. Wells states, "So far, my best elapsed time down the quarter mile was 10.741 seconds, and my best trap speed was 131.75 MPH. To this day I don't know of a faster Subaru in Colorado. The car is making more power now but difficulties hooking up have kept me from improving on my personal bests." Between the quarter mile, open road and even road course competitions, Wells continues to challenge himself to race the best mile- high All-Sport STi.
2016 Update
Qualified 1st at 2016 IDRC Street Tuner Mayhem
10.214 @ 136.94MPH
 
---
SPEC SHEET
| VEHICLE | |
| --- | --- |
| Year / Make / Model: | 2004 Subaru Impreza WRX STi |
| Chassis Code: | GDB |
| Competition Class: | Street Sport Compact |
| Vehicle Weight: | 3,225 lbs. |
| Launch RPM: | 5,800 RPM |
| Shift RPM: | 7,500 RPM |
| Redline RPM: | 7,600 RPM |
| Peak Boost: | 34 psi |
| Fuel: | E85 |
| ENGINE | |
| --- | --- |
| Engine Code: | EJ257 |
| Displacement (cc): | 2,483cc |
| Bore & Stroke (mm): | 100mm x 79mm |
| Peak Horsepower (@ RPM): | 555.8 whp @ 6,300 RPM |
| Peak Torque (@ RPM): | 482.0 lb-ft @ 5,800 RPM |
| Dyno Type: | Dyno Dynamics |
| Engine Builder: | Revolutions Performance |
| Block Modifications: | Sleeved by Darton International |
| Machine Work: | Stan @ Rocky Mountain Machine |
| Pistons/Compression Ratio: | CP 9.0:1 Compression Pistons |
| Connecting Rods / Crank: | Pauter Connecting Rods |
| | Fluidampr Crank Pulley |
| Camshafts: | Kelford Camshafts 272-degree (IN&EX) |
| Valves/Springs/Retainers: | Supertech +1mm Valves, |
| | Dual Springs, Titanium Retainers |
| Air Induction System: | Revolutions Performance Custom Intake |
| Head/Main Studs: | ARP L19 Head Studs, Factory Main Studs |
| Fuel Injectors: | Fuel Injector Clinic 2,150 cc/min (x4) |
| Fuel Delivery System: | MagnaFuel MP-4302 |
| Engine Management System: | AEM EMS 30-1820 |
| Engine Management Tuner: | Servion Tuning (Jeremy) |
| Spark Plugs: | NGK Iridium LFR7AIX |
| Exhaust Manifold: | Grimmspeed Crossover Pipe |
| Exhaust System / Downpipe: | Ultimate Racing Downpipe |
| | Invidia G200 Cat-back |
| Wastegate: | TiAL Sport 44mm Wastegate |
| Blow-Off Valve: | HKS Super-sequential BOV |
| Intercooler: | APS 525 Intercooler Core |
| Cooling System: | Koyo Aluminum Radiator |
| Oil System: | Subaru 11mm Pump, ported |
| | by Revolutions Performance |
| Fuel Cell: | Tom Rockwell Race Cars Custom Surge Tank |
| Performance Electronics: | PLX Devices M200 wideband O25 |
| TURBOCHARGER | |
| --- | --- |
| Turbocharger: | Garrett GT3582R |
| Frame: | T3 |
| Compressor Wheel Specs: | 82mm Major, 61.4mm Inducer, 56 trim |
| Turbine Wheel Speds: | 68.0mm Major, 84 Trim |
| Turbine Housing: | 0.82 AR |
| CHASSIS/DRIVELINE | |
| --- | --- |
| Springs, F&R (Make & Rate): | STI springs front and rear |
| Additional Suspension Components: | STI lateral links and trailing arms with Group |
| | N bushingsHotchkis Sway bars (F&R) & HD End Links |
| Transmission Gearing: | USDM 1-4, JDM 5th and 6th |
| Final Drive: | 3.90:1 |
| Clutch / Flywheel: | Exedy Triple-plate Clutch w/ Flywheel |
| Axles / Driveshaft: | Drive Shaft Shop "600 HP" Rear-Bar Upgrade |
| Tires (Make & Size): | Bridgestone RE-070 225/45R17 |
| Brake Rotors (Diameter, F&R): | DBA 4000 vented front and rear |
| Brake Pads (Front & Rear): | Hawk HPS |
| Brake Lines: | Goodridge SS |
| INTERIOR | |
| --- | --- |
| Roll Bar / Cage: | Tom Rockwell Race Cars 6 point roll bar |
| Seats: | NRG Carbon Fiber |
| Harnesses: | G-Force 5 point with cam locks |
| Gauges: | Defi Link Series Gauges |
| EXTERIOR | |
| --- | --- |
| Hood: | Stock, scoop removed, with KS Technology mesh insert |
| Trunk Lid: | Wingless trunk lid from Impreza 2.5 RS |
| Paint: | Original, Platinum Silver Metallic (PSM) |