The pursuit of perfect is a never-ending race.
Street enthusiasts dream of driving sleek machines that do it all: high-speed cornering, lightning-quick throttle response and blindingly-fast top speeds. In one word "supercar." The NSX is often hailed as a supercar for its exceptional degree of balance. Unfortunately, balance without boost can eventually get pretty boring. However, making big power with a forced-induction system that sacrifices response can throw the balance of the NSX out the window. This is a reality that has convinced many NSX owners to keep the vehicle naturally-aspirated. Fortunately, even tough problems often have a solution. In the case of this NSX, a high-tech, high-efficiency supercharger delivers the goods without upsetting the balance.
Text By Brian English // Photos by Richard Fong
---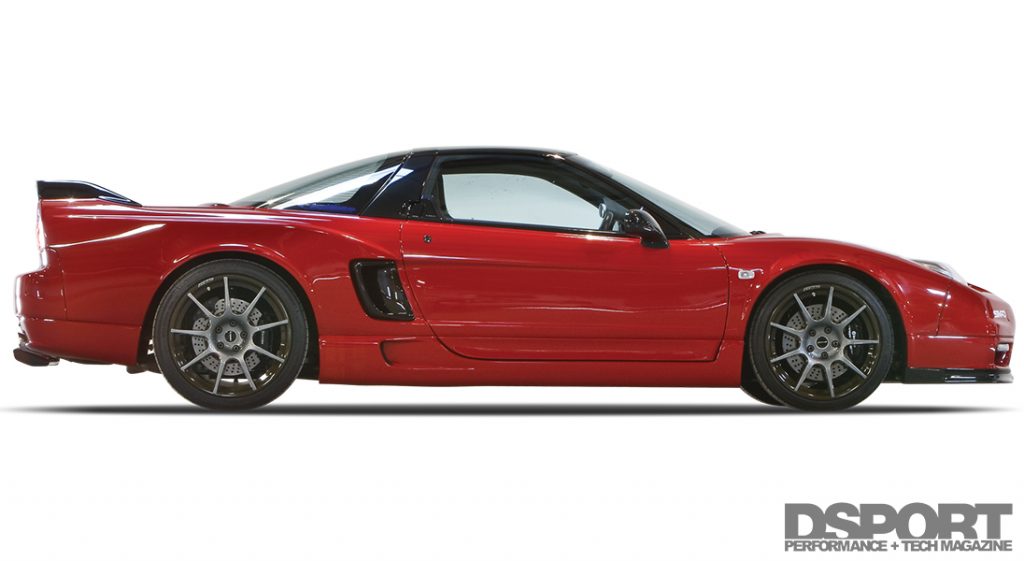 When Jeffry Ling of Anaheim, CA set out to buy his second NSX, he knew forced-induction would be a necessary component. While surfing his favorite NSX forum, Ling found a US-spec '92 NSX sporting a roots-type supercharger and a number of other enhancements. Although skeptical about the purchase at first, Ling received reassurance of the quality from the American technician who built the car for the owner in Panama. Jeffry purchased the car sight- unseen and received it in a 40-foot shipping container. At first, the supercharged machine thrilled on the streets. Over time, the desire for improvements were in order.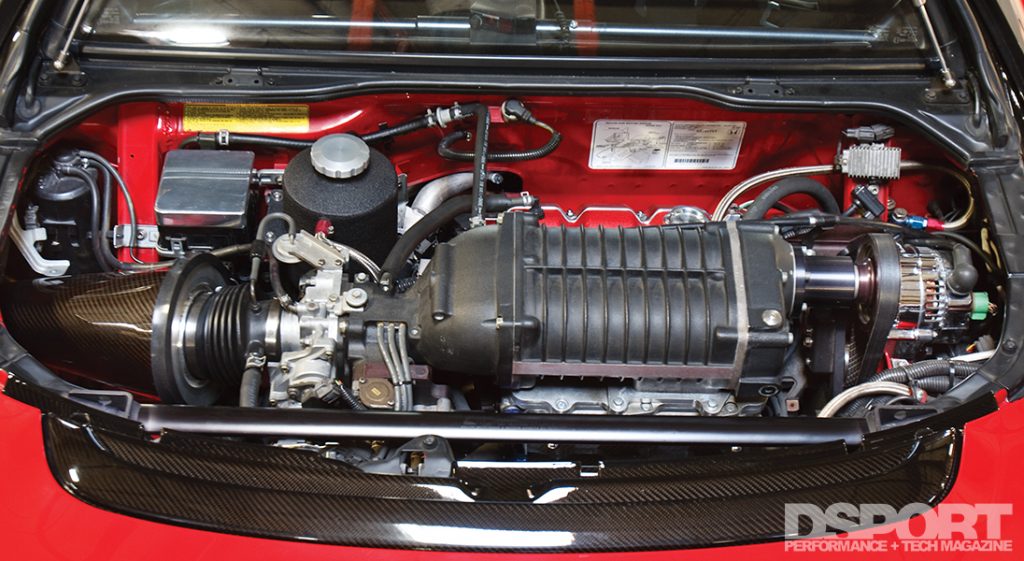 Remastered Performance
The original positive-displacement supercharger produced great engine response, however the outdated design had limited efficiency. Considering the C30A engine of the NSX pushes the tachometer beyond 8,000 RPM, Ling sought a new unit able to cater to high-rev performance without losing low- end power. A Whipple twin-screw supercharger maintained the positive- displacement design's low-RPM response while improving upon the boost production towards redline. The greater volume of air being forced into the cylinders called for the installation of RC Engineering 650 cc/min fuel injectors. After revamping the power-adders, Autowave of Huntington Beach dialed in the mapping of fuel, ignition timing and boost to produce 435 horsepower at the wheels on its Dyno Dynamics dynamometer.
What's a Whipple?

While the two biggest variants of superchargers are centrifugal and positive displacement, there are more specific differences within the group of positive displacement blowers. The traditional Roots-style supercharger uses a rotor and lobe design while twin-screw supercharger companies utilize what their name implies. While both superchargers deliver great low-RPM response, the Roots design typically generates higher heat through its compression process, causing its efficiency to be less than the twin-screw system. Besides increasing the intake temperatures, lower compressor efficiencies also mean that more horsepower must be robbed from the crankshaft to produce boost pressure at the intake manifold.
Transmission of Performance
The 1991-1992 USDM NSX is subject to a Technical Service Bulletin (TSB) for the possibility of transmission countershaft bearing snap ring failure. While desiring a more reliable component, the solution couldn't have the noise or harshness associated with a racing transmission. For this reason, a JDM NSX-R gearbox was chosen and fitted with a CT Engineering final drive ring and pinion. This combination has provided good reliability without reducing drivability. A Carbonetic triple clutch assembly mates the transmission to the supercharged engine, providing consistent clamping in spite of increased torque and RPM.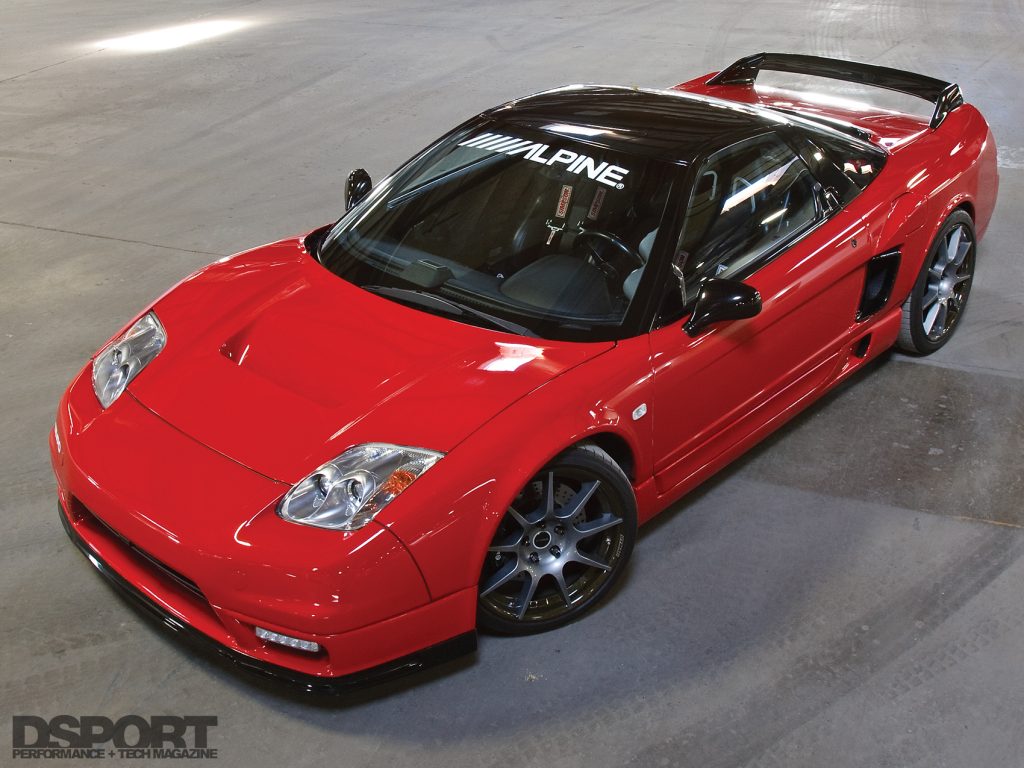 Don't Call it a Recall

Every automotive manufacturer provides technicians with Technical Service Bulletins (TSBs) for vehicles with commonly known problems. These TSBs can range from a handle that commonly breaks off to a transmission that always breaks internal parts. Unlike actual recalls, there isn't any obligation for dealerships to alert consumers of TSBs because the manufacturer has determined that it is not a threat to the purchaser's safety. Also, problems that have earned a TSB do not require repair costs to be covered by the manufacturer if the vehicle is out of warranty. It becomes up to the dealer's service department or regional service representative if the repair costs will be covered or at least lessened through what is called a goodwill repair. TSBs can be looked up using a technician database such as Motor ALLDATA or Mitchell 1.
Agile Exterior
Modernization of the NSX's performance alone wouldn't be enough as aesthetics received equal attention. Already converted with the fixed headlights off the 2002 model, the NSX received Downforce carbon-fiber front fenders, lip spoiler, Type-R trunk lid and rear diffuser, reducing total weight and enhancing the body lines. The front fenders along with Taitec rear quarter panels provide generous wheel wells to house wider rubber. Rarely-seen Dymag wheels constructed from magnalium and carbon fiber wrapped with Michelin Pilot Sport tires reduce the moment of inertia and unsprung weight, improving acceleration, braking and handling.
Almost two decades have passed since the Honda plant assembled this NSX, yet the timeless styling easily compares to a modern-day supercar. The power comes on early like a big-displacement V8 yet the engine screams to high-RPMs like an exotic import. The chassis and suspension responds quickly to driver input but doesn't punish occupants on the daily drive. Ling states he'd still gladly drive the car everyday had it not been for shredded tire debris on the freeway that cost him a front bumper already. Now the NSX prowls the streets of Southern California during weekend cruises with Ling beaming with pride from behind the wheel and with good reason. This NSX provides all aspects of what can be asked of a performance street car.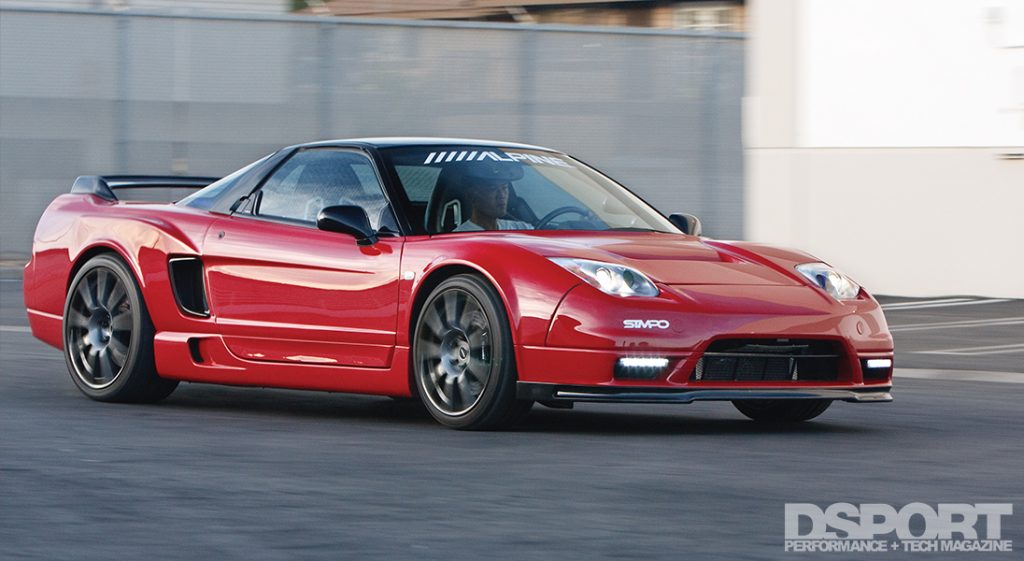 SPEC SHEET
| VEHICLE | |
| --- | --- |
| Year / Make / Model: | 1992 Acura NSX |
| Chassis Code: | NA-1 |
| Vehicle Weight: | 3,000 lbs |
| Shift RPM: | 8,000 RPM |
| Redline RPM: | 8,200 RPM |
| Peak Boost: | 9 psi |
| Fuel: | 91-octane |
| ENGINE | |
| --- | --- |
| Engine Code: | C30A |
| Displacement (cc): | 2,978cc |
| Bore & Stroke (mm): | 90mm x 78mm |
| Peak Horsepower (@ RPM): | 435 whp @ 8,200 RPM |
| Peak Torque (@ RPM): | 300 lb-ft @ 5,600 RPM |
| Dyno Type: | Dyno Dynamics |
| Air Induction System: | Downforce Air Intake Scoop |
| | Downforce Stack Intake System |
| Intake Manifold/Throttle Body: | Science of Speed Big Bore Throttle Body |
| Fuel Injectors: | RC Engineering 650 cc/min Fuel Injectors |
| Fuel Delivery System: | Walbro 255-lph Fuel Pump |
| | AEM Fuel Pressure Regulator |
| Engine Management System: | AEM EMS |
| Engine Management Tuner: | Autowave |
| Spark Plugs: | NGK |
| Exhaust Manifold: | CT Engineering Headers |
| Exhaust System / Downpipe: | TUBI Exhaust with Quad Tips |
| Cooling System: | Ron Davis Radiator |
| Performance Electronics: | FJO Wideband O2 Sensor |
| TURBOCHARGER | |
| --- | --- |
| Supercharger: | Whipple Twin-screw Supercharger |
| Displacement: | 2.3-liter |
| Intercooler: | Custom Intercooler |
| CHASSIS/DRIVELINE | |
| --- | --- |
| Coilovers (F&R): | HKS Hypermax Coilovers |
| Additional Suspension Components: | CT Engineering Sway Bars |
| | NSX-R Front Chassis Bars |
| Transmission: | JDM NSX-R 5-speed |
| Final Drive: | 4.55 CT Engineering Ring and Pinion |
| Clutch / Flywheel: | Carbonetic Triple Disk Clutch |
| Wheels (Make, Size & Offset): | Dymag Carbon-fiber/Magnalium Wheels |
| | 18×8.5 (F), 19×10.5 (R) |
| Tires (Make & Size): | Michelin Pilot Sports 225/35R18 (F) |
| | 285/30R19 (R) |
| Brake Calipers (F&R): | Brembo GT Calipers (F&R) |
| Brake Rotors (Diameter, F&R): | Brembo 13-inch Rotors (F&R) |
| Brake Pads (Front & Rear): | Brembo Pads (F&R) |
| Brake Lines: | Brembo Stainless Steel Lines |
| Etc.: | Brembo E-Brake |
| | Wilwood Proportioning Valves |
| INTERIOR | |
| --- | --- |
| Roll Bar / Cage: | CT Engineering Harness Bar |
| Seats: | Sparco Leather Milano |
| Harnesses: | Simpson Harnesses |
| Steering Wheel / Quick Release: | NSX-R Steering Wheel |
| | NRG quick release |
| Gauges: | DEFI BF-series Gauges |
| | Alpine Double-din Touch Screen |
| EXTERIOR | |
| --- | --- |
| Front Fenders & Lip Spoiler: | Downforce Carbon Fiber |
| Hood: | MVDesignz Custom-Vented Hood |
| Skirts: | Downforce Side skirts |
| Rear Fenders: | Taitec Rear Quarter Panels |
| Rear Diffuser:: | Downforce Carbon-Fiber Rear Diffuser |
| Spoiler / Wing: | Downforce Type R Carbon-fiber Trunk Lid |
| Headlights: | Factory 2002 Headlights |
| Paint: | Hot Chili Pepper Red |