There's something in the air in Colorado, and it's not smoke clouds. We're talking about the impeccable tuning culture of Coloradans. During DSPORT's latest visit to the Centennial State, for the IDRC's Street Tuner Mayhem event at Bandimere Speedway, we quickly took notice of hundreds of high quality modified imports. One build in particular caught the editors' attention, Scott Healy's yellow S2000. Healy's level of attentiveness and completeness achieved by his build impressed us, enough to award him the InstaFame Car Show's DSPORT Editor's Choice Award.
Text by Sami Sharaf // Photos by Aaron Eusebi
---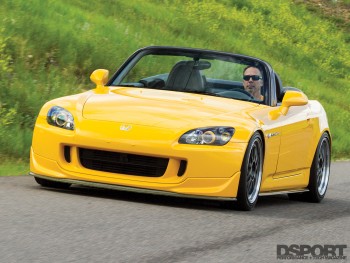 Healy has a slight addiction with Honda's two-seater offerings. This 2004 AP2 happens to be his third S2000 and before that, Healy's car collection included a Del Sol VTEC as well as CRX Si. Before the AP2, Healy had a daily-driven yellow AP1 with a fair share of upgrades. Eventually it was equipped with a supercharger to make daily commutes that much more enjoyable. Healy admitted, "My AP1 was fun but after years of wear and tear, it really started to show its age." In the fall of 2009, he replaced the AP1 with a newer and cleaner model.
Seeing Double
For almost six months, two yellow S2000s occupied Healy's garage. While he returned the AP1 back to stock, he reflected on his past builds. Before a wrench was turned on his new ride, he came up with a plan. Healy wanted to approach the build with cohesion. He believed that building a car that was well thought out would lead to a uniform finished product. The other main build idea was to turbocharge the F22C engine.
Homegrown
With the help of a few close friends, modification of the S2000 began in Healy's garage. Changes to the appearance of the AP2 started off the list of upgrades. A careful selection of parts gave a subtle yet complete look to the AP2. To this end, Healy installed a set of Bilstein PSS9 coilovers to drop the ride height onto a set of 18-inch BBS LM wheels wrapped in Dunlop Star Spec rubber. The cabin was then upgraded to S2000 CR-spec interior, which includes the seats and the steering wheel. The finishing touch to the interior is the Password:JDM carbon kevlar center console trim. Next, the exterior of the roadster was to be improved.
Downforce carbon kevlar ground effects complement the front, rear and sides of the S2000. The aero components consist of a front lip splitter, side skirts and a rear diffuser. The end result was a cohesive presentation of tasteful modifications that hint at the performance of this S2000.
Fast Times
In the summer of 2010, Healy selected the components to turbocharge the F22C engine. The foundation for the system is a Full-Race Motorsports Prostreet turbo manifold. The robotically TIG-welded Full-Race manifold with long exhaust primaries produces a responsive powerband, while a low-angle merge collector provides a turbulence-free area for exhaust gasses to enter the turbine housing. At the T3 flange hangs a Garrett GTX3576R turbocharger with a 1.06 A/R housing. To regulate boost pressure, Healy chose a TiAL Sport wastegate connected to a MAC 3-port boost control solenoid by stainless-steel braided lines. Additionally, a TiAL Sport blow-off valve works against compressor surge by venting boost pressure when coming off throttle. To cool the incoming aircharge, a Full-Race Motorsports black anodized front-mount intercooler takes its place in the behind the front bumper grill.
In support of the increased volume of incoming charge air, Healy attended to the fuel and ignition systems. Beginning with the fuel supply, a Walbro 450 lph in-tank pump feeds a Science of Speed surge tank. Inside the tank, twin AEM 320-lph pumps feed E85 through -8AN lines to a FullBlown XXL fuel rail for distribution to a quartet of Fuel Injector Development 1,200cc/min injectors. Okada coil packs and NGK spark plugs ignite the fuel mixture. All of which is now under the command of a Hondata K-Pro4 programmable ECU.
Up In Smoke
With a conservative tune in place, Healy enjoyed his boosted S2000. Unfortunately, car tuning has its ups and downs. Healy abruptly found this out after a catastrophic wastegate malfunction. A spike in boost pressure up to 20 psi resulted in a set of damaged pistons. As the car was towed back to his garage, the project took a considerable setback. After six months, Healy put enough money into the S2000 to get it back on the road with a built bottom end featuring sleeves, pistons and rods. As luck would have it, this setup didn't last long either, as a spun rod bearing led to irreparable damage.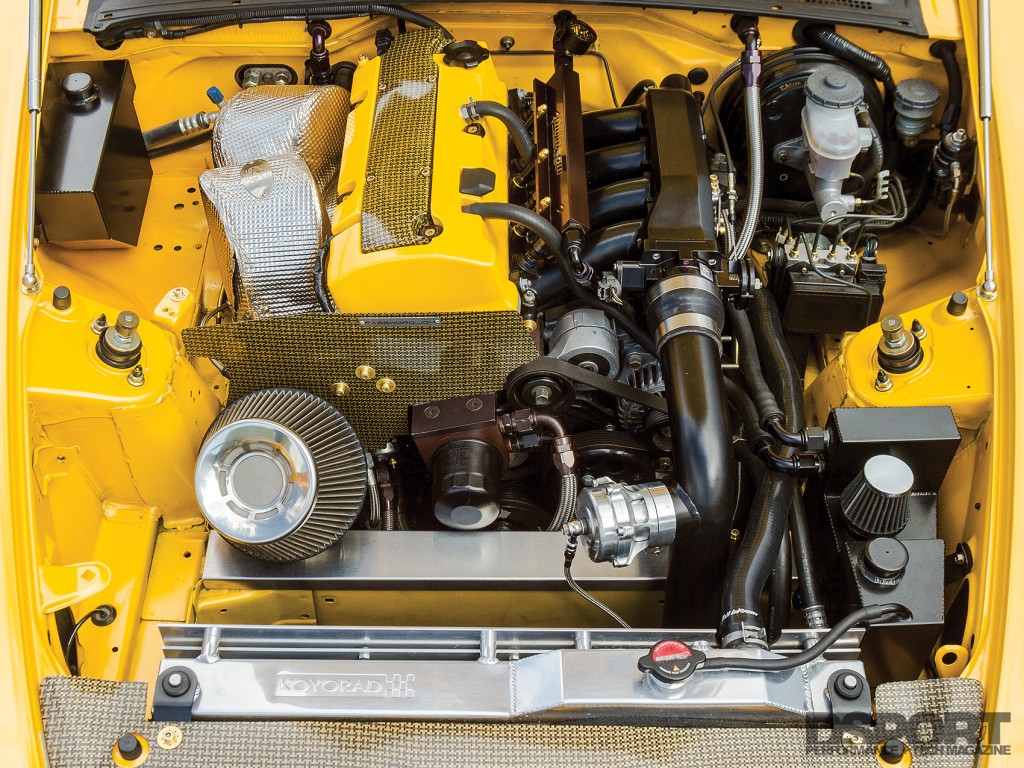 Buzzing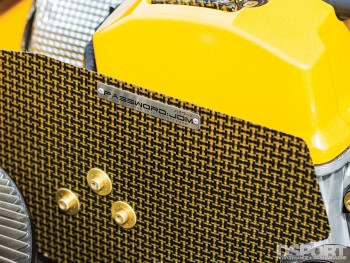 Six more months passed as Healy once again rebuilt his F22C engine. Rather than addressing the damaged engine, he purchased a brand new F22C short block instead. On the top end, the focus was to improve the AP2's volumetric efficiency. The cylinder head was entrusted to URGE Designs, a S2000 specialist. Placing emphasis on improving the head's port shape and valve seats, the machinists at URGE applied their cylinder head skills. According to URGE, this approach yields a 12 to 18-percent improvement in intake flow and a 25 to 30-percent improvement in exhaust flow. Additionally, URGE's inconel exhaust valves, dual valve springs and titanium retainers replaced the factory valvetrain.
Once Healy received the modified head, he utilized ARP head studs to provide the clamping force to mate the block and head together. Before installing the new powerplant, Healy upgraded to a Clutchmasters FX400 clutch system to transfer power from the engine to the drivetrain. With the car back up and running, the S2000 was strapped to the Dynojet at MAC Autosport. Through the KManager editing software, Nick of MAC Autosport tuned the boost pressure, air-fuel mixture and ignition maps. At 15 psi of boost pressure, the F22C pumped out over 600 horsepower at the wheels with over 430 ft/lbs of torque.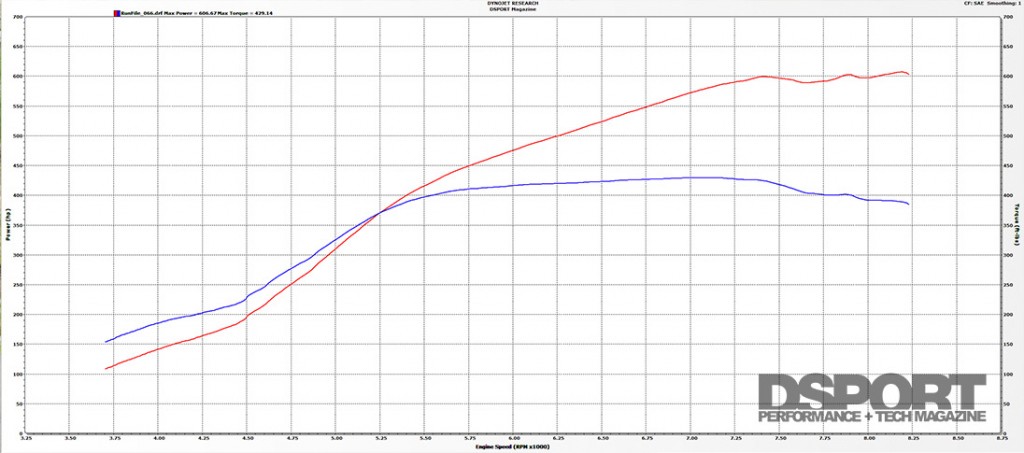 Nice Dreams
Healy paid his dues with the trials and tribulations building this S2000. As it stands, he is extremely happy with the finished product and enjoys driving his car as Colorado weather permits. He still battles with some traction issues, which he plans to remedy by adding traction control through the Hondata K-Pro4 ECU and possibly changing up the wheel and tire combo to a wider variety. Additionally, he is contemplating a flex-fuel setup to gain some versatility. Until then, he'll just drop the top and bake in the Colorado sun.