Years of experience will often compensate for a lack of resources when someone is a die-hard enthusiast. History has shown that a few dedicated and experienced racers can hit the track with a grassroots operation and still set records or take home an event win. Knowledge and expertise is something that money simply can't buy. It is this priceless expertise that makes it possible for budget- restricted tuners to produce impressive results.
By Brian English • Photos by Richard Fong
---
Having owned several Civics in the past, Carlos Silva of Ft. Lauderdale, Florida, purchased this 1996 Honda Civic CX hatchback nearly four years ago with the intention of making it a daily driver with some additional pep. After tuning an LS motor swap with an assortment of enhancements, the initial build concluded with a bolt-on turbo system. Over time, Carlos elected to step up to a K-series powerplant for a more modern punch.
Utilizing Expertise
With the 2007 opening of his shop, LabelOne, Carlos wanted to prove his abilities as a tuner by successfully building a low-cost, yet high- powered Civic. Carlos started by utilizing a variety of Honda- manufactured components to increase performance while keeping costs down. He selected the Honda CR-V's K24A1 bottom end for its greater bore and stroke over the smaller K20. In order to make more power reliably, the K24A1 block would need serious attention.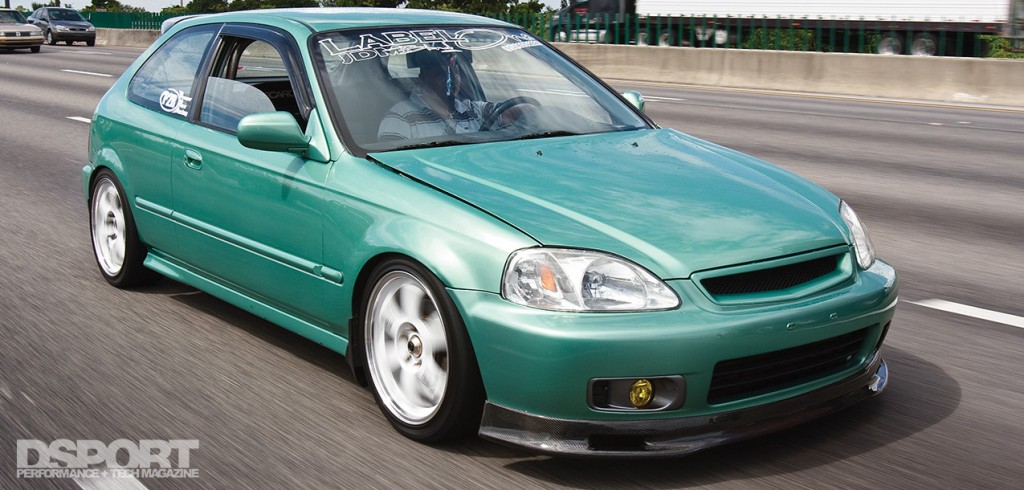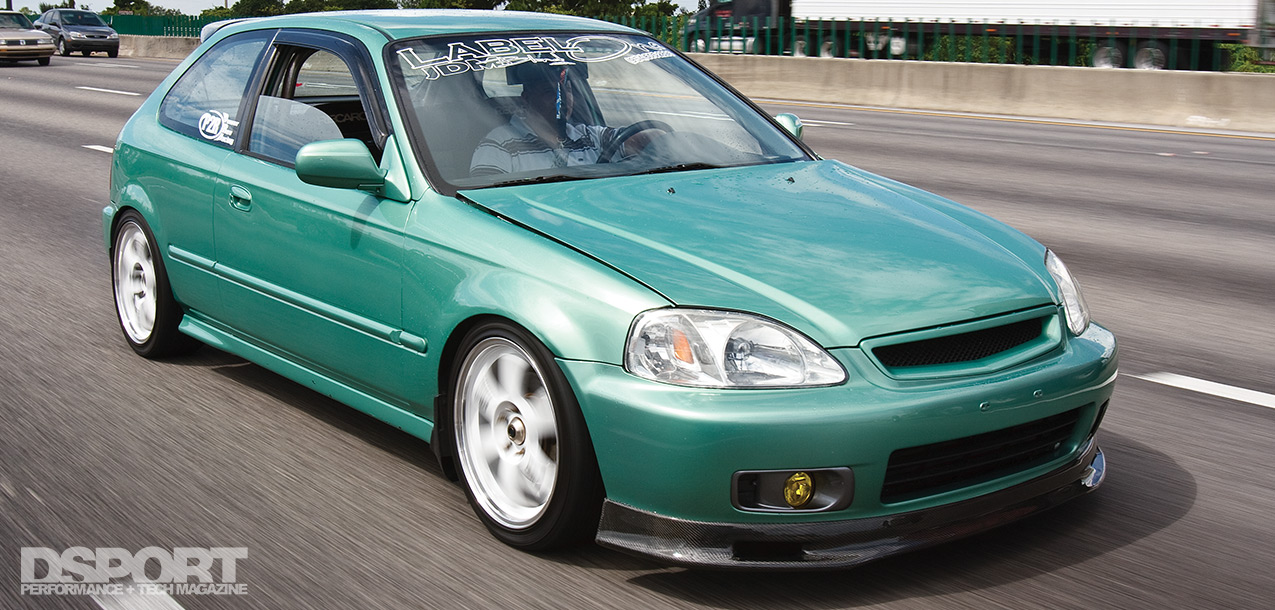 Sleeved for Boost
Redline Automotive Machine of Davie, Florida, bored and reinforced the K24A1 block with AEBS T-sleeves. These sleeves are now home to Wiseco 10.2-to-1 compression-ratio forged pistons. These pistons convert combustion energy into kinetic energy by spinning a micro-polished K24 crankshaft by way of Pauter Machine billet-steel connecting rods.
Heading in the Right Direction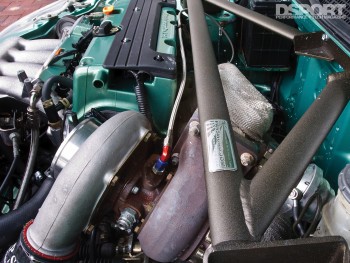 With the bottom end addressed, attention shifted to the topside of the engine. A K20A2 i-VTEC cylinder head from an Acura RSX Type-S provides improved airflow along with variable valve timing and lift on both camshafts. The head and block sandwich a Cometic head gasket cinched by Golden Eagle head studs. Within the head, Race Engine Valve (REV) springs, retainers and stainless-steel valves provide increased valvetrain reliability while raising the redline to 9,000 RPM. K20Z1 camshafts provide a more aggressive cam profile compared to its A2 sibling, further increasing the airflow in and out of the cylinders.
Performance Under Pressure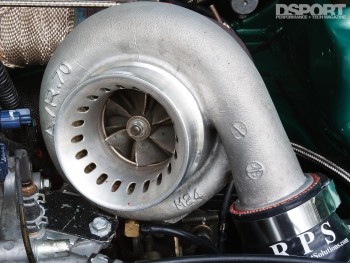 Having reinforced the block to being nearly bulletproof, it was time to maximize the potential of the engine. A serious turbocharger system was in order. A Fab-worx custom stainless-steel manifold was selected to mount the Precision Turbo & Engine (PT&E) 6776 ball-bearing turbocharger. The hot side of the turbo relies upon a TiAL Sport 44mm wastegate to keep boost pressure at 32 psi at the intake manifold. A R.A.W. Racing custom 3-inch turbo-back exhaust system directs spent gasses to the atmosphere.
On the cool side, the compressor sends charge air to a BMPC 4-inch-thick front- mount intercooler. Once cooled, the charge air flows to the factory throttle body which bolts to a RBC intake manifold from a 2006-07 Civic Si by way of Power Rev Racing's (P2R) adapter plate. The swapped intake manifold provides improved flow compared to stock while dividing air to the intake ports. When the throttle plate closes, a TiAL Sport 50mm blow-off valve relieves the pressure inside the intake plumbing.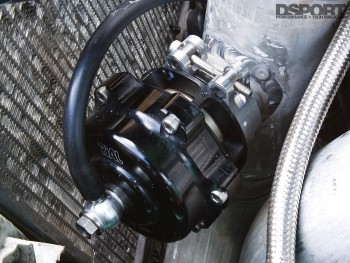 While massive amounts of air are delivered by the turbo system, it's up to the fuel system to deliver an appropriate amount of fuel. A pair of Walbro 255-lph in-tank fuel pumps send VP Racing C16 fuel to four Precision T&E 1,200 cc/min fuel injectors. Inside the combustion chamber, the air/fuel mixture is set ablaze by NGK Iridium spark plugs. Hondata's K-Pro engine management system orchestrates fuel and ignition events along with boost control. After tuning the K-Pro, the Civic spun the rollers of the STP Motorsports Dynojet 248C to a peak of 711 horsepower and 517 lb-ft torque. Over 700 wheel horsepower is staggering considering the block and crank are originally from a 156-horsepower SUV.