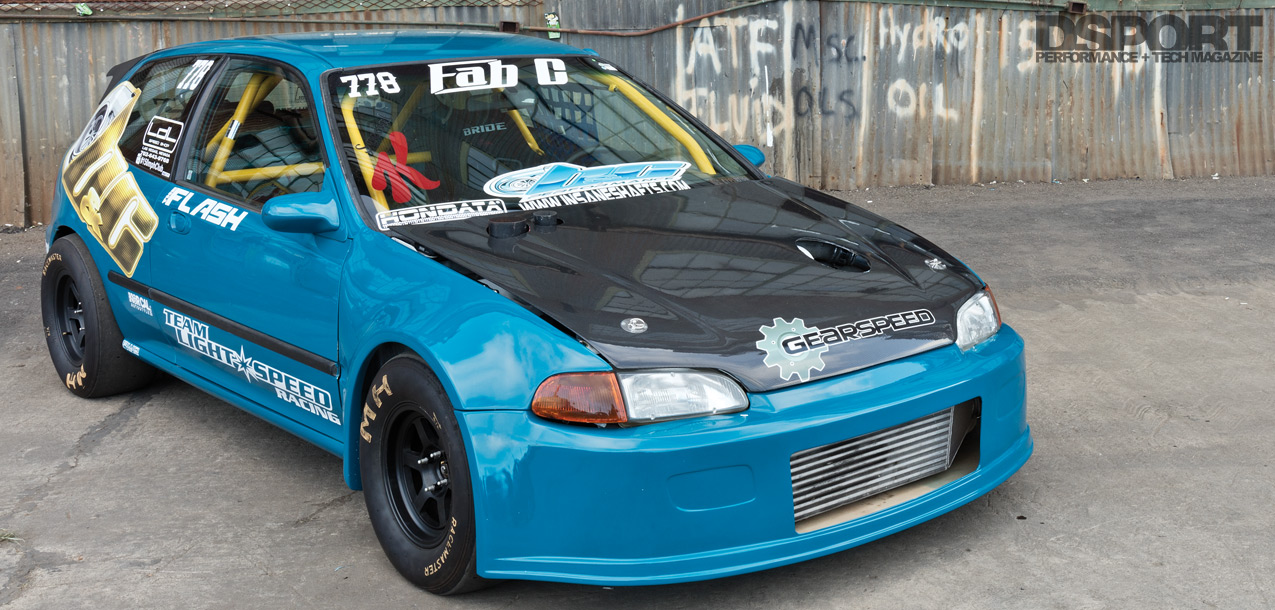 IT'S A HOLLYWOOD CLICHE TO GET BEATEN IN A RACE, go back to the garage, make improvements and come back a winner. The fact is, this scenario is something that many can relate to and draw inspiration from. When the shortcoming is related to traction, even more clichés come to mind. Getting power to the ground has proven a challenge for generation upon generation of racers and enthusiasts. The quest for traction has prompted some to think outside the box, taking uncommon measures to achieve it. Thankfully, the results sometimes more than justify the frustration, effort and expense.
Text and Photos by Richard Fong
---
For a competitor, losing is especially hard to accept, as Alberto Casas of Sun Valley, Nevada can attest. His project began in 2007, when he purchased this 1992 Honda Civic with a K20 engine swap from a friend. It was far from complete, but it was the chassis and engine Casas desired. After investing time, energy and funds into getting the EG up and running, Casas experienced the satisfaction of driving the Civic daily and romping on most unsuspecting and hapless drivers thinking that the more than 20 year old chassis wasn't going to be quick. That is, until he had the unfortunate and sour experience of losing a race due to excessive wheel spin.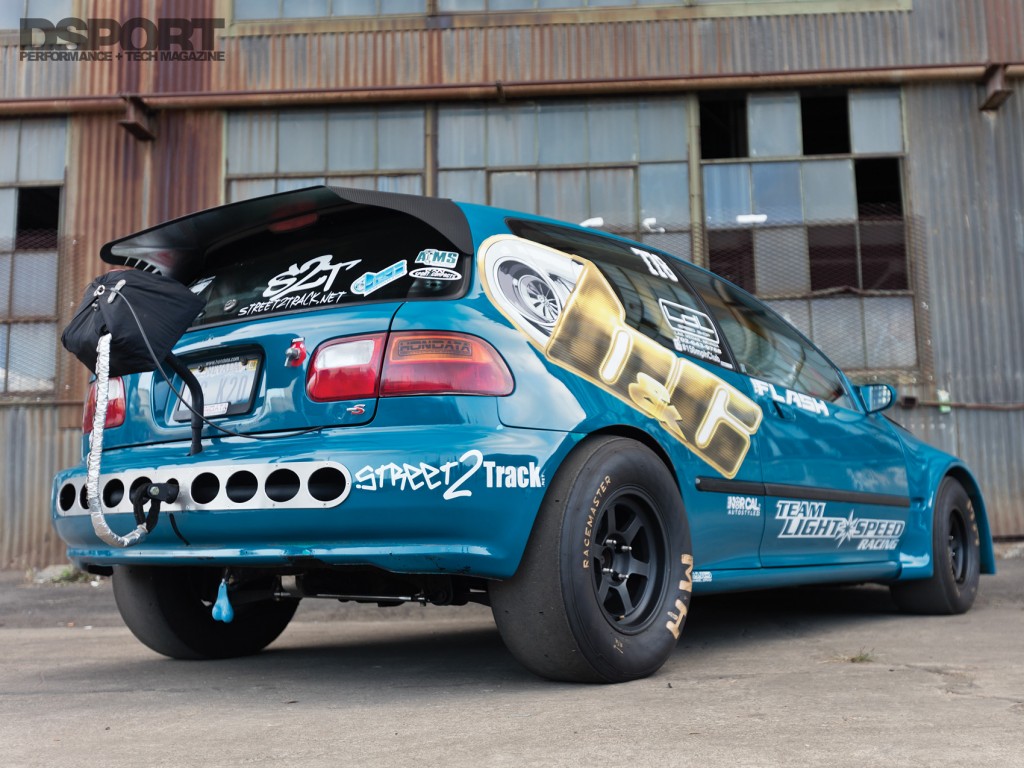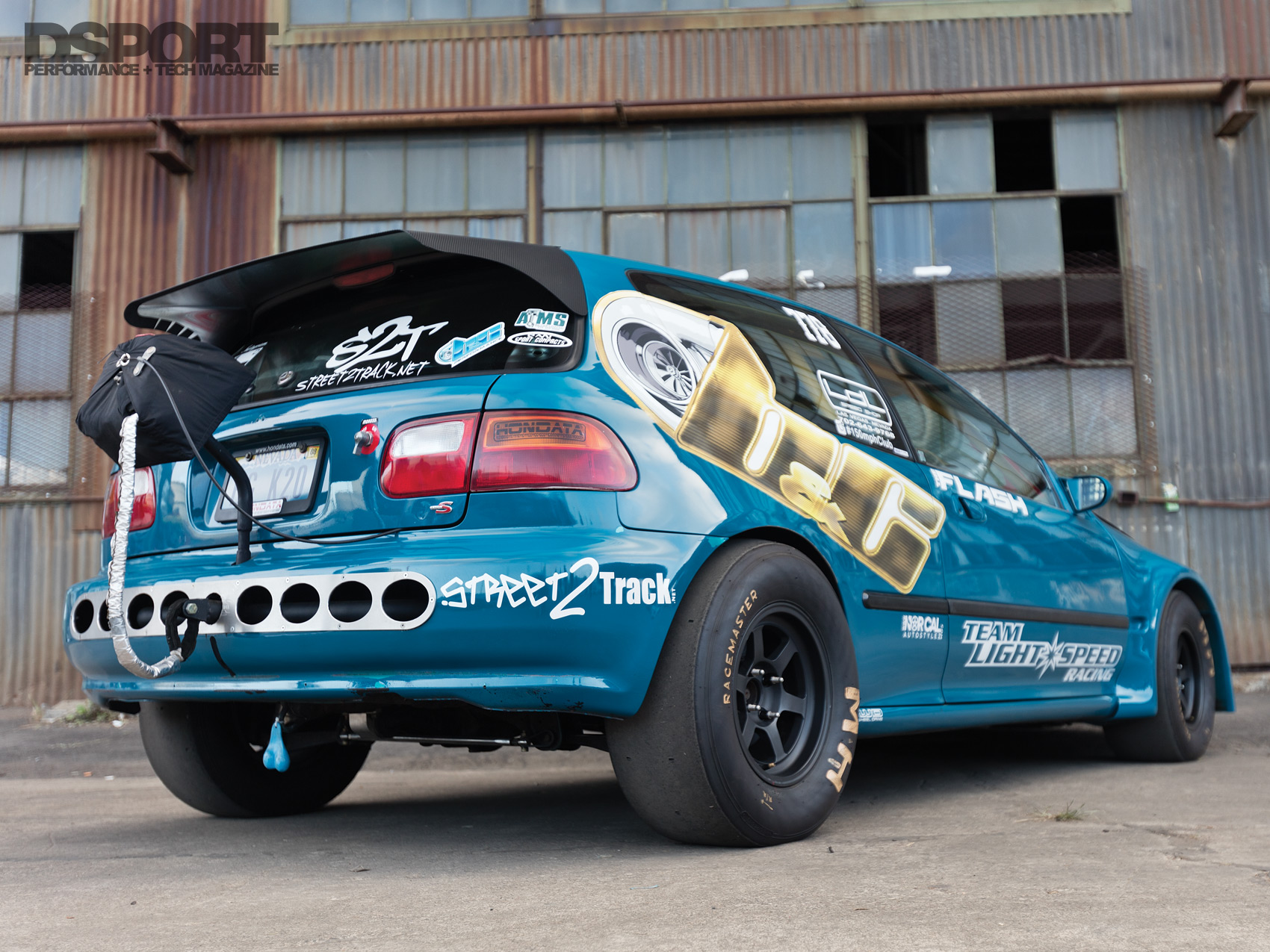 Seeking Solutions
[pullquote]CASAS LOOKED INTO POSSIBLE SOLUTIONS FOR IMPROVING HIS TRACTION, WHICH LED HIM TO CONSIDER AN AWD CONVERSION.[/pullquote] It comes as no surprise to anyone that a FWD Civic with some power will struggle at the launch without the benefit of super sticky tires in the wheel wells. After losing his race, Casas looked into possible solutions for improving his Civic's traction, which led him to consider an AWD conversion. While many think of Honda products primarily as front wheel drives, there were a handful of all-wheel drive platforms produced which opened the door to adapting, mixing and matching components to other Honda chassis.
(L) An NHRA certified cage outfits the cabin, forming a protective barrier around the driver. (M) A billet aluminum shift mechanism commands the cable linkage to the transmission. (R) An array of gauges relay engine vitals.
Power to all Fours
The second generation and newer Honda CR-Vs came equipped with variants of the K-series engine and were available with an optional 4WD driveline. Therefore mating the optional 4WD transmission to the Civic would be a bolt-on affair. With the help and support of his friends at BC Performance and his team, Lightspeed Racing, Casas got to work on his EG Civic. After sourcing a transmission, he fortified the box with a full PPG dog-engagement gear set. With the reinforced transmission mounted to the block, attention then shifted to turning the rear wheels. Casas elected to use the differential carrier from a late 80s Honda Civic Wagon, which was also offered with optional 4WD. BC Performance modified the rear subframe to position the differential carrier between the rear wheels. Then a factory CR-V propeller shaft was shortened to the proper length to join the transfer case to the differential carrier.

A 4WD CR-V transmission enable this Civic to have all wheel drive.
Back to Racing
Enjoying the benefits of all-wheel drive traction put into motion newfound goals for Casas and his Civic. Taking the EG more regularly to the track, he began making upgrades in order to produce quicker time slips. However, this would not be an easy feat at his local track, Top Gun Raceway. The elevation there is 4,000 feet above sea level, and the reduced air density makes it challenging to produce power. At its best, the K20-powered Civic ran a 12.5-second pass with a shot of nitrous oxide to back it up. Yet this was not quick enough for Casas, who got back into the garage and began working on a more powerful solution, one that would boast more displacement and a turbocharger.