Imagine carrying an 80MPH drift on low-grip gravel, with a thick forest on one side of the road and a mountainside drop on the other.
A simple miscalculation of a bump in the road or the amount of grip available can send the car tumbling down the mountain or wrapped around a tree in the blink of an eye. This recipe for disaster, known as rally racing, calls for some of the toughest-built racecars in all of motorsports, from the tires and suspension to the roll cage and safety equipment that surrounds the vehicle occupants. In order to get a closer look and gain a full understanding of what goes into building a rally car, we're teaming up with Driven to Find a Cure team owner and driver Todd McAllister, and Ralli Candi shop owner and car builder Brent Smith.
Text and Photos by Cameron Parsons // Illustrations by Paul Laguette
---
Setting Goals
Before getting our hands dirty in rally, we had to select a platform. McAllister picked up a used, 2015 Subaru Impreza WRX for the shop to build for Rally America competition. The Rally America series serves as the highest tier of rally racing in the United States, regularly drawing in big names like Ken Block, David Higgins and Travis Pastrana to compete. Three different classes build the National Championship categories, including Open, Super Production and Two-Wheel Drive. Although the WRX could essentially compete in the Open or Super Production classes, the Open class allows for major modifications under the hood. This may make for great speed and racing action, but it also demands teams to spend well past six figures to stay competitive. On the other hand, Super Production allows high-performance all-wheel drive vehicles to compete, but with very limited modifications. With its ruleset focused primarily on strength and longevity, many teams choose to go this route in order to minimize costs while getting in on some great racing. In an effort to keep from spending a whole season's budget in a single weekend, the Super Production class would become the home for this project WRX. With our goals set and the rulebook nearly memorized by all parties involved, the conversion from stock to rally ready could begin.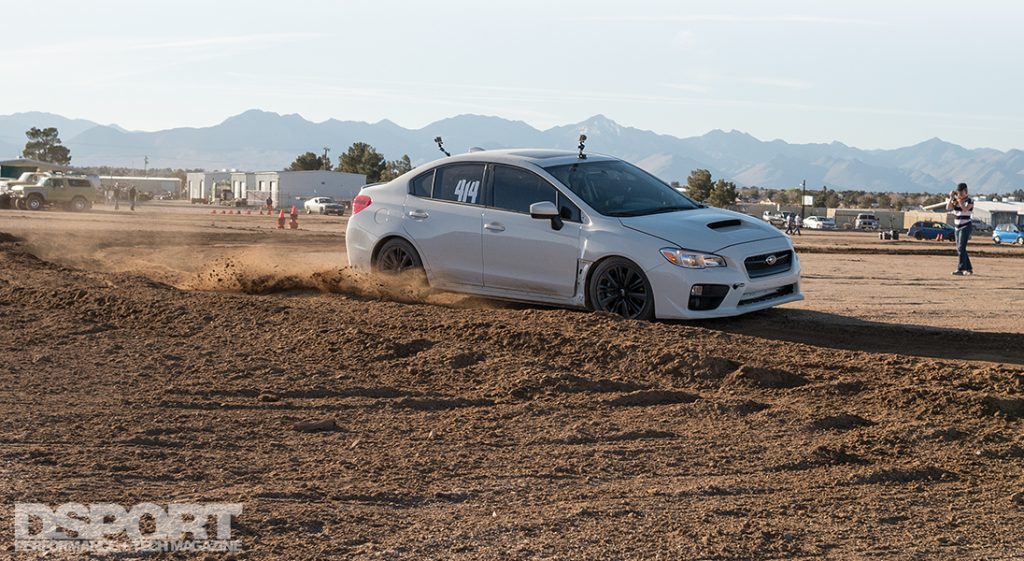 Putting Power Down
Although the Super Production class limits power modifications for our WRX, including a 34mm turbo inlet restrictor, we can still try to squeeze out some extra speed while complying with the rules. This led us to a COBB Turbo-Back Exhaust and Accessport to remove some of the power-limiting restrictions of the factory setup. In order to optimize this setup, we called in tuning professional, Bill Knose from Delicious Tuning, to work his magic. With the exhaust and a custom tune in place, the WRX would maintain its strong power curve to improve drivability. As much as we may want to churn out a ton of power, the ability to keep the car under control in harsh conditions takes priority.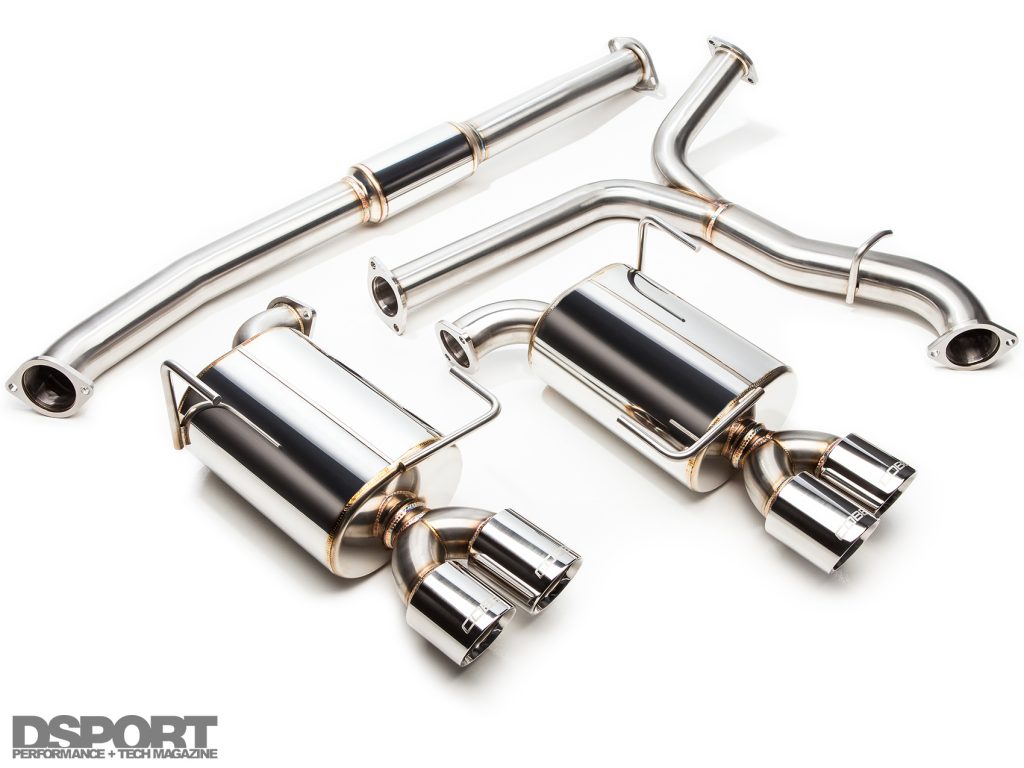 This rally WRX may not crank out the power numbers you'd find at any high-level time attack event or drag race, but the stock clutch would still take a beating during a rally stage. Every stage begins with a standstill launch which, on an all-wheel drive platform, begs for a durable clutch. Taking the demands a step further, rally drivers frequently blend throttle and brake in the corners to induce extra rotation, a technique that builds a massive amount of heat in the clutch pads. To this end, an Exedy Stage 2 clutch will mate the engine and transmission to guarantee that the throttle input will reliably and consistently translate power to all four wheels. With the powertrain pieced together, we can then move on to toughening up the rest of the car.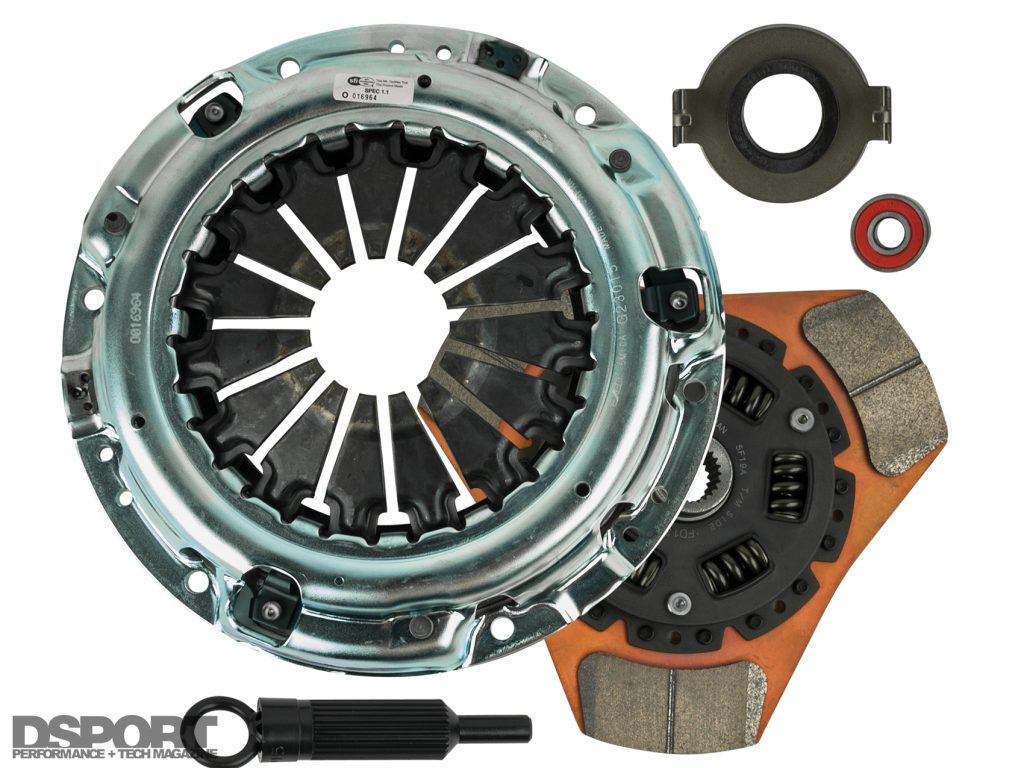 Exedy's Stage 2 clutch utilizes cerametallic friction material to handle some degree of slippage without fading. The clutch has sprung center dampers to reduce impact and shock load, both of which would help greatly in rally.
Playing it Safe
The Super Production class allows extremely minimal body modifications in order to retain the car's original look. The interior, however, will show little to no sign of the WRX's life as a streetcar. An FIA-spec rollcage fabricated by Fleet Works Services protects the driver and co-driver in case of a serious incident. Unlike road racing cages that focus on protection from impacts against walls or other vehicles, rally cages emphasize protection in roll over situations. Given that rally cars compete in varied terrain, the cages are built for unexpected situations like colliding with a tree or rolling over multiple times.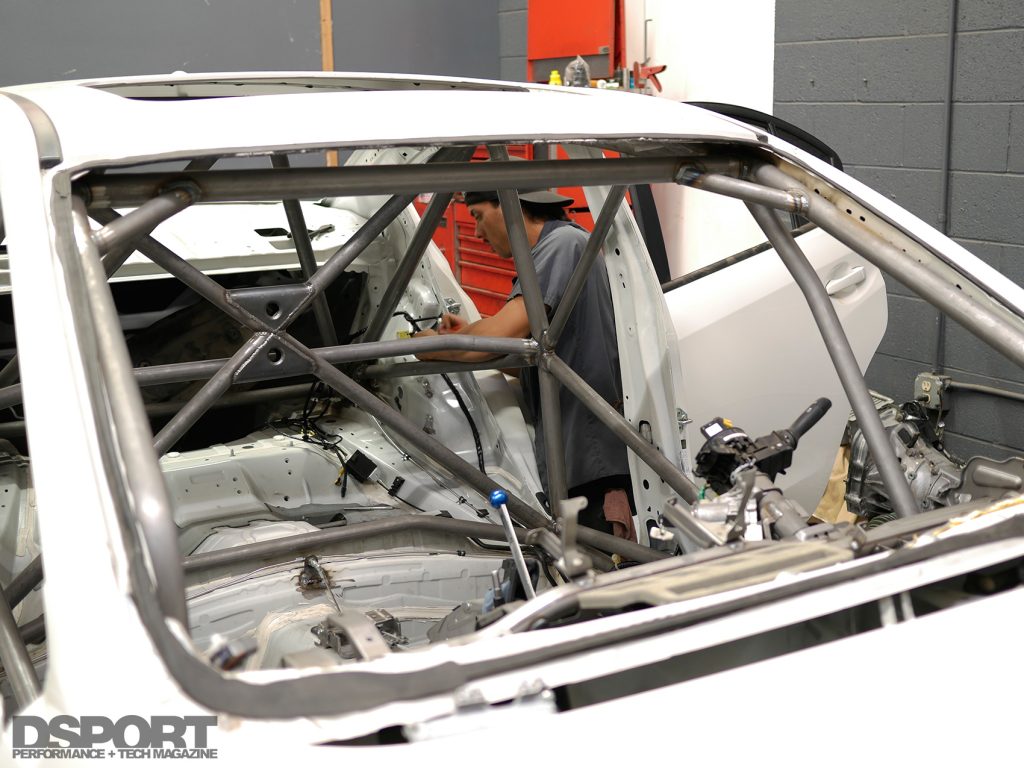 Extending safety beyond the cage, FIA-approved Sparco Pro-ADV seats, R-383 steering wheel and harnesses will surround the car's occupants. In the case of an accident, the high-sided seats and six-point harnesses prevent instances of whiplash and head, neck and torso injuries. With the driver and co-driver fully protected, we then shift focus toward the handling components.
Rim Reduction
One of the most noticeable differences of a rally car against other racecars is the wheels and tires that it sits on. Instead of the common trend of cramming giant wheels and low profile tires under the fenders, rally cars call for the opposite setup. A set of 15-inch Enkei RC-G4 wheels fill the wheel wells, utilizing a rally application-only design that focuses on strength above all else. Due to the high risk of slamming into boulders or getting gravel stuck against a brake caliper and cutting into the inside of a wheel, broken or split rims are not uncommon in rally. Built with Enkei's branded Most Advanced Technology (M.A.T.) process that combines one-piece cast wheel design with a spinning process, the RC-G4s retain durability while pressing on the scales at a relatively low weight of about 18 lbs, approximately 6 lbs. less than factory. Although street wheels and many road racing wheels feature a small center dish and long spokes, this wouldn't work well on a rally car. A large center dish with short spokes help reduce flex when under lateral load, while also preventing gravel and debris from entering the brake area and potentially causing damage.
Tire Profile

1) The high-profile, 205/65R15 Maxxis Victra R19 rally tires act as a secondary form of suspension to improve drivability over the varying road conditions. 2) On most streetcars with low profile tires, obstacles like branches, boulders or other debris potentially dent and damage the wheels. Rally tires, however, can withstand and absorb these impacts with little problem, saving the car's components and maintaining contact with the road surface. 3) Rally tire tread blocks taper in so that the outer surface that touches the ground is smaller than the rest of the block. This shape helps the blocks dig into the road surface like soccer cleats on the field.  4) This design also aids in dislodging and throwing dirt and debris off of the tire as it rotates at speed, so that the blocks can cleanly cut into the ground again when the tire makes a full revolution.
Do-It-All Rubber
A set of 205/65R15 Maxxis Victra R19 tires will wrap the rims to grip the ground in all environments. This heavily grooved, tall sidewall tire plays one of the biggest roles in making a car rally-ready. The high sidewalls aid in conforming to inconsistencies in the road surface, like boulders and tree branches, to improve grip and prevent wheel damage. However, tall rally tires frequently fight against so much lateral force that debeading is one of the most common issues in any given race weekend. The Victra R19s feature ribbed and steel reinforced sidewalls to prevent this problem while also decreasing the risk of sidewall punctures.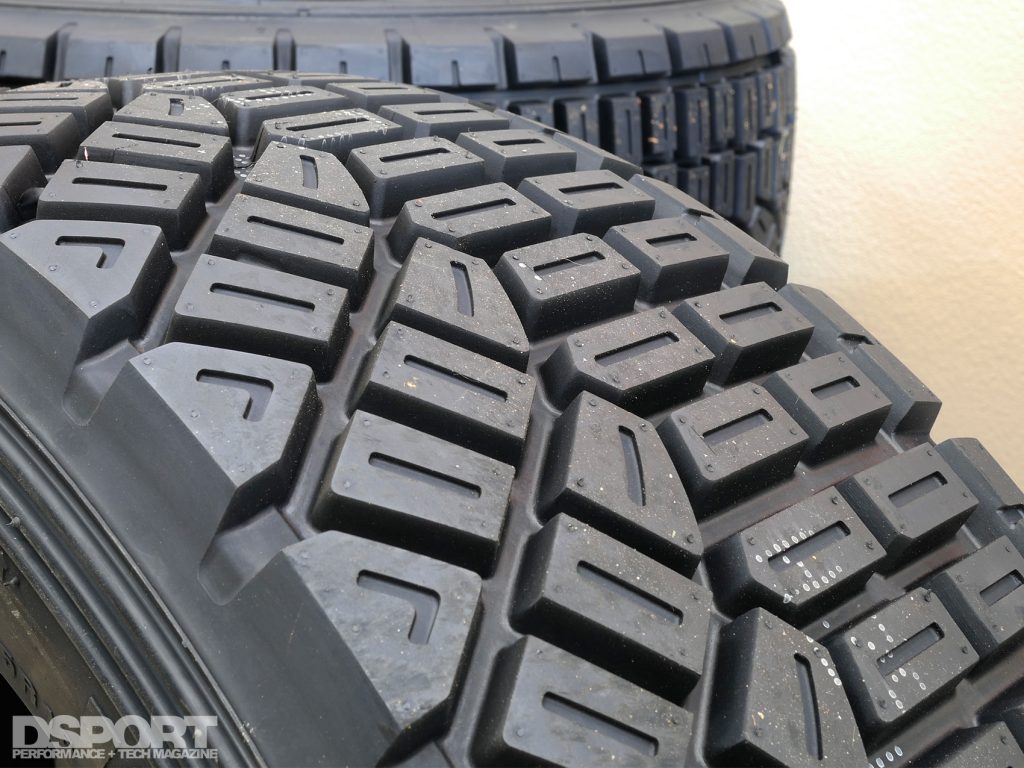 On the outer surface, the tires utilize a unique asymmetric design with different tread block patterns spanning the width of the tire. Half of the tire comprises straight horizontal blocks to provide traction for straight-line braking and acceleration, while the other half utilizes angled blocks to aid in turning and displacing debris and water. When viewing the tire from the side, you'll notice that the blocks taper in toward the outer surface, working double duty to dig into the ground and then aid in displacing dirt, gravel and other debris as the tire rotates at speed.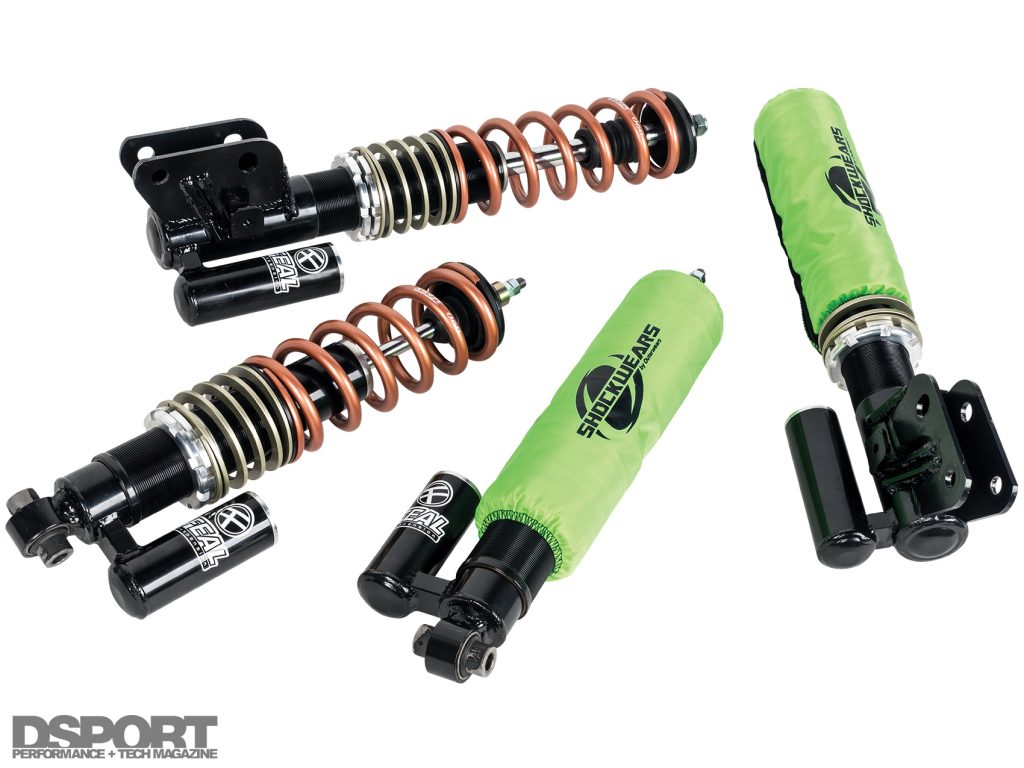 Up and Down
Following the rally theme of durability, the WRX will take to a set of Feal Suspension 460 Rally Racing coilovers. If the name Feal Suspension sounds familiar to you, it may be due to the fact that the company owner, Odi Bakchis builds and competes on the company's street and drift suspension variants, most popularly in the Formula Drift series. Although Feal Suspension may be most famous for its road applications, it is actually one of the most popular manufacturers for rally racers looking to get started in the sport. In order to handle varying road surfaces, tight turns and the likelihood of the car getting airborne at least a couple times in any rally event, the 460 Rally Racing coilovers utilize 6k-rate springs, the ability to raise the car an inch and a monotube shock design. The monotube design with two large 46mm internal pistons ensures less wear and more resistance to blowing out or folding over. With custom valving setups for each customer application, we'll be well on our way to attack the gravel.
Next Stop: Portland
As the pieces come together to convert this 2015 Subaru WRX into a rally car, all sights are set on the upcoming Rally America event that takes place in Portland, Oregon. In just three days of racing, this WRX will see rougher roads and more abuse than most cars experience in their lifetime. The road surface will switch between gravel, paved tarmac, dirt and mud, each of which vastly affects the handling dynamics of the car as well as the strain on its components. The roads will alternate between flat, banked and bumpy, and will even include jumps that send the car flying above the ground. Variables like boulders, trees, shrubs and other objects next to and in the middle of the driving path make the courses even more unpredictable. Given this huge variety of possible driving conditions, we hope that the Subaru is built to handle anything and everything that it will encounter in Oregon. After passing through the capable hands of Ralli Candi, then entrusted to McAllister's driving expertise, we'll find out what this WRX can really do.