Lets face it; it's hard to take a Mitsubishi Mirage coupe seriously when it comes to performance. The humble FWD economy compact shares little to nothing in common with its cousin, the Lancer Evolution. Fortunately, it does share some similarities to its other performance cousin, the Eclipse. And, some enthusiasts recognize this and push the Mirage into a performance class worthy of respect.
Text and Photos by Richard Fong
---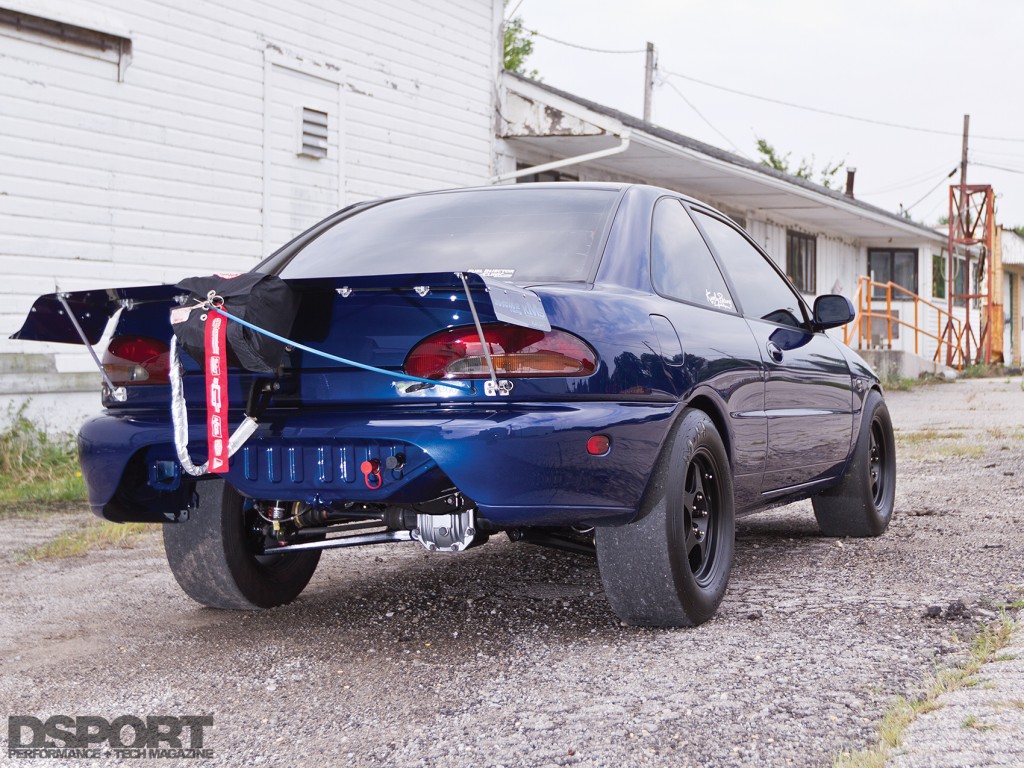 Elvin Rivera and his brother decided to purchase this 1995 Mirage coupe and build it for drag racing. Rivera explained, "We bought the car in 2006. We liked the look of the car, it was about the size of a Honda, but was powered by Mitsubishi. It had a FWD 4G63 swap already installed, but it was an ugly swap. The engine and transmission mounts needed to be redone, along with numerous other details under the hood." After visiting Buschur Racing to buy some engine parts, they saw a factory yellow EVO VIII being worked on. They took note of the color-code and decided to spray the Mirage in the same hue.
Mirage Trading Hands
Shortly after painting the shell (one of Rivera's specialized skills), his brother decided to kill the project and move back to Puerto Rico. They sold the Mirage to their cousin Jerry Fernandez at Jerry Racing down in Florida. Fernandez is known for his seven-second 4G63-powered Corolla, and his plans to convert the Mirage to a rear-wheel drive drag car sounded very promising. Two years later, Fernandez reached out to Rivera, offering to sell back the Mirage shell. The RWD conversion never got off the ground and he gave his cousin first right of refusal to buy the car. Rivera happened to be going through a rough patch at the time, so he negotiated to buy back the car and included with the purchase a 1G AWD Talon with a smashed quarter panel. He figured that time spent working on the car would get his mind off of his problems, and converting the Mirage to all-wheel drive sounded like a great project to do just that.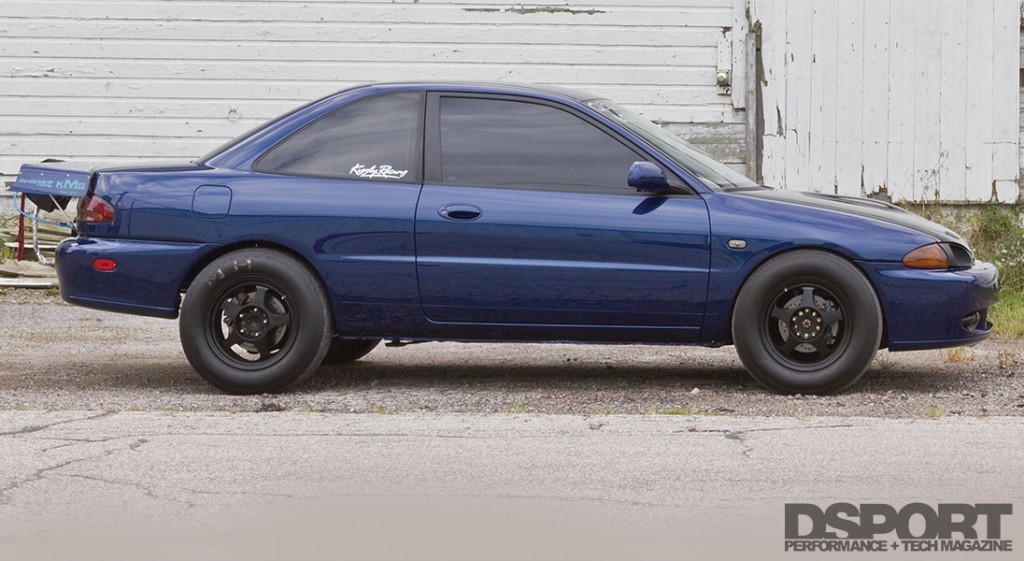 Two-door Evolution III
Rivera noticed before that his Mirage looked very similar to the Lancer Evolution III, but with only two doors instead of four. The coupe was lighter than the four-door sedan, making it an ideal candidate for drag racing. He discovered the Mirage shared similar dimensions to the 1G DSM chassis, which made the transfer of most parts a bolt on affair. Rivera, with help from his friend, Frank Martinez, fabricated new engine and transmission mounts to accommodate the AWD driveline. With the swap completed, Rivera encountered transfer case issues, going through more than three units before finally getting his driveline ailments resolved. The Mirage ran solid eleven-second passes, then shortly after, his TD05-14B turbocharger blew. This led to a fresh engine build.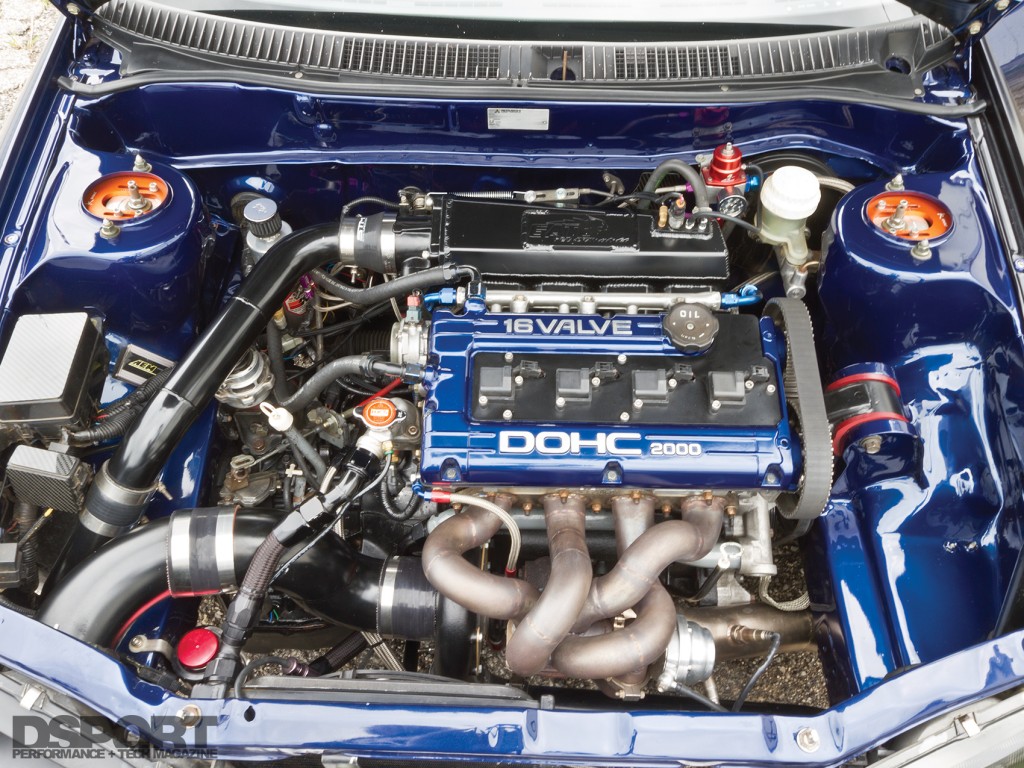 Built with Manual
The six-bolt 4G63 engine got a refresh in preparation for greater output targets. The stock engine displacement was retained, as the cylinders received a fresh hone before being filled with 9.5:1 compression Wiseco pistons that make the connection to the factory crankshaft by way of Manley Turbo Tuff rods. Up top, Buschur Racing (BR) serviced the cylinder head. After porting and polishing, a Supertech valvetrain composed of valves, springs and titanium retainers was installed. To lift the new valvetrain, BR stage 2 camshafts were chosen. Once reunited with the block, a set of ARP head studs secured the longblock assembly together. With a Precision Turbo & Engine PT6262 turbocharger providing boost pressure, the Mirage put down 488 horsepower to the wheels on Buschur Racing's Mustang Dynamometer. Slicked down with 24.5×8.5- inch M&H tires, Rivera piloted the 2,400-pound coupe down the 1320 and collected a best time slip of 9.63 seconds at 153 mph.
From Three Pedals to Two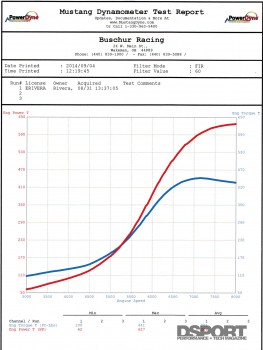 In 2012, clutch issues began to hamper Rivera's launch. Fed up with his driveline woes, he spoke to David Buschur for advice. Buschur suggested trying something different, like an automatic transmission. Buschur had been working on the conversion and already had plans laid out, he just needed test platforms. Rivera liked the idea of working with Buschur on the project, so work began immediately. The prototype box was based on a 1G automatic transmission equipped with a Precision torque converter that had been restalled from 2,000 to 3,200 rpm. This permits loading of the transmission and build up of boost.
While the engine was out of the chassis, Rivera tore it down to inspect the internals. He notices some irregular cracks on some of his pistons, which prompted a complete rebuild of the bottom end. Using this opportunity to increase the engine's output in support of the new driveline, higher compression 10.0:1 Wiseco pistons now join the crank by way of lightweight GRP aluminum connecting rods. A Shearer Fabrication manifold channels high-enthalpy gasses to the inlet of an even larger PT6766 turbocharger. With new internals and a larger turbocharger, Buschur retuned the AEM EMS 1 engine management. With VP Racing C16 fuel in the tank and the boost set to 32 psi, the Mirage put down 627 horsepower and 441 lb-ft torque to the rollers of the Mustang Dyno.
Makeover to Match
During the automatic conversion, misfortune befell the shell as it sat in Rivera's garage. Some parts on a shelf fell and damaged the roof, warranting some bodywork and a respray. This did little to slow Rivera, who is a specialist at KMS Paint and Body. He took the opportunity to not only repair the roof but also graft a four-door Mirage lower front bumper to his existing bumper to allow more airflow to the intercooler. He also grafted the iconic "power hump" from a stock 1G hood to the Mirage hood (to improve engine clearance) before spraying the chassis in a shade of electron blue to change things up. He finished the Mirage just in time for the 2014 Shootout presented by Buschur Racing. As he continued to sort out his setup, he managed a best pass of 9.8 seconds at 147 mph. Unfortunately, the restalled converter did not allow enough engine speed to build up boost with the bigger PT6766 turbocharger.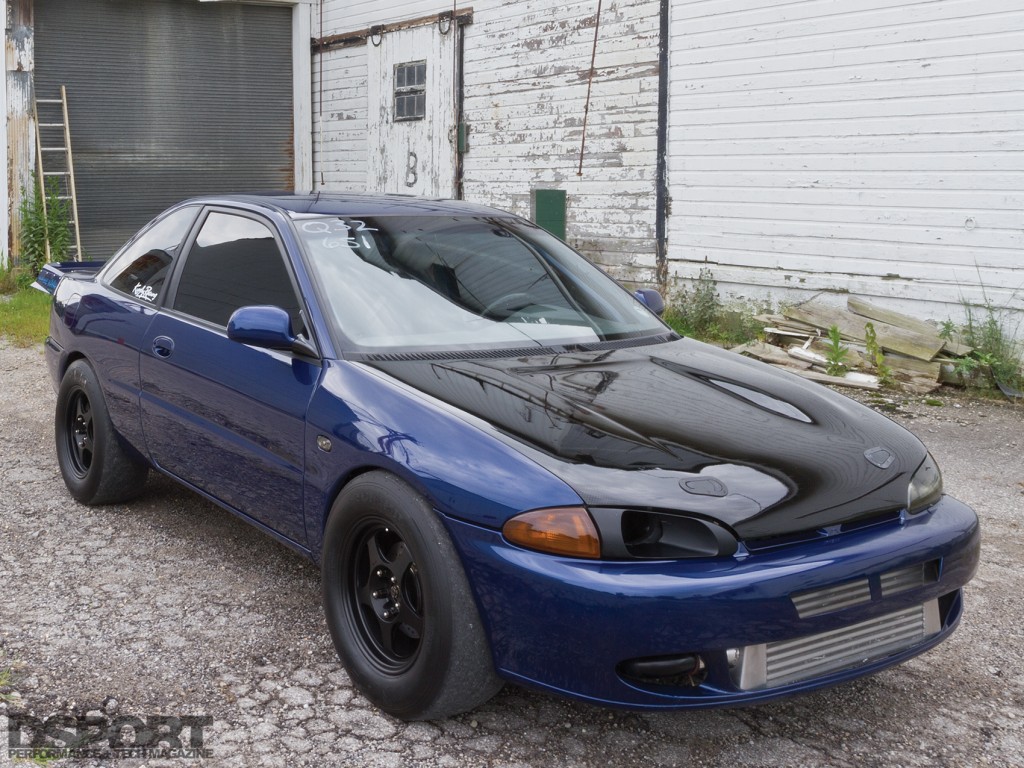 Moving Forward
For 2015, Rivera has several upgrades planned to take him deeper into the nine-second realm and perhaps even into the eights. Switching to E85, he hopes to realize some gains on the dyno. To support the change in fuel type, he plans to upgrade to Fuel Injector Clinic 2,150cc/min injectors supplied by a Magnafuel 750 fuel pump before retuning. Furthermore, he plans to upgrade to a 2G automatic transmission. This way, he can employ a heavier duty torque converter restalled to 5,400 rpm, which should permit him to build up boost for improved launches. Perhaps it's not so hard to take the Mirage seriously, with a little help from the Mitsubishi family.
Elvin Rivera would like thank his friends and family for their support of his Mirage project. He would also like to thank Buschur Racing and KMS Auto Body for all their help in making the Mirage the machine it is today.
---
SPEC SHEET
| VEHICLE | |
| --- | --- |
| Year / Make / Model: | 1995 Mitsubishi Mirage |
| Chassis Code: | CA4A |
| Competition Class: | Quick 32 |
| Vehicle Weight: | 2,443 lbs. |
| Launch RPM: | 6,500 RPM |
| Shift RPM: | 7,200 RPM |
| Redline RPM: | 8,000 RPM |
| Peak Boost: | 32 psi |
| Fuel: | VP Racing C16 |
| ENGINE | |
| --- | --- |
| Engine Code: | 4G63 |
| Displacement (cc): | 1,997.7cc |
| Bore & Stroke (mm): | 85mm x 88mm |
| Peak Horsepower (@ RPM): | 627 whp @ 8,000 RPM |
| Peak Torque (@ RPM): | 441 lb-ft @8,000 RPM |
| Dyno Type: | Mustang AWD Dynamometer |
| Engine Builder: | Elvin Rivera |
| Machine Work: | Buschur Racing |
| Pistons/Compression Ratio: | 9.5:1 Compression |
| Connecting Rods / Crank: | Manley Turbo Tuff Connecting Rods |
| Camshafts: | Buschur Racing Stage 2 Camshafts |
| Valves/Springs/Retainers: | Supertech Valves, Springs and Ti Retainers |
| Cylinder Head Modifications: | Buschur Racing Port and Polish |
| Cylinder Head Gasket: | EVO3 MLS |
| Head/Main Studs: | ARP Head Studs |
| Intake Manifold: | Gato Intake Manifold |
| Air Induction System: | Custom Headlight Funnel w/ Piping |
| Fuel Injectors: | Precision Turbo & Engine |
| Fuel Delivery System: | Aeromotive A1000 Fuel Pump & FPR |
| Engine Management System: | AEM EMS 1 |
| Engine Management Tuner: | David Buschur |
| Boost Controller: | Buschur Racing Manual Boost Controller |
| Ignition System: | MSD DIS-2 Plus |
| Spark Plugs: | NGK-R |
| Exhaust Manifold: | Shearer Fabrications |
| Exhaust System / Downpipe: | Shearer Fabrications Custom Side Exit Exhaust |
| Wastegate: | TiAL Sport 44mm |
| Blow-Off Valve: | TiAL Sport 50mm |
| Intercooler: | Garrett Bar and Plate Intercooler |
| Nitrous Injection: | NyTrex Nitrous Oxide Injection (75 Shot) |
| Cooling System: | Koyo Radiator |
| Fuel Cell: | Custom Aluminum |
| Performance Electronics: | AEM Wideband UEGO Controller |
| TURBOCHARGER | |
| --- | --- |
| Turbocharger: | Precision Turbo & Engine PT6766 |
| Frame: | T3 |
| Compressor Wheel Specs: | 67mm |
| Turbine Wheel Speds: | 66mm |
| Turbine Housing: | .82 A/R |
| CHASSIS/DRIVELINE | |
| --- | --- |
| Springs, F&R (Make & Rate): | KSPORT Springs, 7.5kgf/mm, 5.3kgf/mm |
| Shocks, F&R (Make & Rate): | KSPORT Kontrol Pro Adjustable Dampers |
| Transmission: | Buschur Racing Clutchless 4-Speed Transmission |
| Clutch / Flywheel: | Torque Converter |
| Wheels (Make, Size & Offset): | Rota 15×8-inches |
| Tires (Make & Size): | M&H Racemaster Slicks 8.5×26.0x15-inches |
| Brake Pads (Front & Rear): | Brake Man Brake Pads |
| Brake Lines: | ERL Stainless-steel Braided Lines |
| Etc.: | Simpson Parachute |
| INTERIOR | |
| --- | --- |
| Roll Bar / Cage: | Custom 11-point Chromoly Cage |
| Seats: | Kirkey Aluminum Seat |
| Harnesses: | RJS 5-point Harnesses |
| Gauges: | Auto Meter |
| EXTERIOR | |
| --- | --- |
| Front Bumper: | Custom Mirage 4-door |
| Hood: | Custom |
| Spoiler/Wing:: | Custom |
| Paint: | Custom – KMS Paint & Body |