There are no "born" drivers, only fast learners. Driving a car well is a skill that comes from instruction, experience and tons of practice. As a driver's skill set improves, the need for greater vehicle performance follows suit. During the week, Paul Nardi uses his 2008 Subaru Impreza STI to commute daily to work. On select weekends, this same car attends high-performance driving events. As Nardi's on-track time and experience increased, so did his penchant for more power and better handling.
Text by Richard Fong // Photos by Michael Ferrara
---
Tough Lessons
However, the road to performance isn't always as smooth as new pavement. Nardi took his Subaru STI to an area shadetree tuner that promised to make the STI a more potent track machine. The relationship started out healthy, as the tuner installed the first modifications to the STI, a set of KW Suspension Variant-3 coilovers, Whiteline sway bars and strut tower braces. Unfortunately, the tuner had full racecar wishes in mind for Nardi's commuter, an option that Nardi was strongly against. After a series of miscommunications and build issues, Nardi started his search for a reputable tuner that could address the existing issues and finish the project to his vision.
Getting Back On Track
His search ended with Richard Garcia and his race shop, Dyno-Comp Tuned. Garcia identified the issues and laid down a game plan to put Nardi's Subaru STI on the path to reliable performance. The first step to address was the EJ257 powerplant, which began showing signs of imminent failure. Instead of rebuilding and refreshing the existing powerplant, Garcia convinced Nardi to invest in a new Cosworth crate engine.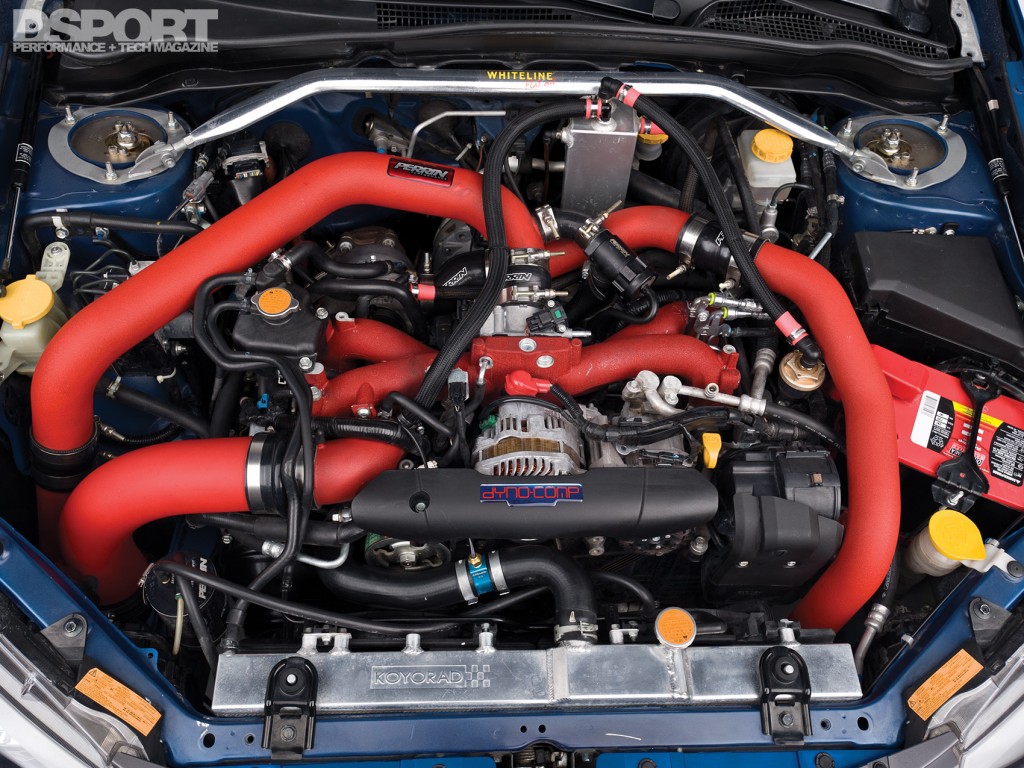 Longblock Lowdown
Cosworth racing engines are hand-built from factory-new engine cases. The longblock build starts with a cylinder-alignment hone to perfectly accommodate the 9.2-to-1 compression Cosworth forged-aluminum pistons. Nardi's engine uses an 81mm billet-steel crankshaft to increase displacement to 2,520cc, an increase of 63cc over a stock EJ257 engine. Forged-steel rods connect the crank and pistons. At each end of the boxer engine, the cylinder heads are run through Cosworth's proprietary CNC-cylinder head program before +1mm stainless-steel intake valves and +1mm Inconel exhaust valves are properly seated. Dual valve springs, titanium retainers and specially- designed keepers work together to keep the valves from floating at greater engine speeds. Finally, a set of higher-lift, longer-duration S2 camshafts actuates the valvetrain, permitting optimum airflow through the engine.
Boost Abroad
Beneath the engine, a TOMEI POWERED equal-length stainless-steel manifold directs exhaust gasses into the Blouch Dominator 4.0XTR turbocharger to generate boost pressure. Based on a Garrett ball-bearing center cartridge, this turbocharger features Blouch's proprietary billet compressor wheel matched with a custom turbine wheel designed to produce a broad mid-range powerband with significantly greater peak power when compared to stock.