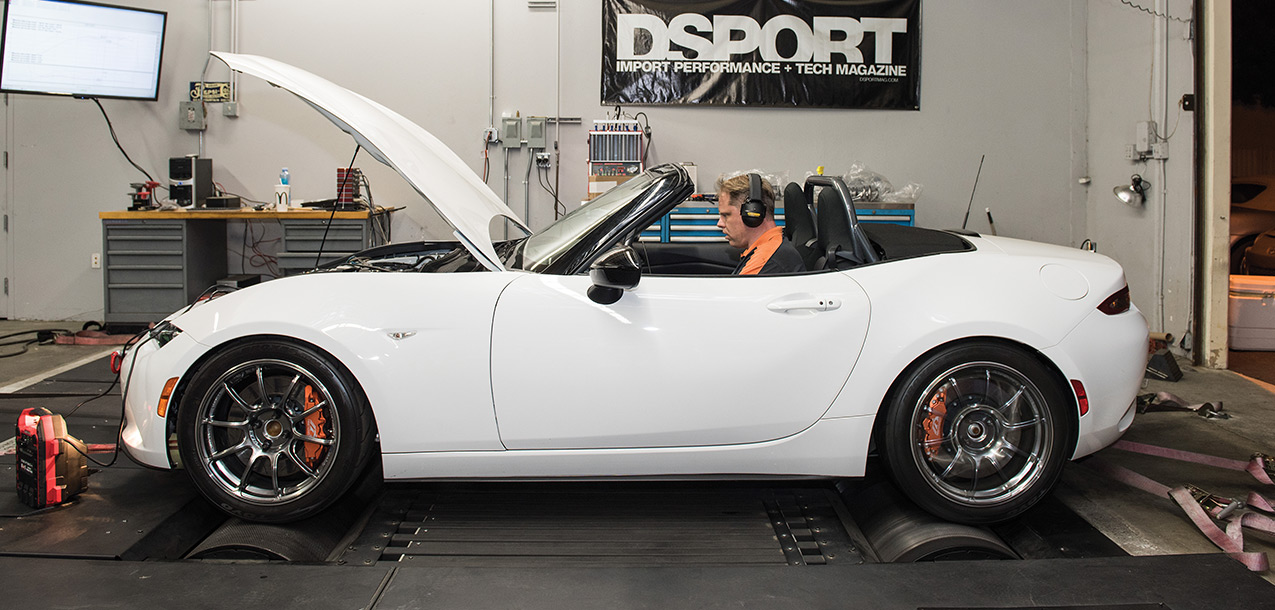 There are only two types of people on this earth. Those who love driving Miatas and those that make fun of people that enjoy driving Miatas. While the ND Miata has an emerging new fanbase, no one can argue that more power would make the car more fun. Unfortunately, the basic bolt-on intake, exhaust and header provide only a snack for those hungry for more power. For those with a real appetite for performance, AVO now offers a complete turbo system solution for the ND MX-5. Designed to provide an OEM fit, feel and finish, AVO touts the system as the ultimate solution for the MX-5 owner looking for maximum performance without sacrificing reliability. Since we have an MX-5 in our D'Garage, we decided to put this system to the test.
Text by Michael Ferrara // Photos by Joe Singleton // Installation by Cameron Parsons
---

Skyactiv-G 2.0L
The MX5's powerplant features a high 13.0:1 compression ratio and direct-injection to deliver exceptional efficiency from the 2.0-liter. Both intake and exhaust valve timing are computer controlled while the ECU uses every trick in the book to provide peak efficiencies under just about any imaginable condition. In fact, the ECU is so complex and powerful that not all of its maps and features have been discovered. On the dyno, the engine delivers 136 horsepower to the wheels on 91-octane. As for the power handling capabilities of the engine, the jury is still out. However, AVO has found no decrease in reliability from the engine when torque and power increases are on the order of an additional 50-to-60 percent. 

The kit includes every piece of hardware necessary for installation, including pre-shaped hoses and piping, hose clamps, fittings and more.
AVO Turbo Solution
AVO is no stranger to turbo kits for the Miata. The company offers turbo systems for both the NA and NB Miata. In dealing with the MX-5 community, AVO feels that an OEM look, feel and finish is what is desired. In designing this system, AVO claims it always took the design approach of "How would Mazda have done this?" As a result, the installed system definitely looks the part of an OE turbocharger system. There are no shiny pipes and an OEM style composite air box that uses a high-performance flat-panel air filter.
The system uses a cast stainless T28 4-into-1 manifold that feeds the AVO 1849 internally-wastegated turbocharger. The AVO 1849 turbocharger uses AVO turbine and compressor housings with a Mitsubishi TD05-18G compressor wheel and a Garrett 49mm turbine wheel. According to AVO, "we select the compressor wheel and turbine wheel that we believe fit best for the application and then team it with an AVO compressor and turbine housing that provide the proper performance and fitment." All of the cast hot side components, including the 2.5-inch downpipe, are coated with an NIC ceramic coating to keep the heat in where it needs to be and to limit the amount of heat generated under the hood.
With the boost set to deliver 5-to-7psi, the AVO turbo feeds an AVO intercooler that uses cast aluminum end tanks and a bar-and-plate core. A combination of hard pipes and steel-reinforced, 5-ply silicone hose makes the charge air connections.
For those already using an ECUTEK on their Miata, a base system is available. For those not already using an ECUTEK, AVO offers its Stage 1 kit with a Power Plus ROM Loader to reflash the factory ECU. A Stage 2 kit is also available which includes a catted exhaust system.

In order to take full advantage of the new turbo system, we installed Remark Exhaust's 2.5-inch exhaust with straight mid-pipe for improved airflow.
The Installation
(By Cameron Parsons)
Given that the ND chassis and Skyactiv-G engine are still largely unexplored territory, I had my share of trials and errors during installation. To add to the difficulty, this was also my first ever turbo kit install. The early steps weren't too daunting, such as removal of the undertray, front bumper and the thousands of associated plastic clips and fasteners. In order to make room to pull out the stock exhaust manifold and install the turbo manifold, I then removed the passenger side motor mount and propped the engine up with a floorjack. Still not too bad. Difficulties arose when I had to make space for the new components to go in. The ND's engine bay in factory trim is tidy and simple but make any additions to it, such as a turbo kit, and space runs out quick.
Wires, hoses and brackets have to be relocated elsewhere (horn, ground connections), or pushed out of the way (A/C lines, coolant hoses) to clear out the engine bay for the turbo kit components. This helps clear the pathways primarily for the intercooler piping to wrap from in front of the radiator, underneath the car and up into the engine bay. I found the pipe routing to the throttle body especially tight behind the steering rack and sway bar, and in front of the engine. On this D'Garage MX-5, the aftermarket sway bar is both thicker and differently shaped from the OE bar, requiring some custom fabrication on the pipe routing in order to ensure proper fitment. AVO assured us that this issue does not come up with an OEM sway bar.
In factory configuration, Mazda recommends 0w-20 oil. With the addition of the turbo kit, we opted for Torco's  SR-5R 5W-30 synthetic racing oil.
After my experience with putting the pieces together, I highly recommend studying the directions from start to finish before turning a wrench. There are a few modifications required for this kit that can put the project on hold if you aren't prepared beforehand. For example, the oil pan must be removed in order to weld on the oil return tube (prepared oil pans are also available from AVO). Other items like the exhaust manifold heat shield and body undertray require some small trimming to make room for the new hardware. Don't think you know better than AVO's directions when it comes to modifying and replacing hoses, either. In an effort to retain some of the factory coolant and vacuum lines, I first skipped the directions that called for cutting said lines for cleaner routing or to place a T-fitting in a specific area. This led to pinched lines and even a malfunctioning BOV, as I branched its vacuum line to the end of the vacuum hose that sits between the intake manifold and brake booster. Little did I know that this hose contains a one-way valve inside of it that cannot be seen from the outside, and I had placed the BOV vacuum connection on the wrong side of that valve. This is a particularly big mistake to make, as it can lead to both over-boosting and a brake booster failure. After making some adjustments to better adhere to AVO's directions, I had a fully functional, turbocharged ND MX-5 ready for the dyno.

The Results
AVO designed the system to deliver horsepower and torque increases on the order of 50-percent. Our MX-5 did slightly better, checking in with a 52-percent gain in peak power (207whp) and a 60-percent gain in peak torque (215 lb-ft). This decimates what can be realized in upgraded naturally-aspirated trim or what the Miata delivers (155whp/165 lb-ft). 
POWER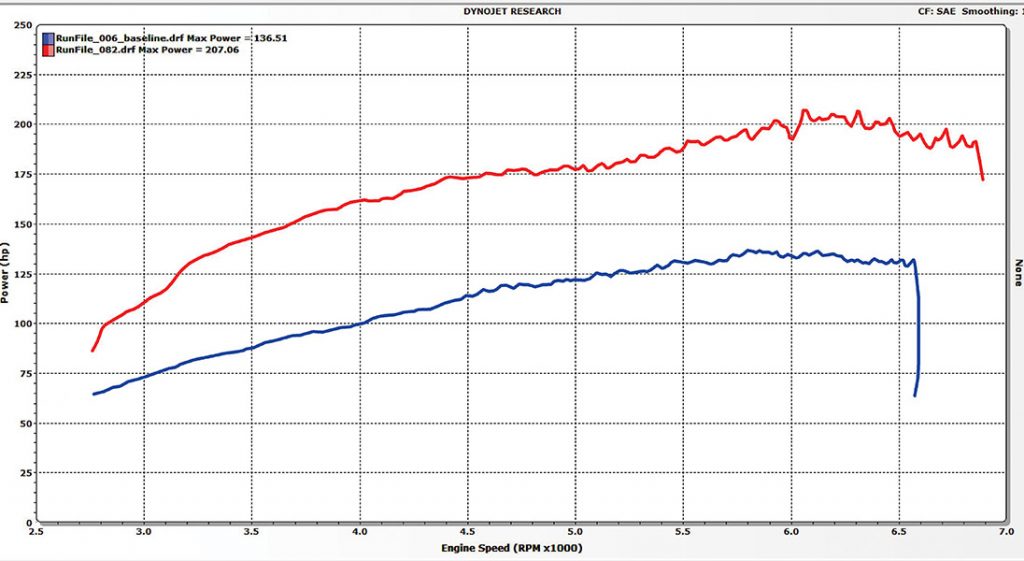 207.06 WHP @ 6,100 RPM
TORQUE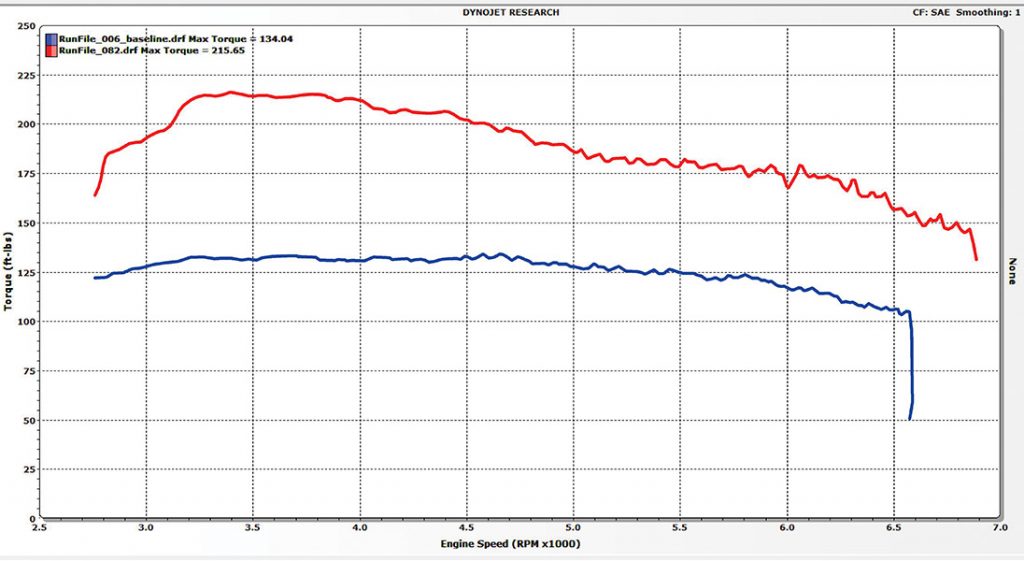 215.65 lb-ft @ 3,900 RPM
It is also enough of a performance increase to overcome a tired stock clutch. Our slightly glazed original clutch was no match for this level of performance. Since it was a Sunday and we couldn't locate a high-performance unit, we installed a new stock unit with a glass beaded pressure ring and flywheel that is holding the power for the time being. Although we don't think it will survive a day at the track and we are planning for a better solution.
Recommended Add-Ons

AVO recommends replacing the stock battery with a more powerful one with higher cranking amps for this kit. We took this as an opportunity to clean up the engine bay and save some weight with Antigravity Batteries' ATX12-24 Battery (24-Cell). With 720 cranking amps and 25 amp hours, this five-pound battery would deliver more than enough power.

In addition, we installed the Koyo Radiator for ND MX-5s to help contain the extra temperatures that come with boosting. The 36mm-thick core uses Koyo's two-row high density hyper core design to improve cooling efficiency while retaining OEM fitment.
The Outer Limits
While the power limits of the Skyactiv G 2.0L are not yet known, there are some limits with regard to the turbo system and fuel system that are known. The 18G compressor that is used in the AVO1849 turbocharger will max out at about 350 horsepower on gasoline or about 400 horsepower on E85. The MX-5's direct-injection fuel system appears to be able to support somewhere in the neighborhood of 300~320whp on gasoline based on extrapolated injector duty cycles. On E85, the factory fuel system may be able to support 220~240whp.

The Next Step
If we knew that the engine could handle more power, raising the boost and additional ECU tuning would be the normal course of action. Instead, we may just see how the setup does on an ECUTEK and E85. From there, we might just build an engine that we know can handle the power and then push it further. Stay tuned.
Price List:
| | |
| --- | --- |
| AVO Turboworld Stage 2 Turbo Kit (Includes Power+ECU w/maps) | $6,200.00 |
| Koyo KH Series Radiator for 2016-2017 Mazda MX-5 | $480.00 |
| Antigravity Batteries ATX12-24 (24-Cell) Lithium Ion Battery | $399.99 |
| MSRP total | $7,079.99 |
| DSPORT Street Price | $6,017.99 – $6,371.19 |