While the scarecrow mused, "If I only had a brain," Modern Automotive Performance (MAP) wondered the same of the factory ECU in its 2003 Mitsubishi EVO VIII. Many tuners still look toward stand-alone engine management solutions for high-horsepower applications, however the advent of open source tuning software has opened the door for enthusiasts not in the market for a stand-alone to benefit from custom fuel and ignition maps using the factory ECU. But how much power can really be made on the stock ECU? MAP decided not only to answer this question first hand, they looked at the record held by ??? Motorsports and aimed even higher. Aiming at a target over 800 horsepower, uncorrected on a Dynojet dynamometer, they not only wanted to own the record, they wanted to shatter it. This is the quest that MAP embarked upon.
Text by Richard Fong // Photos by Michael Ferrara
DSPORT Issue #115
---

Staying Focused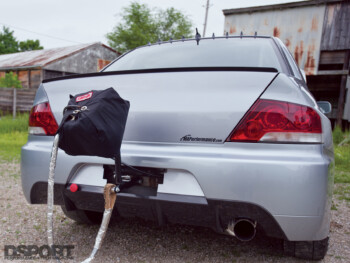 The plan for the project was to maintain streetability while aiming for horsepower and quarter-mile records. The registered and insured chassis retains full glass and interior, capable of seating four occupants even with the Mean Street Performance NHRA-certified 8.50-second-or-slower 12-point cage. RCI 4-point harnesses secure the driver and co-pilot in the factory Recaro front seats. A set of AEM gauges monitors engine vitals, supplementing the factory gauge cluster.
Once the street-comfortable interior was ready, attention shifted to horsepower and maxing out the factory ECU.

Stalky Shortblock
The search for maximum horsepower begged for a displacement increase, thus the stock 4G63 was pulled and replaced with a 4G64 block, which features a 12mm longer stroke. The bores were hogged out to 87mm, resulting in a new displacement of 2,378cc. The cylinders were filled with a set of Wiseco HD pistons that join the crankshaft by way of MAP Ultimate Duty connecting rods. Up top, the cylinder head received MAP's proprietary stage-5 port and polish treatment before a complete GSC Power Division valvetrain and S3 camshafts were installed. MAP Ultimate Duty head studs provided the clamping force to crush a Power Enterprise head gasket, ensuring a proper seal between the head and the block.
Bigger Boost
MAP fabricated a manifold that channels exhaust gasses into the turbine housing of a Precision Turbo & Engine PT7675 turbocharger. Aluminum piping joins the compressor outlet to an Extreme Turbo Systems front-mount intercooler. After exchanging heat with the intercooler, the cooled intake charge flows through an Infiniti Q45 throttle body and then distributes to the combustion chambers by way of a Magnus V5 intake manifold.
Child Of The Corn
The use of ethanol-based fuels has yielded race-gas-like performance at a lower cost. However, much greater volumes of the renewable fuel must be used in order to produce the desired level of performance. MAP decided to tune on E98 which is 98-percent ethanol. This warranted a number of fuel system improvements, including an Aeromotive Eliminator fuel pump and a set of Fuel Injector Clinic 2,150 cc/min injectors. Once the air and fuel mixture have been compressed into the combustion chamber, ignition energy stored within an AEM Twin Fire CDI amplifier is sent through a set of Sparktech coils. The energy released jumps the gap of each NGK spark plug to ignite the mixture. MAP's resident tuner Jordan employed a laptop and the open-source software ECU Flash to make adjustments to the stock ECU fuel and ignition tables. With a Hallman manual boost controller holding pressure steady at 45 psi, the EVO unleashed an impressive 1,033 horsepower and 709 lb-ft torque on a Dynojet AWD dynamometer. This handily captured them the title of "Highest horsepower EVO with a stock ECU."

Driveline Disorder
Generating more than three times the factory horsepower output to the wheels would necessitate a stout driveline. A Quarter Master flywheel and twin-plate clutch transfer horsepower from the crankshaft to the input shaft of a five-speed transmission composed of Pfitzner Performance dog-engagement gears. An EVO RS front differential splits the torque between the front wheels while the factory rear differential continues to apply torque to the rear wheels. FD RX7 wheels wrapped with Hoosier Quick Time slicks ensure a good hook at each launch.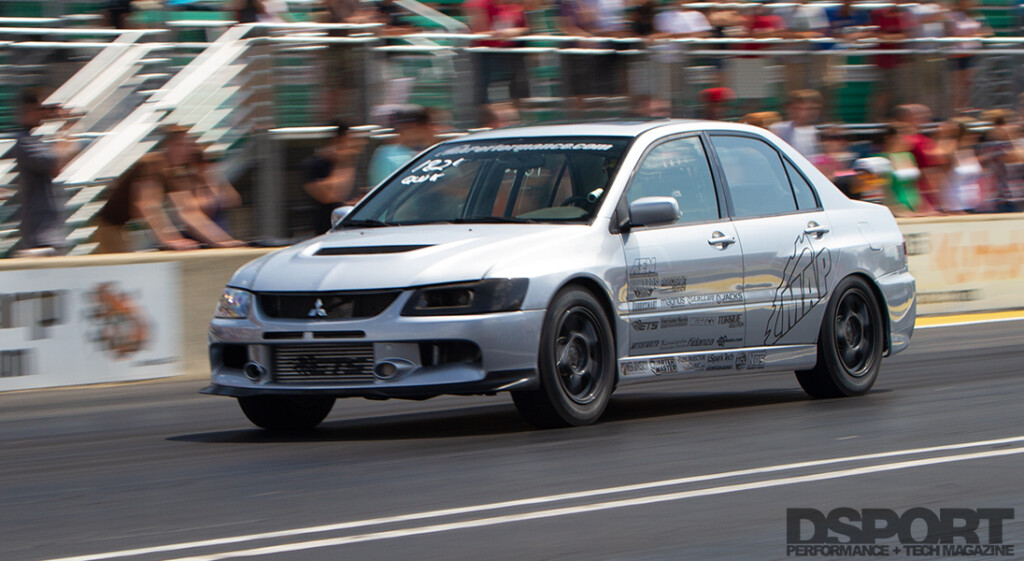 Rough Road To Oz
Despite its four-figure horsepower output, MAP's EVO VIII has not been able to execute a clean quarter-mile pass. Early issues with driveline components hampered initial testing, while a rod failed and went through the side of the block at the 2011 Buschur Shootout, setting the project back another step. Another engine has already been installed, but the end of the 2011 season offered few venues to prove the EVO on track. To date, it's best effort down the 1320 was a shake down pass of 10.35 seconds at 154 MPH. Going forward, MAP plans to continue developing its EVO VIII. Future changes include a rear-end swap to either a Cobra IRS differential or a 9-inch solid axle and upgrading to an AEM EMS engine management. MAP's Chris Carey comments, "In 2012, we hope to finally have our driveline gremlins worked out so we can make a clean pass. We are also planning to upgrade to an AEM EMS for more tuning flexibility." With a whole new year of venues ahead, watch for this EVO in its quest to be quickest.