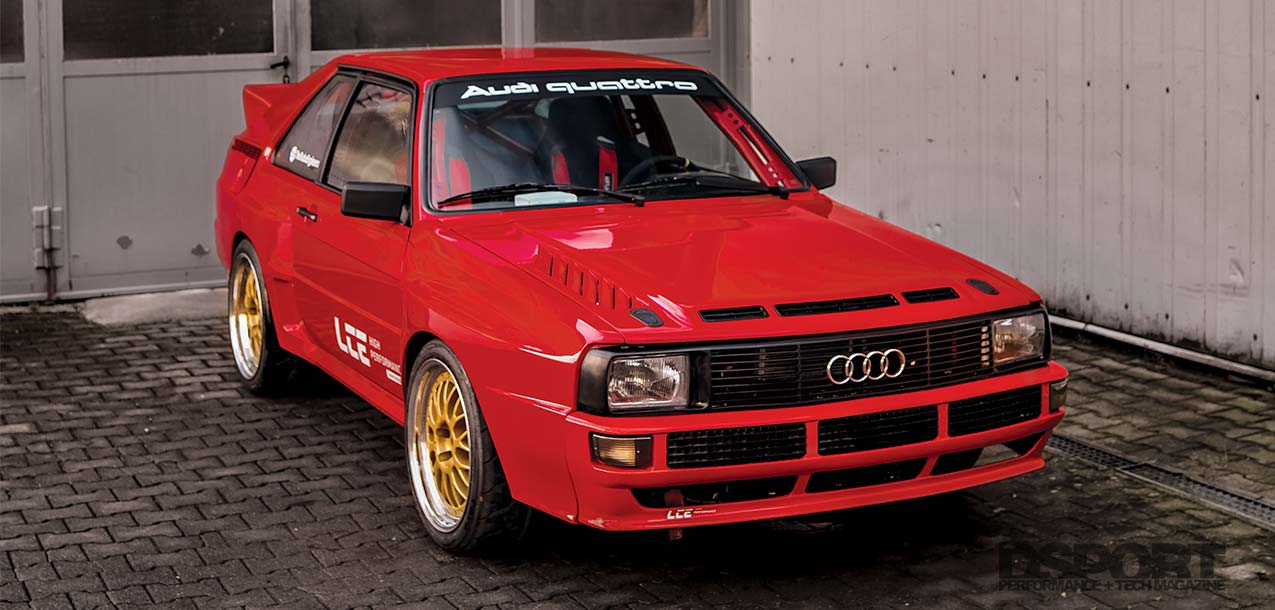 When we think of all-wheel drive legends in rally, our minds immediately go to the Mitsubishi Evolution and the Subaru WRX STI. However, well before these two made names for themselves, the Audi Quattro was the benchmark. The Audi Quattro made its way on the scene in 1981 and quickly changed rally racing. This was the car that made all-wheel drive systems effective for racing, paving the way for numerous more after. LCE Performance made an Audi Sport Quattro replica using a first-generation Ur-Quattro, took it out of its element, and made it an AWD dragstrip monster.
Text by Bassem Girgis // Photos by Carparazzi (carparazzi_official)
DSPORT Issue #220
---

Weighing in at just over 2,300 pounds, the 2.5 liter 20-valve five-cylinder turbocharged engine is capable of pushing the Audi to a top-speed of 205 MPH.
The History
The first-ever Audi Quattro car originally made its appearance in 1980. The development Quattro was followed by the official rally version that competed in the 1980 Janner Rally in Austria. It only took a year for the Quattro to become a champion when Michele Mouton became the first female to win a world championship rally piloting an Audi Quattro. By 1985, the Audi Quattro had become a rally animal, and Audi introduced an updated version called Audi Sport Quattro S1. This version was lighter in weight as Audi replaced some steel parts with aluminum with some of the weight distributed better, while sporting a shorter wheelbase. The Quattro Sport S1 competition-version was powered by a 2.1-liter turbocharged inline-5 engine that delivered 470 horsepower. The street version delivered a little over 300 horsepower and 258 lb-ft of torque.
The street Quattro was able to sprint to 62 mph from a complete stop in just 4.5-seconds. For being a performance vehicle in the '80s, the Audi Quattro delivered impressive power, and out-of-this-world handling, thanks to the innovative all-wheel drive system. Brakes were also extremely advanced for the time, with internally ventilated disc brakes and four-piston fixed calipers, as well as the optional ABS. While the Audi Quattro was an absolute icon in the rally world, its Quattro system could be of huge advantage on the dragstrip. LCE Performance in Germany recognized that and decided to build a drag beast and a blueprint for their customers.

The race-inspired interior features a pair of Recaro SPG racing seats, Sandtler restraining harnesses and a welded-in roll cage with a striking red finish.
The Shop Car
LCE Performance is a tuning shop out of Germany that specializes in high-quality tuning, with specific passion for exceptional cars. In 2012, the shop bought two nearly identical 1985 Audi Quattros to make them Sport Quattro replicas. "It was a very special platform and a very rare one because only 214 were ever made," said Daniel Berger. Being a performance tuning shop, the goal was to build a clean example that would represent the company well. The car was not set to sit in a garage, instead, the dragstrip was going to be its home to prove that it's not all talk. The shop car would later become a standard for customers wanting a similar one, but before taking orders, it was time LCE Performance got the car uniquely-built and thoroughly-tested.

Pre-Power
The Audi Sport Quattro underwent a complete makeover before the engine was addressed. The coupe Quattro was cut in the middle and shortened 320mm. The shorter wheelbase was done to improve the weight transfer on the track. Modifying the body was no easy task, and it took a long time before they can start addressing the suspension and the engine. However, the long-time paid off, and now this Quattro sports a full carbon fiber body shell that is shorter in length. KW Suspensions coilovers were added with modified adjustable rebound and compression damping. The brakes were upgraded to Porsche 996 GT3 RS 6-piston saddle brakes with 365mm rotors in the front, and 1-piston in the rear with 310mm rotors. The massive power is kept to the ground using Toyo Proxes R888R semi-slick tires. With everything ready on the body and chassis, it was time to make a lot of power and test it down the strip.
Making Power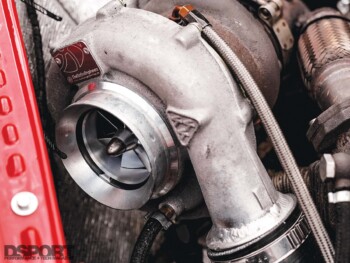 The team sourced a block from a T4 VW Eurovan to serve as the foundation for their engine. The engine's internals were mostly all aftermarket to handle the power increase, with coated forged pistons, custom connecting rods, adjustable camshaft sprockets, and a 92.8mm crankshaft out of a South African VW T4 Bus. The engine was complemented with a TTE1200 turbocharger from a company called TTE Global. The increased air volume is matched with fuel through dual Bosch 044 fuel pumps, feeding 1,600cc injectors with E85/Q16 fuel. With the engine managed through a programmable VEMS system and sending its power through a 6-speed transmission from an Audi RS2, the Sport Quattro delivered 1,081whp at 6,890 RPM and 1,017 lb-ft of torque at 6,240 RPM while running at 49 psi of boost.

Hitting the Track
The Audi Sport Quattro was finally ready for the track. With 1,081whp and 1,017 lb-ft of torque on its tap, and a full carbon body, carbon fenders, and carbon-everything down to the grill; the car only weighed 2,337-pounds with a full built-in cage. On the dragstrip, the Quattro ran 9.6-seconds in the quarter-mile. The 9.6-seconds proved that this model doesn't just shine in rally racing, it also lights up the quarter-mile and continues to advertise just how good Audi's Quattro system really is. After some testing and collecting time-slips, LCE Performance was finally ready to offer this package for their customers interested in a unique, legendary platform.
Building Art
LCE Performance has done a great job taking an-already rare car, and making it better. With a full carbon fiber body, far less weight, a EuroVan engine pushing over 1,000whp and 1,000 lb-ft of torque, and a shorter wheelbase; you'd think this is a one-of-a-kind vehicle. Well, according to LCE Performance, the German tuner builds and sells two-to-three Sport Quattro replica vehicles per year. Offering this build didn't come easy, however, it took a long time to get the body right, the wheelbase, and getting the engine to deliver this type of power reliably. Getting to the 1,000whp club had to be done in stages, starting with 550whp and ending at 1,081whp. Seeing rare cars on the track will always put a smile on any car enthusiast's face, and companies like LCE Performance specialize in these smiles with cars that you never thought you'd see on the road or track again, with capabilities that are simply just vicious.