Porsche has come a long way since its humble beginning back in 1948, when Ferdinand Porsche introduced the very first Porsche 356 using just 200 workers in a small place. Each year since then, Porsche continued to evolve with the latest technology, the highest-quality parts, and more efficient designs that never significantly veered off from the original style created by the founder. Today, companies like BBI Autosport are dedicated to taking a legendary platform and pushing it to its absolute limits, proving that this iconic car is truly one of the best performance machines on planet earth. Since 2005, BBI Autosport has built the world's most capable Porsches, quickly becoming a household name in that world. For this build, no stone was to be left unturned and aiming for records was the goal from day one.
Text by Bassem Girgis // Photo by BBI Autosport & Corey Davis (@Lghthntr)
DSPORT Issue #222
---

Born Special
Ferdinand Porsche's original vision was to build "the perfect car." When it comes to automotive perfection, the list is long and everything is always up for debate amongst car enthusiasts. However, Porsche gets as close as any to that list of perfection. Between its track-bred performance, its iconic aesthetics, and constantly-evolving aerodynamics, this platform is special to say the least. The rear engine configuration makes for a unique driving experience and makes for a true driving engagement, while the numerous engine options offer something for everyone between various naturally-aspirated and turbocharged options. When the most performance is desired from a 911, the choice will come down to the GT2 and the GT3. Close in many ways, except for the twin-turbochargers in the GT2 and the higher-displacement naturally-aspirated engine in the GT3. BBI Autosport got the keys to this 2008 Porsche GT2, and the race was on.

Out of the Box
Powered by a twin-turbocharged 3.6-liter flat-six engine, the 2008 Porsche GT2 used variable-vane turbochargers that are designed with movable vanes adjusted by an actuator to help direct the exhaust gases toward the turbine blades. The angle of these vanes move differently throughout the RPM range to adapt to changes and optimize its performance. Incoming air goes through a manifold specifically designed for this platform, and exiting through a lightweight titanium exhaust system. This engine configuration resulted in 530 horsepower and 505 lb-ft of torque. Equipped with launch control, the GT2 is rated to hit the 60 mph mark from a stopped position in just 3.4-seconds and reach the quarter-mile finish line in 11.4-seconds at almost 128 mph. The Porsche GT2 was born and bred for greatness, which meant BBI had some work and serious engineering to do to beat the already-great platform, by, let's say, three times!
How it Started
Two years ago, the original owner of this Porsche 997 GT2 came to BBI Autosport to initiate the entire build to handle high horsepower aspirations. BBI doesn't turn down many Porsches, but this one was special in its own way. The first reason was that it was a 911; an incredibly versatile and capable platform. The second reason was that it was a 997 GT2; arguably one of the last rear wheel drive manual transmission greats. With that much power going straight to the rear wheel, this Porsche stands out from the competition. 60-percent of the car's weight sit over the rear wheels, giving it the nickname "Widow Maker," as it can take a bit to wrangle this car. "It's powered by the legendary Mezger engine, which is very robust, configurable, and we know it extremely well," said Betim Berisha, BBI Autosport. With the car already light in weight, simple, yet carries great potential with the thrill of the six-speed manual transmission, it was time to set the plan and get started on an extreme, thorough build.

The Goal
BBI set sights on ½-mile racing for this 997, as it's a great tool to capture critical data on their engine and chassis development. "We also wanted to build a car that can be driven to the track or canyons, turn the boost down and enjoy the corners as well," said Betim. Of course plans don't always go as planned, BBI had to adapt to issues as they arose. "The plans changed as to how long it took to get the car up to speed and how few events we could attend," he said. "We would go to a SHIFT-S3CTOR event, find issues and address them, then repair the said issues, which would uncover new ones and so on. We weren't sure when to stop chasing, as the issues and solutions get bigger as we proceed."

Precision Engineering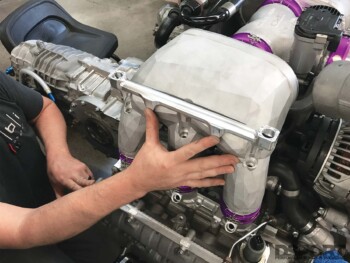 In order to achieve consistent and reliable results, BBI Autosport treat their engines as a complete ecosystem. Changing one small thing can affect a series of others, so attention to detail and extensive testing is a must. This mentality led them to use 3D technology in various parts of their engines. "The process is simple in that a laser melts metal powder layer by layer, making solid parts within a powder bed," said Dmitriy Orlov. This process allows them to rapidly make complex shapes that incorporates geometry to materialize the parts needed to achieve their goals. For this project, BBI wanted to optimize flow through their intake manifold, while adding secondary injection, all while being capable of handling 50 psi of boost. The long list of requirements made 3D printing one of only a few solutions to achieve these results. "The result was a single printed aluminum part with a myriad of features," he continued.
Being able to completely engineer a platform like this with that much power, then continue to run it and achieve reliable results can only happen when using the highest quality parts. BBI Autosport partnered with aftermarket manufacturers to make their very own spec parts designed specifically for each of their engine programs, as well as custom parts for each client's needs and desires. "We blueprint every engine, balancing the rotating assembly to within 0.1 grams, whereas the standard is at least 15 grams. We work with experts like Club DSPORT who meet our needs for tolerances and machining spec," said Dmitriy. The mindset for BBI is that there is no detail too small to consider.

Rather than finding aftermarket parts to fit the GT2, BBi had to set the standard and innovate custom parts specifically for this project and their future engine and chassis programs, like the 3D-printed intake and exhaust manifolds.
3D Printing
3D printing allowed them to deviate from the standard offerings of bends, collectors, and shapes to create smooth, free-flowing, and true equal runners. This process allows them to combine light weight with capability and boost handling characteristics. Using Inconel material lets them keep the exhaust manifold extremely light in weight with just 1mm wall thickness. Being able to fully engineer these parts also made fitment achievable, which could be a true hassle when complete re-engineering is required with no blueprint to follow. The result is headers glowing red pass after pass with no signs of failure.

Making Power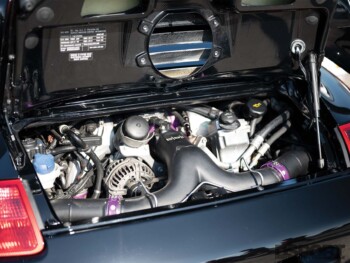 Using the machined 3.8-liter flat-six engine, all BBI Spec parts were used from their HLLCLMBR engine program to handle the significant increase in power. The BBI 3D-printed aluminum intake manifold was used, which served as the home to secondary injection with a larger volume, all while keeping the weight to a minimum. Another custom designed 3D-printed exhaust manifold also found a home in this engine. The factory twin-turbochargers were replaced with Xona Rotor 8264S turbos. The increase in air is matched in fuel using a twin Protec brushless fuel pumps, feeding E85 fuel to the engine using 12 injectors, 1350cc and 1700cc. Managed through a Syvecs system and tuned by Jared Deputy of BBI Autosport, the Porsche GT2 most recently put down 1,401.20whp when running at 42 psi of boost.

Twin XONA 8264S turbochargers help this Porsche GT2 engine reach almost three times the stock power, and hit the 1/2-mile finish line with a speed in excess of 200 mph.
Up and Downs
During one of the testing, Betim launched the GT2 and once he grabbed the second gear, he knew the car was hooked. Halfway through the second gear, the car went to 34-pounds of boost. The spike pealed all of the teeth off of the ring gear and split the gearbox wide open the length of the transmission. This showed that grip and power will do some things to your car, while also shinning the light on what needs to be addressed before travelling to the track. As if this wasn't enough, an even bigger tragedy occurred when the owner of the car decided to sell it before BBI was able to stretch its legs and see all of their hard work come to life before their very eyes. Luck was on their side when the new owner decided to pick up where the old owner have left off and see the project through. The journey wasn't all broken parts and broken hearts, the Porsche ran 206 mph in the ½-mile straight off the trailer. Its own record was broken again just days ago when BBI ran 207.6 mph in the ½-mile.