In a time when most cars were making the transition to front-wheel drive, the Toyota AE86 stayed true to its rear-wheel drive spirit. While it made no real impression at the time, the AE86 became iconic after starring in the Initial D anime. Despite being underpowered, the AE86 serves as one of the most important cars ever released by Toyota. In fact, the Toyota 86, one of the most popular import platforms today, is inspired by Hachiroku's drift car that appeared on thousands of television screens around the world. Today, most people lucky enough to own an AE86 end up swapping the 4AGE engine for something more powerful. Lester Donis, however, had other plans.
Text by Bassem Girgis // Photos by Elias Sequeira
DSPORT Issue #215
---

What Makes it Special
While all of Toyota's lineup was becoming front-wheel drive vehicles, the AE86 kept its rear-wheel drive configuration and its driving spirit. Powered by a high-revving, twin-cam, fuel-injected 4AGE engine, the GTS model came with more power than other models and revved up to 7,600 RPM. The 4AGE delivered 112 horsepower at 6,600 RPM and 97 lb-ft of torque at 4,800 RPM. While big V8s like the Corvette and the Mustang GT made 205 horsepower and 175 horsepower, respectively; the AE86 was able to squeeze 112 horsepower out of a fraction of the displacement, all while weighing just 2,200-pounds. While the AE86 wouldn't melt your face off in acceleration, its light weight, rear-wheel drive, and high-revving engine made for a legendary ride.

How it Started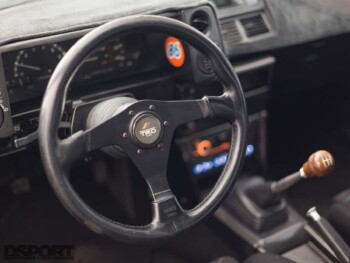 Lester, like most import performance enthusiasts, has been a fan of the Toyota AE86 for as long as he can remember. Perhaps even more of a fan than the average, Lester bought three Toyota AE86s – one for show, one for drifting, and the third as a cruiser. "I chose the 86 platform because I've always been big on old school Toyotas and I've always wanted an AE86," said Lester. Lester went on Craigslist in February of 2014 and purchased his 1986 Toyota Corolla GTS. The plan wasn't set in place just yet, but the important part was to own this car and build a clean, period-correct example of an AE86.
The Plan
When Lester bought his AE86, it was already swapped to 20V from the factory's 16V and running well with no rust. However, the paint looked like rattle canned when he acquired it. "It had no interior at all, just two replica bucket seats and that's it, and the vehicle had no heat," said Lester. The goal became to build a truly clean AE86 that can go anywhere without hesitation. "Honestly, power has never been a thing for me with this particular 86," said Lester. "I just wanted something show worthy, but at the same time be able to take out on a cruise without worrying. It has 20V swap which is a big upgrade compared to the small 16V, so it's a little more power, but nothing beats the sound of the ITBs." It was time Lester put all of the planning into action and get to work.

The AE86 features rare automatic retractable fog light covers. This is complemented with a carbon fiber hood and carbon fiber headlight covers.
The Ghost
"I call this AE86 'Bruja,' which translates to 'Ghost' in Spanish because it disappears half of the year at the body shop," said Lester. The battle of having a good paint job was a constant struggle for Lester. Each winter, Lester would run into issues with the body and end up sending the car to the body shop where it sat most of the year. Electrical issues were also haunting Lester and his AE86. The tucked harness was no easy task and came with a hefty list of issues. The end result was worth every heartache, however, and the tucked and shaved wiring makes all of the difference under Lester's AE86's hood.
Ups and Downs
As if wiring and paint aren't enough to make most people discouraged, Lester was driving the car home one night in the midst of a thunderstorm when the CF hood flew open on the highway. This destroyed the hood, the roof of the car, and the windshield. Lester wasted no time, and just a week later he had the windshield fixed. Bad luck wasted no time either. On that drive, a lady hit the passenger front fender and cracked his flares, destroying the fender and the door in the process. The series of bad luck didn't steal Lester's smile away as he drove his car everywhere seeing people's reaction to this classic Toyota AE86.

The Specs
Lester complemented his 4AGE engine with individual throttle bodies. The benefits of the ITB is that each cylinder gets its own throttle body, which allows it to regulate the incoming air as opposed to having all cylinders share just one throttle body. This often increases engine response because air can go directly into each cylinder rather than sharing one throttle body and traveling farther to reach each cylinder. The 4AGE delivered 163whp at 7,800 RPM and 119 lb-ft of torque at 5,600 RPM on 93-octane fuel. Given how light the car is, Lester put most of his focus on suspension, chassis bracing, brakes, and tires. This made for a reliable, classic AE86 that can do what it does best and handle corners properly.

Fruits of Labor
"With this AE86, I have been lucky enough to win quite a few awards," said Lester. "I've won 2nd Best Toyota for Tuner Evolution Philly, Best Nostalgic at Wekfest NJ, and Best Engine Bay at ToyotaFest." If had the chance, Lester would've brought in a more trust-worthy body shop right from the start. This would've saved him tons of money and time going back and forth to this shop. As of right now, Lester plans on redoing the entire car over with the right paint job, upgrade the wheels, and complement the interior with digital clusters. "I would say that replacing the rear-end with factory 4.3 gearing is the most effective modification on this car," said Lester. "When I bought the car, it had 4.89 gearing and it was absolutely terrible for long distance driving, staying constantly at 5,000 RPM at highway speeds." While this Toyota AE86 is not the most powerful, it brings the '80s back to life, the way it should've been done back then. This build shows that you don't have to be the most powerful or the loudest to turn heads, you just need to bring your vision to life, enjoy the process, and the rest will fall into place – just be ready for all of the eyes you will get.