The history of motorsports plays a huge role in popularizing car platforms. In the '60s and '70s. the Datsun 510 was put on the map by a racing team called BRE (Brock Racing Enterprises). Through various SCCA wins, the Datsun 510 became known as a force capable of beating the much more popular BMWs and Alfa Romeos. Today, these cars are known to be great homes for various engine swaps. For Victor Chico, a 13B rotary engine was his weapon of choice, but the road to a complete car wasn't a quick walk in the park.
Text by Bassem Girgis // Photos by Joe Singleton
DSPORT Issue #213
---

The exterior features black sealed projector halo headlights, supersonic front grille and a metallic candy apple red paint.
How it Started
Victor's love for rotary engines goes far back before he ever owned this Datsun 510. For the first half of his driving life, dating back to 1976, Chico had the pleasure of owning and rebuilding rotary engines. Starting with his 1974 Mazda RX3, then again with his Mazda RX-7. "My love for the Mazda rotary engineering has never wavered," said Victor Chico. In 1996, Victor decided to reignite his love for rotaries when he purchased this 1971 Datsun 510 in Palm Springs, CA. After eight months of trying to get the owner to come down in price, Chico was finally able to buy it for half of the price posted, which ended up being $2,500. With $2,500 less in his bank account, Victor was finally the owner of this two-door 510 that happened to have a rotary engine already.

The Unwrap
"I have always been a Mazda rotary owner and loved its power," said Chico. "I was attracted to the Datsun 510 for its rich racing history, old-school body style, and its independent suspension setup." The 510 came already equipped with a six-port rotary engine from a Mazda RX-7 GSL-SE. This gave Victor more of a reason to buy it. The 510 wasn't ready to hit the road just yet. Unfortunately, the engine mount was installed incorrectly, which made it unsafe for road use. In addition to that, Victor discovered it had three layers of primer mixed with some bad bondo repair. A few issues weren't going to discourage Victor. He knew exactly what he wanted to build from the start: a car that can run in the quarter-mile, while staying reliable enough for long distance driving. With the plans set, it was time to dive into this classic platform and start the build.

A set of BlackLion tires (205/40ZR17 in the front and 215/40ZR17 in the rear)wrap around SSR GPO 17-inch wheels.
Mix and Match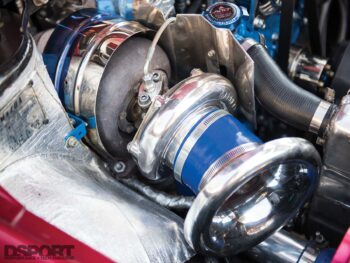 There are two ways to restore classic cars: finding factory parts and restoring it back to its original glory, or get creative and combine the modern technology with the classic essence of the platform. Victor chose to mix and match parts and create his very own version of the Datsun 510. Starting with the 13B-RE engine, Abel Ibarra of Flaco Racing and DSPORT Hall of Famer took charge of the build. The rotary engine was complemented with a Garrett T-62 BB turbocharger and all of the supporting upgrades that work along its side. The upgrades came from various platforms, like the RX-3 oil cooler, the RX-7 FC transmission, and the 280ZX drilled and slotted rotors. The '71 Datsun also received a Subaru WRX limited slip differential to maximize traction on the track. After gathering all of these parts from different vehicles, it was time to get the car on the dyno and see what it puts down.

Making Power
With the Datsun 510 only weighing 2,300-pounds, it wasn't going to take much to get this car to go quick. A Walbro high flow fuel pump equipped the rotary engine feeding 850cc and 1,200cc injectors. Managed by a MicroTech LT-10s, the 13B-RE engine delivered 300 whp and 260 lb-ft of torque. This was accomplished when running on 14 psi of boost on 92 Super Unleaded fuel. Victor's choice in the engine allowed him to triple the power of the original 510, accomplishing his goal of having a reliable daily driver that is capable of putting down decent numbers on the drag strip. Seeing the car fire up after countless hours working on the project was a special feeling for Chico.
Now and Then
With the additional power, Chico believes converting the stock front brakes to larger ones from a Datsun 280ZX was one of the most effective and important upgrade. The Datsun 510 has been running well for years, but that's not the end of its story. In the near future, a wiring harness upgrade is in order, as well as retouching various parts of the body. In another universe, Victor would've went with a 20B rotary engine instead of the 13B-RE; however, the current setup has been great to him. Right now, the car can be seen at various shows around the United States, and the list of accomplishments continues to grow for this Japanese historic machine.

A 4-point roll bar and JDM Recaro LX reclining seats were added to the 510's interior. The Autometer Pro-com gauges display important engine data at all times.
Notable Mentions
In 2002, Victor Chico and his rotary-powered Datsun participated in the annual Nisei Week Showoff Car Show for the first time. Victor ended up winning first place in the Old School category, which he then repeated in the several years to follow with all first place wins. In 2004, he won in two categories at the Japanese Classic Car Show. The list of accomplishments and awards continues, but his biggest joy is driving the car and sharing it with his family. "Big thank you to the greatest supporter of my hobby, my wife Sylvia, and my sons Christian and Lee," said Victor Chico. Victor was able to surround himself with the right people to get such a complex project done. Backed by his family and a legend in the rotary world in Abel Ibarra, Victor was able to bring his dream to life. The relationships he surrounded himself with allowed him to pursue his dream and build something he can be proud of. While the future is bright for this '71 Datsun 510, the present is just as bright.