Honda fans have been raving about the Civic Type R for the past few years. After all, Americans have been craving a Type R of their own for decades. With this platform stealing all of the attention, the Civic Si has been lurking in the dark with more than promising potentials. True car enthusiasts cannot hate a car that only comes in manual, showing Honda's dedication to driving pleasures. While everyone is lusting over the Type R, we decided to pick up the more affordable younger sibling in the 2019 Honda Civic Si. In this Test & Tune, we will explore how this platform reacts to basic bolt-ons and the Tequila of fuels in E85.
Text by Bassem Girgis // Photos by Joe Singleton and Staff
DSPORT Issue #214
---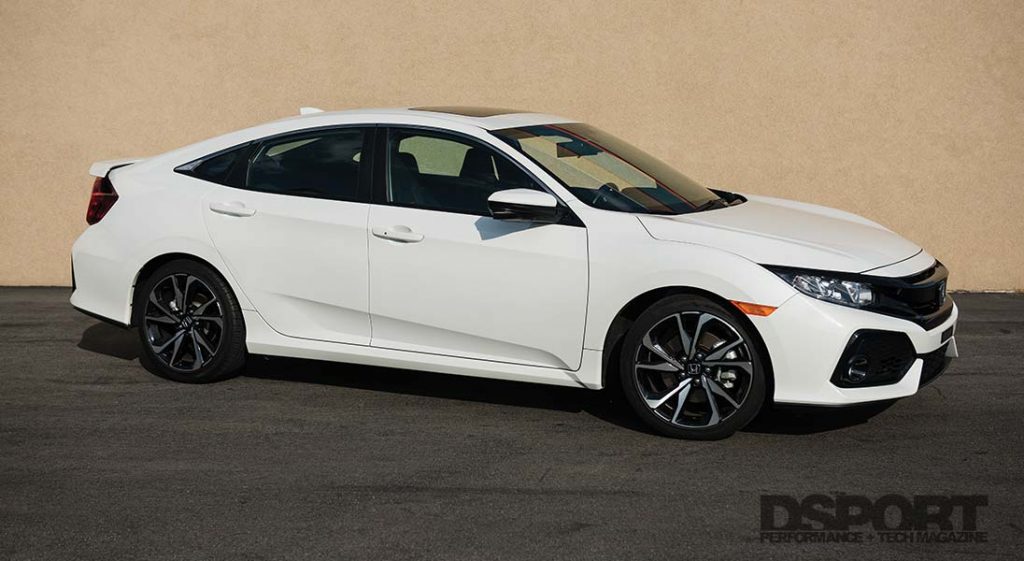 2019 Honda Civic Si
The 2019 Honda Civic Si is powered by a 1.5-liter, four-cylinder engine. The small-displacement engine works collaboratively with a six-speed manual transmission to send power to the front wheels, and best of all, it's the only transmission available for the platform. Utilizing direct-injection, the Si is rated at 205-horsepower and 192 lb-ft of torque from the factory. This power sprints the 2,889-pound Si from 0-60 mph in 6.6-seconds with a tested quarter-mile time of 14.9-seconds. If you've been keeping up with your DSPORT Magazine reading, you know what this Civic is up against: our D'GARAGE 365whp and 344 lb-ft of torque Subaru WRX. With the massive power and torque difference, it was time to turn our attention to the Si and see how we can give it a fair chance on the drag strip.
The Parts
While OEMs have been offering quality parts that maximizes power potential in recent years, there are always merits to aftermarket parts aside from peak power and torque numbers. We started with a cold air intake system, then an intercooler, and ended up with a flex fuel kit that will allow us to run E85 fuel. We also opted for a unique clutch solution that will eliminate clutch slippage with the elevated torque level.
---
Hondata FlashPro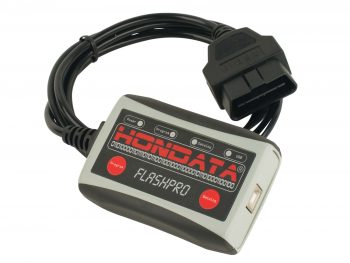 If you own a Honda, you know what the Hondata FlashPro can do. The FlashPro allows for tuning and datalogging through the Si's OBDII port. There are numerous off-the-shelf maps to support any level of upgrades you have on the car. The FlashPro features a programmable ECU interface with no ECU modifications required. Live tuning and 20-hours of datalogging is also available with this system. Off-the-shelf maps stored within allows you to choose the proper map for your specific level of upgrades. Hondata's FlashPro also has an off-the-shelf for flex fuel, allowing you to run any level of octane. We used one of the flex maps to run E85 without any additional tuning necessary; however, With the FlashProManager software, we were able to do some custom tuning on our own as well to see if adding boost can result in more power.
---
MA Performance Intake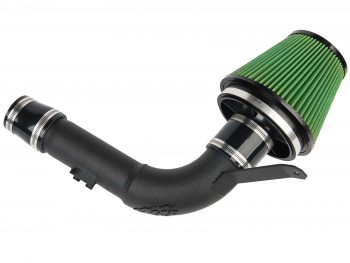 Constructed from high-quality mandrel bent 304 stainless steel tubing, MA Performance's air intake is designed to increase engine efficiency. Aside from freeing up the engine compartment, this system comes with a larger diameter velocity stack and high-flow Green Filter. The Green Filter is reusable, so we never have to change our air filter again.
---
GReddy Intercooler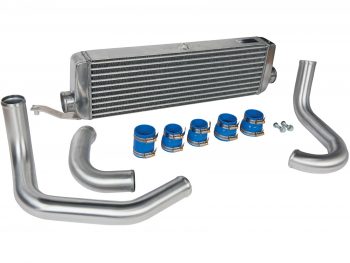 We opted for GReddy's Type-31E intercooler to eliminate any heat soaking in the staging lanes. Ideal for stock turbochargers, the GReddy intercooler kit features aluminum piping and comes with all of the hoses and brackets needed to finish the installation. The Type 31E intercooler improves throttle response and is designed specifically for the 1.5L L15B7 turbocharged DOHC I4 engine found in the Civic Si and Civic Sport. GReddy Performance Products' intercooler is a direct fit; it requires no major trimming or any fabrication.
---
SiriMoto E85 Flex Fuel Kit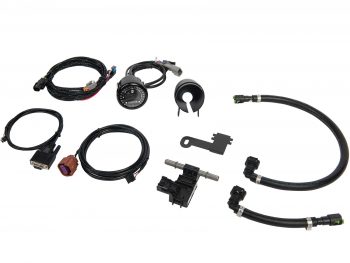 This plug-and-play solution allows you to run any fuel mix you want, whether it's 91-octane pump gas, E85, or a mix of both. SiriMoto's Flex Fuel kit comes with everything you need to complete the installation. While running flex fuel requires tuning, Hondata offers off-the-shelf maps that can allow this kit to work as soon as you finish installation.
---
Type R Clutch Upgrade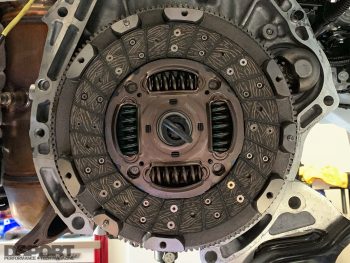 The clutch on the Honda Civic Si has proven that it cannot handle much power. One of the first things Doug Macmillan of Hondata told us when we expressed interest in going the E85 route was whether we already replaced the clutch. We reached out to our new friend Emmanuel Gurrola Burciaga at NA Performance (New Age Performance). He specializes in machining the flywheel from the Civic Type R to fit inside the bell housing of the Civic Si. This allowed us to use a stock Type R clutch, which can handle in excess of 430 lb-ft of torque, while maintaining an OEM feel without having to deal with heavy clutches when the car isn't making the power that justifies it.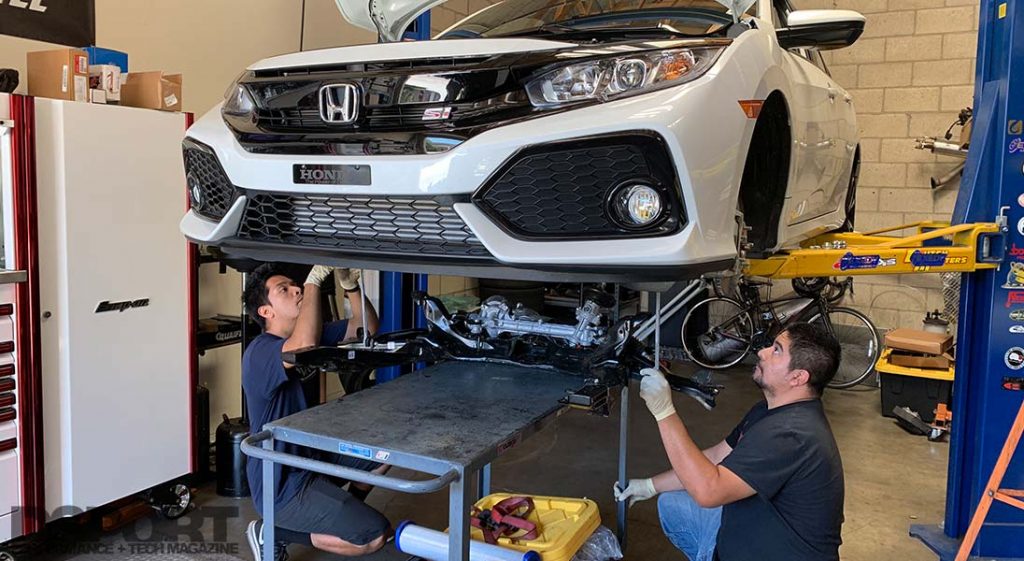 ---

On the Dyno
We strapped our 2019 Honda Civic Si to the dyno to get a baseline. On our Dynojet, the Si put down 189.81 peak whp and 190.58 lb-ft of torque. This was accomplished when running on the factory 18.87 psi of boost. Torque peaks early on from 3,000 RPM to 3,700 RPM before slowly dropping. The horsepower continues rising all the way to redline. Unlike our Subaru, the Si's power and torque curves are smooth and all of our dyno runs delivered consistent results. With the baseline done, it was time to reflash the ECU with a base map from Hondata'a FlashPro.

In a completely stock form, our 2019 Honda Civic Si put down 189.81 peak wheel-horsepower and 190.58 lb-ft of torque. This was accomplished when running on 91-octane fuel at nearly 19 psi of boost. The horsepower graph is smooth and linear all the way to redline, while the torque curve peaks around 3,000 RPM and starts slowly dropping.
Hondata FlashPro
Using a Microsoft laptop and the FlashPro Manager software, we reflashed the ECU with one of Hondata's off-the-shelf maps. The FlashPro offers off-the-shelf maps for just about any level of modifications, including flex fuel. We started with the first performance map on 91-octane. Our Civic Si put down a peak 203.88whp and 214.70 lb-ft of torque. This is a 14.07 peak whp gain and 24.12 lb-ft of torque (12% increase). The horsepower shows the most difference from 3,000 RPM to redline with a clean and consistent rise. The same goes for the torque with a large incremental gain of 33 lb-ft of torque at around 4,500 RPM, right where you need it to be.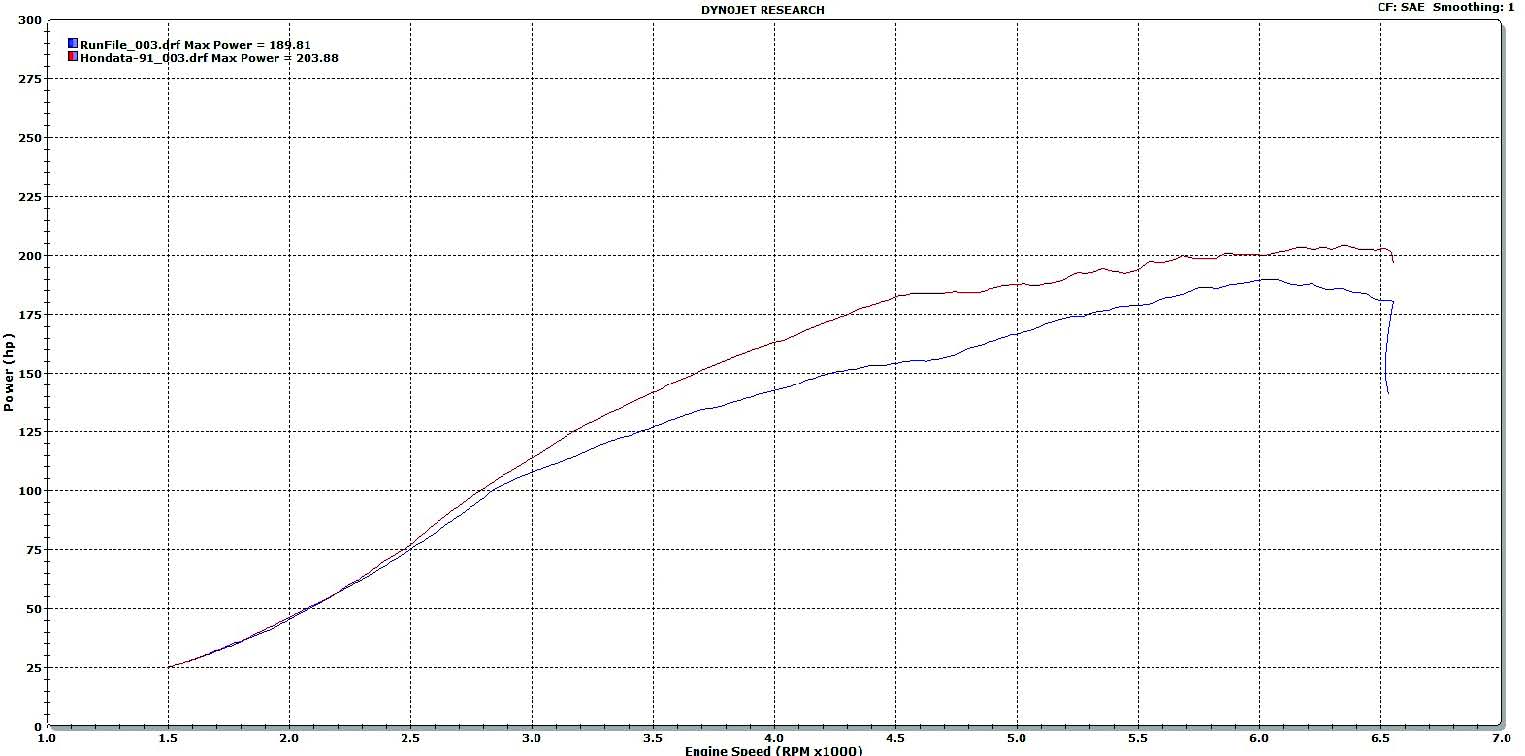 With our Si's ECU reflashed, the Civic gained 14whp and 24.12 lb-ft of torque with the boost increasing to 22.49 psi. This pushed our Si to 203.88 peak WHP and 214.70 lb-ft of torque. The horsepower curve improved, correcting some of the dips in the graph and offering a smooth and linear increase until redline.
Cold Air Intake
Installing the MA Performance cold air intake was quite possibly the easiest I've ever experienced. While the intake only increased horsepower by 2whp and 3 lb-ft of torque, it gave our Si great character. Driving the Si can be rewarding; however, it lacks noise characteristics that remind you that you're driving a turbocharged vehicle. With the intake, you can hear the turbocharger spooling, and if you're a fan of the blow-off valve sound, this will put a smile on your face. Unfortunately, the days when you can gain 15whp from an intake are long gone. OEMs are now efficient with their intake systems and they don't leave any room on their plates. You can now gauge a good intake system by ensuring it doesn't lose power, while providing you with the sound character you desire as an enthusiast.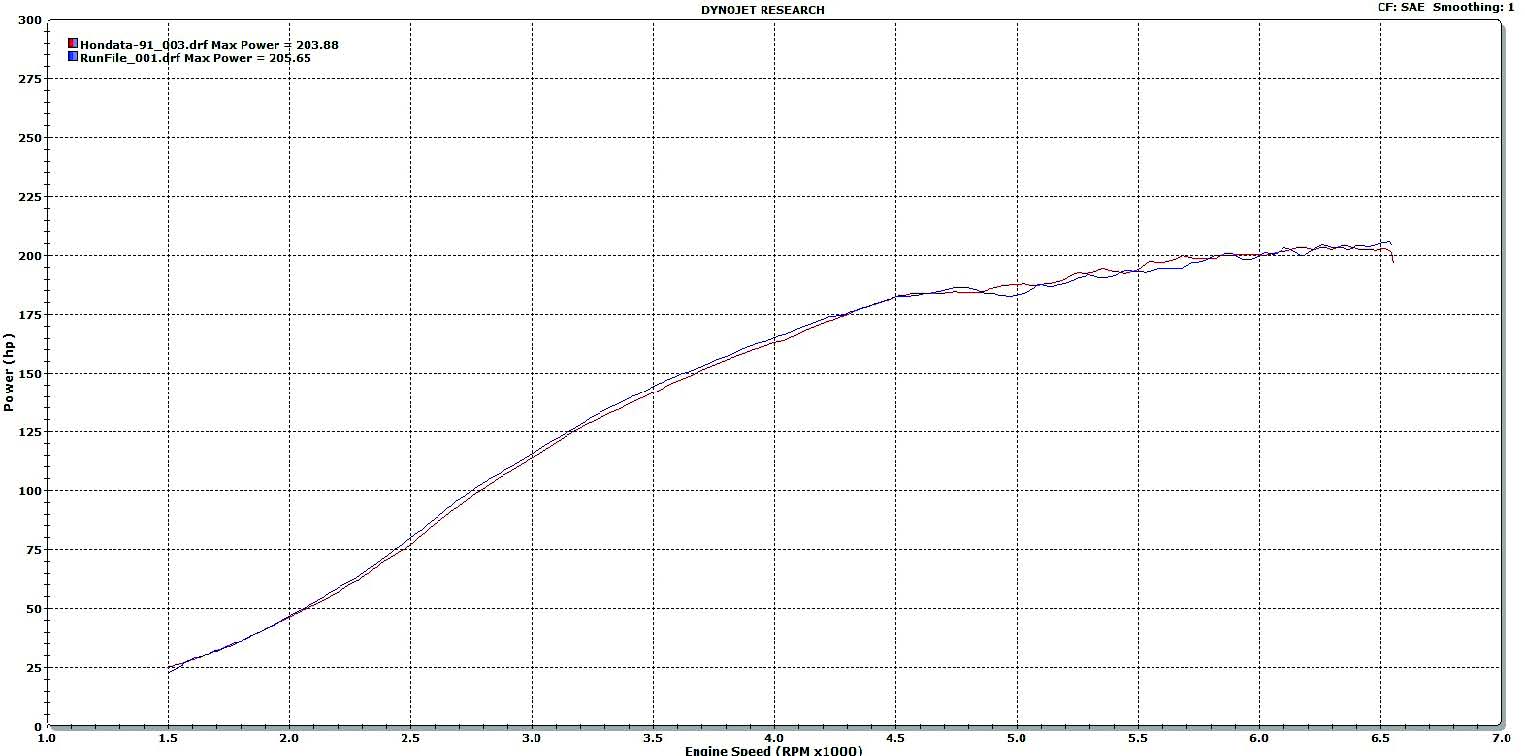 When considering purchasing air intakes in modern cars, consistent cold air and sound character becomes more of the goal than performance. Today's factory intakes are rather efficient. In the case of the Si, sound character is desperately needed. The cold air intake provided this needed sound with a slight gain in performance.
Intercooler
Off the dyno then back on the dyno, the intercooler didn't show much of an increase in terms of power and torque numbers. The GReddy intercooler is best used if you track your car. In our case on the drag strip, we do one race after another. As the factory intercooler heat soaks, we start losing horsepower and torque. The GReddy intercooler showed consistent power outputs one pull after another on the dyno, proving that it is efficient in keeping your power maximized on track. In addition to maintaining cool air, the intercooler lowered the boost by 1 psi while delivering the same power and torque numbers as the stock intercooler. As you lower the heat, the pressure reduces as well. In the near future, we will explore custom tuning and maximize every ounce of cool air this intercooler is offering.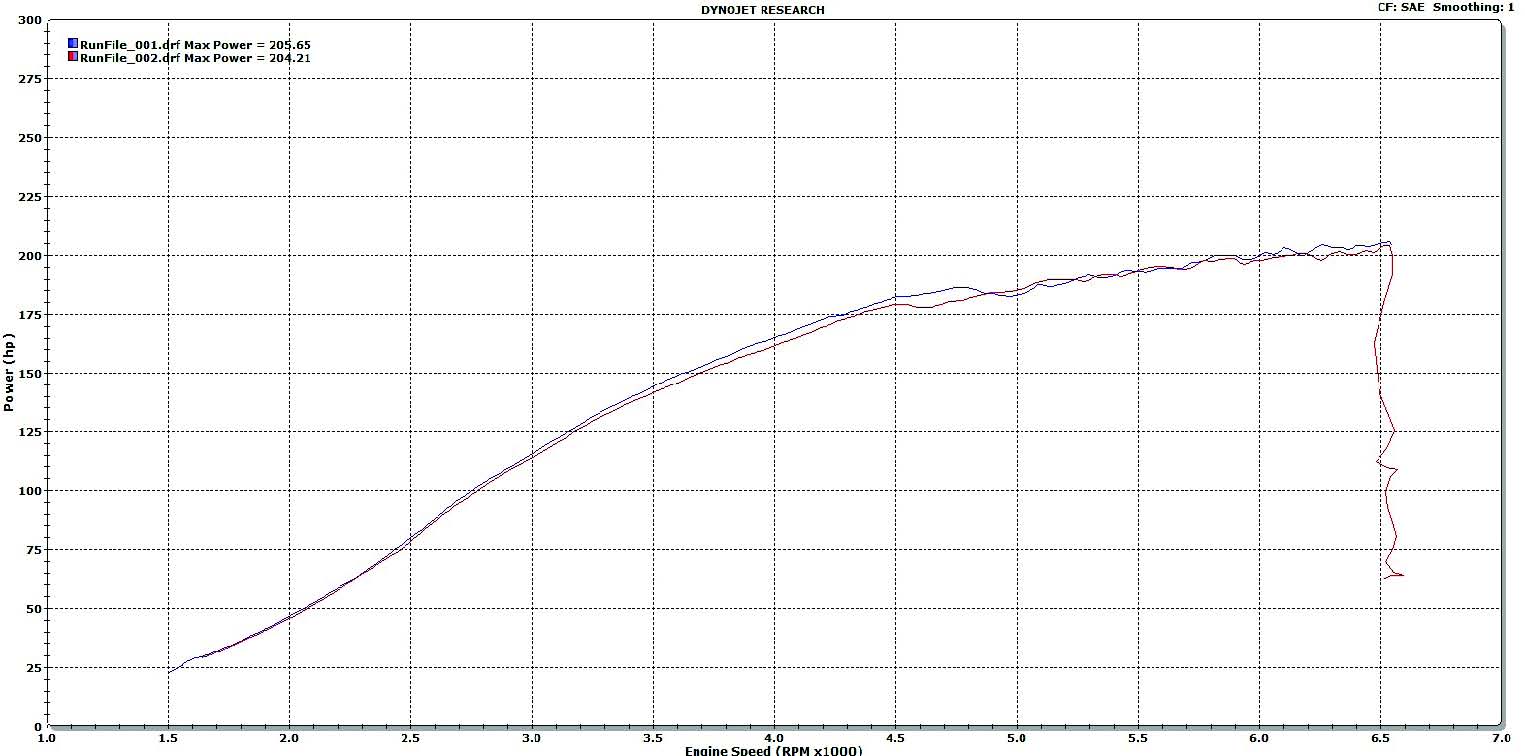 While peak horsepower and torque numbers did not experience any gain, the GReddy intercooler reduced the heat, which in turn reduced the pressure. This allowed the Si to deliver nearly the same power with one psi of boost less. The intercooler will prove itself on track more than the dyno.
Flex Fuel: E85
After a short struggle trying to pump out the 91-octane in the tank and getting sprayed in the face with it, it was time to pour E85 and go to our Flex Fuel map. We used the SiriMoto Flex Fuel kit to accomplish this. Since we couldn't get all of the 91-octane out, our SiriMotor ethanol gauge only showed 76-percent ethanol. With E85 in our tank, the Civic Si put down peak 240.59whp and 237.96 lb-ft of torque. This map raised the boost to 24.37 psi. It's no secret that E85 offers the best of all worlds. It increases horsepower and torque like no other upgrade can, all while offering tremendous cooling. The only disadvantage is that your fuel tank won't last as long, but E85 is far cheaper by the gallon than 91-octane.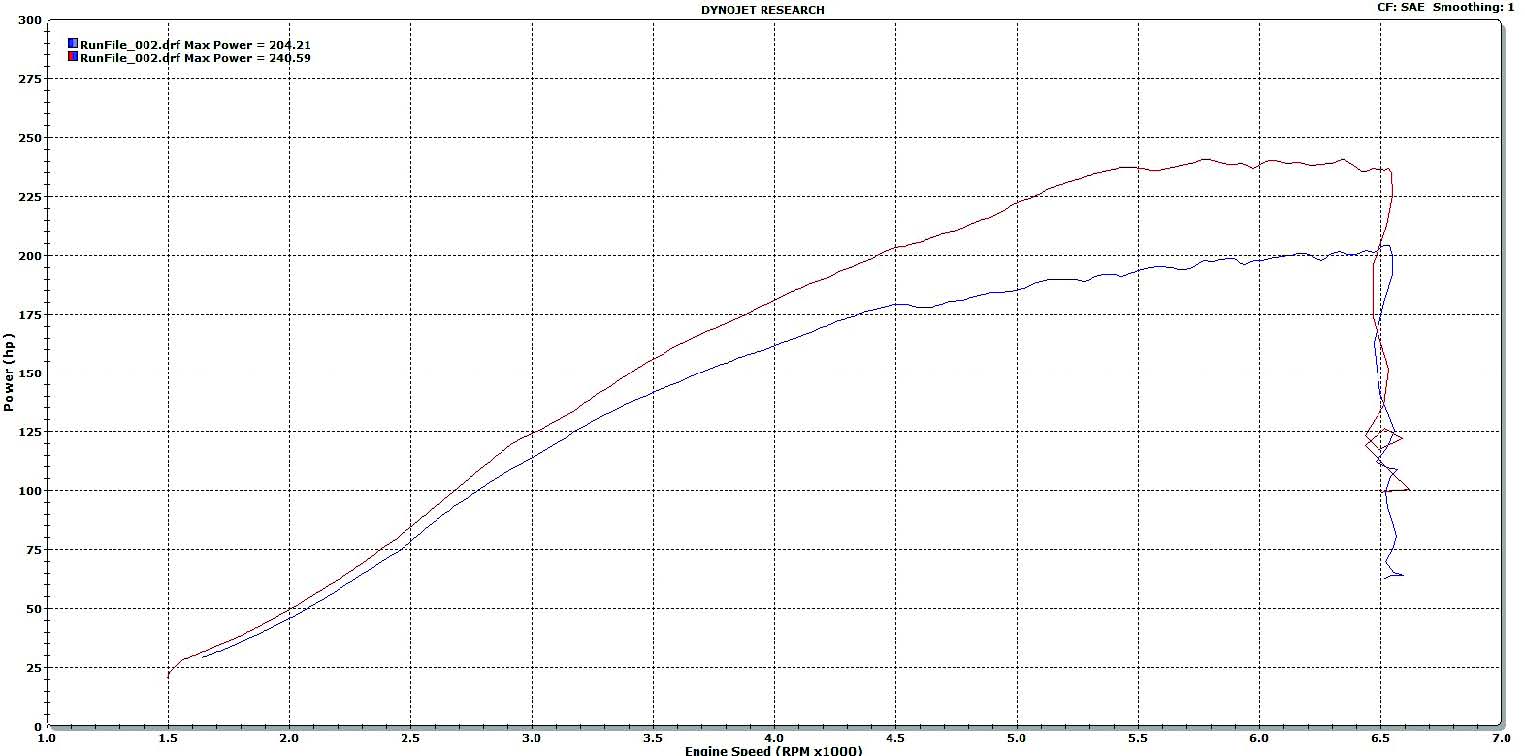 With all of the parts on the car, we installed the SiriMoto flex fuel kit and switched to an off-the-shelf flex fuel map from Hondata. The Civic Si delivered 240.59 of peak wheel-horsepower and 237.96 lb-ft of torque. This is a 36.38whp and 24.92 lb-ft of torque in peak gain. Boost was increased to 26.27 psi.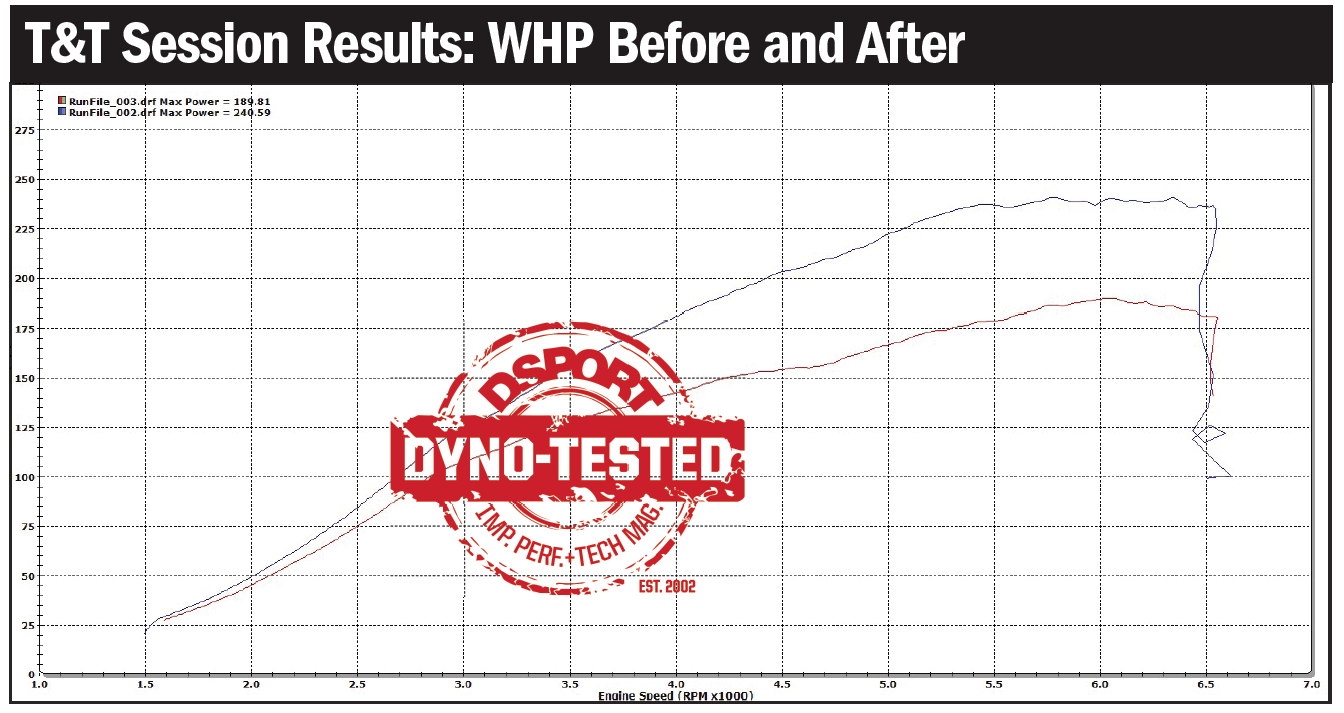 The combination of parts, tune, and fuel resulted in 240.59 peak wheel horsepower. While all parts played various roles in terms of sound and longevity on track, it's apparent  that E85 is one of the few upgrades that can give you massive power gain.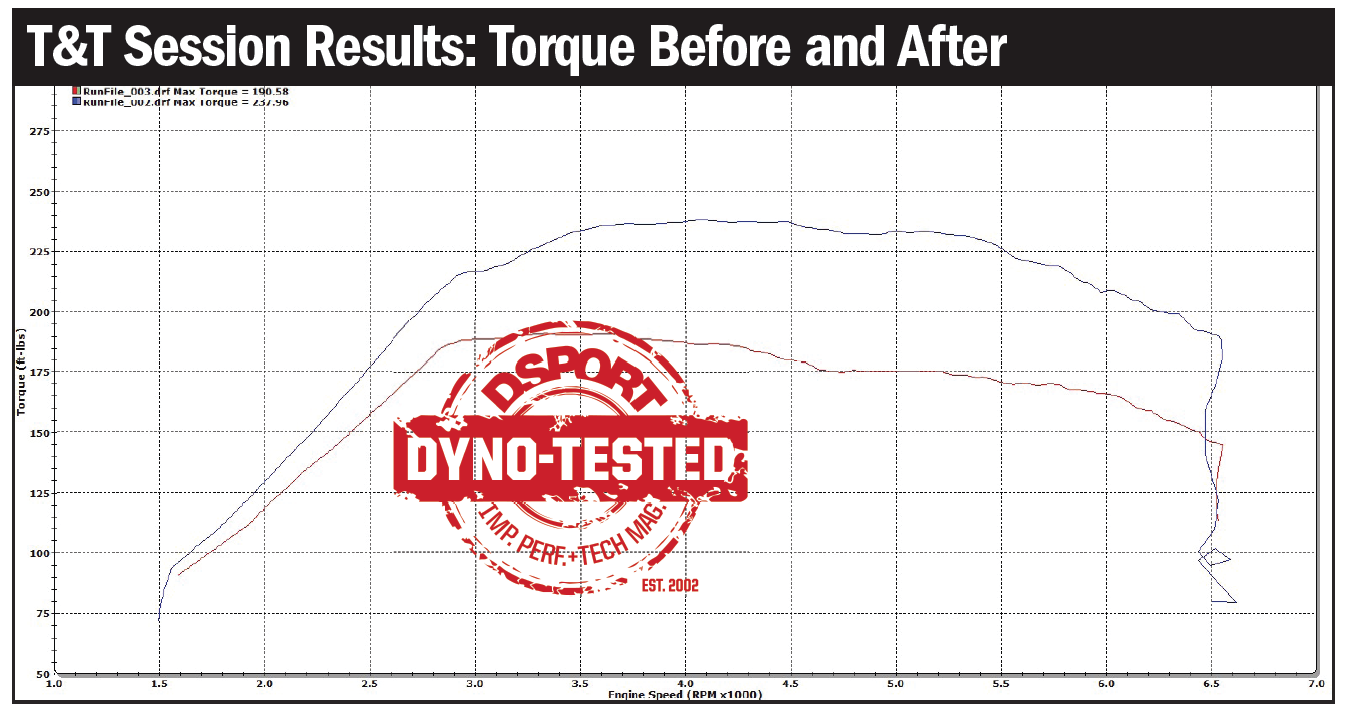 A total increase of 47.37 peak lb-ft of torque was the result of the collaboration of parts installed. Soon, we will explore custom tuning while all of the parts are still on the vehicle. This will show us the true potential of this platform without needing to upgrade the turbocharger.
The Bottom Line
With just an off-the-shelf map from the Hondata FlashPro and the SiriMoto flex fuel kit, we got more than enough gain in terms of horsepower and torque. A total increase of 50.88 peak whp and 47.38 lb-ft of torque were the result. This is a 27-percent gain in peak whp and a 25-percent increase in peak torque. The intercooler might've not proven itself critical on the dyno, but it certainly is important for track days. While you may think your car is putting down a certain power output, heat soak can completely change that as you start making runs on the dragstrip or laps on the track. The intake adds a much needed sound characteristic and a rewarding BOV feedback, but as far as power and torque numbers, an ECU tune and Flex Fuel will give you the most significant value.