If Mazda is known for one thing in the performance scene, it's their production of the third generation RX-7. Truly a timeless design, the RX-7 FD is considered by most to be one of the best-looking automotive designs of all time. The design was coupled with a unique innovation under the hood. While all cars were using piston engines, Mazda equipped their RX-7 with a Wankel rotary engine. The rotary engine measured just 1.3-liter in displacement while boasting just as much power as much larger engines. Amongst the thousands of rotary fans, Ted Solano decided to pursue his rotary dream and buy Mazda's most popular platform.
Text by Bassem Girgis // Photos by  Alex Trentch
DSPORT Issue #218
---

Out of the Box
Without a single upgrade, the RX-7's design is a direct competitor to the 1990s most visually pleasing cars, like the Acura NSX. Known for its light weight, the RX-7 FD shined on track and around corners. It offered quite the bargain between daily-driving and sharp track handling. The FD generation received a new variant of the Wankel Rotary engine named 13B-REW. This engine was complemented with twin-turbochargers that were designed to keep the entire RPM range fun until the 8,000 RPM redline. The first turbocharger delivers low RPM boost and the second one comes on at around 4,500 RPM. Out of the box, the RX-7 FD delivered 255 horsepower at 6,500 RPM and 217 lb-ft of torque at 5,000 RPM. The rotary engine was filled with potential; however, the tricky design required knowing the ins and outs, and if upgraded properly, it can be quite a rewarding platform – if not, it could be your worst nightmare.
Getting an RX-7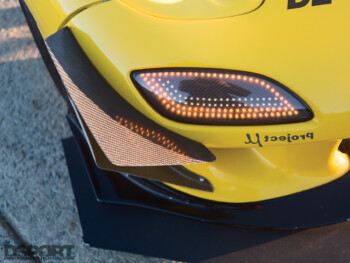 On December 22nd, 2007, Ted Solano purchased his 1993 Mazda RX-7 FD3S. "I chose the RX-7 FD because it's different, unique, and has a smaller displacement engine that can still box with bigger piston motors," said Ted. Upon acquiring the car, Ted loved its sound like all rotary fans out there, but the in-cabin heat was no walk in the park. "I mean it gets really hot. It feels like a thousand suns in there," said Ted. Some in-cabin heat wasn't going to discourage a true fan of the platform, however. Ted started planning his vehicle, and although it was really hot in there, the air conditioner was first to go to prepare the RX-7 for some track use. Of course, this didn't pay off in terms of driving through New York traffic, but it certainly makes the sweat worth it on track.

The Goal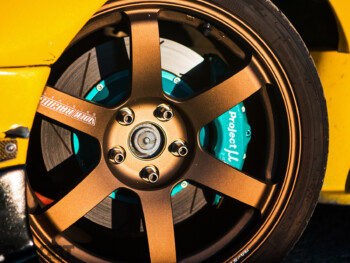 The main focus was to build a track car that can win some trophies at car shows. Ted wanted to make sure his RX-7 is a show and go, which meant he had to invest some time getting the engine, suspension, and brakes just right before he attempts to make it pretty. His ideal result would be an RX-7 that can be driven on the street at any given time, while producing good power for the track. Building an RX-7 FD to perfect the lines on track and win car shows is easier said than done. Ted had to do a lot of parts ordering, waiting, more parts ordering, saving money, then more waiting, and a lot of working overtime through the summer and the winter. However, he knew what he needed to do, and it was only a matter of time before it's done.

There's nothing quite like the sound of a high-revving rotary engine. The twin-rotor 13B-REW rotary engine has a simple design, light weight and low center of gravity.
Getting There
To get to the next level of power, Ted opted for an S366 Borg Warner Twin Scroll turbocharger instead of the twin sequential setup. The additional air is complemented with a Stealth 380 fuel pump feeding four injectors, two 850cc and two 1,680cc. The ECU is managed by an Apexi Power FC tuned by IRP Performance out of New Jersey where he resides. The result was 480whp right out of the gate. Ted drove the RX-7 for a while before realizing he wants to detune for the streets. The RX-7 now delivers 380whp and 239 lb-ft of torque. "This setup is perfect on the streets and on the track," said Ted. "Going in and out of the apex is perfect, at least for me." The journey came with a hefty price tag in parts, labor, and some disappointments along the way before getting the car to where it's at today.
This Blows
The journey wasn't free of trouble. When Ted was racing his friend's EVO 5, he ended up blowing his rotary. "I blew an apex and destroyed the front rotor housing and the rotor," said Ted. Ted tried to salvage as many parts as he can from the old engine. Around the same time, his friend also blew his engine, so he had a rotor and a housing ready. Ted bought them off of his friend, then got an apex seal from New York City. Just like that, Ted's rotary engine was back together and back in the RX-7. While these problems can set you back and end up costing you much more than you've anticipated to spend, they also teach you a lot about your engine, and if you own a rotary, you need to know everything about it to avoid these issues in the future. Ted took it as a blessing in disguise and went on to continue the build.

Winning Shows
While Ted was racing on track with his friends, he was also tackling the car shows. He puts his RX-7 to the test on the road just as much as he does on track as he drives for hours in the New York City heat – he also learned the importance of the air conditioner. Ted won Best Mazda twice at AutoCon NYC, Best Mazda at Wekfest and Tuner Evolution, beating some impressive RX-7 builds. Ted stays true to his original Show and Go theme for the build. He continues to put his RX-7 to the test on the track and will never stop. While most people investing that much money could easily be discouraged to throw their vehicles around the corners of the track, Ted insists on racing and letting the RX-7 live in its natural habitat on these courses.

Never Ending
"To me, it's a never ending build," says Ted. "I think it will only be finished when I call it quits, which is never." Ted understands what it means to build a performance vehicle. If you plan on building a car that you will race, you have to approach it with the mind frame of never ending, otherwise you will experience a lot of heartache as you watch the smoke exiting your hood vents. As of right now, Ted continues to regret deleting the air conditioner, but he's loving every decibel that the 13B REW engine produces. The Borg Warner turbocharger brought the RX-7 to life and gave Ted a whole new appreciation for performance cars. Ted's journey is a great blueprint to building a car. Plan it, build it, race it, blow it, and never stop building it – just be sure to enjoy both the ups and downs.