If Mitsubishi has done one thing right in its history, it's the production of the Lancer Evolution. Ever since its debut, it has been nothing short of a rally-bred animal. Taking from the Mitsubishi Lancer nothing more than the unibody, the Evo was produced specifically for the World Rally Championship's Group A class and SCCA Pro Rally Championship. The significantly more-powerful, more-raw, and more-fun Evo went on for 10 generations before the Japanese automaker decided it was time to call it quits. Amongst the thousands of admirers is an Automotive Teacher named Robert Wells-Clark. Robert used his expertise along with the help of the Evo community to build what may look like a clean, tame vehicle – but don't blink, this Evo is quick.
Text by Bassem Girgis // Photos by Chris Daley
DSPORT Issue #208
---

The Birth
While you may be familiar with the last three generations of the Evo, Mitsubishi had been making seven more in other countries outside of the USA, like Japan, UK, and numerous European countries. It only started in the Japanese market, and due to high-demand, it slowly started spreading until it made its way to America in 2003. The "Evo I" came equipped with a 2.0-liter turbocharged DOHC engine that delivered 244 horsepower and 228 lb-ft of torque. Power was sent to all-four wheels, giving the Evo its legendary traction reputation and making it the Subaru WRX STI's longest-running rival. Many years later, the Evo IX was introduced. Known by many to be the last legendary Lancer Evolution before the Evo 10's introduction, it was powered by the iconic 4G63 2.0-liter turbocharged engine with the variable valve timing. This generation of Evo produced 286 horsepower and 289 lb-ft of torque.

The 4G63
One of the best characteristics of the Lancer Evolution is its 4G63 engine. It has been one of the most durable engines to ever get produced out of Japan. This platform made our DSPORT Top Ten Engines list in issue 119 and made numerous notable appearances throughout the years in our Club DSPORT precision machine shop. The 4G63 is known for its highly-durable iron block that's capable of handling more than 1,000whp. With its highly-flowing cylinder head and more aftermarket support than most other platforms, this engine can be found on race tracks around the world with hundreds of podium finishes. The Evo 9 lured Robert in with its capabilities and reputation and quickly became his weapon of choice.

Decisions, Decisions
Robert Wells-Clark had always promised himself that he will one day own an Evo or an STI. After spending years going through school and working on cars, he finally got his break as an Automotive Teacher. At that point, Robert was rather set on the Evo and he knew that's the car he wanted to invest some sweat and elbow grease into. After spending some time searching for the right car, he finally found a cheap 2006 Evo 9 MR. Robert reached out to his friend at English Racing, who knew the owner of the Evo and recommended it, stating that it will require some work before it can impress. He made the drive to see the car, and sure enough, went home the new owner. It was finally time Robert put all of the skills he had learned into his new Evo.
It Begins…
Upon acquiring the vehicle, the 4G63 had a blown head gasket. Robert took this opportunity to upgrade the head studs with ARP ones. The stock turbocharger provided Robert with a lot of smiles with its swooshing noises at first, so he started by upgrading the factory suspension and wheels and focusing on cosmetics. When we asked Robert about his initial goals, he replied, "I wanted a streetable, fun car that I could drive any time I wanted." He wanted a four-door sedan as his daily driver, and for seven years, the Evo served as such. By the time the Evo reached 530whp, Robert was ready to retire it as his daily and start getting more serious with the power output.

The Precision turbocharger, with the help of dual fuel pumps and supporting upgrades, allows the 4G63 to deliver 775whp and 542 lb-ft of torque on E85.
Making Power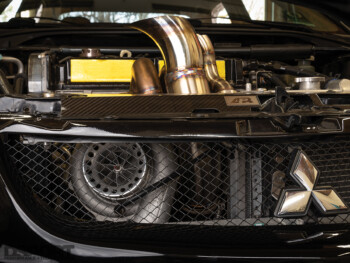 Even while Robert was pursuing bigger power numbers, he made sure to keep the air conditioner and all of the comfort features in the car. To get beyond the 530whp number, English Racing ported the 4G63 block's oil passages, as well as replaced the internals. The team also upgraded the turbocharger with a Precision Turbo 6266 S-Cover Ceramic Dual Ball Bearing turbocharger, and added a flex-fuel tune on the Haltech ECU. With just about everything replaced, Robert's 4G63 delivered 775whp at 7,800 RPM and 542 lb-ft of torque at 5,252 RPM. This power is accomplished when running on E85 fuel and 37 psi of boost.
The Journey
The road to this kind of power wasn't all smooth. Robert had to make a lot of mistakes using poor-quality parts until he learned that good parts make or break a build. At some point, he installed a turbocharged that spit oil into the intercooler piping. Other issues came up, like hitting a pothole and sheering the oil filter and housing just months after finishing the build. The journey was filled with ups and downs, but fortunately for Robert, he was surrounded by the right people that never hesitated to help him out and get his Evo back on the road. 

The Future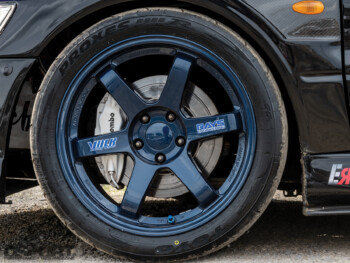 While the Evo hasn't been on the drag strip in years, its last trip there resulted in an 11.7-second pass at 118 mph in the quarter mile. This run was on the stock turbocharger, so we can all expect a different number now. So, is this the end for Robert's Evo? "No project is ever done!" Robert said. "I just finished making some new exhaust dumps for the car which I am enjoying now. Next up will be a set of slicks and some suspension changes to get back to the drag strip next year. At some point, I'd like to do a Whitfield MFG cage also, but not until I send it down the strip in full street trim. Once that's said and done and I have a few time slips, perhaps someday I'd like to go to a bigger turbo, gut the car, and truly go full race-car and away from the street-car trim that it's in now." It's obvious Robert's Evo has a long life ahead of it, and if this doesn't prove that the aftermarket scene is the biggest adult playground, then we don't want to play anymore.