Whether it's a Silvia, an NSX, a Skyline, or a Supra; it comes down to the purpose. Some people build cars that they've dreamed about since childhood, some want the best platform, and others have a deep reason behind their journey. The story of the car is what makes a Silvia as good as a GT-R, and with a good story, there are no wrong cars. This Silvia Spec-R was searched for, bought, and built specifically to honor the memory of a friend. With no shortcuts in sight and only the best quality parts in the cart, the story of Infamous started.
Text by Bassem Girgis // Photos by Brandon Connelly Photography
DSPORT Issue #220
---

Back from Hiatus
Ashley and Tim, a married couple, have been building cars together since 1996. Over this span, the couple have built over 20 cars. All of these cars and the years in their arsenal got them to the point where they needed a break. After the five-year break, they found out that a very close friend that they grew up with named George "Infamous" has passed away. Given George was a car enthusiast, Ashely said, "we need to build another car, and do it for George." George wasn't known to build average cars, he always wanted to do something special in the scene anytime he was involved in a build. "George never built cars to be normal, they always had to be the fastest, craziest, best-looking machines," said Tim. "Instead of 'it can't be done,' George lived by the 'let's be the first' motto."
Finding the Car
It didn't take long for the couple to agree to build a car, and then it was time to choose the platform. They considered a Supra, an NSX, or a Silvia. When they found out that a mutual friend was selling a Nissan Silvia Spec-R from their private collection, they drove down to South Florida to look at it. "When I arrived, there sat a nearly stock S15 with the original Pewter color," said Tim. "The second I saw it sitting there, I knew this was the one." On the spot, the purchase was made and the story of Infamous' memory was set to be written. When Tim laid eyes on the Nissan Silvia, he instantly had a vision and saw all of the potential. "Although the taillights were outdated, it looked minimal in style and I loved the fact that there was so much more I could do to it to bring it to life," Tim reminisced.
The Goal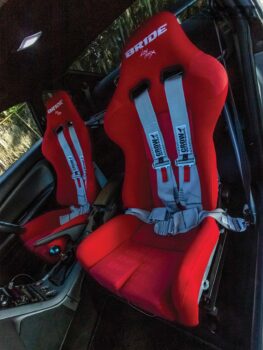 The ultimate goal was to pay respect to their long-time friend, George. The build had to be fast and look good. While this recipe is easier said than done, Tim had a specific vision in his mind. He wanted to give the exterior a subtle, yet defined look. No matter what, the Silvia had to put down more than 400 horsepower to its rear wheels on pump gas. Tim wanted to go to a top-mount turbocharger and keep the SR20 engine to stay true to the Silvia's roots. While the car was set to be displayed all around car shows, he wanted to ensure it is always track-ready. Just like that, the plan was laid out and it was time the Silvia served a higher purpose than just being known to be a great Japanese car for drifters around the world.
Ups & Downs
"As with every car I have ever built, nothing goes as planned," Tim said. While we all know that feeling so well as car enthusiasts, Tim had to spend a great deal of time making unforeseen modifications to get the turbocharger to fit properly. This wouldn't be a huge issue for track-dedicated vehicles, but with the air conditioner staying in, as well as the power steering and ABS system, he had to adapt. The engine bay involved re-routing lines, custom manufacturing pipes, and serious hunts for small fittings and belts. The plan was to get the engine done in two weeks, but it ended up taking many months of daily, non-stop work. Dedicated to the purpose of the build and being prepared to face the worst, the engine was finally done and ready to dyno.

Making Power
Keeping the stock bottom end, Tim refreshed the head and switched to stage 2 cams. The stock turbocharger was switched to a Precision Turbo 5858 top-mount turbocharger. The additional air is matched with fuel using a Walbro 470lph Hellcat in-tank fuel pump, feeding ID1050x injectors with 93-octane gas. With this combination along with the supporting upgrades, Tim's Nissan Silvia put down 446whp at 7,700 RPM and 332 lb-ft of torque at 5,800 RPM. The power increase was supported with a 350Z CD009 transmission using an SRVQ housing adapter kit from Mazworx. Suspension is improved using HKS Hipermax coilovers and a Cusco strut bar. "Getting the car over 400whp was an incredible feeling," said Tim. "When the car was first tuned, we had a few issues with the MAF sensor, coil packs, spark plugs, and fuel." The first trip to the dyno turned into a disappointment when the Silvia put down 350whp. Tim switched to a Z32 MAF, 350Z coil packs, and fixed the fuel hang up. The next trip, Tim was not leaving the shop without a 400whp number. Fortunately, the SR20 put down 446whp to wrap up the power goal.

The End
While every story always comes to an end, the story of this Silvia is just beginning. The future is bright, and soon, the SR20 will get new bottom end internals, a Haltech ECU to allow it to go to flex fuel and hit the dyno on E85, as well as a JSAI rear diffuser for the exterior. We asked Tim if he would do anything differently if he had the chance to do it all over again. He answered, "I would absolutely do it again, and I would not change a thing. I am incredibly happy with the results." The memory of George gets to live in this build, and if he was here, he would be proud to be represented by such a clean example. A couple that met in middle school who started building cars together since 1996, getting back to the scene with a clean build to honor a childhood friend, if this isn't a story, then what is? Thanks to them, the Silvia is a small book of its own and the car scene got one-percent better.