Building a car usually comes with a lot of stories. You either went into the project knowing exactly what you wanted, or you had no intentions of starting on such journey before finding yourself all in. Jonathan Ortiz had no plans of building an Acura RSX, but as fate would have it, he ended up building and racing one of the cleanest, most well-put-together RSX around. Unlike most enthusiasts, Jonathan didn't get to pick his car, instead the car picked him. Here's how Ortiz ended up going all out with this turbocharged Acura RSX Type-S.
Text by Bassem Girgis // Photos by Daniel Olivares
DSPORT Issue #229
---

It's Simply Fate
"One random day, I was driving around Boston with my girlfriend," said Jonathan Ortiz. "I was on a hunt for a DC2 Integra Type R when my girlfriend said, 'pull into this dealership and let's see what they have.' Come to find out, she was browsing around and knew they had just gotten an Acura RSX Type-S in a trade." Just like that, Jonathan's girlfriend bought the RSX and his Integra GSR had this RSX parked next to it in the garage. With no plans to become the owner of the RSX, the universe aligned everything just right and a few years later, Jonathan purchased the RSX Type-S from his girlfriend. "I guess you can say the car chose me," said Jonathan.

New Chapter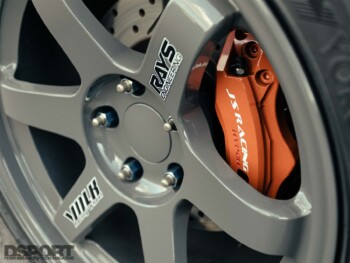 While the car was not intended to be his, Jonathan loved the looks of it. It had the updated front and rear end, which are more aggressive than the '02-'04 Acura RSX. The color was one of the things that he didn't like about it, however. "I already owned a black car and understood the process of keeping the paint looking right," said Jonathan. "The next thing was the height. The car looked like a pint-size monster truck." It didn't take long for Ortiz to lower the car, in fact, it was only two days before the RSX was sitting on Ground Control coilovers. With a new chapter opened in this car's book, Jonathan wanted to do it right no matter how long it takes him to finish the build.
Setting Goals
For Ortiz to do this build right, he needed a solid plan before turning any nut or bolt. The goal was to have an overall build as close to complete as possible, whether to compete at an event or show the car. A combination of function, form, and reliability is what Jonathan saw in this car's future. "I wanted a little bit of everything – I know, super selfish in a sense," said Jonathan. Jonathan was able to stick by his plans and not change them too much. "The biggest thing I would say was the color of the car," said Jonathan. "It was going to be flashy and in your face, a color I was crazy about." Jonathan changed this part of the plan, however, when he ran into some issues with the original body shop and wanted to start with a clean slate. "I looked at so many colors from OEM to custom, then I decided to go with a Porsche PTS Fashion Grey off of the GT3 RS."

A Borg Warner S366xl allows the RSX to deliver 532whp and 334 lb-ft of torque when running at 18 psi of boost on 93-octane fuel.
Making Power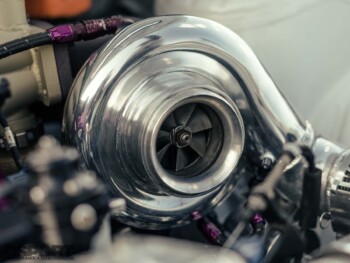 Starting with a great and capable foundation in the K20Z1 engine, Jonathan opted for a Borg Warner S366xl T3 turbocharger. A DW 300lph fuel pump feeds 1200cc injectors with 93-octane fuel when running at 18 psi of boost. With the RSX weighing just 2,840-pounds, it delivered 532whp at 8,700 RPM and 334 lb-ft of torque at 8,000 RPM. Making the power isn't just the highlight of this RSX, but the clean engine bay with everything neatly tucked makes the vehicle a truly special one. To increase the body rigidity, a Cusco 6-point cage was installed which wraps around the Mugen S1 seats. The car was finally set to hit the track and the hard work and years were ready to be put to the test, but the road to the track wasn't without bumps and struggles.
Ups and Downs
"The journey was long, full of highs and lows," Jonathan reflected. One of the biggest lows that came with this build was the financial mistakes. As car enthusiasts, we often get too wrapped up in our builds and forget the responsibilities that come with life. Jonathan was obsessed with finishing the build quickly that he found himself nearly out of a home. "One does not realize it when you are so focused and driven to do something that you're passionate about." The highs definitely made the struggles bearable. "One of the best moments was when I was able to pick up my son, Jaydas, from school in the car," said Jonathan. "Seeing him feel like the coolest kid in the world made me happy." Jaydas wasn't the only person Jonathan made proud. "It's tough when you feel like you're in the shadows of anyone let alone your sibling," he continued. "My older brother, Frankie, is well known along with his car, a 2001 Integra Type R, which was on the cover of Import Tuner magazine." Jonathan felt like he had huge shoes to fill, but getting the "I'm proud of you" from his brother provided him with emotions money can't buy.

Back on Track
The plan is to get the car back to the track and improve on his technique. This will allow Jonathan to truly push the car to its absolute limits and enjoy it for its intended purpose. As far as further upgrades, Jonathan has some plans for the interior with some custom titanium parts, as well as a makeover to some of the tired suspension components. "The most surprising thing is the heart and core of the build," said Jonathan. "90- to 95-percent of the car was put together by myself in my home garage." Jonathan Ortiz showed his true passion for vehicles. Without any intentions of building this platform, Jonathan found himself literally all in. If we get to learn anything from his journey, it's that truly special builds aren't done overnight. The journey is the best part, and pacing ourselves will take us a lot further without damaging our livelihood.