The history of Nissan's "Z" dates back to 1959 well before it had the last letter in the alphabet in its title. What started as the Datsun Sports 1000 has transitioned into an icon in the import performance world. It wasn't until 1969 that Datsun/Nissan introduced the world to the 240Z, a sporty two-door car with a 2.4-liter single-overhead cam that delivered 151 horsepower. The Z went on to push competitors to become better, like Porsche and Jaguar. While the Z paved the way for a legendary status, the VQ37 in the 370Z proved much more capable than any of its predecessors. Despite its capabilities and good power output out of the box, the true enthusiast always raised the question: "Why isn't it boosted?" Osvaldo Jimenez wanted to answer this question and build a Nissan 370Z the way it should've been built from the factory: with a turbocharger.
Text by Bassem Girgis // Photos by Joe Singleton
DSPORT Issue #237
---

Z Journey Begins
Osvaldo was no stranger to the Z platform. After all, his father owned a shop for 19-years called King's Complete Auto in Avenal, CA that specialized in Datsun/Nissan Z. After taking a ride with his father and blowing the tires through first, second, and third gears, Osvaldo was simply hooked. "All I remember is getting pushed back into the seat with a rush of adrenaline while my father banged through the gears," said Osvaldo Jimenez. In high school, Osvaldo purchased his first car: a Datsun 280ZX Turbo. He went on to buy and sell more Z vehicles, but the 370Z was always in the back of his mind. "I remember I'd come home from school and go on YouTube to watch 370Z reviews." In 2018, it was finally time for Osvaldo to pull the trigger and make his dream come true. After surfing eBay for what seemed like years, Osvaldo found a 2010 NISMO 370Z with 16,000-miles on its odometer. "It caught my eyes. It was original, low-miles, unmolested, and in red," said Jimenez. Osvaldo drove to Anaheim, CA with his father to take delivery of his NISMO and just like that, all his dreams came true.

Bring it Home
"I had one of the most exciting drives back home," said Osvaldo. "No sleep, no rest, just some good spirited driving and LA weather." Osvaldo finally brought home his new Z and had plenty of driving to assess how much he likes it. While he was in love with everything about the 370Z, he didn't care much about how quiet the factory NISMO exhaust was. "Other than that, it was awesome to drive. Firm, tight, and a blast to drive in the canyons." With most newer cars taking the driver out of their experience, the Nissan 370Z keeps its pilot extremely engaged, especially when coupled with the 6-speed manual transmission. With the car in his garage, it was time Osvaldo made a plan to see what direction to take it, and how far he should go before he loses the true essence of the platform.

The Plan
Like all of us, Osvaldo Jimenez wished the Nissan 370Z would come turbocharged from the factory. Nissan has done a great job in making this platform visually aggressive and pleasing. Osvaldo realized that and wanted to improve upon Nissan's 370Z without losing its character. This meant to keep it as original-looking as possible while introducing a turbocharger to its engine compartment. "I had one goal: to keep it a full street car," said Osvaldo. He wanted to keep the air conditioner, full interior with no gutting, and enjoy the factory NISMO touches around the exterior and interior. "I wanted to make it like I've received it from the factory with a turbocharger. Just simple, sleeper, and fast." Osvaldo's vision means Corvettes and Mustangs on the road would never know what's awaiting. With the goal clear in mind, it was time he dove into the project and starting exploring how much power he can extract from the VQ37VHR engine.
Climbing the Ladder
Osvaldo's plans didn't start with a turbocharger, instead, he initiated the project with an ECU tune and a bolt-on path. While on the dyno for a full-bolt on session, his friend convinced him it's time to put a turbocharger in the 370Z. Osvaldo was introduced to Alonso Gonzalez, owner of Gonzevo Motorsports in Perris, CA. Alonso was building a turbocharger kit for his Z. "We agreed on a project and the vision, and he made it all happen," said Jimenez. The bolt-on path was the perfect start, giving Osvaldo a vision and familiarity with his platform that helped him see the strength and weakness of the engine, as well as the capabilities it holds. Convinced that boosted is the way to go, it was time the team put the turbocharger on and get back on the dyno.

The VQ37VHR received a Precision 6766 JB turbocharger. On E85 fuel, the 370Z delivers 623whp at 7,000 RPM and 508 lb-ft of torque at 6,000 RPM when running at 15.5 psi of boost.
Making Power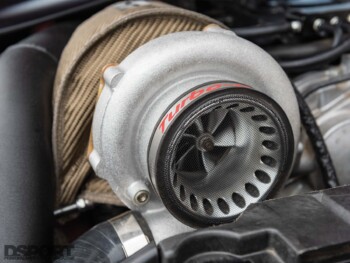 With a completely stock block and engine internals, a Precision Turbo 6766 turbocharger was installed. A Gonzevo Motorsports top mount intercooler helps keep the charged air cool, while a Walbro 485 high pressure fuel pump feeds Injector Dynamics 1300x injectors with either 91-octance fuel or E85 ethanol/gasoline mixture. With EcuTek taking responsibility of the ECU tuned by AdminTuning, Osvaldo's 370Z delivered 623whp and 508 lb-ft of torque when running on 15.5 psi of boost. Before the turbocharger was installed and with full engine bolt-ons, Osvaldo's Z ran 12.9-seconds at 109 mph at Famoso Raceway in Bakersfield, CA. With the new turbocharger setup, the car is expected to run low 11-seconds or high 10-seconds.

The Bright Future
While the car is making plenty of power, Osvaldo believes he can truly take advantage of the turbocharger with a fully-built engine. With the built engine, increase in boost, power, and torque, he plans on going with a twin-disk clutch setup to handle that power. Finally, he plans on putting some coilovers in the back to help keep the power down to the road at the rear wheels. The goal will be to do some half-mile events with it, followed by entering it in some car shows. Thanks to Osvaldo, now we know what the 370Z would've been like if it was turbocharged from the factory: 600+whp, sleek looks, and plenty of character; this could've just been one of our top cars of all time.