With enough money just about anything can be accomplished. However, accomplishing a lofty goal on a limited budget is not so easy. When we were asked if we could take a 2020 Kia Forte GT and make it beat a Civic Type-R in a drag race with only $3,500 in performance upgrades, we waited for a punch line. While we had been thoroughly impressed by the performance value of KIA's Stinger GT, we never even had the Forte GT on our radar. While we were pressed for a response on the spot, we couldn't give an answer without further investigation. We had to learn more about the Kia Forte GT and come up with a serious bang for the buck solution. What transpired over the course of the next few months ended up being one of the most challenging missions we have ever accepted. Along the way, we gained new appreciation for the KIA Forte GT while ending up with very impressive results.
Text by Michael Ferrara // Photos by Joe Singleton
DSPORT Issue #236
---

The goal was to beat a stock Honda Civic Type R without using Nitrous or E85 fuel. With the lack of ECU tuning support on the market and the fact that our platform sported a prototype ECU, we had a real challenge on our hands.
DSPORT Project Forte by Harman Kardon
Out of the box, the Kia Forte GT is a strong competitor to the Civic Si. While the Forte GT delivers solid performance as delivered, many sport compact owners purchase a vehicle based on its level of aftermarket support. Being that Kia's GT line is so new to the market, it lacks the aftermarket support of many of its competitors. When our friends at Harman Kardon asked us to build a 2020 Kia Forte GT as a project vehicle, we had to come up with a project goal. Since an unmodified Forte GT is a solid competitor to the Civic Si, the question became could we make the Forte GT beat the Civic Type R? With an unlimited budget anything could be done. So, we had to set some parameters. The challenge would be in acceleration. The proposed budget was to do it under the $7K mark (to keep the vehicle plus performance total budget around $30K). Somewhere along the way, this proposed budget was cut in half. Can a Forte GT beat a Civic Type-R in a drag race with only $3,500 in performance upgrades? It sounds like an impossible mission, but that's what made this project quite interesting.
The Ground Rules
Nitrous-oxide injection and E85 were among the obvious and proven options that were considered to bring the Forte GT to the performance level needed to rival a Type-R. Both would have been able to provide significant performance increases. However, they both felt like cheating. With nitrous-oxide injection, the fun only lasts until the laughing gas runs out. While more challenging, it would be much more impressive if we could find a performance increase that didn't require a bottle refill routine. As for the conversion to a higher-ethanol blend of fuel like E85, it seemed only fair that both engines should be on the same diet for the challenge. Now that the easy and obvious low-budget/high-return upgrades were ruled out, we needed to come up with the upgrades that would on paper get us to where we need to be.

Using the factory turbocharger housing, Precision Turbo increased the compressor inducer area by 27.76% and the compressor exducer area by 33.28%. The turbine inducer area was increased by 20.46% and the turbine exducer area was increased by 31.08%.
Tuning & Turbo
When it comes to modern turbocharged vehicles, the two areas that offer the most opportunity for increased performance are solutions for tuning/recalibrating of the engine management and turbocharger upgrades. Unfortunately, the popular COBB, ECUTEK and open-source tuning solutions that are available for most Japanese and many European and domestic sport compacts simply aren't available for KIA vehicles. The lack of a popular tuning solution was a major concern at the start of the project. To further complicate matters, the KIA Forte GT that would be our testbed was a pre-production model with a pre-production ECU. The result was an ECU that didn't like to be messed with. As for the turbocharger, this Forte GT would again present a challenge. There was simply no larger version of the OEM BorgWarner turbocharger that could be fitted. We had to turn to an aftermarket turbocharger manufacturer to fit an upgraded rotating assembly into modified factory housings. Fortunately, Precision Turbo was able to help us out.

A stock Hyundai Veloster N delivered 238.40whp on our dyno – that's 54whp more than the stock Forte GT. After $3,500 in engine upgrades, our 2020 Forte GT delivered 254.15whp; 16whp more than the more expensive, larger displacement cousin in the Veloster N.
Reality Check #1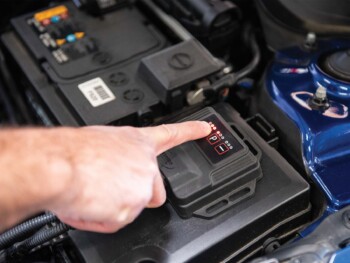 In the early tuning stages, we selected a DTE Systems PowerControl X unit to explore how the KIA's 1.6-liter turbocharged engine responded to increases in boost. The DTE Systems PowerControl X unit can raise factory boost levels without check engine lights and limp mode being triggered. The PowerControl X unit increases the boost levels while maintaining the OEM air-fuel ratio targets and timing curve. We thought that we would simply be showcasing this for those interested in tuning with the stock turbo. Our plan was to do a custom reflash of the factory ECU to not only increase boost levels, but to also optimize air-fuel ratios for peak performance.

Finding someone capable of getting into our pre-production ECU was challenging enough. Once we found a willing tuner halfway across the country, we located a local dealer of that system to conduct the reflash. With the Forte GT strapped to our dyno, we looked forward to some fine tuning. Unfortunately, our Forte GT had other plans. The reflash and tuning session didn't yield the expected results. Instead, the DTE Systems PowerControl X unit would be our only tuning solution even with an upgraded turbocharger in place. While the DTE Systems PowerControl X unit did a phenomenal job of its intended purpose (offering multiple elevated boost levels while keeping the OEM ECU happy), we believe that a tuning solution that allowed optimization of fuel and ignition tables would have provided an additional 10-to-15 horsepower to the wheels with the upgraded turbo in place.
Without having the ability to modify air-fuel targets and ignition curves, we were a bit like a photographer only able to use shutter speed to get the ideal exposure. Aperture and ISO controls were fixed in our case so we had to accept the depth of field and noise that the OEM fixed values would deliver.

Our Kia Forte GT started with 184.56 of peak wheel horsepower. While the goal based on the power-to-weight ratio was 260whp, we got extremely close without even getting into the ECU and being able to change timing. The final result was 254.15whp, more than a Veloster N, Civic Si, and even a WRX.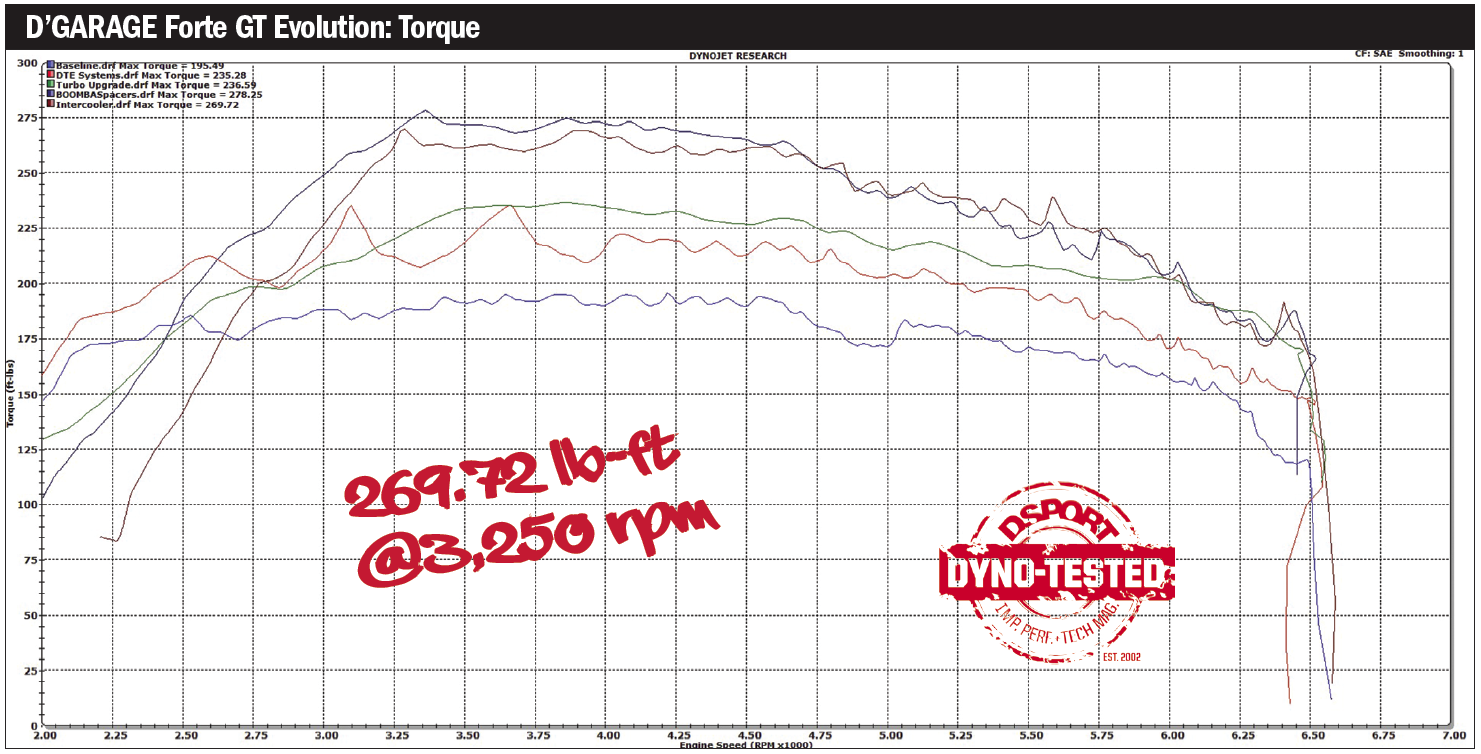 With a baseline of 195.49 lb-ft of torque, $3,500 of basic performance upgrades resulted in a 74 lb-ft of torque gain, a 38-percent increase in peak torque. The new torque curve shows how vastly different the driving experience would be in the Forte GT, with peak torque reached at 3,250 RPM.
Reduced Intake Air Temps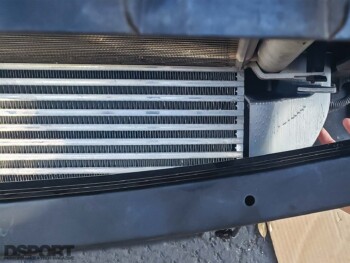 When modifying an engine for maximum performance on gasoline, reductions to intake air temperature result in the ability to run more ignition timing advance. This, in turn, results in higher torque and power output from the engine and a reduced tendency to knock. We sourced one of Koyo's new tube-and-fin intercooler cores to have a lightweight and high-efficiency core for our custom intercooler. Chris Vuong of Wisecraft fabricated the custom end tanks and connectors to allow a true drop in solution. As expected, the upgraded intercooler not only increased the power and torque output, but also allowed the Forte GT to have more consistent performance run to run.

For consistent runs without ignition timing being pulled run after run, we upgraded the intercooler using a tube-and-fin Koyorad unit that was made to fit by Wisecraft Fabrication.
Racing Street Fully-Synthetic Oil Series from ENEOS OIL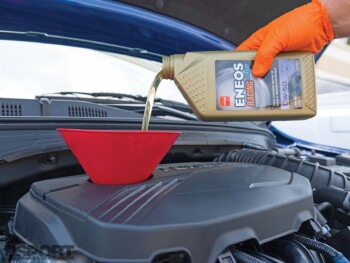 The ENEOS Racing Street Oil series is offered in three viscosity grades: 0W-20, 0W-50 and 10W-50. The 0W-20, API SN certified offering is ideal for any engine originally designed for 0W-20 oils. This 0W-20 is also a great choice for improved power output and fuel economy on engines originally designed for 0W-30, 5W-30 and 10W-30 viscosity oils where oil temps rarely exceed 220F. The ENEOS Racing Street 0W-50 is an ultra-high-performance API-certified oil that is a great choice for engines originally designed for 10W-30, 0W-40, 5W-40, 10W-40 and 20W-50 viscosity oils. ENEOS Racing Street Pro 10W-50 features a fully synthetic base that's 50% ester mix with an additive package that exceeds API limits. This 10W-50 will actually have a lower kinematic viscosity than the 0W-50 at 100 and 212F so don't worry about using this oil in temperate climates with engines designed for 0W-20 to 20W-50 and everything in between.

ENEOS RACING STREET PRO 10W-50 is full synthetic racing oil with a 50% Ester base for racing applications not requiring an API oil. Best choice for racing use.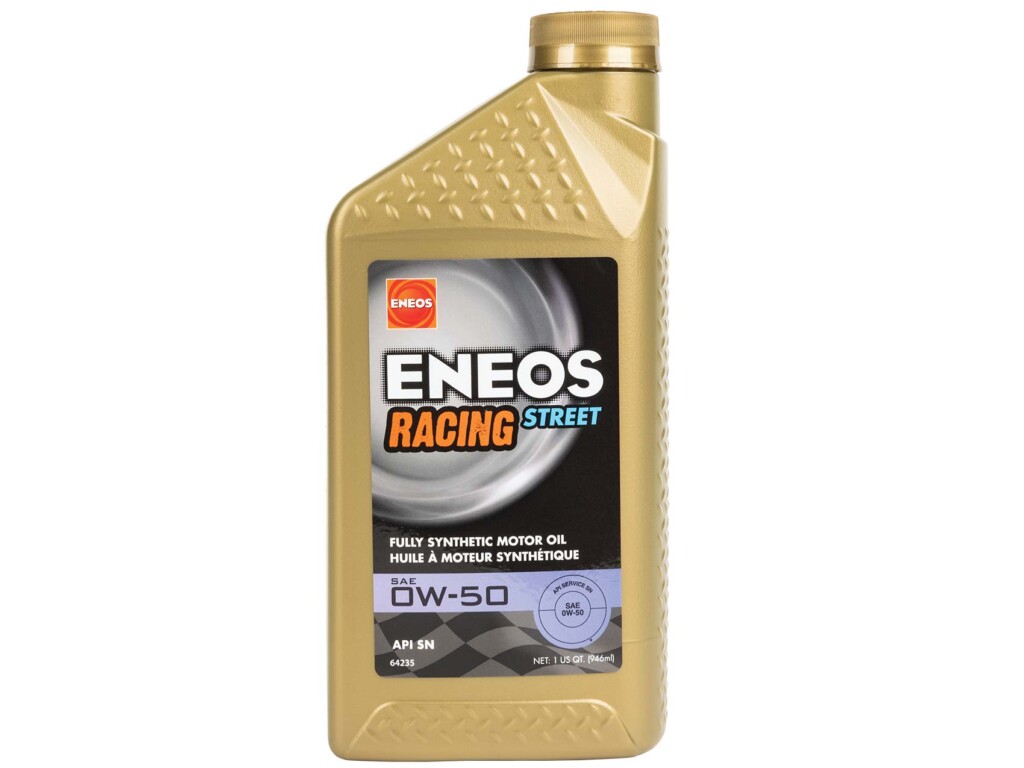 ENEOS RACING STREET 0W-50 is a 100% PAO synthetic base oil that meets API SN certification. Best selection when an API oil is needed and a higher viscosity oil is required.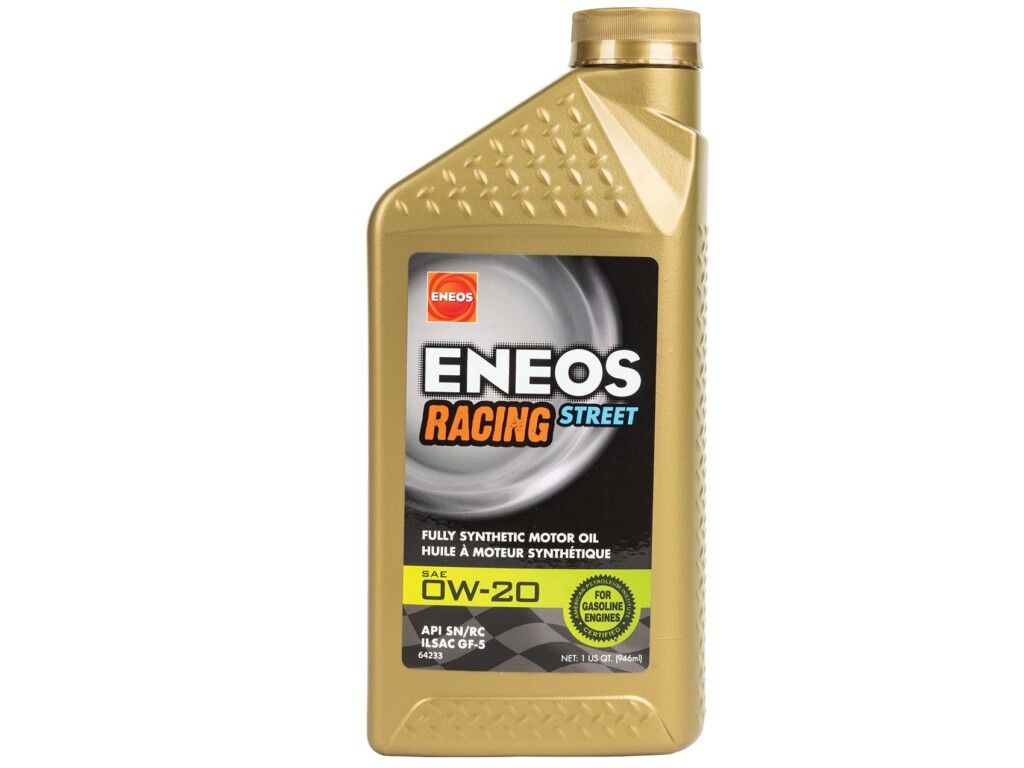 ENEOS RACING STREET 0W-20 is a Group-III synthetic base oil that meets API SN certification with an exceptionally high viscosity index. It has an extremely stable viscosity across operating range. Great NA and OEM turbo application oil, where 0W-20 viscosity was recommended by the OEM.
Bam Boomba'd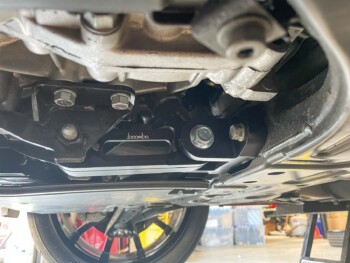 In performing dyno tests on multiple aftermarket products over the past 30 years, it is rare that we get surprised by the results. However, that is exactly what happened upon the installation of the Boomba intake manifold spacer and throttle body spacer. The logic behind these types of products is that the addition of the spacer improves the flow as it may allow a better path for the air to make a transition or change of direction. From our experience, these are generally worth a couple horsepower. The dyno charts provided by Boomba for its spacers showed much higher gains. Having seen so many products not live up to the manufacturer's dyno charts, we were expecting limited gains. Instead, our dyno numbers were in perfect sync with what Boomba had published. This was our biggest surprise and ultimately our best bang-for-the-buck investment in the project.
(L) Switching to the Boomba Racing's engine mount helped with launches by eliminating wheel hop to transfer the power to the ground more efficiently. (R) The throttle body spacer add volume to the intake plenum. This helps fill the cylinders with more air and deliver more power.
(L) The intake manifold spacer works the same way as the throttle body spacer. They both provided significant gains in WHP and torque for just $228. (R) To give the engine character, we dressed it up in Boomba Racing accessories like the oil, washer, coolant, master cylinder caps, and dipstick.

While the Honda Civic Si and the Kia Forte GT are quite the competitors in their stock forms, $3,500 in upgrades took the Kia Forte GT to an entirely new territory, giving it a 63.74whp advantage over the Honda Civic Si.

A stock Honda Civic Type R delivers 40whp more than our Forte GT. Our spacers improved the low end power, giving the Kia an advantage until 4,000 RPM. With the Civic Type R weighing over 130-pounds more than the Forte GT, the two cars are now extremely competitive.


The $3500 Combination
Ultimately, we stayed on budget but we fell short of the original 260 horsepower goal. In our opinion, the 260+whp performance level is achievable with an optimization of the air-fuel targets and ignition curves. What is noteworthy about the upgrades that we selected is that we didn't have to resort to removing any emissions devices. If someone invested the time and money into the testing, it's our belief that the entire combination could earn CARB E.O. status.

Rays Gram Lights 57Transcend Rev Limit 18×8.0 +45 5-114.3 wrapped in 235/40ZR18 Toyo Proxes R888R competition tires significantly increased the traction, reduced the weight, and the improved looks.
Judgement Day
We located our Civic Type-R for our testing and the owner was very familiar to us. Javier Loarca had his Civic drag race car grace the cover of DSPORT some years ago and he has been a representative of Hondata for many years. Since he has a great deal of drag racing experience, we could be sure that the Type-R would be well represented. For our Forte GT pilot, we selected Club DSPORT engine assembler Sam "Likely" Lin. To make sure that driver skill didn't play a factor, we also had the drivers make a few passes in the other vehicle.
(L) Sam Lin, Club DSPORT Engine Assembler, was the official driver for the Kia Forte GT. Sam's background in drag racing involves all-wheel drive EVOs. (R) Javier Loarca has been a long-time drag racer of Hondas. He brought his Civic Type R for our testing. The lack of e-brake would be the real challenge here.
The venue would be Irwindale Dragway, SoCal's most popular drag racing destination with regular Thursday night grudge racing. We arrived early to be able to get the maximum number of runs. Temperatures were 89 degrees in the shade and over 100 degrees on the track with humidity right at 39 percent. Both cars would be running on 91 octane gasoline from the pump.

To ensure accurate results, both drivers switched cars for numerous runs on the drag strip.
No Hand Brake
One handicap for the Civic Type-R proved to be the lack of a hand brake. Drag racers that like to use the hand brake during staging simply don't have that luxury. Throughout the course of the competition, the Civic Type-R would prove to be the harder to drive vehicle. Each of the drivers had a pass in the Type-R where there was a significant loss of traction. The lack of a hand brake or two-step made it significantly more challenging to launch.

The Results
After making seven runs in each vehicle with two different drivers, the results were extremely close. The Harman Kardon Forte GT built by DSPORT managed an average 1/8-mile time that was 0.047-seconds quicker than the Type-R. So did we achieve our goal of being able to beat a Civic Type-R? If we go by average 1/8-mile elapsed times, the HK Forte GT was a blink quicker. If you want to go by the best performance from each vehicle, the Civic Type-R eeks out a victory. As for the best times from each vehicle, the Civic Type-R clicked off a 9.156-second performance while the HK Forte GT's best effort was 9.309-seconds. Based on the results, the Civic Type-R held a 0.15-second advantage in a best run-to-best run matchup. Looking at the trap speeds, the Civic Type-R held about 2 mph advantage over the HK Forte GT. This is due to us not being able to hit our original horsepower goal that would have equalized the power-to-weight ratios of both vehicles. Due to the Civic Type-R's higher trap speeds, a longer drag race would definitely favor the Civic Type-R.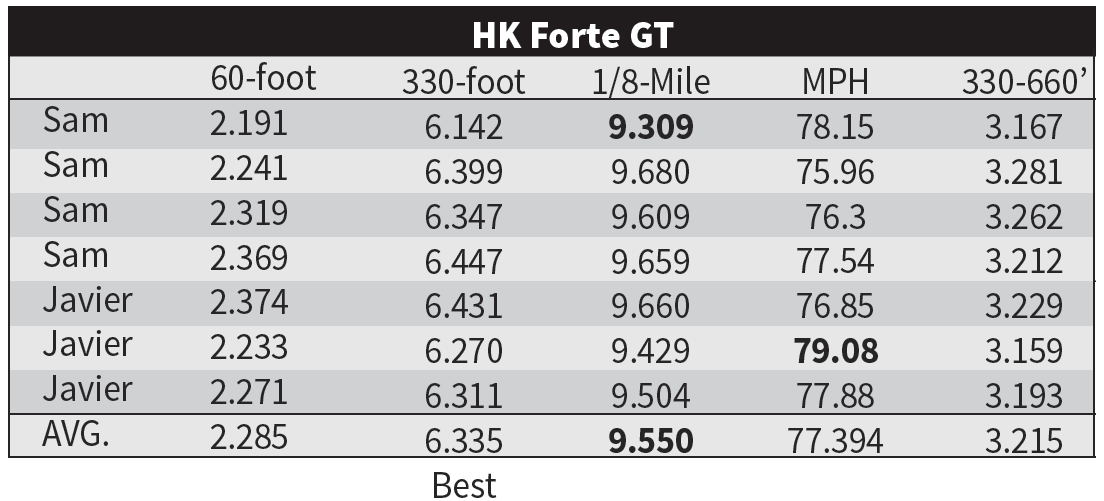 The Civic Type R was able to run a best of 9.156-seconds in the 1/8-mile, while the Kia Forte GT ran a best of 9.309-seconds.
The Bottom Line
While it was far from an indisputable result, the Harman Kardon KIA Forte GT project car did reach its intended goal (at least by one measure). While we may not have achieved a clear-cut victory per our original goal, we did make some serious and significant power gains without spending a significant amount of cash. The Gamma 1.6-liter, turbocharged direct-injection engine that is found in the KIA Forte GT and a host of other KIA and Hyundai platforms delivers respectable performance and responds well to performance modifications. While we didn't find the OEM ECU to be very cooperative, it's probably only a matter of time before a better tuning solution becomes available. While we were faced with what appeared to be an impossible mission, we didn't give up and ended up with an impressive result. A special thanks goes out to KIA and Harman Kardon for supplying the vehicle and supporting the project.