No one is born a legend. Legends are created through years of being tested, earning the title and leaving a legacy behind. In the case of the Honda S2000, it didn't take much more than a timeless styling, a 2.0-liter engine that revs up to 9,000 RPM, and a lifespan of just 10 years to be called a legend within the sport compact scene. Today, Honda S2000s continue to go up in value, and despite their capable engines, owners seeking real power are often steered into swapping them. Swapping the F22C1 engine was not in Richard Lebenson's plans, however. Richard wanted to keep the true essence of his S2000, but multiply its power by at least three.
Text by Bassem Girgis // Photos by Bryan Morgan
DSPORT Issue #216
---

What Makes it Special
Everyone knows the S2000 is special – its price tag certainly reflects that – but what makes this Japanese two-seater actually special? In 1999, Honda released the S2000, a car designed, engineered, and sold specifically for the true purist. Its two-seater configuration makes it a tough sell for enthusiasts looking for efficiency. However, its rear-wheel drive configuration and 240 horsepower engine speak for the buyers seeking the thrill. The all-aluminum 2.0-liter engine revs up to 9,000 RPM, which was then upgraded to a 2.2-liter displacement in 2004 with an 8,200 RPM redline. The engine worked collaboratively with a six-speed manual transmission, and suspension engineered for the track and spirited-driving. The S2000 was never the comfortable car, nor was it able to fit the family; however, it was the roadster that gives you a fun driving experience with the top up or down.
The Start
In 2017, Richard Lebenson bought his 2004 Honda S2000 from Texas. Richard already knew he wanted one. "I used to race out at Spring Mountain Motor Ranch in Pahrump, NV," said Richard. "I always loved how well-balanced the S2000 was around corners, and I could never get enough of that high RPM redline on the long straights." Unfortunately, upon acquiring the car, Richard was faced with a lot of wiring issues. Many of the wires were fried and not taken care of. The bad wires caused numerous other electrical issues around the vehicle. If you've worked on a car before, you know how difficult and frustrating chasing wiring issues could be. It was time to dig into the car and start the transformation process before Richard can hit the track.

It's Time
The first task Richard assigned himself was to completely rewire the S2000. All the wires were replaced with a tucked harness and brand-new side harnesses. These harnesses were re-loomed in fire-proof wrap to avoid the same issues the car was faced with before he purchased it. Richard's goal was to build this Honda S2000 as a clean slate, which has always been a dream for him. Ever since he was young, Richard raced the Amuse car in the Gran Turismo game. Since then, his dream has been to build one of his own. Richard went on to equip his Honda S2K with a rare Amuse kit, making it stand out from the crowd. The goal was to be in the 700 horsepower range, which he would use for spirited driving and no real competition reasons.

Calm Before the Storm
Before Richard can make any real power close to his original goal, he was faced with quite a bit of bad luck. In fact, the bad luck was enough to force most people into giving up on the build once and for all. When Richard was installing his first turbocharger, the shop in Oklahoma made some critical mistakes on the dyno and ended up blowing the engine. "This almost pushed me to give up and get out of the scene all together," said Richard. "With the help of my team and many friends, I was pushed to keep going."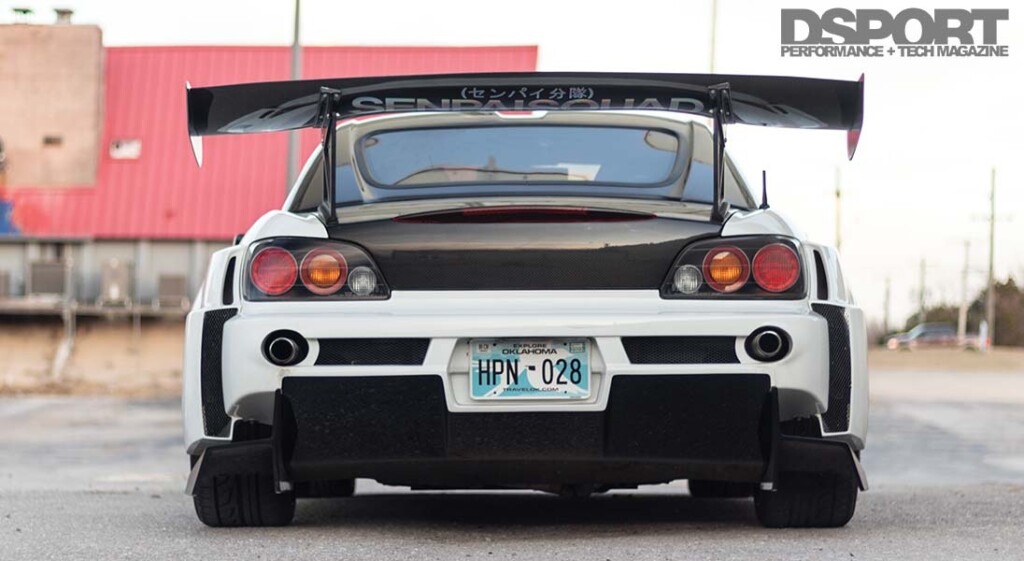 After the initial hit of bad luck, Richard Lebenson found himself enjoying the process again. "The best moment with this car was the bonding and good friendships I gained," said Richard. "I've never met someone more dedicated to his word and passionate in his work than Jake Jisa, and I can't thank him enough. Without him, I don't think this car would've ever been finished." Given Richard works for the United States Army, he never knew where he will be at any given time. The build was quite challenging when he would be rushed somewhere far away from his vehicle. However, the results in the end show that regardless of the challenges, Lebenson never gave up.

The interior remains relatively stock, with Alcantara-lined A-pillars, center console, and door panels. Soon, the interior will receive much more Alcantara material throughout.
Making Power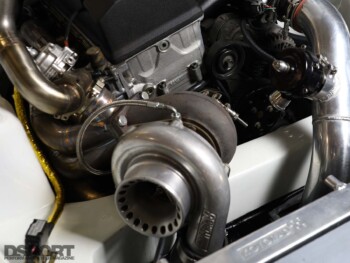 To get the S2000 to where it needs to be, Richard reached out to Insane Power to build his F22C1 block. Keeping the factory bore and stroke, they equipped it with Darton MID sleeves so it can handle the power and torque increase. Using high quality internals, Richard introduced a Precision Turbo turbocharger to his F22C1 engine. He installed dual 450 fuel pumps feeding ID1050X injectors. After addressing the cooling system and all of the supporting upgrades, Richard's F22C1 engine allowed the S2000 to put down 632whp at 7,900 RPM and 424 lb-ft of torque at 7,000 RPM when running at 26 psi using E85 fuel. "The quality of the motor build has been able to let me push the car further than I was able to before," said Richard. "The modification I am most proud of was the wire tuck installation, as that was done out of my garage. Not only did it come out amazing, it was my very first time doing such work and I learned so much."

What's Next
Given Richard is always traveling around with the United States Army, he hasn't been able to hit the tracks or the car shows to see what the car can do. However, the build speaks for itself. "My biggest achievement was this magazine feature, and I cannot even begin to explain how happy this made me," said Richard. So what's next for Richard Lebenson's Honda S2000? Richard answered, "Rip out the full interior and redo it in Alcantara, and have the engine bay's parts coated in 24K gold for a two-tone effect. I also want to get a dry carbon Amuse wing for the car, then have a custom hood made based off the Amuse demo race car." Richard's lifestyle and profession doesn't help him with finishing a major car build like this one; however, he proved that with a dream, enough dedication, and a strong will; you can always bring your car dream to life and show the world what you can do