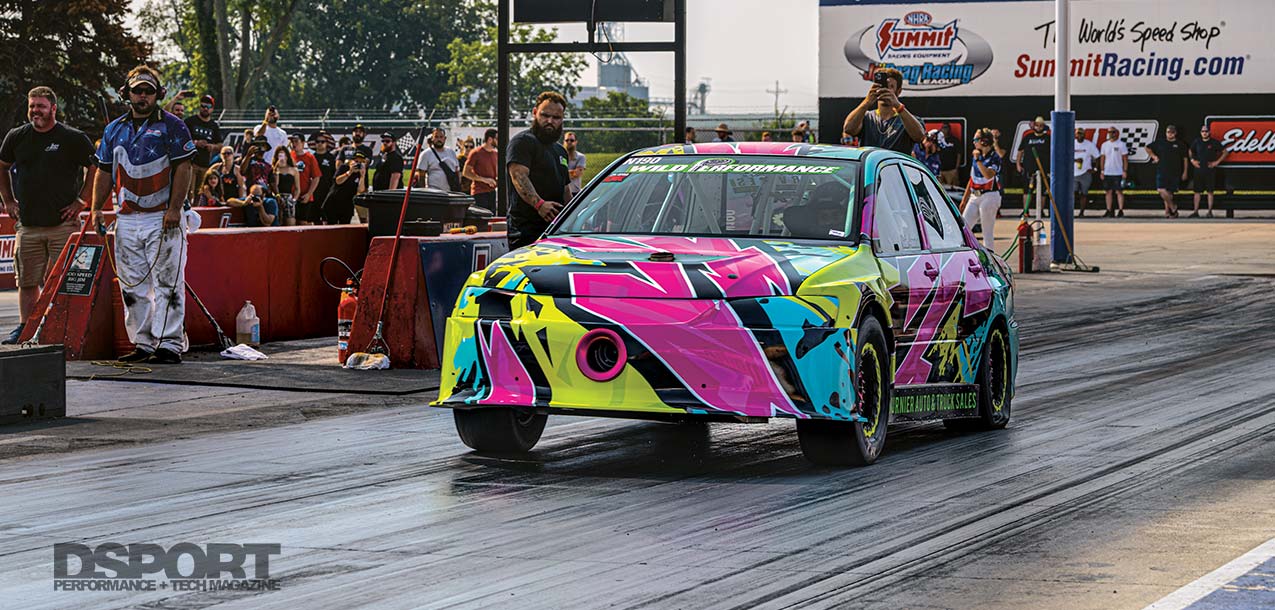 EVOs and the seven-second barrier. While the Extreme Tuners EVO out of Greece supposedly became the first EVO into the 7s back in 2017, nearly five years later there are only a handful of EVOs that have earned 7-second status. Since there hasn't been a dedicated spec or class for these vehicles to be built, a variety of fuels, vehicle weights and other disparities makes it quite difficult for apples-to-apples comparisons. At The Shootout 2021, we had the opportunity to watch the Wild EVO of Nick Amaral come very close to joining this exclusive 7-second club, while becoming the 7th quickest EVO on the planet.
Text by Michael Ferrara // Photos by Mary Beth Kiczenski, Nick Amaral and Staff
DSPORT Issue #239
---

4G63 Disciple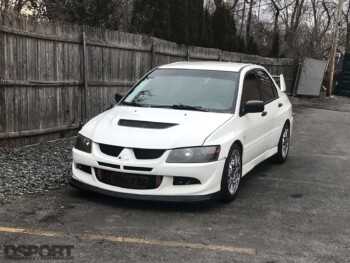 Nick's first car was a first-gen DSM (1993 Talon) which ignited his interest in the 4G63 powerplant. However, when the EVO 8 hit the shores of America, Nick fell in love. His relationship with this Wild EVO would begin in March of 2018 when he purchased the car locally in Rhode Island. The EVO that would become WILD was far from clean and mean from the start. The car was painfully slow in stock form and needed much attention in the cosmetics department. However, it had the parts needed and a solid foundation to be built into a proper racecar.

Raising the Bar
At first, the goal for this racecar was simple. Just to run in the 10s. Once that was accomplished the bar was raised to run in the 9s. Considering that Nick reached that goal in his first year of drag racing (9.93 seconds), it didn't seem like going quicker and faster would be so difficult. Then the 8s became the target and that's when the real learning curve and parts carnage took place. Three different engine setups were tried along with three different turbo setups. Two different cages were tried along with no less than five different sets of wheels and tires. Some changes were needed because they simply couldn't reach the raised bar while others were simply proven to not work as hoped or expected. Now the goal is to dip into the 7s and take a shot at the World Record. After all, the record is less than 3/10ths of a second quicker than a 7.99 so it makes perfect sense to set the sights on that number. This is especially true since the Wild EVO was able to manage that 8.04-second blast on just its first outing with its new chassis, engine and turbo combination. While some valvetrain issues will need to be sorted out to keep the engine happy at this power level, there is no telling where the next weak link will appear until the car is pushed faster and harder.

Current Combination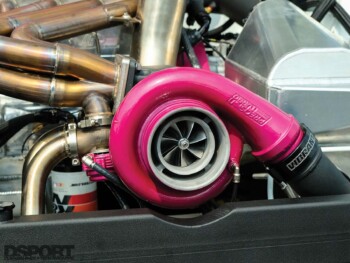 For Shootout 2021 duty, the Wild EVO was featuring a 4G63 built with a billet aluminum block. Aluminum rods attached to 10.5:1 Wiseco pistons and a Callies billet crankshaft made up the rotating assembly. An EVO 8 cylinder head fitted with GSC S3 cams and Kiggly Racing springs/retainers was sealed to the block with a copper head gasket and ½-inch ARP studs. Forced induction is provided by a 76mm compressor fitted in the Precision Turbo 7685 GEN 2 turbocharger. With peak boost set to 68psi, the water-to-air intercooler and M5 methanol fuel are likely working overtime keeping intake air temps below the detonation threshold. The current combination delivers 1,243whp at 7,800RPM and 846ft-lb of torque at 7,350RPM as measured on a Mustang chassis dyno.
The power is modulated by a Quarter Master triple disk before being sent through RRT Motorsports spec differentials and The DriveShaftShop axles and carbon-fiber driveshaft.
Supporting Cast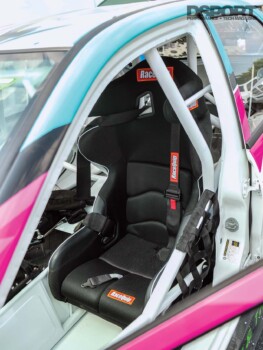 Nick gives a great deal of credit to the success of Wild EVO to Raif Fejzo of RRT Motorsports in Connecticut. Raif is no stranger to 4G63 performance in the EVO and DSM communities as he has been instrumental in getting three EVOs into the 7s. Raif's help, along with the chassis work of Victor Teixiera from Teixeira Fab. The chassis upgrades to full 25.5SFI chassis have not only provided an excellent measure of safety, but have also allowed the car to hook up and apply the power to the pavement much better. With further dial-in and setup, the Wild EVO should be able to lay down consistent 60-foot times in the 1.25-to-1.32-second range.

Regrets? Not Yet
Nick says, "If I had to do it all over again, I wouldn't change it for the world. I would do it  five more times the exact same way, I learned so much, created friendships, and learned a great deal about myself." Nick goes on to say, "This car has come a long way, and the majority of it I have to say was paid for by myself, I worked really hard for this car, and then worked really hard on the car to make it what it is. No hand outs. I've had to earn everything along the way with this car. If you have a dream, work hard and make it happen. Hell, if I can do it, so can you."

The Bottom Line
The quicker you go, the harder it gets to go quicker. There is no abundance of potential in Nick's EVO. Of course, there are already a number of challenges to overcome to increase the reliability at this performance level. As the car goes quicker, there will be more challenges to face. Let's not forget that this engine is making about 7 times the original power output while spinning 5,000RPM above its original redline. It it were easy, everyone would be doing it. But it may just take a Wild EVO to reset the record.