The Japanese performance market is full of goodies. In the year 1999, Honda released a car named after the size of its initial engine displacement: the Honda S2000. Lightweight, high-revving, and open to all upgrades, the S2000 became every Honda fan's dream car for the entire 10 years of its production. Amongst the many fans, Stuart Leiby decided to say goodbye to his AWD STi and dive into the world of S2000. While the sky is the limit for everyone, Stuart wanted to reach past that with the help of the best in the business.
Text by Bassem Girgis // Photos by Brent Baxter – Side B Productions
DSPORT Issue #210
---

Third Time's a Charm
No stranger to the impressive platform in the Honda S2K, Stuart Leiby has owned two S2000s before making the decision to buy the third one. In 2013, he drove his Subaru WRX STi from Texas to Arizona to trade it in with this S2K. "After my first two, I explored a few other platforms and just couldn't really fall in love with any of them like I had with the S2000 chassis," said Stuart. "I decided that this was going to be the car I buckled down with and really committed to building long term." When asked why he likes this particular platform, Leiby responded, "I think it's truly one of the greatest bases to build something that excels in all facets, yet not a ton of people have done it right." 

Stuart shifts through his gears through a Quaife 69G sequential transmission with the help of a Science of Speed carbon twin-disc clutch and the same brand flywheel.
At First Sight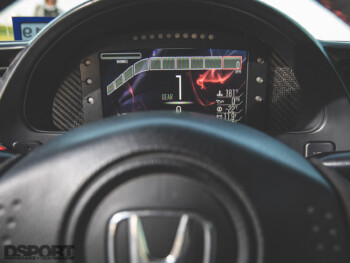 While the 2007 S2000 was far more refined than his previous, first-generations ones he had, Stuart hated the fact that it was completely stock. At first, his goal was not to build a car nearly as powerful as what he has now. Inspired by the popular internet car named "S2K from Hell," Stuart knew he wanted to put a turbocharger on his vehicle. Ironically, the very car that inspired him to build his was built by the same shop Stuart works at now (T1 Race Development). By 2014, Stuart's S2000's F22C1 engine was equipped with a turbocharger making 450whp on pump gas. While 450whp is a respectable number, it didn't last long before Stuart switched to ethanol. The car made one pass on the drag strip, recording 11.9-seconds at 125mph. With this power made on the untouched short-block, stock transmission, and stock rear end, Stuart knew it was a matter of time before trouble arrives.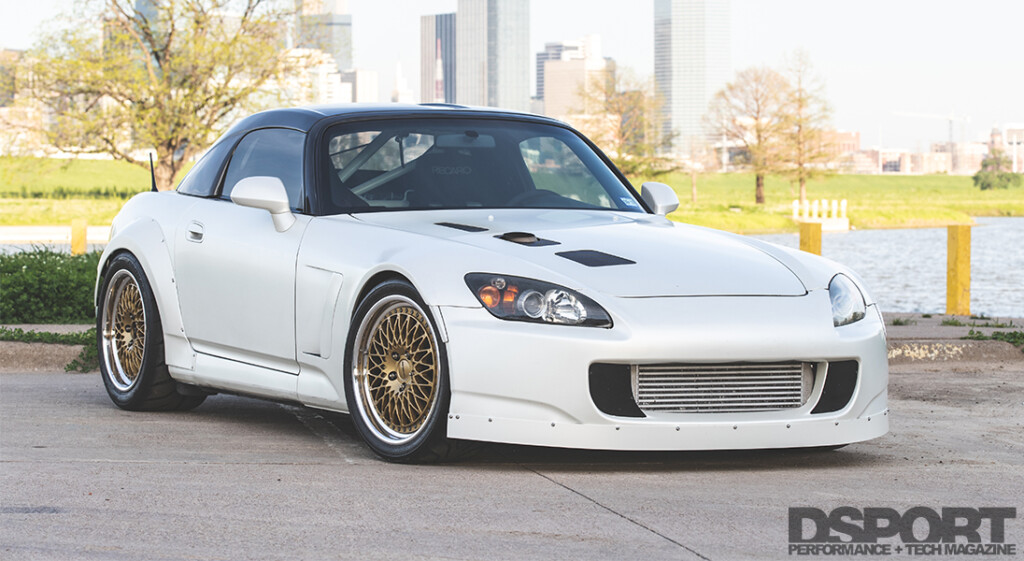 Getting Serious
With the help of Tony Palo, Stuart's S2000 made its way back to the dyno, this time delivering 620whp. "The car was insanely fast to me at this power level, and it was seriously a handful on the street – I loved it," said Stuart. Of course at this level of performance, things always go wrong. Stuart battled numerous drivetrain issues, so he had to continue improving on components. "I believe the final tally was three full transmissions, five or six tail shaft housings, a couple of axle failures, and three or four differentials," said Leiby. The issues only helped Stuart become more in-tune with his car. While Stuart was making tons more power when compared to the factory setup, he wanted to make sure he kept the feel of the S2000. He went to a PPG transmission and felt like it drives exactly like the stock unit did, while capable of handling much greater power and abuse. 

The F22C1 engine is complemented by a Xona Rotor XR9568S turbocharger that plays a huge role in delivering the 961whp and 663 lb-ft of torque. 
Getting into 8s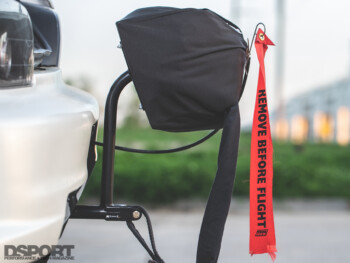 The power bug kept nagging on Stuart and going 11-seconds in the quarter-mile was no longer satisfying. He knew he wants to get to the next level and bring his S2K to an exclusive level occupied by a chosen few. Keeping the factory bore and stroke on the F22C1 engine, the engine was machined by Watt's Shop and equipped with Golden Eagle sleeves. The engine was complemented with a Xona Rotor XR9568S turbocharger, and with the help of the brushless fuel pump and the MoTec M130 ECU, it was able to deliver 961whp and 663 lb-ft of torque on race fuel and 45 psi of boost. Delivering almost 1,000whp while only weighing 2,750-pounds allowed Stuart's S2000 to get the quarter-mile done in just 8.7-seconds.

Best of the Best
In order to make a nearly 1,000whp S2000 run reliably, you must run quality parts, but most importantly, you have to have the best tune. Fortunately for Stuart, Tony Palo of T1 Race Development was his tuner. "There is no question in my mind that the single best thing I did to this car was putting a MoTec ECU in and having Tony Palo tune it," said Stuart. "Tony has been so instrumental in tuning and dialing-in the car. There is no way it would be anywhere close to what it is today without him." Tony Palo was able to help bring Stuart's dream to life, and in return, Stuart was able to watch the smile on Tony's face and the entire team when he made his 8-second run. This was the cherry on top of a great journey.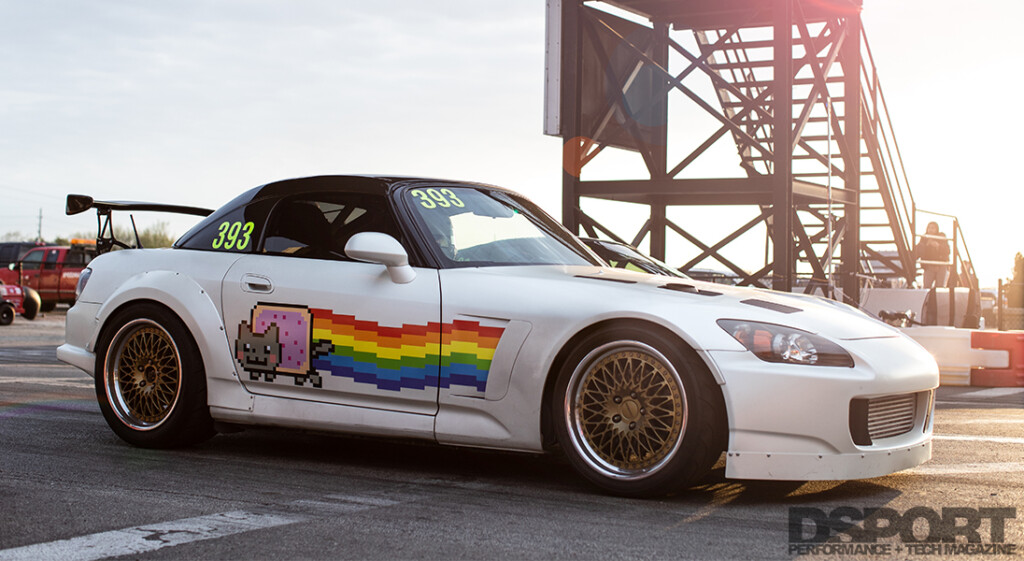 What's Next
Once the power bug hits, it never goes away. Working with the most reputable companies in the industry, it's safe to say that this power level is not the end for this Honda S2000. The short-term goal is to run 200mph in a half-mile run. While he still hasn't attempted this new accomplishment, there shouldn't be a reason why this car can't make this a reality. The journey has been Stuart's most important part of the car. "Honestly, I don't think I would change anything on my journey with this car," Stuart concluded. "What it is now is a culmination of everything along the way, and I wouldn't want it any other way. It's perfect to me because of what it and I have been through." For years, this S2000 has been slowly revealing its true capabilities. With some of the collaborations Stuart has involved, mixed with his evolving vision, this S2000 is now every adult automotive enthusiast's favorite toy.