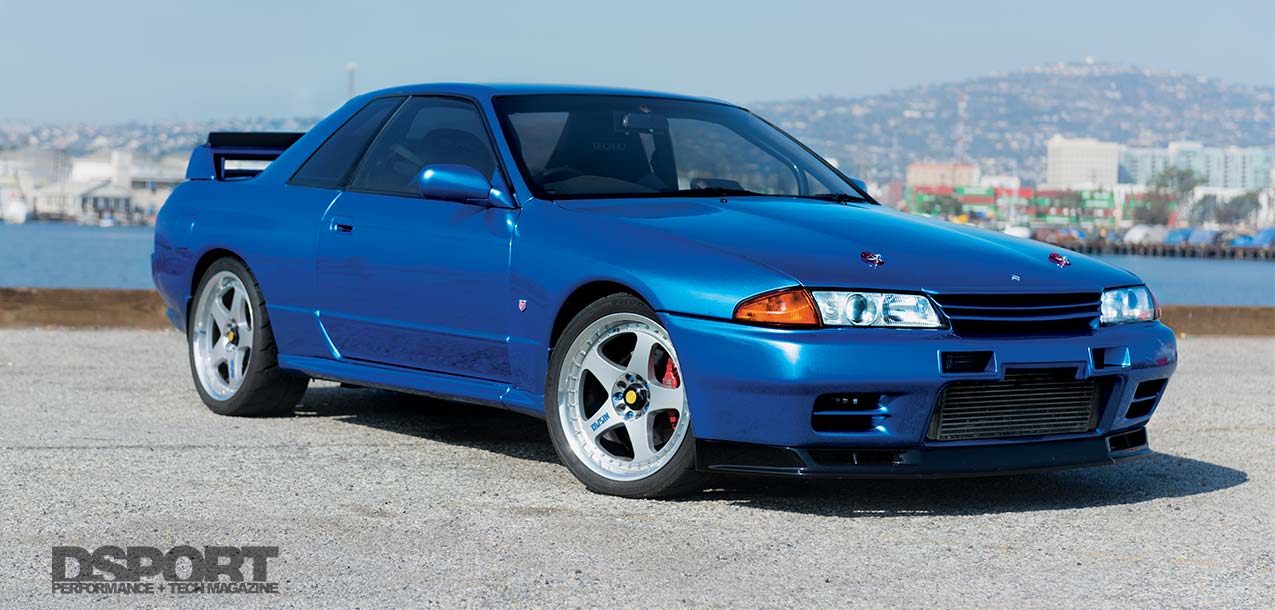 Knowing what you want is often a process that can take as long as a lifetime. For some unique individuals, 16 years of age is all they need to know exactly what they want. Ryan Hartwig grew up in the car industry. His father's business specializes in building cars for movies. One of the many cars the business has built was a Skyline R34 for the fourth installment of the Fast and Furious franchise. Ryan fell in love with the all-wheel drive, turbocharged platform, and before even getting his license, he was planning to import an R32 Skyline of his own. The result was getting to go to junior year of high school in a GT-R.
Text by Bassem Girgis // Photos by Joe Singleton
DSPORT Issue #232
---

The R32 GT-R rolls on four Toyo Tires R888R that wrap around NISMO Rays LMGT2 wheels.
How it Started
"I was sixteen turning seventeen when I purchased my R32," said Ryan. In the spring of 2014, Ryan found this 1989 R32 GT-R in Australia. Completely stock, the GT-R had just 70,000 miles on it and went for $16,000. After an eight-month wait trying to get it imported and processed, the car arrived just in time for his junior year of high school. Not long before the Skyline, Ryan had gotten himself a Mitsubishi EVO. "I was in awe of the turbocharged, all-wheel drive beast, so I bought one." After a very short time of ownership, Ryan felt he was missing something. He couldn't figure out what was missing, but he knew he wanted more. "This was around the time people were whispering about how great the Skyline was," he said. Given the GT-R sits on top when it comes to turbocharged, AWD, Japanese platforms, it felt like the right upgrade from an EVO. "Plus, who wouldn't want to be one of the first and very few people in the country to have a Skyline GT-R?"

The Arrival
When the R32 GT-R finally arrived, Ryan loved everything about it. "I used to go outside for hours just to sit in it in the garage before it got registered," said Ryan. The car was quick, it looked amazing, and, as you can imagine, made him extremely popular in high school. "The attention wasn't always good. Being a dumb teenager with a GT-R, I got my fair share of trouble," said Ryan. The initial process was no easy task. While owning a GT-R in high school is just about every enthusiast's dream, owning one in California requires a lot of work. Aside from the legality and registration, the industry lacked parts for this platform at the time. Even if you find the parts, finding people with the knowledge of these cars was near impossible. "I was only seventeen and I needed a lot of help to keep the car driving as my daily at the time."

The Goal
The goal was simple: look great, go fast, and make it a reliable street car. In addition to reliability on the streets, the R32 would need to be capable enough to drive to the drag strip or road course and drive back. Of course this is easier said than done. While looking good and going quick is easy, maintaining reliability is always a challenge, especially when aftermarket support lacks. The plans had to change a lot in the beginning, but the goal always stayed the same. "When I first got the car and was diving into the Skyline and RB26 world, the car ran into many, many problems," said Ryan. "But it's a pay-to-play world with these cars." Ryan is not a millionaire, which meant patience had to be practiced in order to one day achieve the goal. "I was very fortunate for meeting Mike at DSPORT when I blew the motor and had to rebuild the car completely. I seriously couldn't have done it without him," said Ryan.

The fully built engine gets a Garrett GTX3582R Gen 2 turbocharger. The turbocharger, with the help of the supporting upgrades, allow the GT-R to deliver 751whp and 559 lb-ft of torque when running an E85 ethanol/gasoline mixture at 24.5 psi of boost.
Making Power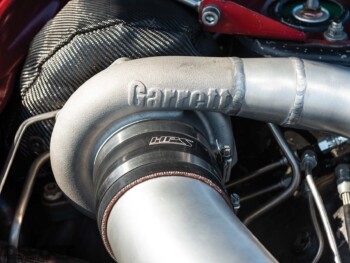 With the help of Michael Ferrara, DSPORT Magazine's Publisher, Ryan's new N1 block found a temporary home at Club DSPORT. With the goal in mind, the RB26 received all of the machine work it needed, from CNC off-set boring to decking and plateau honing. A Garrett GTX3582R Gen 2 turbocharger was introduced to the new engine combination. To match the air, two Walbro Hellcat fuel pumps and a triple pump drop-in hanger replaced the factory unit, feeding Injector Dynamics 2,000cc injectors with an E85 ethanol/gasoline mixture. The result was 751whp at 7,300 RPM and 559 lb-ft of torque at 6,800 RPM when running at 24.5 psi of boost. To take it a step further, Ryan replaced the R32's factory transmission with an R34 Getrag transmission. Just like that, Ryan's R32 GT-R achieved the power and reliability goals he set out from the start.
The Result
After many years of building the R32, the result is something truly special. The Bayside Blue makes this Godzilla stand out, while the Club DSPORT built engine backs up the looks with performance and reliability. Looking back at the build, we asked Ryan if he would do it again. "I absolutely would," he responded. "To paint an image in your head and watch it unfold in itself is the biggest achievement of all." Ryan never intended on breaking records or stacking up trophies, instead, he wanted something he dreamt of no matter what anyone else thinks. As for the future, the end is near, or so he says. "As we speak, I am having a carbon, one-piece driveshaft made, as well as fitting R34 Brembo brakes, and possibly going with shimless buckets," he said. Other than these upgrades, Ryan plans on focusing on maintenance and enjoying his time with the vehicle. Ryan faced the ups and downs of owning a special platform. It's costly, it's frustrating at times, and it requires a ton of research. However, the results will be worth every penny. As long as you pace yourself and keep moving towards your goal, you will get there at some point. The question is, will you get there quicker than this 751whp R32?