PORT INJECTION PROWESS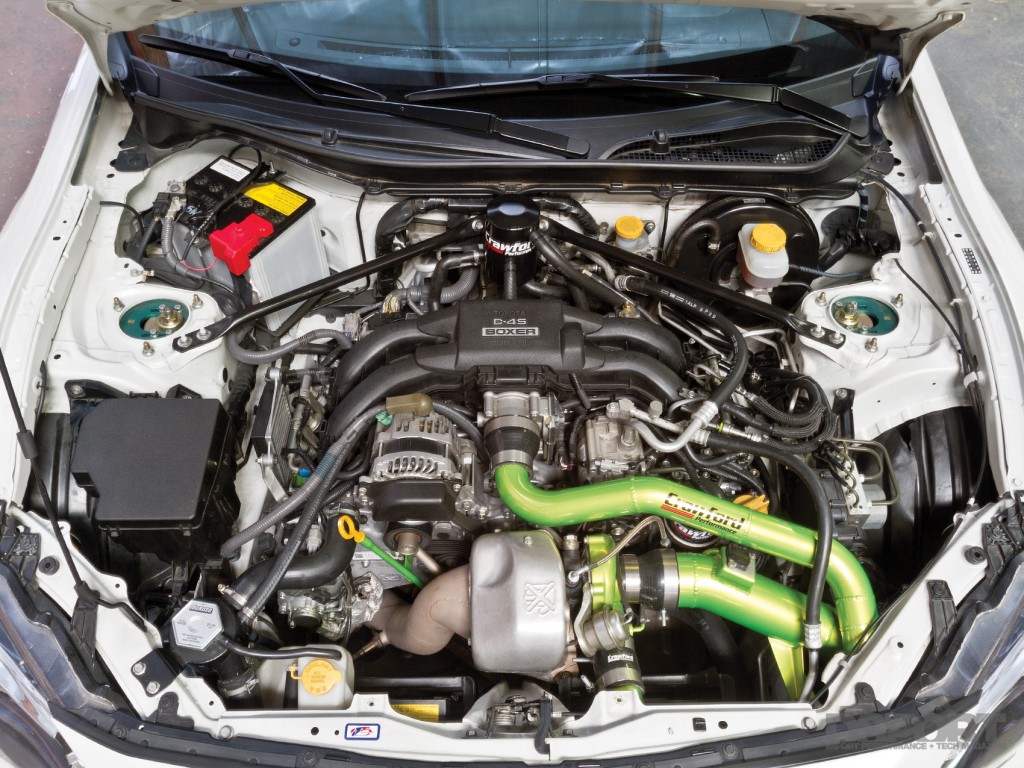 Modern engines are starting to rely on direct injection fuel delivery systems for improved performance and fuel efficiency. However, the fuel pressure demands and the lack of direct injection fuel injector upgrades makes extracting more power a challenge. Fortunately, the FA20's hybrid fuel delivery employs both direct and port fuel injectors. Crawford upgraded the factory port injectors with DeatschWerks 700 cc/min injectors to ensure that adequate fuel was being delivered. Since aftermarket development for the vehicle was for the most part in its infancy, engine management solutions were few and far between. EcuTek was among the few to develop an ECU flash software that permitted access to the stock ECU. With the EcuTek software loaded, Crawford tuned the BRZ filled with E85 on his Dynapack hub dynamometer. As boost levels progressively rose to a peak pressure of 27 psi, the BRZ produced an impressive 412 horsepower and 453.7 lb-ft torque at the hubs. Compared to its baseline measurements, the BRZ more than doubled its original horsepower.
PROVING GROUNDS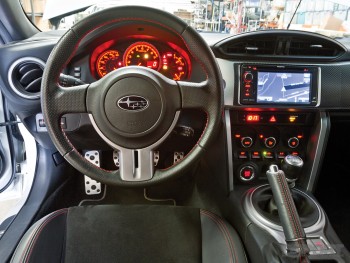 As with any enthusiastic tuner, Crawford could hardly wait to take the BRZ to the track. Initial assessments were more than favorable as the BRZ's innate handling prowess was apparent. However, with more than double the horsepower and torque of a stock engine, he soon encountered the next weak link in the driveline. While the Crawford Performance carbon clutch and GS limited-slip differential comfortably transferred power from the crank to the wheels, the stock axles were no match for the torque being produced. The axles snapped during a lap at the track and left him riding home in the cab of a flatbed. Fortunately, The Driveshaft Shop offers an axle upgrade. In short time, the BRZ was back on the road again.
TORTURE TESTED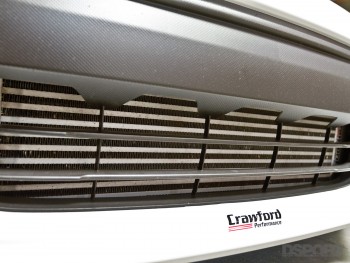 While testing helped to uncover the shortcomings and weaknesses, racing the car offered a true measure of how the turbocharged BRZ stands up against the field. Crawford noted, "Our BRZ has competed 11 times already and has been the fastest one at the track nearly every time. We are making more torque and power than anyone else with a small turbo. I have never owned a vehicle that has gotten so much attention from the general public. People of all ages like this BRZ . We will continue the research and development of the turbo system to make sure that the products we sell are of the best quality." With real world testing and more races to come, Crawford's development efforts have raised the bar on BRZ performance.
---