Drifters are some of the most capable drivers on the planet. With high horsepower rockets sliding around corners at extreme speeds, these drivers are masters of being out of control in the most controlled way possible. At just 16-years old, Ken Gushi was the youngest competitor in US drifting and has been drifting and competing alongside the best in the world ever since. While Ken gets his practice in his pro 850whp Toyota GR Supra, he has a special street car brewing in his garage. Here's the story of Gushi's Lexus IS300 street car known for scaring Starbucks' employees.
Text by Bassem Girgis // Photos by Aaron Eusebi (@iShotThat)
DSPORT Issue #231
---

Ken Gushi
Prior to passing his driving test, Ken Gushi was already throwing his car around corners. Originally from Japan, Ken Gushi started drifting early on and was known as the youngest, most successful drifter in D1 Grand Prix of Japan and Formula Drift Pro Championship. In 2004, Ken Gushi joined Formula Drift at Road Atlanta where he won $10,000. Ken went on to win numerous podium finishes in Formula Drift Pro Championship, Exhibition class win at Pikes Peak, and Toyota LBPCR Pro-Class win. Gushi became a factory works driver for Toyota Racing as well as a stunt driver for auto manufacturers. While the spotlight has been focused on Gushi's new drift car, the GR Supra, we're always curious what else he has in his garage. We discovered that he has a 2002 Lexus IS300. While the US is filled with IS300s, none would ever get the treatment Ken's car has received.

How it Started
On January of 2019, Ken found a listing on Craigslist of this Lexus IS300 just five-minutes after it was posted. 30-minutes later, Ken went and bought it off of a college kid. "Everything was flawless for a car that had 200K miles on the clock except for a bad clutch," said Ken. Gushi has always been a four-door Toyota fanatic. "I especially love the JZX and the JZS platforms, but sadly, we never got the cooler rear-wheel drives in the US," Gushi said. With the IS300 being his only option, he was happy this chassis shared a lot of similarities with the JDM cousins, so he knew this will be a fun build. With the IS300 in his possession, Ken was in for a lot of work to get it where he wants it, and that's when the fun started.

First Drive
The IS300 was nothing new to Gushi. "This particular IS300 is my third one. I knew what I liked and what I didn't like," said Ken. Coming from a drifting background, the soft, lousy suspension and decades of old, dried-out bushings was not going to cut it for Gushi. "As much as I like sporty driving feels, I enjoy a luxurious interior," said Ken. This meant that Ken's main goal was to retain the luxury and comfort of the Lexus, while giving it some much needed performance to match his personality. This pushed him away from stripping the interior and removing the luxurious, heavy components in the car. "Everything in the interior is functional and I have no funky Christmas lights on my dash," said Ken Gushi.

The 6-speed Samsonas sequential transmission was taken out of Ken's race car, making this IS300 truly stand out from all street cars on the road.
The Goal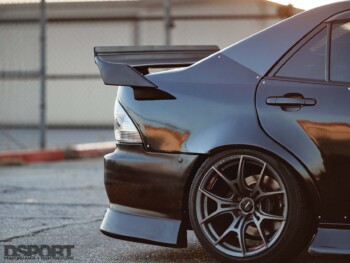 Ken Gushi had a vision of building a streetable, purpose-built car that looks as good as it drives. "I wanted something that looks nice, but has the parts that can handle the occasional abuse of weekend drifting," he said. Gushi was simply tired of having to prepare a tow rig and a trailer just for one day of drifting. "I didn't want to waste my time loading, unloading, and moving cars and trailers around every time I want to drift. I wanted to be able to drive to the track, spend a couple of hours drifting, and drive the same car back home." Drifting is no easy task on any car, which meant Gushi had his challenges set ahead of him, but the result would be far more fun and rewarding.

Making it Special
We've all been to car shows and saw how enthusiasts approach the Lexus IS300 platform. No nonsense for Ken, this build was set to be one-of-a-kind from the start. The soft suspension was addressed and KW Variant 3 coilovers took responsibility of keeping the car stiff around corners. Perhaps one of the upgrades that completely sets apart this car from any other IS300, or possibly most street cars on the road today, is the 6-speed Samsonas sequential dogbox transmission. "The funny part is that this transmission costs roughly three times as much as a bone stock IS300. Some people call me crazy, but I know I am not the only car fanatic that has dreamt of having a dog-boxed street car," said Ken Gushi.
The Journey
Before Ken started his shop, Three's Racing, with two of his friends, he had to do a lot of the work out of his garage. "It really sucked having to drop cross members and differentials on my back, but the entire process was a step in progressions," Ken said. The biggest obstacle was when the heater pipe came out of the back of the head and got sandwiched between the head and the firewall. At that point, Ken knew the engine has to come out and tap the head into an NPT –AN fitting. Other than this hiccup, the journey was rather smooth. "As long as I am doing work to make it better, there is always some fun and excitement." As far as tracking the car, this is yet to come. "I can count four thumbs up if you want to talk about achievements," said Ken. "My other cars would run laps around this. I have a 2020 GR Supra putting down 850whp, but that is a full-blown competition drift car that I cannot drive on the street." Ken loves the street-style flare the Lexus IS300 brings. While his other cars are nothing short of vicious, the true enthusiast in him can appreciate something in every car.

The Future
Despite this car being his third IS300, Ken Gushi is taking a completely different approach this time. Everything has a purpose in this car, from his decision to go with the 1JZ to retaining functionality of the interior. "I love my full-blown race cars, but I also love tastefully modded street cars," said Ken. As for the future, Gushi is working on fully building the 1JZ and introducing the GReddy TD06-25G turbo upgrade. In the meantime, Ken Gushi will continue to enjoy the clunks of his sequential transmission through town. "The Starbucks drive-thru is always an interesting stop as I grab my iced-coffee from the employee's hand. Never fails to scare them with the ku-tunk into first gear." Gushi's enthusiasm is apparent he's seen drifting his 850whp Supra in Formula Drift just as much as it shows when pulling into the coffee shop with his dog-boxed Lexus IS300. He is simply bridging the gap between luxury and madness, and for that, we love him.