Well before the Fast and the Furious franchise turned everyone into an enthusiast, the hardcore fans were in-touch with the Japanese performance scene through Option Magazine. Option Magazine was founded by Daijiro Inada in 1981 to open the gates for the aftermarket automotive performance market. The magazine gained readership around the world and started the tuner trend in Japan. Amongst the millions of readers around the globe, Andy Lin was a true fan. Inspired by Inada's handy work, Andy dove deep into the world of RX-7.
Text by Bassem Girgis // Photos by Khiem Pham
DSPORT Issue #197
---

RX-7 FD
Originally debuted in 1979, Mazda introduced the RX-7. It was an innovative rear-wheel drive with a unique engine under its hood. The Wankel Rotary engine featured eccentric rotors that spin around a central shaft instead of the crankshaft moving the pistons and rods in conventional combustion engines. Although the rotary engine was engineered to be more reliable with its fewer moving parts, it was never as reliable as Mazda wanted. Amongst the numerous RX generations, one in particular stands out. The Mazda RX-7 FD3S has become an icon in the import performance industry. The FD featured one of the best automotive designs to this day, but what truly shines in this platform is its perfect weight distribution, incredible light weight, and out-of-this-world handling. The RX-7 FD was arguably Japan's purest sports car to this day.

The interior is equipped with a Samberg 4-point roll-cage, Bride VIOS III driver seat, and Sabelt 6-point harness and steering wheel.
Dream to Reality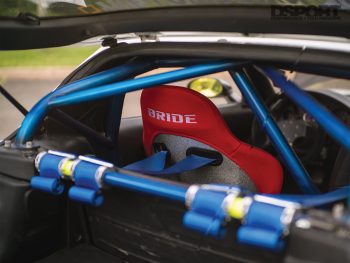 From reading Option Magazine to buying his very own RX-7, Andy Lin was committed to the true JDM tuner scene. It took more than one RX-7 for Andy to learn that he is destined to own and modify this piece of Japanese machinery. Andy bought his first FD in 2002, but after a series of issues and four and a half years of fixing, he decided to call it quits and move on with his life. Six years later after spending his time on the track racing motorcycles, Lin started feeling incomplete without his RX-7. So, he decided to buy another one, this time he knew what he was getting himself into in advance. Andy was prepared for the worst, the best, and everything that happens throughout the journey.
Second Chance
"The thought of getting another RX-7 never really crossed my mind until I realized that every car I looked at, I would compare to the RX-7," Andy Lin said. On February of 2013, Andy bought his second RX-7. This time around, Lin knew he would have to become a full-fledged mechanic if he was going to be able to build this car the way he had envisioned. The goal was to build an FD dedicated to the JDM tuners that inspired Andy's youth. "I kept asking myself when it came time to purchase the aero kit, 'how would you feel about showing a picture of the car to Amemiya-san in person if I had the privilege of meeting him one day?'" said Andy. Although genuine Japanese parts could be extremely expensive, replicas weren't even an option for Andy. In addition to the looks, Lin wanted his RX-7 to be a reliable track car that is comfortable enough for street cruising.

Under the hood, a Ceramic Coated SS headers and downpipe take place, with a bright red Autoexe front strut bar to give more character to the engine.
Work Time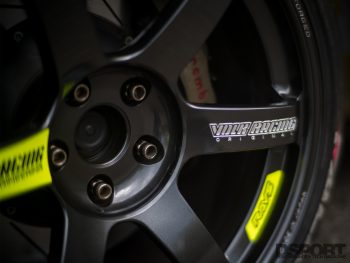 In the interest of maintaining a reliable rotary engine, Andy focused on cooling upgrades. He installed a custom v-mount intercooler, an aluminum radiator, aluminum air separator tank, and dual oil coolers. He replaced the factory fuel pump with a pump from a Toyota Supra feeding 1600cc injectors from Bosch. With the help of the GT35R turbocharger, Andy gets 413 horsepower to the wheels and 345 lb-ft of torque when running at 16psi using 93 octane fuel. With the RX-7 being more track-focused than a show car, he installed coilovers, some chassis bracing, and bigger brakes. The car was finally ready for the track.

Turn of Events
At this point, Andy Lin was living the dream. He had built his favorite car of all time, and tracking it was the only thing left to do. On a cold day, Andy drove his FD to the New Jersey Motorsports Park racetrack. Although the weather was going well, it suddenly started raining. Determined to get as much seat-time as possible, Andy continued racing after four hours on the track. Unfortunately, he lost traction on one of the turns, which slid his car onto the grass. Andy totaled his RX-7 right there and then. "I walked away with a dislocated thumb, which to this day has not fully recovered and continues to serve as a humbling reminder of that fateful day. But even worse than the physical pain was a crushed spirit," Lin recapped.

The Recovery
After all Andy had been through, giving up was not an option. The crashed RX-7 sat in the garage for months until he decided to pick himself back up and give it all another shot. He purchased another 1993 RX-7 FD35 barn find. He took the engine from the totaled FD, installed it in the new one, and it was time to create another journey. Installing a genuine RE-Amemiya body kit was a priority for Andy. He decided to do all the body work himself. After months spent behind his garage door, he brought his new RX-7 back to life. Andy now owns, drives, and races an FD that he literally put everything into, and with parts from the old one he had, this car is something special.