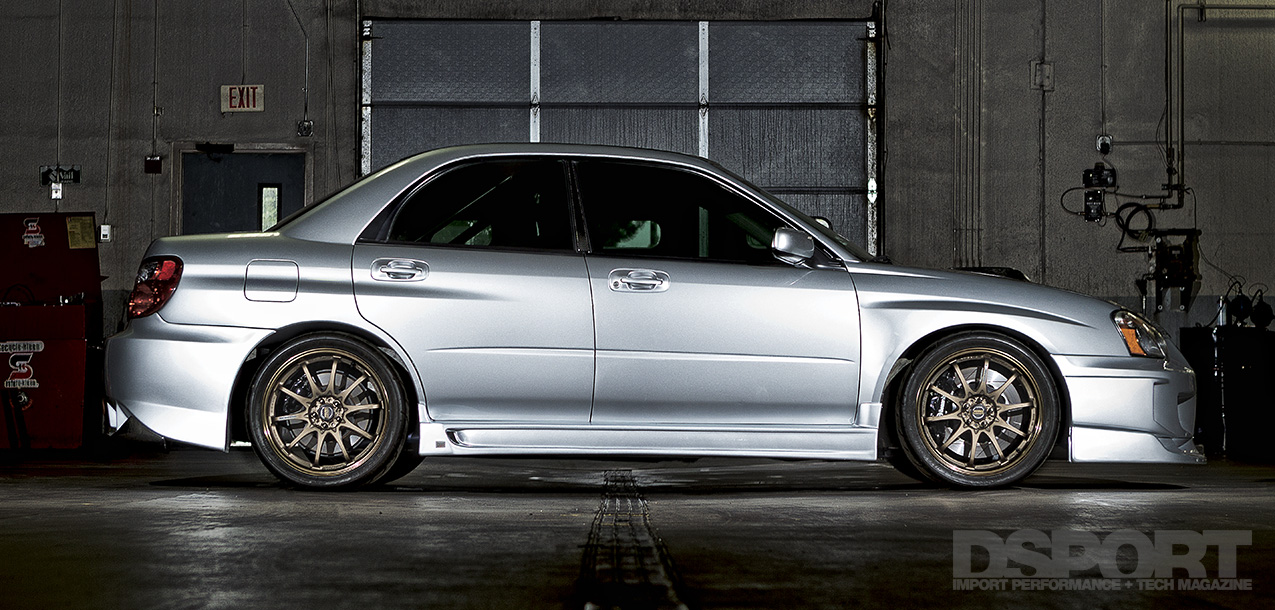 Life comes packed with learning experiences,
and some of them cost more than others. When it comes to project cars, you've got to pay to play. Though these lessons are often costly, the knowledge gained helps pave the way to bigger and better builds.
Text and Photos by Richard Fong
---
Brandon English has first-hand experience facing the disappointments of project pitfalls, gaining experience from a costly vehicle build, and persevering to see the project through. The story of his project began in 2003 with the purchase of a Subaru WRX. He chose the bug-eyed GDB because of its all-wheel driveline, turbocharged engine, attainable sticker price and the available aftermarket support for the platform. This was his only turbocharged Impreza option at the time, as the STi model was not yet available in the USA.
WANNABE STI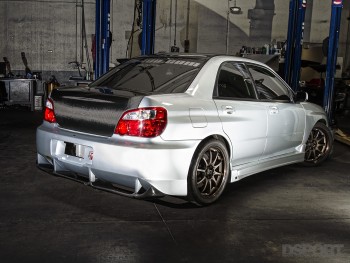 At that time, English owned a vehicle service center, which granted him access to lifts and tools that most enthusiasts don't have. English used his shop to make upgrades and improvements to the WRX, raising the output of the EJ205 engine but alas, it still was not an STi. With the subsequent release of the USDM STi in 2004, English began focusing on STi components and put his next plan into motion, to transform the WRX into an STi. English initially focused on the most obvious hardware upgrades, including the STi's 2.5-liter EJ257 engine, six-speed transmission and Brembo brake package. He decided to retain the WRX chassis harness and the Autronic engine management system he'd used to tune the EJ205. Doing so would render the STi's Active Variable Cam System (AVCS) and the Driver Controlled Center Differential (DCCD) useless, but at the time, he did not desire to invest in a new engine management system. The displacement increase, more robust transmission and improved brake system made his WRX formidable, but not nearly as fierce as he desired.
GOING LEGIT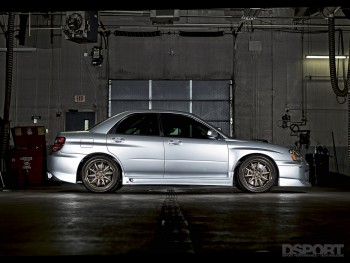 After running his poor man's STi for a number of years, English decided to step up to what he'd been emulating for six years. In 2009, he bought a second hand 2004 STi rolling chassis that already had a cage welded in. With both chassis side by side on lifts, English transferred every performance upgrade he'd acquired to that point from the WRX to the STi. During the transfer of parts, English elected to retain the WRX chassis harness so that he could continue to use the Autronic ECU. Once the transplant had been completed between donor and recipient, English found contentment by lightly tuning the STi.