August signals the end of the summer,
but it also heralds the three-day extravaganza known simply as "The Shootout." On what would become a long weekend for many, August 15-17, 2014, thousands poured into the Village of Wakeman, Ohio, the home of Buschur Racing. Attendees came from across America and flooded into Ohio, filling up the hotels in neighboring towns Norwalk and Milan.
Text and Photos by Richard Fong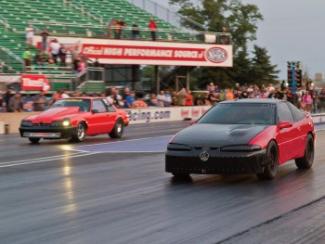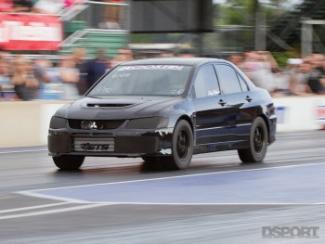 ---
Friday, Dyno Day
Despite the threat of rain and thunderstorms that had been forecasted for weeks prior, many racers and spectators still traveled, undaunted. An estimated 1,000 people came out to Wakeman as their vehicles filled Main Street, which local authorities closed to through traffic for the event. Everything Mitsubishi and 4G63 was on display, including some unique engine and driveline swaps. Folding chairs and canopies littered the street and the open field to the side of Buschur Racing's Headquarters, where vendors and teams with big rig trailers set up displays and showcased their racecars.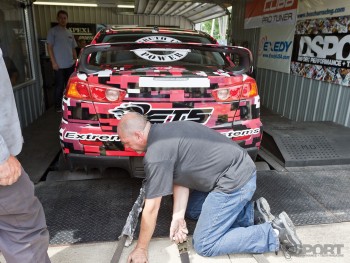 On Buschur Racing's lot, some of the finest DSMs, EVOs and GT-Rs lined up next to vendors like CobbTuning, Fuel Injector Clinic and Fidanza. The in-house Mustang Dyno put challengers to the test throughout the day with EVOS, DSMs and other 4G63-powered machines putting down some serious numbers. ETS/English Racing's EVO X put down an impressive 734 horsepower, while the DSPORT feature car of Chris Young (DSPORT Issue #130), an EVO IX, laid down 775 horsepower. But the big power recognition went to Emery Kapral and STM. The STM EVO RS (DSPORT Cover Car Issue #121) put down 909 horsepower to the rollers, breaking away from the rest of the pack.
Saturday, Dodging Cones & Drag Racing
Now in its twenty-second year, the once small gathering of friends who simply wanted to go racing has evolved into a grassroots-racing event like no other. This year, record attendance had spectators parked all the way to the front gates of Summit Motorsports Park in Norwalk, as the first part of the day focused on the autocross and Max Effort competitors. The Max Effort class involves both the autocross and the drag strip. The drivers with the lowest combined e.t. in their class would earn the win. Matt Step finished on top in the DSM class, with a best lap time of 32.89 seconds and a quarter mile elapsed time of 10.63 seconds. In the EVO class, David Buschur piloted the "Bad Bish" EVO RS down the strip in only 9.797 seconds, the quickest in the class. But the top Max Effort EVO honors went to David Leaton, who ran a combined e.t. of 43.19 seconds. The field of two GT-Rs pitted Chris Carbee against Jordan Campbell. Although Campbell was quicker on the drag strip, Carbee's quicker lap times made up the difference, putting Carbee on top.