Some 23-years ago, a man by the name of Smoky Nagata attempted the ultimate stunt in the tuner world. Powered by passion of speed or just pure madness, Smoky shipped his Toyota Supra to England, along with a video and photography crew to witness and record his stunt. It was 1998 on a normal rainy day on the A1(M) in England. Smoky banged through the gears attempting to drive his 1,000 horsepower Supra into the 200mph club on a public street. Despite only reaching 194mph, the British police soon arrived to the scene, arresting Smoky Nagata and throwing him in jail. The stunt was simply crazy and required a hefty amount of effort, but the result was legend status. Smoky was able to carve his name into the tuner hall of fame with pure madness. After going viral on VHS tapes and dial-up internet around the world, the stunt changed the face of the tuner and aftermarket world, and the future for Smoky became filled with iconic cars with this gold R32 GT-R being one of his coolest creations that now lives in the States.
Text by Bassem Girgis // Photos by Aaron Eusebi (@iShotThat)
DSPORT Issue #237
---

Birth of Top Secret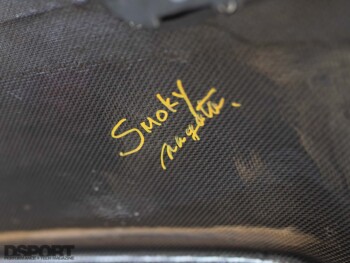 Top Secret is the brainchild of Smoky Nagata. Inheriting the passion for speed from his father, Smoky purchased his first vehicle at the age of 15. He was expelled from school for illegally driving there every day without a driver license, which forced him to pursue work. After finding a job at Toyota as a mechanic, Nagata was soon fired for working on his Celica during business hours. Smoky went back to the job search and started working for Trust, the tuning company behind GReddy. Smoky fell back into the habit of working on his own car during work hours, but this time, the bosses felt he was too valuable to get laid off. In the late '90s, Smoky attempted his wild stunt, which turned all eyes on him. This is when Top Secret was born. While Top Secret is best known for creating crazy body kits and performance cars, Smoky has always wanted to be the fastest. Today, JDM enthusiasts around the world see Top Secret as one of the foundations for the import performance movement.
The interior is filled with Top Secret logos, from the dashboard to the floor mats. To top it off, Smoky Nagata signed multiple locations on the car.
Making the Move
Smoky Nagata built this R32 GT-R specifically for the 2019 Tokyo Auto Salon show. After winning an award at the show and serving its purpose, it was time the car found a new home and started its new life. With the help of Top Rank Vehicle Importers, Reggie Draper decided to purchase Godzilla and bring it to the United States in November of 2020, exactly 22 years to the month after Smoky's crazy stunt. "I have a wild appreciation for the Japanese tuners and the import tuning community," said Reggie Draper. With his JDM passion born through the Gran Turismo on PS1 era, Reggie's dream wasn't just to own a GT-R, but to own a NISMO and tuner-class GT-R. "Smoky Nagata is one of my JDM heroes." Draper cut a gigantic check and brought the car to the United States. Bringing this car state-side isn't just a dream-come-true for Reggie, it's an absolute pleasure for any American JDM enthusiast to know this car lives here.

Top Secret's award-winning R32 GT-R Skyline now lives in the states. With its iconic signature gold color and tasteful body pieces, you will recognize it if you see it.
The Car
"This is the only fully-built Top Secret Gold R32 chassis," said Reggie. While there were other R32 GT-Rs built in prior years, they only displayed body kits for the parts catalog. "This is the only exterior, interior, and engine build R32 GT-R that Smoky Nagata has commissioned. He drove the car himself and he only paints a car gold if it reaches a particular milestone in design and performance." Built as a street legal, usable vehicle, Reggie plans to leave it as is and own a piece of JDM history and vehicle artistry from one of the most legendary tuners of Japan. "I won't manipulate the design, not even the tune," he said. After waiting five-months to get the car, Reggie continues to enjoy it knowing who built and drove it before him, not to mention the fact that it's a 2019 Tokyo Auto Salon award winning Top Secret car.

A single GReddy T78 turbocharger allows the R32 to push over 650 horsepower from a fully built engine by Top Secret.
Making the Power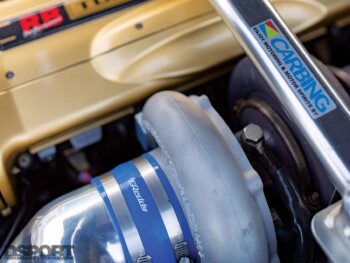 Unlike his stunt Supra that sported a twin-turbocharged V12 engine, Smoky built upon the RB26DETT engine for this R32 GT-R. The block was stroked, bringing the engine displacement to 2.8-liter, and the factory twin-turbochargers were replaced with one GReddy T78 turbocharger. It's equipped with HKS pistons and crank along with Tomei cams and rods to allow for high horsepower and a smooth idle. The body was painted in the Top Secret signature gold color. With the new engine combination, the R32 delivered over 650 horsepower at just 20 psi of boost. To keep that power to the ground, four Bridgestone Potenza TR71R tires wrapped around OZ x Top Secret Forgiata GT wheels sit on each of the four corners around the car. The exterior features nothing but Top Secret parts, and a couple of Smoky Nagata signatures around the vehicle adds to the magic of this build.

Mission Accomplished
"I wanted to ensure the car lived as a Smoky Nagata art piece, so I was determined to have him sign it," said Reggie. Instead of just asking for a signature, Reggie went the extra mile, or few thousand miles, to get this done properly. After tons of searching, Reggie was able to find markers as close as possible to the Top Secret gold paint color. He then shipped these markers to Japan so Smoky can sign it in the same color as the car. Smoky obliged, signing under the hood, the passenger side dash, and behind the driver side's Recaro seat. Thanks to pure passion with a spark of madness, this car was born, and thanks to enthusiasm and whatever-it-takes attitude, Reggie Draper was able to bring this car to America. After being robbed of having Godzilla produced in the United States all its life, bringing a Top Secret Gold Godzilla here almost makes up for it.