How far are you willing to go to do what you love? For some, hard work pays off; for others, luck can be their best friend; and for people like Dan Burkett, giving it everything they have is the only way to live their dreams. Since the age of 14, Rad Dan has been watching drift videos hoping that one day he, too, can throw his car around tracks. There was a catch, however, if Dan was to ever professionally compete in drifting, it would have to be in his dream car: the JZA80 Toyota Supra. The years went by and it was time for Dan to get his pro license. For $13,000, Dan was able to purchase a naturally-aspirated, five-speed Toyota Supra that had 231,000-miles on its odometer. Today, this vehicle serves as the only Supra in Formula Drift, an icon in the industry, and an absolute rad monster.
Text by Bassem Girgis // Photos by Joe Singleton and Larry Chen
---

Drifting Dream
Powered by a dial-up internet and a dream, Dan Burkett spent a large portion of his childhood watching drift videos. Before getting his license, he started saving for his first car, which had to be a rear-wheel drive one that he can drift for fun. As it came time to purchase his first car, Dan bought a Mazda RX-7 FC Turbo II. "I grew up in Washington and it rained a lot, so I was always sliding anytime I could," said Dan Burkett. In 2002, Dan moved to California and watched his first Drift Day Demo video. "I was like I need to do that." While the dream of drifting continued nagging at him, he simply couldn't get himself to destroy his street car, which was another RX-7 at the time that was much cleaner. The dream stayed alive but Dan didn't do anything with it until 2010 when he got a ride in Mad Mike's RX-8. "I said, 'I'm doing this.'" Mad Mike's ridealong was enough to convert him from an enthusiast to a man on a mission. Dan quickly bought another RX-7 FC and started modifying it for drift. The RX-7 would take him from learning how to drift to getting his pro license, which paved the way to his new endeavor with the Toyota Supra.

The Supra
Around the time Dan was ready to turn Pro, he had a JZA80 Supra. "That car was never to turn into a drift car that you would smash against the wall," said Dan. With a clean Supra in his possession, Dan needed to find another one to turn into a drift car. In 2014, Dan bought this naturally aspirated, 5-speed Supra and it was time to get to work. With no time and a tight budget, Dan took the engine from his black Supra, which happened to be a 3.4-stroker engine. "I've never owned a Supra that didn't have a stroker motor." The transition from ProAm to Pro2 then to Formula Drift all happened really fast, which forced Dan to jump into the fire and adapt on the track as he faced tougher competition, quicker tracks, and much more on the line. Dan described ProAm as where you find out if you have skills, followed by Pro2 where the track speeds are at least one-third faster which makes the car setup crucial, and finally Formula Drift where only the best survive.

Dan Burkett switches between two BorgWarner turbochargers in competitions: 9280 and 9274.
The Setup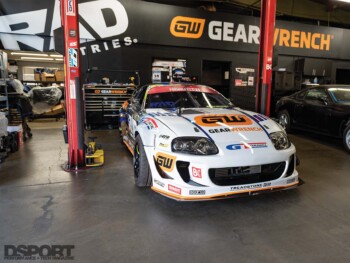 All built by Dan in his shop, RAD Industries, the 2JZGTE measures 3,314cc in displacement. Engine Supply took responsibility for all of his machining. To get to the next level of power, Dan switches between two BorgWarner turbochargers: a 9280 and a 9274. To match the charged air with enough fuel, multiple Walbro 450 fuel pumps feed DeatschWerks 1,500cc injectors with Ignite Red fuel. A 75-shot of nitrous through a Nitrous Outlet system help spin the wheels of the Supra on demand. The vehicle is managed through a ProEFI 112 and all data is displayed through a MoTec C127 dash, eliminating the need for any additional gauges and clutter. With nothing but the best engine internals, the combination allowed Dan's Supra to put down 1,017whp and 855 lb-ft of torque when running at a peak 34 psi of boost with a redline of 7,850 RPM.
(L) A MoTec dash eliminates the need for any further gauges, reducing clutter and providing a clean and simple interior. (R) A Radium FCST fuel cell stores the fuel in the rear, with a Nitrous Outlet system residing behind it. The NOS provides a 75 shot to help spin the wheels.
RAD Industries
The chicken before the egg situation applies here for Dan and the relationship between his Rad Industries shop and his pro drifting career. While many shop owners get into racing to support their shops, Dan did it the other way around. A true enthusiast at heart, Dan knew the only way he could be a pro drifter is to own his own business. "If I buy a big tool like a welder or a tube bender, then that would help me build my own car so I don't have to pay someone else," said Dan. "To be honest, this is the only reason I have my own shop, because I really wanted to do pro drifting." Rad Industries specializes in Dan's passion in the 2JZ engine. You can't be an expert if you're not out there testing the limits of your products. Dan needs to always come up with his own products for his race cars to address any and all weak links in that engine platform and the Supra chassis. This allows him to offer parts that other manufactures don't even know are needed. "There just weren't the right solutions available to make my Formula Drift car look amazing, so I made these parts and then other people wanted them – it's been really fun."

Far from Over
While we can make an argument that Dan had a dream and achieved it, the beauty of his dream is that it's never over. Dan never got into drifting to brag about reaching the highest level, he simply got into it because he wanted to drift. While financially exhausting with ups and downs at all the levels he's been through, Dan is now living his dream and enjoying the best part about it. For next year, the plan will be to add a direct port nitrous system so he can have two stages of nitrous. "That's the main thing I need to change to make it a slightly longer powerband, while maintaining the same amount of torque. I'm always trying to make it like a V8 with the power band," he concluded. Today, Dan's Supra has become an icon in the drift world, being the only Supra and a very popular one, but this vehicle represents far more than a stroker motor and a great aesthetic, this car is the definition of persistent. "Stay persistent. If you want something bad enough, you can make it happen."