Patience is an uncharacteristic virtue among automotive enthusiasts.
Whether it's waiting for an engine build, waiting for parts to arrive in the mail, waiting for special order parts to be shipped from Japan, or waiting for the machine shop to finish working on an engine, waiting is a painful ordeal for those anxious to make upgrades or just et their ride back on the road. Track days, events and car meets wait for no one, and missing out can cause undue anxiety for some. What's worse? Waiting for parts that may or may not ever be developed for your car.
Text by Richard Fong // Photos by Michael Ferrara
---
REMINISCENT OF A LEGEND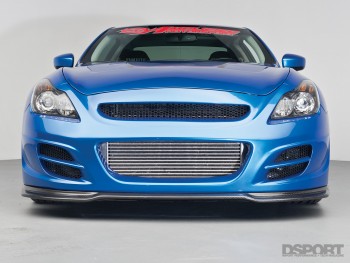 Lou Roc, the owner of Amplified Motorsports couldn't wait for a new ride. When Infiniti finally released the G37S Coupe to the US market, he put down money to be among the first in line. Lou stated, "I purchased the G37S back in November 2007. The G37S coupe's bodylines reminded me of one of my all time favorite cars, the ever-famous Toyota Supra. When the specifications became available, I saw the potential of a very nice build starting with a 330 hp engine offered and six-speed manual transmission in a rear-wheel platform. At the time, no other JDM vehicle offered as strong a V-6 engine in this configuration. The fact that it was a sport-luxury car with high horsepower potential drew me in." Lou set out to build a ride that could turn heads on his commute while holding its own on the drag strip or the road course on weekends.
WHERE IS THE LOVE?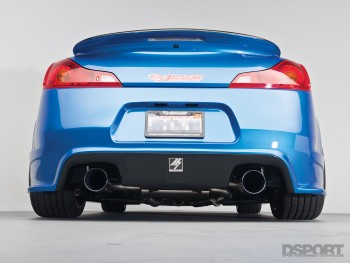 Unlike the 350Z and the G35, the aftermarket seemed slow to embrace the G37, leaving Lou with few options for upgrades. Since he purchased the car when it was first released, development seemed to take forever. After a while, a few bolt-on parts slowly became available for his coupe, but hardly enough to satisfy his longing for serious power. These bolt-on power modifications only gave the G37 nominal gains. Fortunately, it's close cousin, the 370Z, received a little more attention. Soon Lou's thirst for serious performance upgrades was quenched.