In an attempt to revitalize the import drag racing scene in Hawaii, HyperSports Racing of Honolulu, Hawaii set out to build a competitive low-budget car for the Hawaii's Fastest Streetcar Shootout. The task of building a vehicle that could hold its own against Hawaii's fastest street cars isn't a simple one. To make a difficult situation worse, the car had to be race-ready in only five days.
Staff Report // Photos by Michael Ferrara and Phillip Lam
---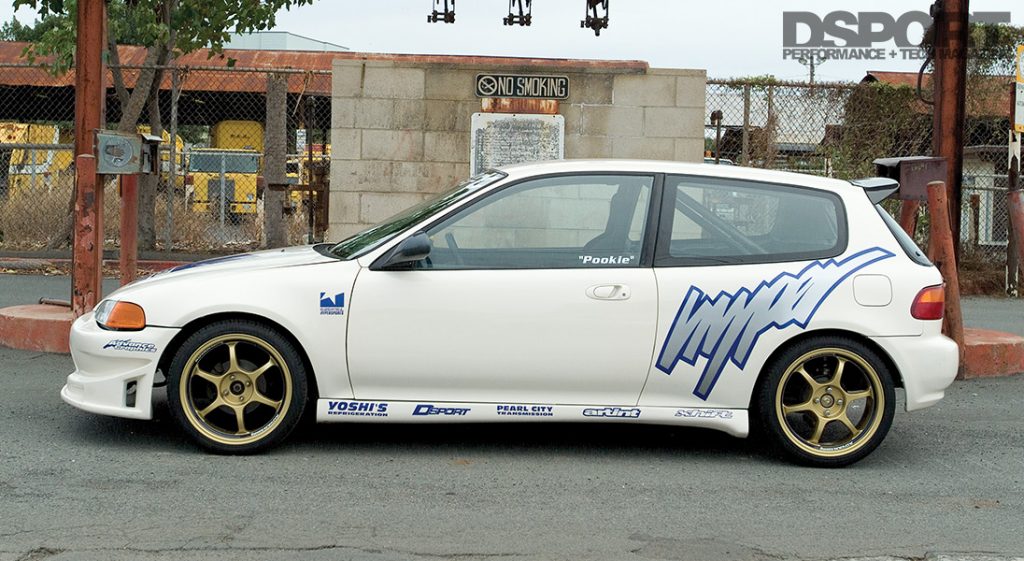 The HyperSports crew had a chassis in mind. They promptly called an old friend for his 1992 Honda Civic and the piles of his old parts. Calin Yanuaria had a Civic sitting in his garage for the last two years that hadn't moved an inch. Calin obliged and the Civic was soon property of Marc "Pookie" Rios. Pookie was chosen to be the primary driver of the project car. After much thought, it was decided that Hyper would build this Civic in time to race on November 26th, 2004 at the Shootout. Keep in mind that the Civic was essentially a bare shell that consisted of a dashboard, steering wheel and a single seat. Being in Hawaii, it takes quite a while to get parts, so most of the parts used in this build were found lying around the shop or were sourced from surrounding tuning shops in the Honolulu area.
Day 1, November 22, Monday
Travis Higa and Ryan (Buda) Suda had started to put together a spare B18C1 for race duty. Peak Performance Connecting Rods and 9- to-1 JE Pistons were used in conjunction with a stock crankshaft to assemble the bottom-end. Since there was no time for extensive machine work, The B18C engine would have to remain at its factory bore size with the factory sleeves. Engine assembly became very hectic as the team was missing various components. Out of nowhere, Travis found a reworked cylinder head previously used on Chad Kobayashi's 11-second Acura Integra. Travis and Buda then made a trip to a friends' house to steal some parts off of a blown engine. Ross Maeshiro of Hyper made his way to Endless Garage on the island to pickup some AEBS head-studs and an oil pan gasket. The crew was exhausted and still missing more parts, they called it a night.

Day 2, November 22, Tuesday
With parts arriving throughout the day, Travis and Buda were getting closer to having the power-plant all together. The shell arrived to the shop via Blackie from Action Towing. The car was covered with layers and layers of dust. The crew proceeded to finish up the engine. The missing seals and a new water pump arrived to the shop. Travis and Buda decided to put the head and block together. Awaiting a clutch, Travis decided to hold off on dropping the engine into the car. Travis then went to work on the fuel system. Sticking to the bare necessities, a Walbro 255 liter-perhour in-tank fuel pump and a set of four Nippon Denso 720 cc/min fuel injectors were installed.

Day 3, November 23, Wednesday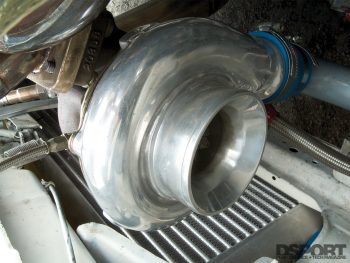 Day 3, still having a list of things to do and more parts in transit. Ross finally located a clutch. After bolting up the clutch and transmission, Travis executed the engine installation in the morning. Finishing the fuel system, bolting up the exhaust manifold and turbocharger and fitting the intercooler system were next up on the list of things-todo. Buda and Seth worked on the extended wheel studs and suspension. Later that day Travis cut and welded an exhaust system using Marc's old Thermal R&D Catback system for a Honda CRX. The Civic was
almost complete but there were a few more loose
ends to tie up.
Day 4, November 24, Thursday (Thanksgiving)
On Thanksgiving Day, turkey came first and the Civic came second for the HyperSports team. Travis and Buda decided to come in Thanksgiving night and put in some  work. With the motor in, fuel system running, A'PEX Integration Power-FC plugged in, the B18C1 was brought to life. Now it was time to tune. Later that night, Mike Ferrara, Sami Sharaf and Phil Lam of our staff arrived to Hawaii just in time for turkey at Neil's house. Thanksgiving was then celebrated at a few karaoke bars.
Day 5, November 25, Friday
The first engagement of the day began on the Dynojet dynamometer at HyperSports. The crew strapped the car on and started to rework the maps. That afternoon the DSport crew strolled into Hyper. Unwillingly, Mike walked into a whole tuning session that would leave Sami and Phil bored and roaming the streets of Waikiki. Hours upon hours of tuning resulted into a 460 wheel horsepower Civic with 1.6 bar of boost pressure. That night, an Art Morrison roll bar made its way into the Civic. The whole crew was ready to make it to the track for a little testing before the big day.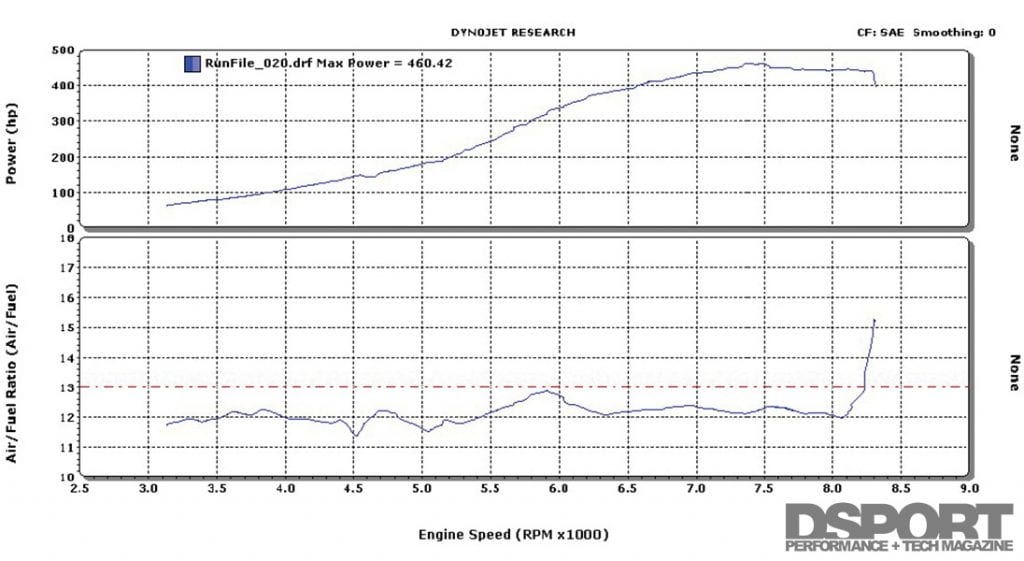 With Marc being a rookie driver, seat time was necessary. Marc got a couple passes in, the fastest elapsed time being 11.38-seconds. Not bad for a rookie. The test and tune was productive, the team even discovered some loose intercooler hoses that needed to be tightened up. But the most important thing found that night was that the clutch could not hold the power. The race was the next day and the crew had their  backs against the wall to not only locate a clutch but install it as well.
Day 6, November 26, Saturday (Race Day)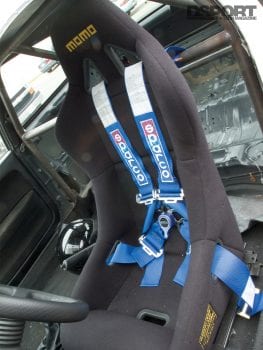 On Saturday morning, the team was relentless to find a clutch. They were finally able to find an ACT clutch kit. Quickly making way to the shop, the clutch was installed first thing in the morning. With the new clutch installed, hose clamps tightened and slicks mounted, everyone headed to the track.
The team rolled right up to the inspection area, where they passed tech and started to prepare for a qualifying pass. The clutch was holding up great and Marc qualified second with an 11.16-second elapsed time. During eliminations, Marc made quick work of an SRT-4. Marc flew past the Neon with another low 11-second pass. In the second round the Civic blew an intercooler hose off in a different area than the one the team discovered earlier. The intercooler incident crippled the Civic and it coasted through the beams in the 13- second range. The Civic was not holding the boost pressure and consequently Marc lost that round.
The team was discouraged but decided to make another attempt at their 10-second goal. They tightened up the intercooler hoses once again. Although Marc did record his best time with an 11.15-second ET, the hose failed again. The guys called it a night and decided to head home knowing that with some changes their goal of making a 10-second pass would be made.

Hyper's Thanks

A lot of people went into making this project possible and although we may miss a couple, in no particular order we would like to thank: Ryan (Buda) Suda, Eric (Alfie) Alferes, Calin Yanuaria, Hi-Pace Racing, Endless Garage, Eric (Blackie) Aguda, Mike, Sami, and Phil from DSport Magazine, Paul Umholtz, Lance Onaga, Farid from Speedgear Motorsports, Hawaii Performance Warehouse, WMR, Thomas from A.E.D., Lanny and Jensen from A'PEX Integration, XS Engineering, Dynamic Autosports, Ezekiel Clothing, Matt and Robert from 1320 Performance, Barry Higa, Les Felipe, and Xhift Magazine.