Vintage Vehicle
The 300ZX, which was first raced in the showroom stock racing class in 1984 and 1985, captured a Trans Am victory in 1986 with Newman at the wheel of a Bob Sharp Racing 300ZX. The purpose built racecar, badged as a Fairlady Z, was based on a tube frame race chassis. Its powerplant was a three-liter Nissan VG30ET with a single turbocharger. This machine became dominant in the IMSA GT class as well as the SCCA GT-1 class. It is said that the single cam V6 engine produced over 1,000 horsepower with a broad powerband spanning from 4,000-9,000 RPM.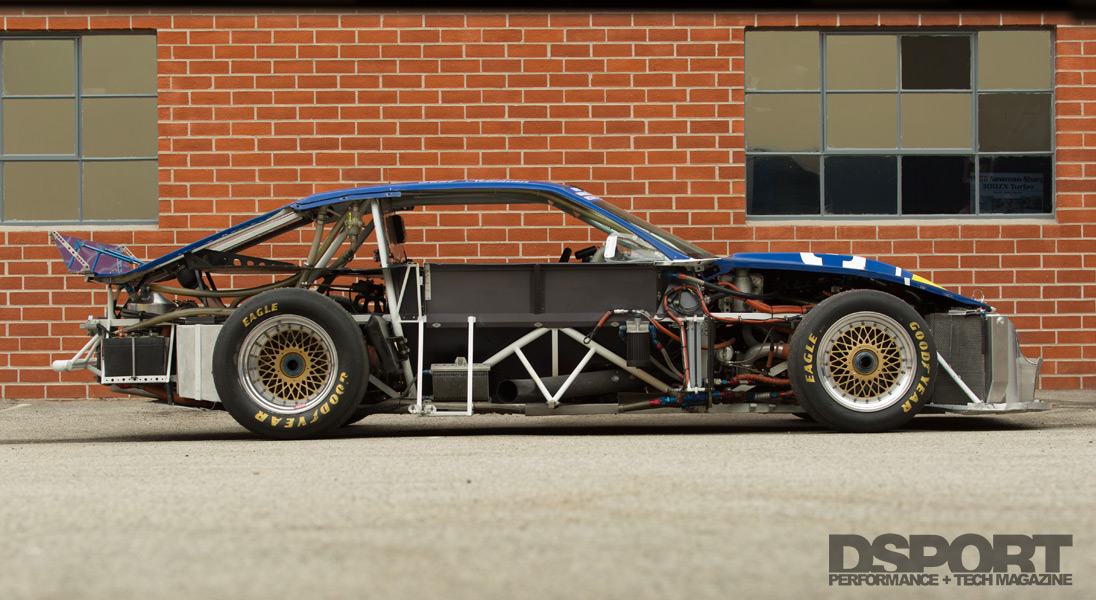 When the very machine that Paul Newman drove in 1988 became available, Carolla was on point to make it his own. While this was not the only car that Newman owned and raced that Carolla purchased, it is the one that he enjoyed racing the most, as of late. Carolla has stated, "I think the only parts shared with a production Z car are the roof and windshield. The rest of it is purpose built for racing. It has a tube frame chassis, big brakes, slicks and heat exchange coolers everywhere. There's a huge intercooler centered in the front, flanked by two radiators, a transmission cooler and even a differential cooler. The sway bars are also adjustable from the driver's seat, even though I'm not even sure which way I would adjust them." He continued, "The turbocharged V6 is a huge leap up in power compared to the four cylinder cars I've been driving, and while it has over 600 horsepower in its current state of tune, it has way better suspension and brakes than my other vintage cars, so it doesn't feel scary to drive."
(L) The VG30ET engine that powers this Z features a number of purpose built components. It is pressurized by a single turbocharger that purportedly helped the engine generate over 1,000 horsepower. (R) The dog-engagement, straight-cut gears of the Weismann transmission feature an access panel for quick gear ratio swaps.
Honoring the Man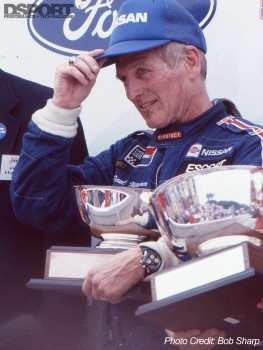 [pullquote]THE CARS ARE INTIMATE; YOU FEEL THE PRESENCE OF NEWMAN IN THE CAR, HIS DNA.[/pullquote] In an interview with Road & Track magazine, Carolla stated, "I like anything Newman… and anything Datsun… and this is Newman and Datsun, so how could you go wrong?" The more Newman racecars that Carolla acquired, the more history he began to uncover. At races like the Rolex Monterey Motorsports Reunion, he might encounter a fan that points at his car and reminisce about seeing it racing over twenty years ago. This got him really thinking about the cars and their heritage. He explained, "I read a book about Newman, then I started buying Newman's cars. I started getting into these archeological digs. The cars are intimate; you feel the presence of Newman in the car, his DNA. It feels very personal, from the hand written notes on the gauges and notes on the switch panels to the headrest embroidered with his initials. There's tape on the steering wheel, which was to his taste. When you poke your head into the car, you get a feel for how much time he spent in the car and what it meant to him."

Purpose built racecars rarely share parts with streetcars. The -AN lines and fittings, the switch panel, the use of spherical joints and the custom suspension arms were made for this car.
Story Teller
In his research, Carolla began seeing archival footage of Newman racing, and would think to himself, "Oh, that's my car!" He'd seen bits and pieces of bootleg footage from different people, the kind of material that gear-head guys would share amongst themselves. He figured that there could be enough footage around to put together a documentary about Paul Newman, he just didn't realize how much content was really out there. Carolla spoke to some people about a story that hadn't really been told yet, the 35-year racing career of Paul Newman. The response he got was positive, and it seemed like a story that many thought that Newman would like to have told. Working with Nate Adams to co-write and co-produce the documentary, the film Winning: The Racing Life of Paul Newman became a reality. With interviews and commentary by Hollywood celebrities like Jay Leno, Patrick Dempsey and Robert Redford, along with footage of legends from the racing world like Mario Andretti, Bob Sharp and Bob Bondurant, the film seeks to honor Paul Newman, his enthusiasm, his accomplishments and his legacy. Winning: The Racing Life of Paul Newman is due for release on May 22, 2015.