Purchasing used doesn't always mean purchasing abused.
However, when it comes to used cars, it seems like there's always something that needs to be fixed, replaced or repaired. When replacing basic things on a car like brakes, suspension, wheels and tires, sometimes it's tough to find quality, affordable replacement parts. Most people who look to replace parts may never think about upgrading, but the aftermarket now offers some very affordable upgrades that may make you think twice.
Text and Photos by Jun Chen
---
ROLLING SAFETY HAZARD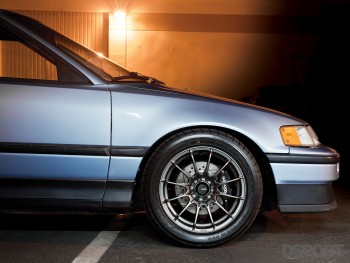 One of the benefits of the Honda/Acura platforms lay in the interchangeability of parts between many different chassis. Our second-generation (1989) CRX HF came from the factory with tiny 8.9-inch front disc brakes and a set of drums in the rear. Unfortunately, our particular example only came with three working brakes. The line to one of the drums had been disconnected and blocked-off with a Vise-Grip. Not only did this pose a huge safety hazard, but it also crippled the braking performance. Upon searching for a disc brake solution, we found a set of front knuckles and rear trailing arms from a DA Integra for 100 dollars. With a little more hunting, we also acquired the necessary 40/40 proportioning valve, larger 15/16-inch non-ABS brake master cylinder and CRX Si axles for another 100 dollars to complete the conversion. In addition to the rear discs, the DA Integra brakes feature a 10.3-inch vented front disc and a much larger caliper than the HF. This setup would soon deliver more than enough braking performance for our CRX.
STRAIGHT FLEXIN'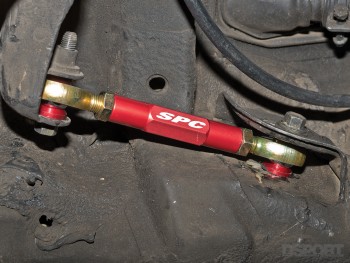 As we disassembled the suspension and began removing the old components, it became obvious that the 25-year old ball joint boots and rubber bushings needed some serious attention. The torn boots exposed the grease to dirt and wore out the ball-and-socket interface, causing it to become loose. Instead of replacing the ball joints with factory-style replacements, we chose a set of SPC's adjustable ball joints that maintain the factory arms. SPC offers two models with camber adjustment ranges of either -1.5 to +1.5 degree (p/n 67125) or 0 to +3.0 degrees (p/n 67320) for vehicles lowered more than 1.5-inches. Some earlier Honda/Acura models come with the ball joint welded to the front upper control arm. If that's the case, its necessary to source a set of factory replacement arms with the removable ball joint. In the rear, we needed to address the cracked and torn bushings in the toe and camber arms. We didn't want to waste hours bolting up the suspension only to remove it soon after for a bushing overhaul. To that end, we selected a set of adjustable SPC rear camber arms and toe links. The SPC camber arms (p/n 67030) replace non-adjustable stamped units with thick forged steel arms featuring reversed threads and jam nuts for easy adjustment. Similar in design to the camber arm, the aluminum toe links (p/n 69460) utilize FK Bearing spherical ends. These rear suspension links paired with the adjustable front upper ball joints allow adequate adjustment for proper track-day alignment.