WHY? IT'S A QUESTION OFTEN ASKED, BUT sometimes not asked enough. When our intern Mikiko Akaogi told us she wanted to build a project vehicle, we wanted to know more. What car? What goal? Had the answers to those two questions revolved around the performance tuning of a popular platform, we probably wouldn't have even asked "Why?" Still, answering a VIP style build was not a big surprise. But when Mikiko told us she desired to use a first- or early-second-generation Lexus LS400 as the platform, we had to ask "Why?" When no amount of suggestion could sway her to a different vehicle, we were intrigued. Mikiko demonstrated the same level of passion a Nissan performance enthusiast would have for an R32 GT-R. Based upon the level of passion, enthusiasm and dedication exhibited by Mikiko, it was clear that the "LS" in "LS400" stands for Love Story. Hence, Project Love Story 400 was born.
Text by Michael Ferrara // Photos by Richard Fong
---

The Platform
After a successful launch of the first-generation LS400 (1990-1994), Lexus unveiled its second-generation design in 1995. Power from the 1UZ-FE 4.0L V8 increased from 250 to 260 horsepower while also being 210 pounds lighter than the first-generation design. Acceleration improved with 0-60 times checking in about a second quicker (7.4 seconds). The wheelbase was extended almost 1.5 inches adding passenger space, yet the overall length of the vehicle remained the same. The sticker price for the base model was $51,000 in 1994 (over $82,000 in 2016 dollars when adjusted for inflation).

After a serious cleaning of the exterior of the vehicle, identification of the defects in the paint and body are next on the list.
The Subject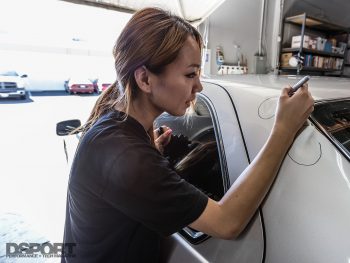 After searching for about six weeks and test driving a half dozen potential vehicles (both first- and second-generation), Mikiko located a 1995 Lexus LS400 with 130K miles in fair-to-good condition for $2,600. Although Mikiko had allotted up to $5,000 for the base project car, the other 1995-1997 LS400s investigated were just priced higher and not in significantly better condition. On the plus side, this LS400 had the best condition interior (although it did smell a bit like a wet dog). There was no indication of any significant collision damage and it had a clean title. As for its negatives, there was obviously a failed attempt at a proper repair of some type of body damage on the right rear lower quarter panel. The front left corner of the hood had something heavy fall onto it. The rear left upper sail panel also had a few dents near the rear window. The rest of the body had a few dings which is to be expected of a 22-year old vehicle.   

The Goal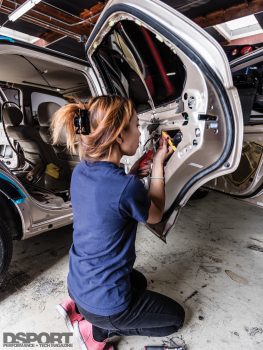 Ultimately, our objective with Project Love Story 400 is to build a vehicle that exceeds owner expectations without contradicting the DSPORT tuning philosophy. Admittedly, DSPORT has ZERO experience in building a VIP style project car. In fact, we are not even sure that this project car will be VIP style in the strict sense of the term. It will feature the maximum reasonable amount of drop, a flush fitment of the wheels and tires without excessive camber (or stretched tires), a show-quality paint job and in-car electronic upgrades that rival current top-tier OEM systems. The body and paint portion of the build will actually allow us to create an entire tech series on the process. Essentially, we'll show all of the stages so that the adventurous can attempt 90-percent of the work themselves while those that don't like to get their hands dirty will be educated enough to make sure that the right products and processes are being used to deliver top quality paint and body work. We expect to encounter a number of challenges new to us, including the fitment of a significantly larger wheel and tire package on a vehicle that will have a much lower stance than we are familiar with running on the street. Ultimately, our venture outside of our normal comfort zone will hopefully payoff with an expansion of our knowledge base. Of course, our new discoveries will be shared with our readers. Stay tuned.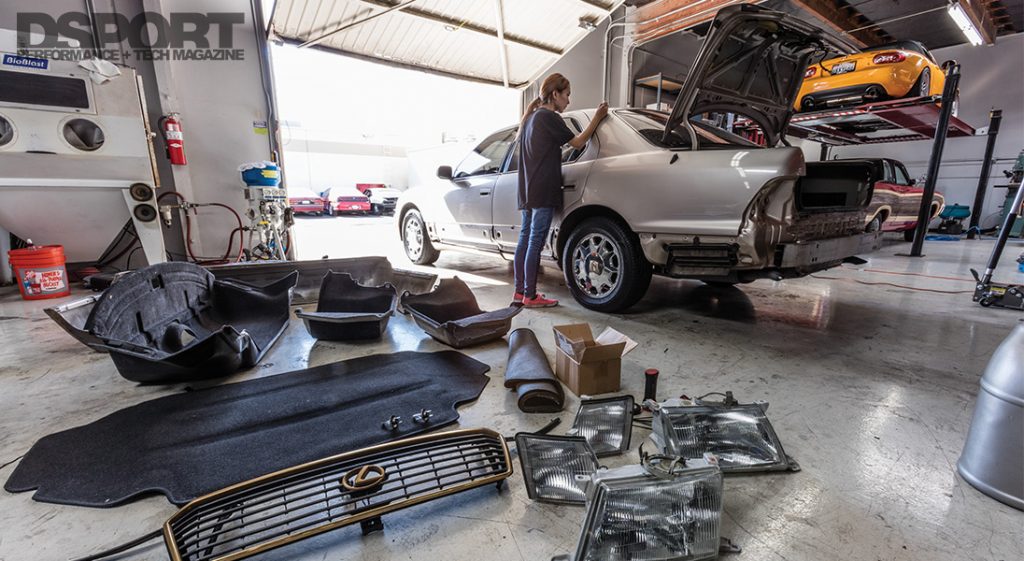 PROJECT GOALS:
•  Retain or increase function while improving form
•  Establish standout looks through subtle upgrades
•  Establish a lower and wider stance
•  Adjustable/multiple ride-height air suspension
•  Upgrade braking system
•  Improve performance, sounds and looks with custom exhaust system
•  Upgrade audio system to be on par with best current OEM premium systems
•  Avoid outlandish upgrades
•  Limit compromises associated with achieving goals
•  Avoid excessive stretch of tires to get wheel/tire to fit
•  Avoid excessive camber to get wheel/tire to fit
•  New paintjob at or above OEM quality level
•  "Do as much as possible myself" project
The Intern: Mikiko Akaogi

Birthplace: Yokosuka, Japan

Likes: Cars, Smoking, Coke Zero and Wrenching

Dislikes: Oranges, Spicy Food, Beans and Lazy People

All of the applicants that took the DSPORT/Hard Media Inc. facility tour were either unmoved or confused at the site of our workshop, our fabrication area, our precision engine machine shop and our project vehicles. In contrast, it was easy to tell that Mikiko was impressed and excited about the opportunity of participating in an internship that not only allowed her to advance her graphic design skills, but also be surrounded by cars and the tuning scene.

Ever since she can remember, Mikiko has loved to take stuff apart. She sees beauty in the mechanics of machines. Mikiko's heightened sense of adventure took her abroad to complete high school in Ireland. Upon returning to Japan, her first priority was to get her driver's license. Before coming to the States in 2014 to study graphic design, Mikiko's jobs all seemed to revolve around cars. These jobs have included retail cashier at an Autobacs, a Yokosuka-area Taxi driver, a season as a Race Queen in MotoGP and even a year at the Nissan factory in Oppama installing optional equipment (Keyless entry, Navigation, Back-up cameras, fog lamps, etc.). As an intern at Hard Media Inc., Mikiko will now be gaining insight into the realms of automotive media and aftermarket performance while also getting hands-on experience with a project car build.