The Nissan Skyline GT-R is one of the most desirable Japanese supercars. Unfortunately, most people will never own a Skyline or get a chance to drive one. It's a damn shame. Nissan's RB26DETT twin-turbo inline-six-cylinder powerplant is a dream to drive. With exhaust and minor tuning, making 400- flywheel horsepower comes easy.
In addition to the GT-R variation, the Skyline is also available in GT-S trim. Unlike the GT-R's all-wheel-drive arrangement, the GT-S is set up in a front-engine,rear-wheel-drive configuration. The engine is also a bit different. The GT-S receives the single turbo RB25DET in place of the GT-R's RB26DETT.
The interest in Nissan performance is at an all-time high thanks to the drifting phenomenon. Nissan's S13 and S14 240sx platforms have proven to offer cost-effective platforms to build a performance vehicle for street, strip or drift. Take one S13 and swap in an SR20DET engine from a Japanese Sylvia and you've got a pretty good foundation to build upon. While the SR20DET is one of Japan's most popular four cylinders, imagine how much more fun you could have with two extra cylinders and an extra turbocharger. What if you put an RB26DETT engine in your S13?
Text By Sami Sharaf Photos by Michael Ferrara

Originally Published in Issue #19 of DSPORT
---
Visualize…
You own a Nissan 240SX. You want more power. An SR20DET swap would be great, but wouldn't an RB25DET or RB26DETT swap be even better? That was the question posed to Mckinney Motorsports. The company's answer was to develop and manufacturer the parts that make an RB swap a reality.
Today, Mckinney Motorsports produces direct bolt-in solutions that include engine mounts, transmission mounts and custom driveshafts for a successful RB swap. Pictured here is an example of a successful RB26DETT swap in an S13. The ingredients for this potent concoction include one RB26DETT engine and electrical harness from a GT-R, one transmission and oil pan from a GT-S and the mount kits and driveshaft from Mckinney Motorsports.

… And Execute
The Mckinney Motorsports' 1991 Nissan 240sx. is now powered by a RB26. Many of the components had to be custom fabricated for this new setup such as the downpipe, exhaust piping and intercooler piping but it was worth every penny. Mckinney used many of the parts found on upgraded skylines in Japan. The clutch was an obvious necessity; this twin-turbo six cylinder uses an O.S. Giken twin disc clutch for its perfect fitting RB25 transmission. The exhaust consists of an A'PEX Integration N1 Cat-Back exhaust system that matches to a custom Mckinney Motorsports downpipe. GREX oil filter relocate kit along with a GREX oil cooler was installed in this Hybrid 240 to ensure proper oil temps. A creative routing scheme for the intercooler piping allows the engine to cool the charge air with an A'PEX Integration GT-R intercooler.
Don't Judge a Book by it's Cover
While the exterior of a stock 240 looks rather plain, Mckinney has incorporated many Skyline parts into the design of this unique 240sx. The Japanese counterpart of the 240sx is known as the Silvia or S13, 14 or 15. This 91 240 was given a 1992 Silvia front end with a custom fitted Skyline R33 front bumper while the rear end received R32 taillights. Full Bloom side skirts and rear skirt finished the aesthetics before the 240sx was sprayed with a 99′ Corvette Black Rose paintjob. Then the Skyline… uhhh, 240 was topped off with an APR Drag Wing.
Braking was addressed with a Japanese S14 5-lug conversion and Skyline GT-S front calipers. A'PEX Integration N1-Pro coilovers allow the low and ultra stiff ride on a set of Motegi wheels wrapped with Falken tires. Interior improvements were a must with the 13-year-old seats, these worn out seats were tossed for a set of Tenzo seats. A Momo steering wheel helps to steer this newly swapped 240 with style.
With the exterior, interior and definitely the engine being totally upgraded, this 240sx is the jealousy of many Skyline lovers everywhere. To own a Skyline just might be out of the question but this Nissan lets us get that much closer to our dream.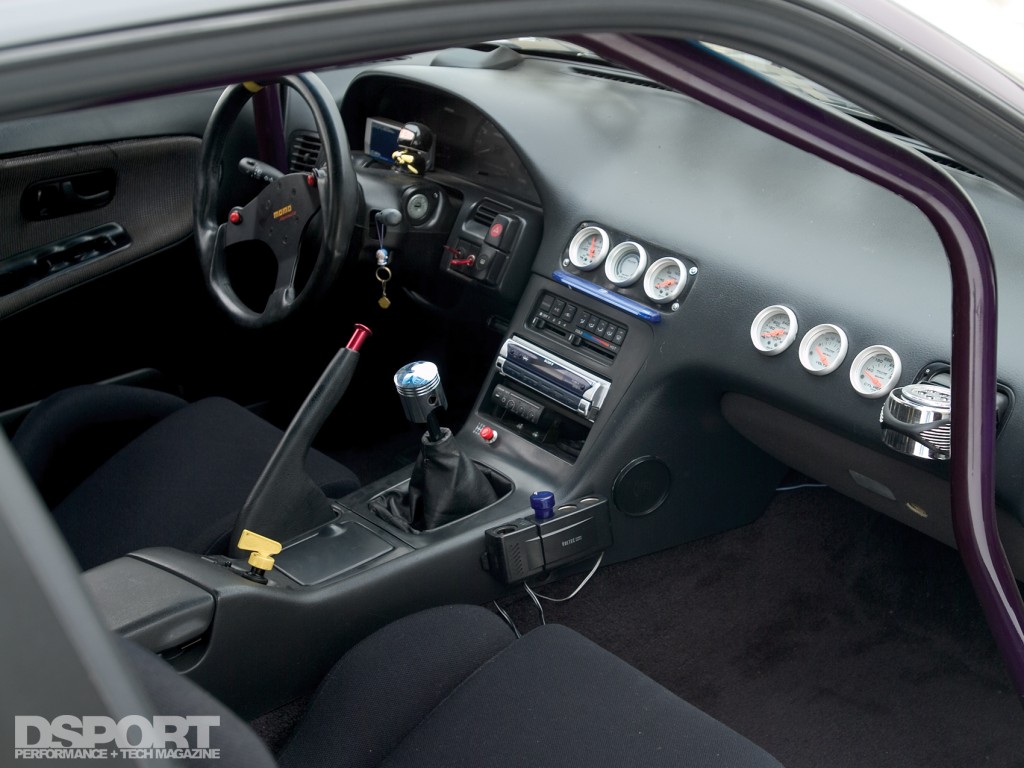 ---
SPEC SHEET
| VEHICLE | |
| --- | --- |
| Year / Make / Model: | 1991 Nissan 240sx |
| Chassis Code: | S13 |
| ENGINE | |
| --- | --- |
| Engine Code: | RB26DETT |
| Displacement (cc): | 2568 |
| Bore & Stroke (mm): | 86.0 x 73.7mm |
| Peak Horsepower (@ RPM): | 280 ps/6800rpm |
| Peak Torque (@ RPM): | 36kg*m/4400rpm |
| Pistons/Compression Ratio: | 8.5 to 1 |
| Connecting Rods / Crank: | Stock |
| Camshafts: | Stock |
| Valves/Springs/Retainers: | Stock |
| Intake Manifold/Throttle Body: | Stock |
| Fuel Delivery System: | Stock |
| Engine Management System: | Stock |
| Boost Controller: | Greddy Profec B |
| Spark Plugs: | NGK R |
| Exhaust System / Downpipe: | Apex'I N1 |
| Intercooler: | Apex'I GTR intercooler |
| Cooling System: | KOYO radiator |
| Oil System | Grex relocator and Oil cooler |
| Performance Electronics: | Apex'I SAFC |
| Gauges: | Auto Meter, Boost, Oil Pressure, Water Temp, Volts, Cylinder temp, and Air Fuel. |
| TURBOCHARGER | |
| --- | --- |
| Turbocharger: | Stock Twins |
| CHASSIS/DRIVELINE | |
| --- | --- |
| Clutch / Flywheel: | OS Giken Twin Disc |
| Axles / Driveshaft: | Custom Mckinney Motorsports |
| | One Piece |
| Wheels (Make, Size & Offset): | Motegi Track Lights 17×7 |
| Tires (Make & Size): | Bridgestones |