Spoiler alert! The character Han dies in the Fast and the Furious: Tokyo Drift. While this is no secret to fans of the F&F franchise, the actor who portrayed Han, Sung Kang, is alive, well and ever the automotive enthusiast. Kang has always had an interest in building a car that he could take to the track. He has always been a bit reserved however, and between family and career, there wasn't much time for many extra curricular hobbies.
Text by Richard Fong // Photos by Rob Shaw
---

Sharing the Experience
Kang eventually grew interested in Porsches, which was a common thread he shared with his friends Greg Hwang and Michael Jen. Looking for something that the three of them could work on together, he suggested that they buy and build a car for the track. Kang really liked the early 1970s Porsche 911S, but it was not practical to build as a budget racecar since they've become so expensive in recent years. Kang explained, "We're not professional
Discussions soon led to a more affordable vehicle of similar vintage, the Datsun 240Z. Kang, who grew up in Gainesville, Georgia, reminisced about the iconic Z and how it brought about a nostalgic feeling for him. Proving a more reasonable starting point, they started searching. They soon located this 1973 240Z in decent repair. The car was functional but clearly in a state of old age. It was due for restoration before it could be ready to be driven hard on the track.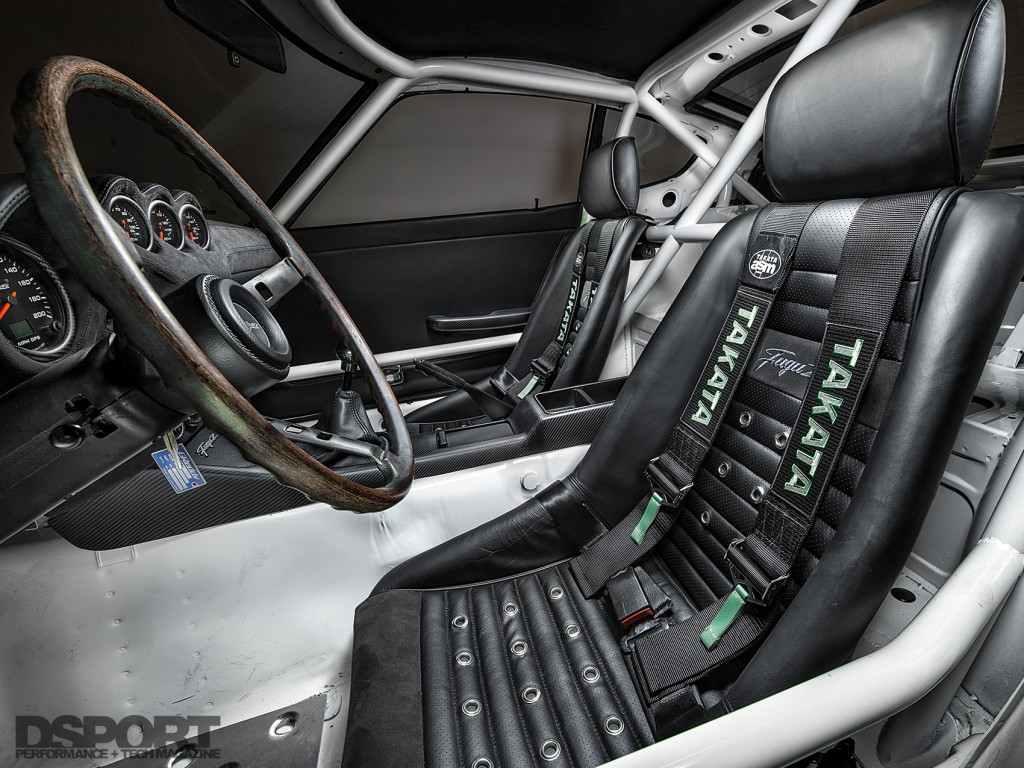 Social Media Call Out
Kang not only wanted to share the experience of building the 240Z with his friends, he also wanted to share it on social media with his nearly 390,000 followers on Instagram and more than 12.7 million followers on Faceboook. They started the project by stripping the S30 chassis down to a bare shell. Wanting to make their 240Z project stand out from other builds, Kang scoured the web and came across a front side shot of a red S30 with an aggressive wide-body kit. He posted the shot on Instagram, asking his followers if they knew of anyone who could make a similar body kit. He got over 170 replies, but he didn't have to scroll far down the list to get his answer. He was looking at a Rocket Bunny kit produced by TRA Kyoto and designed by Kei Miura. Miura's vision for the S30 wide-body kit caught Kang's attention, and when he posted up asking for help to discover how to get such a kit, TRA Kyoto's ally in America, GReddy Performance Products, was listening.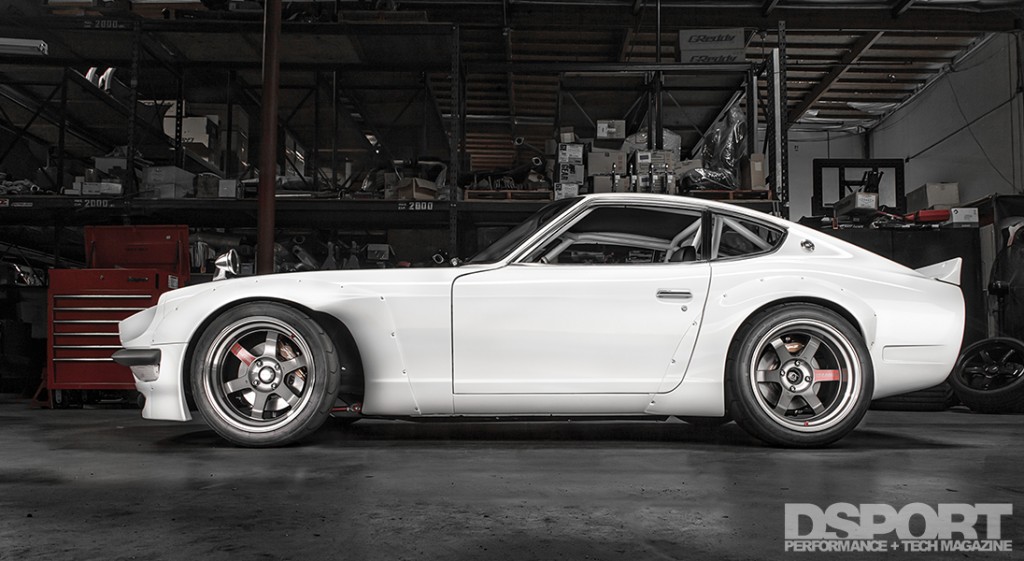 Support From Across the Pond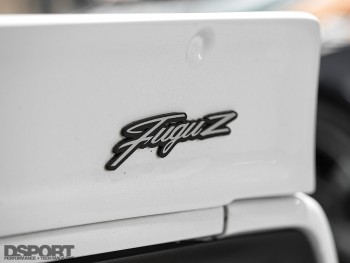 GReddy immediately reached out to Kang and arranged a meeting along with Jen and Hwang. They met with GReddy's Kenji Sumino and the GReddy staff to discuss their project. Sumino had once owned an S30 240Z and had an extensive knowledge base about the car. Soon the friends' project evolved to encompass GReddy Racing and TRA Kyoto. Miura was finishing up six new aero kit applications under a new kit series branded Pandem, and a kit for the S30 was among the new designs that TRA Kyoto wanted to showcase to the world. Ambitions were soon elevated as they hatched a plan to build the car for the 2015 SEMA Show in Las Vegas. This project became known as the FuguZ.
The puffer fish, called "fugu" in Japanese, is a delicacy that must be expertly prepared by licensed chefs for consumption. This is because fugu contains lethal toxins that are deadly if not properly removed. Kang decided to dub his project FuguZ because like a puffer fish, if a racecar is not properly prepared for the track, the end result can be life threatening.They hoped to capture the attention of the masses and to inspire enthusiasts by showcasing the right way to build a racecar.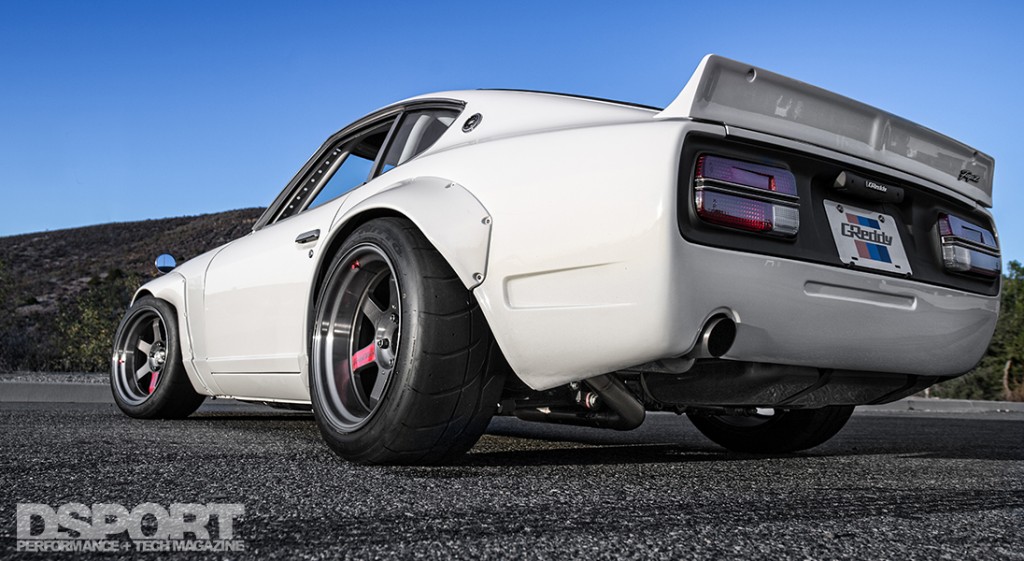 S30 Body Sculpting
The stripped S30 chassis was delivered to GReddy and the crew immediately went to work. GReddy Racing's Ben Schwartz and Aaron Van welded in a custom chromoly cage designed to be as unobtrusive as possible, facilitating easier ingress and egress. The chassis panels were stitch welded to reduce body flex while a set of frame rails from McKinney Motorsports helped to reinforce the chassis and increase its stiffness. These chassis preparations collectively helped to minimize chassis flex under hard cornering and aggressive acceleration. They also served to prepare the S30 for a more modern and more powerful alternative to the 151hp, carbureted 2.4-liter six-cylinder L24 engine that the car came with. With preparations completed, the chassis went to Signature Autobody to be sprayed in a period correct, factory Datsun hue of white, paint code #904.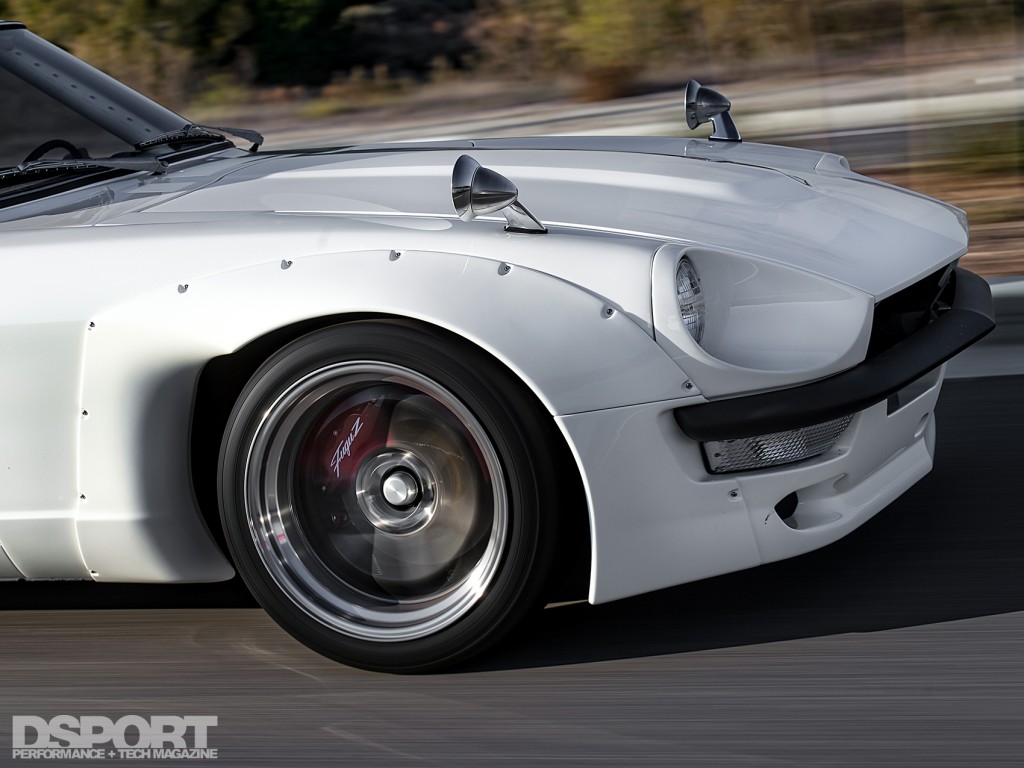 Turboless Terror
While Signature Autobody worked its magic on the shell, Sumino summoned upon experiences working on his own S30 project of the past. He had elected to fill the engine bay with a more modern inline six-cylinder engine to replace the L24 mill. He recommended upgrading to an RB26 engine from Nissan's legendary Skyline GT-R. Given that the S30 weighs only about 2,300 pounds and Kang was a relative newcomer to racing at the track, they decided to build the RB26 for naturally-aspirated operation. Sumino and the GReddy staff have a vast knowledge base when it comes to turbocharging and making enormous horsepower. In this instance, they didn't want to produce an uncontrollable amount of horsepower in a first track car. On top of that, building the S30 naturally-aspirated would stay true to its roots and would lend to reliability and simplicity.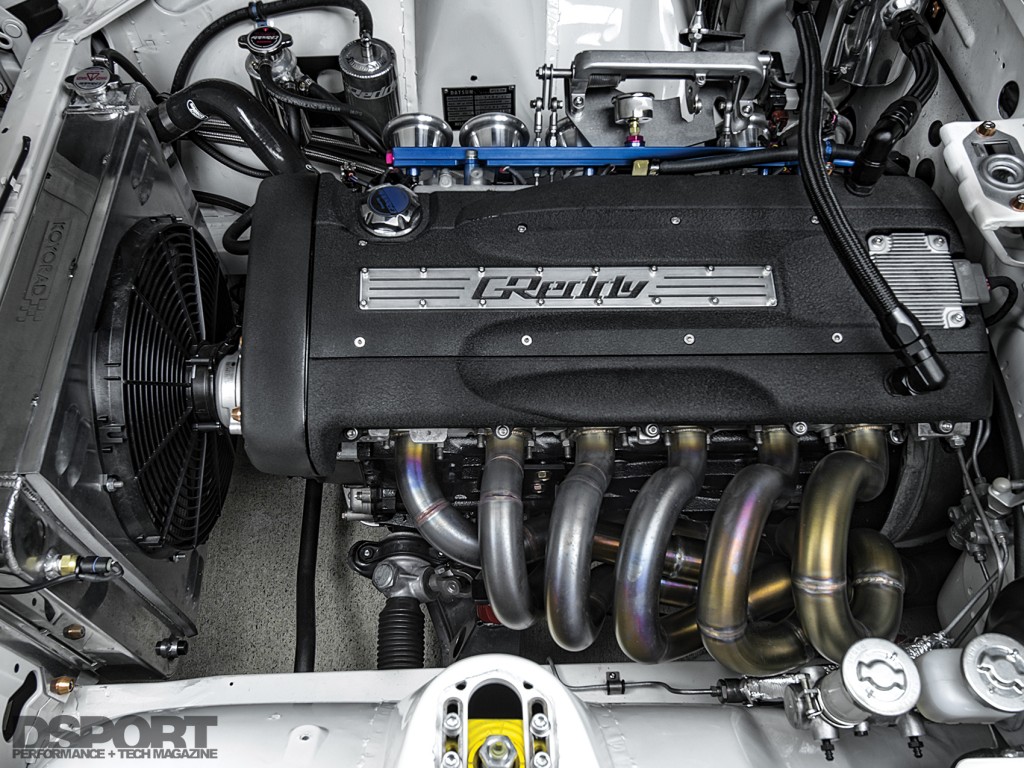 Ramping up the RB
GReddy delivered an RB26 block to the DSPORT machine shop, where machinist Magnus Ohlaker prepared the block for a fresh rotating assembly. Ohlaker dropped a six-pack of custom 12.0-to-1 high compression CP Pistons into the cylinders. Carrillo forged steel rods make the connection between the pistons and a factory crankshaft. The shortblock was then brought to Shingo Yugami at Bluemoon Performance to be reunited with the cylinder head. Tom Fujita at Port Flow Design had reworked the head, where he installed a complete Supertech valvetrain.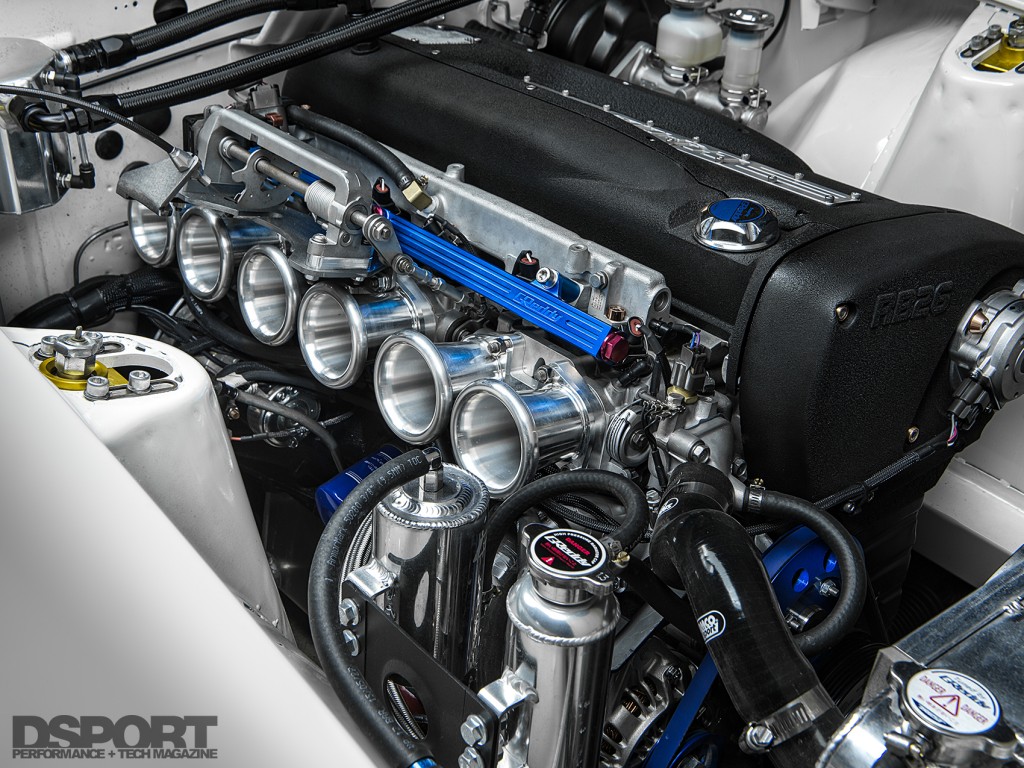 Retromodded Fairlady
When the chassis returned from paint, each of the wheel wells were treated to a modern upgrade composed of Techno Toy Tuning suspension arms and links sprung by a set of Techno Toy Tuning-spec Koni adjustable dampers and springs. The new steering knuckles and rear uprights connected to the links were outfitted with customized Wilwood brake calipers that peek out between the spokes of the wide and aggressively offset Volk Racing TE37VE wheels mounted with Nitto NT01 tires. To make best use of the increased contact patch being made with the road, the differential carrier now contains an OS Giken Super Lock limited-slip differential that splits the torque between the drive wheels.
Brought to Life
Once the longblock returned to GReddy, it was positioned in its new home. Schwartz and Van had already welded in custom engine mounts prior to the chassis leaving for paint, so it was a drop in affair once the RB26 was assembled. Hytech Exhaust fabricated a custom equal- length header and exhaust system for the S30, finished with a GReddy Evolution GT VE muffler. The factory individual throttle bodies were fitted with 350cc/min RC Engineering fuel injectors and a custom set of billet aluminum velocity stacks, which gives the RB26 the appearance of having carburetors. AEM Electronics' Infinity engine management system regulates the flow of fuel and the ignition timing. AEM's Beau Brown calibrated the fuel and ignition tables on GReddy's Dyno to optimize the engine's output.
From Concept to SEMA Star in 65 days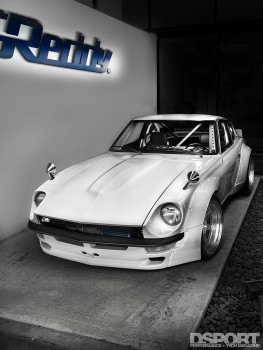 Support from the GReddy USA staff along with Sumino's guidance proved an essential element for getting the S30 completed and drivable in time for the 2015 SEMA Show in Las Vegas. Kang was at the shop several times a week, often burning the midnight oil with the staff and helping with the build. Kang was thrilled with the build and attended the private unveiling held at GReddy headquarters just days before the first day of the SEMA Show. Kang beamed with pride as the drape was pulled away and the select media that were present saw the car for the first time. The celebration was short lived, as the FuguZ was loaded up and transported across the desert to Las Vegas for the SEMA Show. It was displayed just outside the entrance to Central Hall, where it garnered an incredible amount of attention from show goers and social media followers. It also caught the attention of the Gran Turismo Awards judging panel. Later, at the Gran Turismo Awards, the game's creator and designer Kazunori Yamauchi announced that the FuguZ won the top honors and would be incorporated into the game. The recognition made the loss of sleep and the extra effort worthwhile to everyone involved with the build.
Lessons Learned from a Friend
At this point, Kang, Jen and Hwang hadn't even gone to a racetrack yet. Even so, Kang reflected on his interactions with the late Paul Walker, his Fast and Furious costar, fellow automotive enthusiast and friend. "After Paul passed away, I thought about a conversation we had. I asked him why he chose to drive his little Nissan truck when he had a warehouse full of amazing cars. I'd point out certain cars and Paul would state, 'One day I'll drive that car, not right now though, I don't want to ruin it.' I realized after he passed away that life is too short, you just have to go after whatever it is that you want. Don't worry about what other people think. Life is about shared experiences, and this project helped me share experiences with my friends while making new memories with new friends. We'll also get to share with others once we get out to the track." Not one to pass up on what life has to offer, the trio can hardly wait to put the FuguZ onto a racetrack.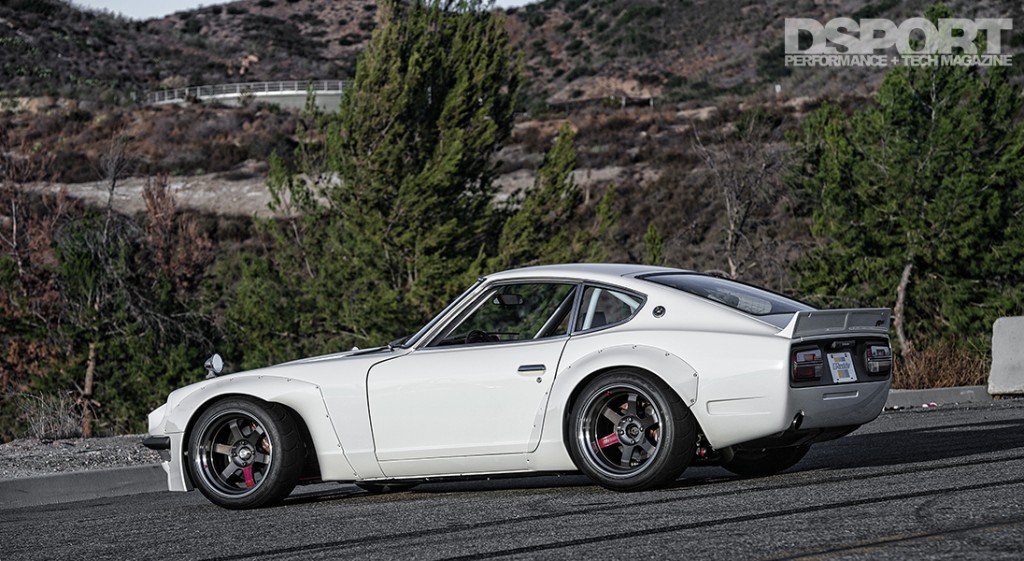 ---
SPEC SHEET
| VEHICLE | |
| --- | --- |
| Year / Make / Model: | 1973 Datsun 240Z |
| Chassis Code: | S30 |
| Redline RPM: | 9,600 RPM |
| Fuel: | 91 Octane |
| ENGINE | |
| --- | --- |
| Engine Code: | RB26DETT |
| Displacement (cc): | 2,593cc |
| Bore & Stroke (mm): | 86.4mm x 73.7mm |
| Dyno Type: | Dynojet 424xLC2 |
| Engine Builder: | Bluemoon Performance |
| Block Modifications: | Honed |
| Machine Work: | Magnus Ohlaker – DSPORT Machine Shop |
| Pistons/Compression Ratio: | CP Pistons, 12.0:1 Compression |
| Connecting Rods / Crank: | Carrillo Connecting Rods |
| Harmonic Damper: | ATI Crank Pulley |
| Valves/Springs/Retainers: | Supertech Valves, Springs & Ti Retainers |
| Head / Main Studs: | ARP Main and Head Studs |
| Intake Manifold/Throttle Body: | Factory Individual Throttle Bodies |
| | w/ Custom Billet Aluminum Velocity Stacks |
| Fuel Injectors: | RC Engineering 350cc/min Fuel Injectors |
| Fuel Delivery System: | GReddy Fuel Rail |
| Engine Management System: | AEM Infinity ECU |
| Engine Management Tuner: | Beau Brown / AEM Electronics |
| Ignition System: | AEM Electronics |
| Spark Plugs: | NGK |
| Exhaust Manifold: | Hytech Exhaust Inc. Manifold |
| Exhaust System / Downpipe: | Hytech Exhaust Inc. Exhaust System |
| | GReddy Evolution GT VE Muffler |
| Cooling System: | GReddy Air/Water Separator |
| | Koyo Radiator (modified) |
| | Samco Radiator Hoses |
| Oil System: | GReddy 13-row Oil Cooler & Air/Oil Separator |
| CHASSIS/DRIVELINE | |
| --- | --- |
| Springs, F&R (Make & Rate): | Techno Toy Tuning-spec Springs |
| Shocks, F&R (Make & Rate): | Techno Toy Tuning-spec Koni Adjustable Dampers |
| Additional Suspension Components: | Techno Toy Tuning Links and Arms |
| Transmission: | Factory RB25 5-speed |
| Final Drive: | 4.90:1 |
| Clutch / Flywheel: | OS Giken Single Disc Street Clutch |
| Differential(s) (Make & Type): | OS Giken Super Lock LSD |
| Wheels (Make, Size & Offset): | Volk Racing TE37 VE, 4×114.3 PCD |
| | 17×9.5-inch -15 (F), 17×10-inch -25 (R) |
| Tires (Make & Size): | Nitto NT01 235/40R17 (F), 255/40R17(R) |
| Brake Calipers (F&R): | Wilwood Modified Calipers, FuguZ Custom Logo |
| Brake Rotors (Diameter, F&R): | Wilwood Rotors, 300mm (F), 290mm (R) |
| Brake Pads (Front & Rear): | Wilwood Brake Pads |
| Brake Lines: | Wilwood Stainless-steel Braided Lines |
| INTERIOR | |
| --- | --- |
| Roll Bar / Cage: | GReddy Special Projects Roll Cage |
| Seats: | Carbon Signal FuguZ Spl. Dry Carbon |
| Harnesses: | Takata 4-point Harnesses |
| Gauges: | Speedhut Custom Gauges |
| Etc: | Carbon Signal FuguZ Spl. Dry Carbon Dash, |
| | Center Console and Door Panels |
| EXTERIOR | |
| --- | --- |
| Front Bumper+Spoiler: | Pandem by TRA Kyoto |
| Fenders, Spoiler: | Pandem by TRA Kyoto |
| Mirrors: | Fender-mounted Mirrors |
| Custom Body Work and Paint: | Signature Autobody |