"Bounce on the devil put the pedal to the floor." Unfortunately, a bone-stock FR-S/BRZ would most definitely leave Jay-Z with 99 problems, power being each and every of them. Nearly four years after its introduction, an overwhelming majority of enthusiasts continue to agree that the only thing missing from the otherwise nimble and fun FR-S/BRZ is a turbocharger. With its all-wheel- drive cousin, the WRX, featuring a turbocharged variant of the FA20 engine, we begged Toyobaru to stuff some boost into the modern day hachi-roku. As expected, they didn't listen. Fortunately, the aftermarket now offers a plethora of supercharging and turbocharging solutions to increase the power output of the FA20. The latest of these kits comes from Full-Race Motorsports, a company synonymous with three things: turbochargers, impeccable craftsmanship and high horsepower.
Text by Jun Chen // Photos by Sami Sharaf, Jun Chen & Cameron Parsons
---
The Hardware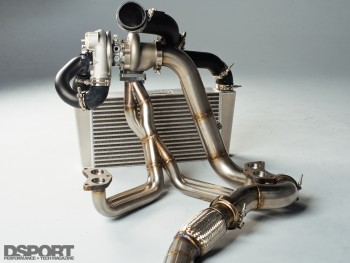 With over twenty turbocharger kits already available for the FR-S/BRZ, Full-Race's approach to forced induction for the FA20 wasn't to be the first to market. Instead, they designed and engineered the kit based on a principle shared across all of its turbo kit offerings: turbocharged engines work best when optimized for maximum efficiency on the exhaust side.
The foundation of the kit centers around Full-Race's signature turbo manifold. Constructed from high- grade stainless steel tubing, the manifold features a hand fabricated collector and robotically TIG-welded runners. Full-Race chose low-angle merge collectors combined with long runners to ensure quick spool and minimal pressure drop from the boxer engine. To complement the manifold is a plethora of BorgWarner EFR turbocharger options to meet the power goals of any enthusiast. Turbocharger options range from an ultra-responsive 300whp EFR6758 setup to the larger EFR7163 that can easily support 550whp and beyond on a fully-fortified mill with E85 or race gas.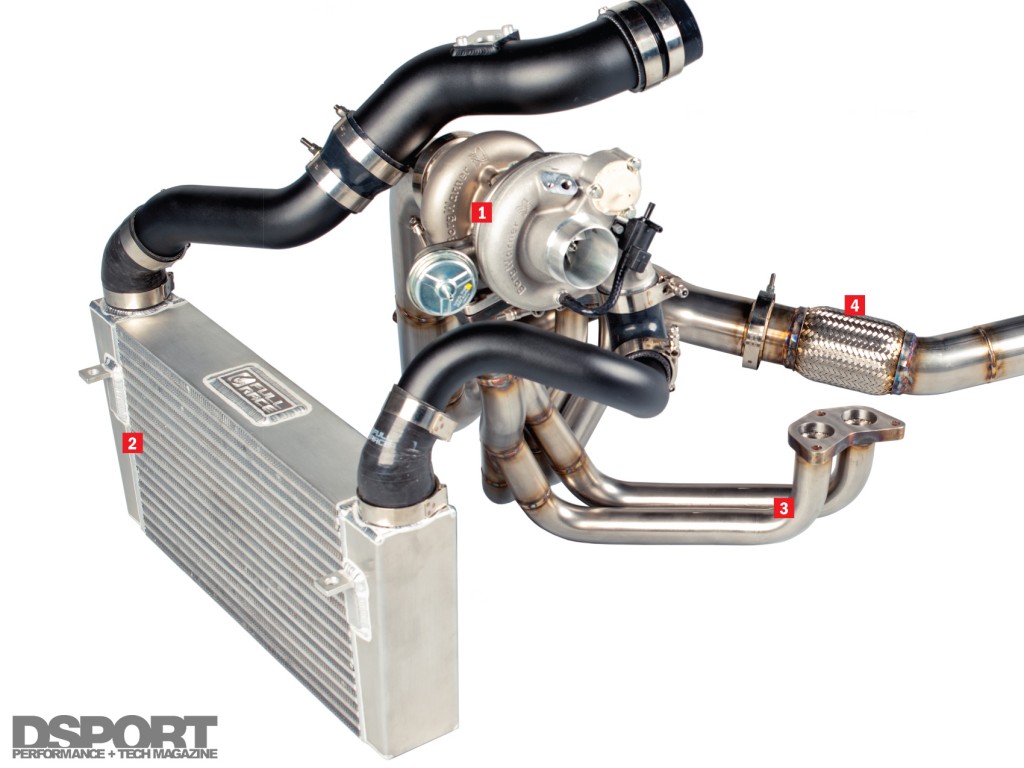 (1) The proven BorgWarner EFR turbocharger features an all-in-one design. The internal wastegate, built-in recirculation valve and turbo-mounted boost solenoid all contribute to minimizing the overall footprint of the turbocharger's ancillary components. (2) To keep the charge air as cool as possible, Full-Race stuffed in a large front-mount intercooler which mounts to the included replacement bumper beam. (3) Long runners paired with the low-angle merge collectors allows for good spool and plenty of top-end power. (4) The included 3-inch front pipe, overpipe and downpipe help route exhaust gasses as quick as possible to allow the turbocharger to breathe efficiently.
Full-Race FR-S/BRZ EFR Turbo Kit

Included Parts List

– Full-Race EFR Turbo Manifold
– BorgWarner EFR 7163 Turbo (0.85 A/R, IWG, T25) – Full-Race 3-Inch Downpipe
– Full-Race Intercooler with Mounting Beam
– Full-Race Charge Piping, Couplers and Clamps
– Full-Race Belt and Pulley Engine Shield
– Slim LHS Radiator Fan
– Full-Race Hardware Kit

Additional Parts Needed

– Oil Drain Fitting for oil pan
– Air Intake and air filter
– Catch Can Solution

Additional Parts Recommended

– 3-Inch exhaust system
– High-Performance Clutch
– Engine-Management System
– Fuel Pump (Minimum of 255lph)
– Fuel Injectors (Minimum of 750cc/min)
– Spark Plugs (2 Steps Colder)
– Heat management solution
Engineered for Racing
For the D'Garage FR-S, we stepped up to the EFR7163 option for a variety of reasons. First, our FR-S had already made over 300-wheel horsepower on the Innovate supercharger setup with E85. Secondly, we're building another FA20 engine with forged internals to handle the higher boost levels without issue. However, regardless of the turbo selected, the entire EFR lineup shares the same underlying technologies.
Outwardly, the EFR resembles no other turbocharger currently on the market. Whether you love or hate the aesthetic, the forward-thinking design of the EFR makes it one of the most lightweight, compact and versatile turbochargers currently available. The engineers at BorgWarner took the modern turbocharger back to the drawing board with the EFR series.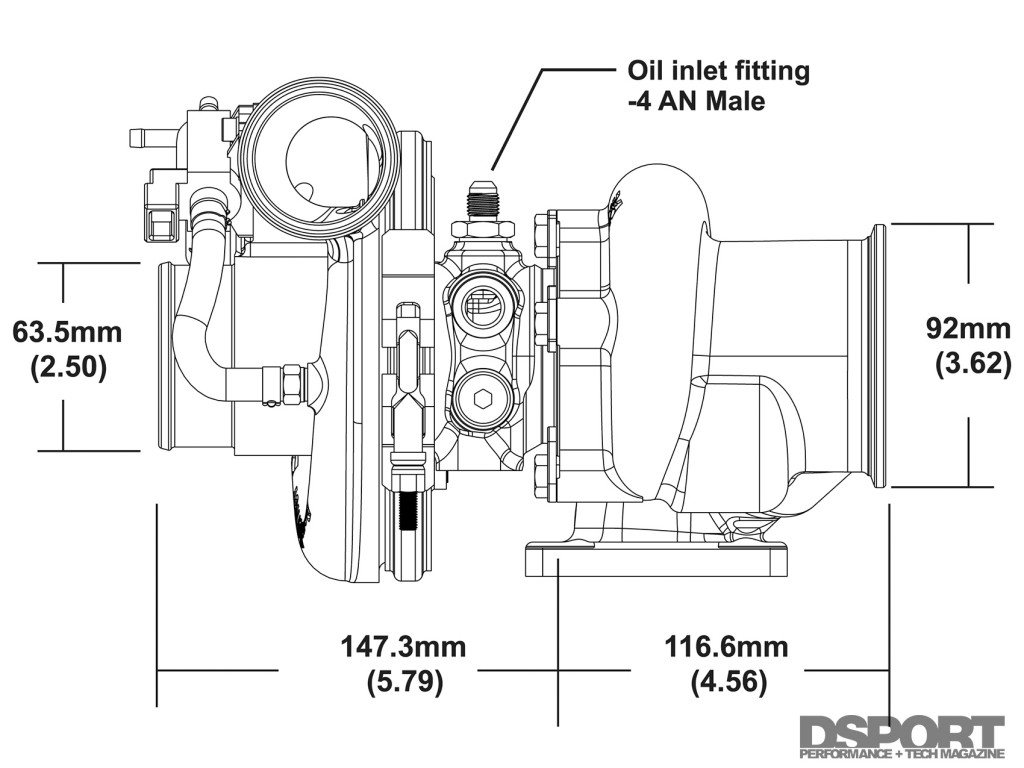 The overall footprint of the turbocharger system is drastically reduced by using an EFR turbo that incorporates a wastegate, boost solenoid and recirculation valve.
Feature Filled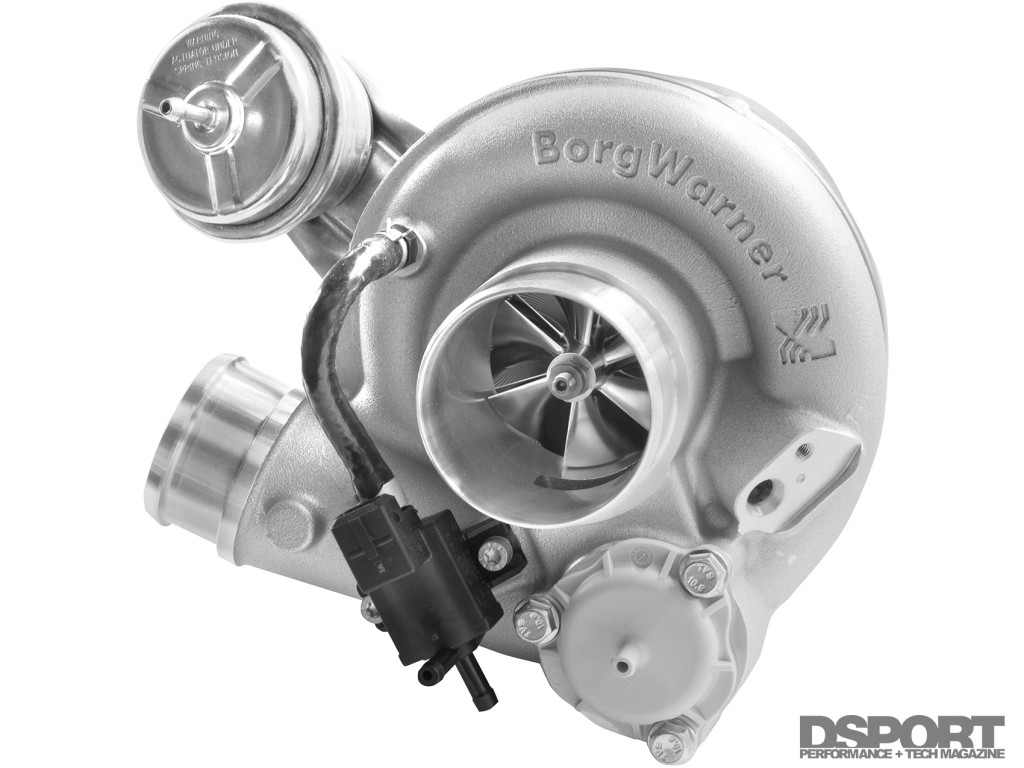 One of the most obvious features of the EFR is its internal wastegate design. Since most high boost applications rely on an external wastegate setup, the EFR team realized the need for an internal wastegate capable of handling the flow requirements of high performance applications. These 36mm or 42mm valves (depending on turbo size) feature a design optimized for airflow, allowing for up to 40-percent of airflow passing through the wastegate at maximum power. BorgWarner offers three actuators for the EFR, one for low, medium and high boost. Once the actuator is chosen, it can be easily tuned using the integrated rod-swivel joint.
In addition to the high-flow internal wastegate, the EFR continues the all-in-one (AIO) approach to the remainder of ancillary turbo components by squeezing a boost solenoid, recirculation valve and turbo speed sensor port on the compressor cover. These integrated features eliminate the need for an external blow-off valve, boost solenoid or drilling into the compressor housing to mount a speed sensor. Incorporating all of these components directly onto the turbocharger reduces the need for lengthy vacuum lines and minimizes the overall complexity of the turbo system.
Performance from the Inside Out

At its center, the EFR's center hub rotating assembly (CHRA) utilizes a dual-row ceramic ball bearing system and water cooling for minimal parasitic loss, quick spool and improved thrust capacity. Out back, the EFR features its proprietary Gamma-Ti turbine wheel. This material, neither a metal nor a ceramic, weighs just half that of a typical turbine wheel while maintaining a very high temperature capacity. Likewise, the compressor side of the equation also receives an upgraded CNC-machined "Forged Milled Wheel" compressor wheel.
Behind the Helmet
Full-Race fabricates each and every one of its turbo kits right here in the USA. Based in Phoenix, Arizona, the manufacturing process begins with cutting the required tubes to length, shape and size. Then, a highly-skilled welder will tack and weld a flange and the appropriate tubes together to form the merge collector. Once complete, the collector will join a set of robotically TIG-welded runners to form a manifold. Intercoolers and all associated piping are also fabricated in-house.

By using a combination of robotic welders and several finish welders, Full-Race ensures full penetration of all its welds while a watchful eye of a skilled finish welder carries out the intricate welds not possible by the robotic welder.

Supporting Cast
Making the move to E85 and a larger turbocharger like the 7163 requires a fuel system capable of handling significantly increased fuel demands. To provide additional fueling capacity, we turned to Fuel Injector Clinic for a set of 880 cc/min injectors (p/n IS144-0880H) and plug-n-play pigtail adapters (p/n PADPJtoD4). Fuel Injector Clinic claims that its data match technology provides some of the most complete flow matching and latency value information on the market. Feeding those four high-flow injectors is an E85-compatible AEM 320LPH in-tank fuel pump (p/n 50-1220). Designed to work with ethanol fuels up to E100 and all types of gasoline, this pump will sufficiently meet our fueling needs at our desired power levels in a compact package that fits inside the factory FR-S/BRZ fuel pump basket.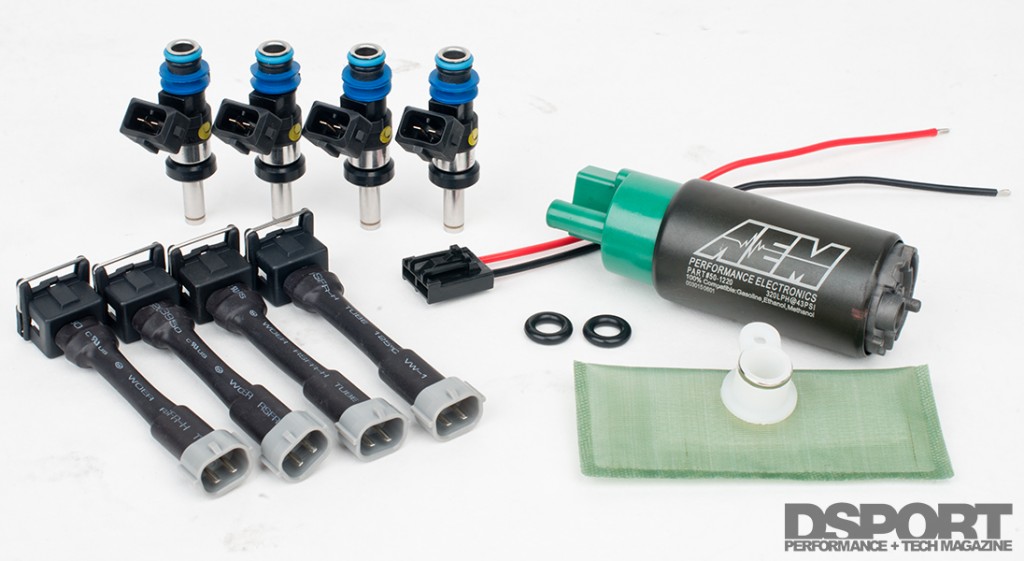 Blow-by Protection
Big boost often translates into increased oil blow-by, a case of fuel, air and moisture seeping past the piston rings and into the crankcase. The blow-by cocktail is then released by the crankcase vents back into the intake pipe, reducing horsepower. To help protect against this phenomenon, we installed the Mishimoto FR-S/BRZ baffled oil catch can (p/n MMBCC-BRZ-13P). This catch can features billet 6061 construction, a bolt-on application-specific bracket and a 50 micron bronze filter to keep blow-by at bay.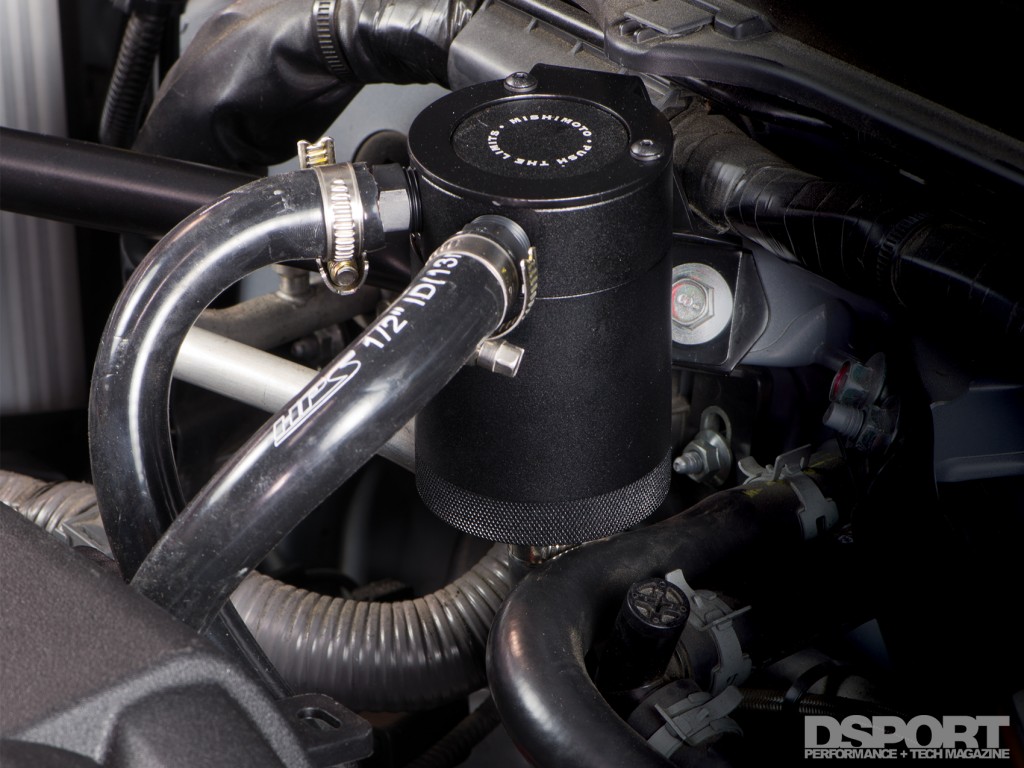 Heat Rejection
Due to the addition of a very hot turbo to the front of the engine, we put together a heat management plan. Full-Race recommends that various lines and hoses be wrapped in a gold foil to protect against radiant heat. To this end, we chose DEI's Reflect-A-GOLD heat reflective tape to wrap the turbo coolant lines, lower radiator hose and slim fan motor assembly. The metalized polyamide polymer laminated glass cloth handles continual temperatures up to 850°F. In addition to the heat created by the turbo, we wanted to minimize any heat created by the manifold. By wrapping the manifold with DEI's Titanium Exhaust Wrap, the exhaust gas heat stays hotter, thereby improving exhaust gas velocity and also radiating less heat into the engine bay.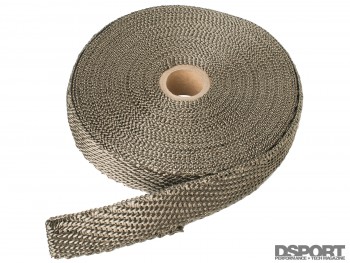 Filter Magic
Even though the AEM Brute Force Dryflow Air Filters are mainly designed for off-road applications, we opted for a 21-2039BF conical filter due to its tremendous amount of media surface area which bumps up filtration capability. The filter we selected measured a massive 9.25-inches in height and it allowed us to use a full 3-inch intake pipe all the way from the turbocharger to the filter inlet.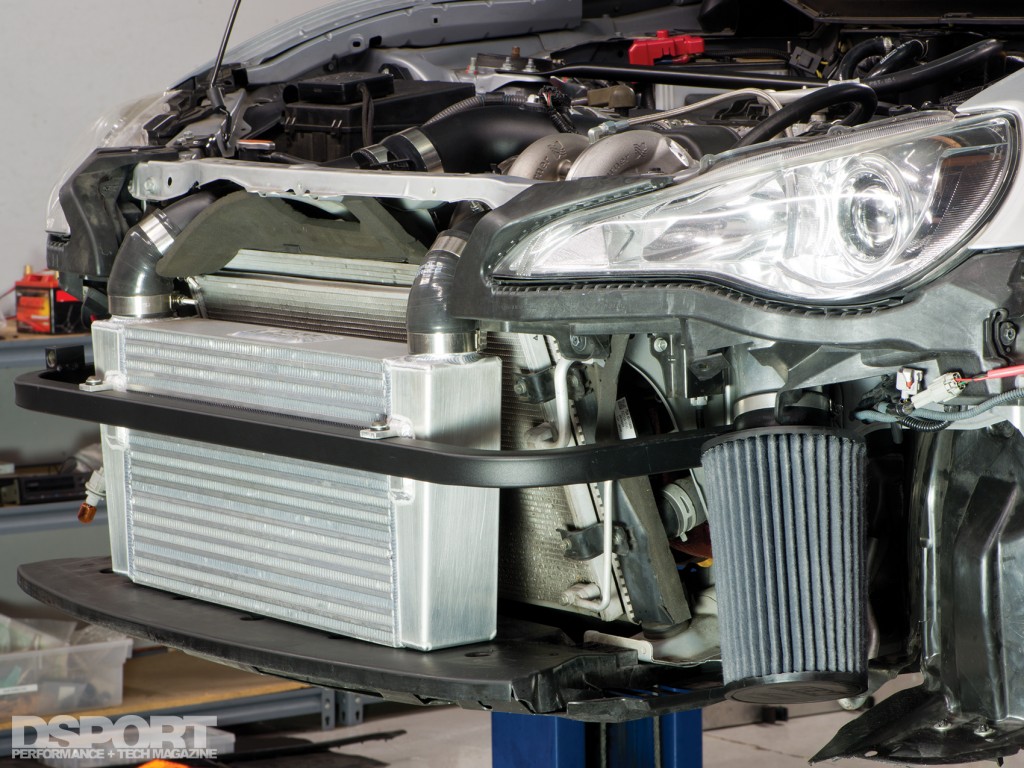 Almost a Bolt-on Affair
Given the nature of turbocharger installations, this top mount kit is actually pretty straightforward. The charge pipe setup requires some trimming of the non-structural headlight support and a -10AN fitting must be welded to the oil pan for the oil drain. Full- Race includes detailed step-by-step installation instructions on its website, complete with pictures and tips for a smooth install. We took our time to ensure proper installation of all components and didn't encounter any major setbacks.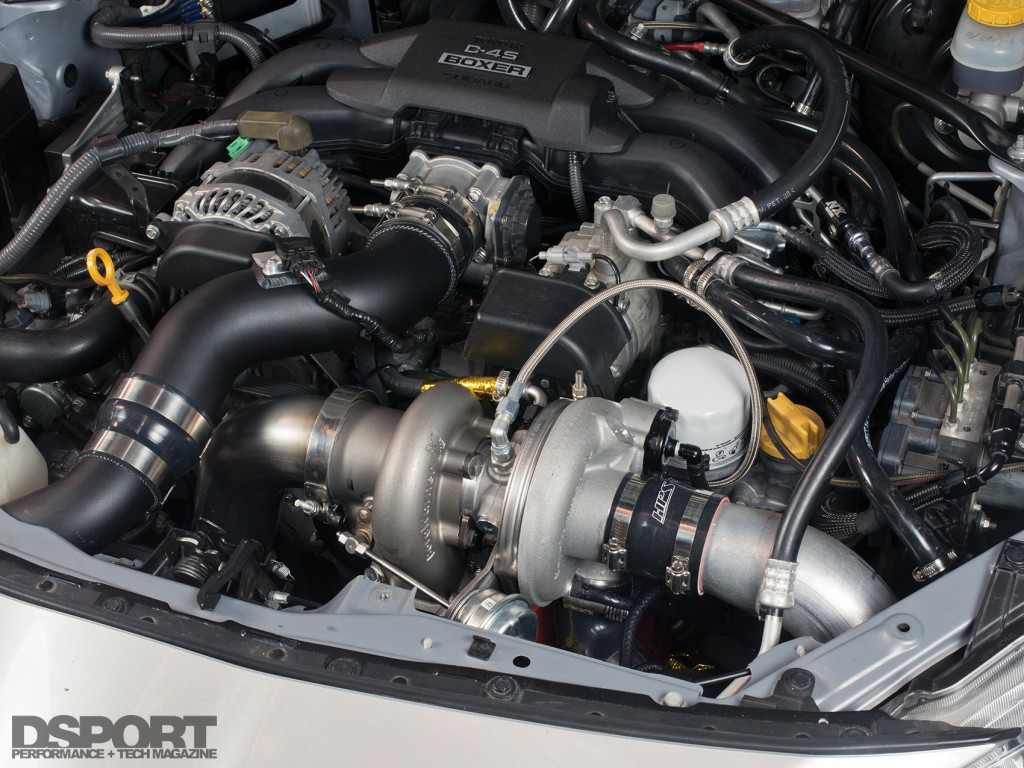 Flex-Fuel Tuning
With the kit installed and ready for a tuning session on the DSPORT Dynojet all-wheel- drive dynamometer, we turned to our resident EcuTek pro tuner Bill Knose from Delicious Tuning. Already equipped with the flex-fuel kit from Delicious Tuning, our D'Garage FR-S hit the dyno for a tuning session on both 91 octane and E85. Beginning with ACN 91 octane at about 10 PSI of boost, we were able to reach 308.43 wheel horsepower and 247 lb-ft. of torque. Bill added in a throttle boost control for the ACN 91 octane because the boost creeped significantly at high RPMs and the only way to control it was with throttle control. The flat torque and subsequent linear power curve makes for a "this is what it should have felt like" experience.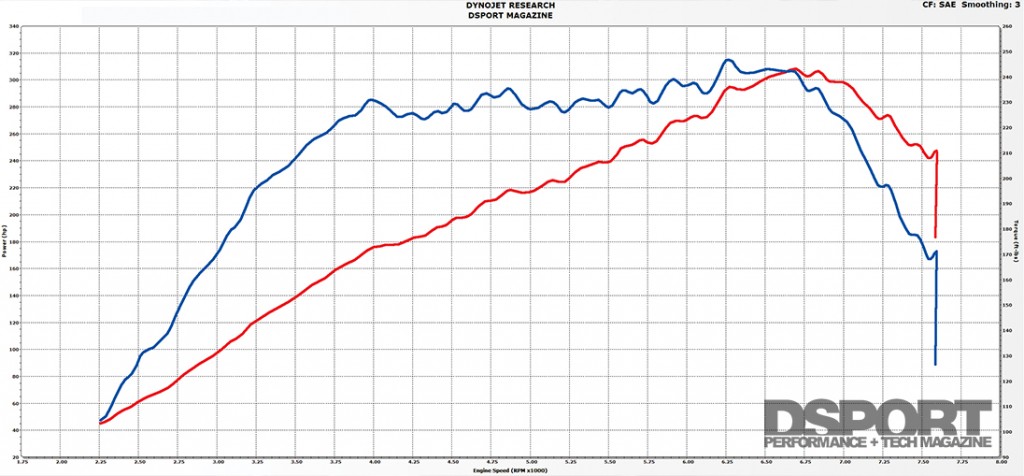 On 91 octane, the FA20 pumped out 308.43 whp and 247 lb-ft of torque.
Although the 91 octane results were impressive, we quickly drained the fuel and poured in a few gallons of fresh E85 to see where the 7163 could take our stock-block FA20. Once back on the dyno, Bill slowly increased the boost up to about 15 PSI. At this boost level, the D'Garage FR-S put down 411.17 wheel horsepower and 332.13 lb-ft. of torque. Unfortunately, the connecting rods on the FA20 are known to let go around this torque range so we wouldn't recommend going above 330 lb-ft of torque. While the 7163 turbocharger definitely had more power left in it, we decided not to push our limits. Even though the factory engine left the dyno in one piece, we think we might be dangerously close to the threshold of what's sustainable. We'll see how long this setup lasts and anticipate going to more power at higher boost levels for the fully-built engine we're putting together at Club DSPORT.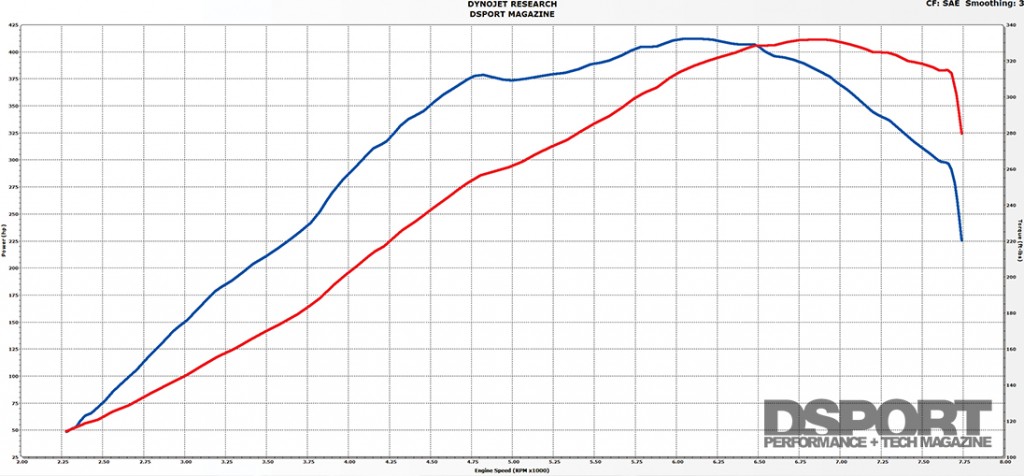 On E85, the FA20 generated 411.17 whp and 332.13 lb-ft of torque.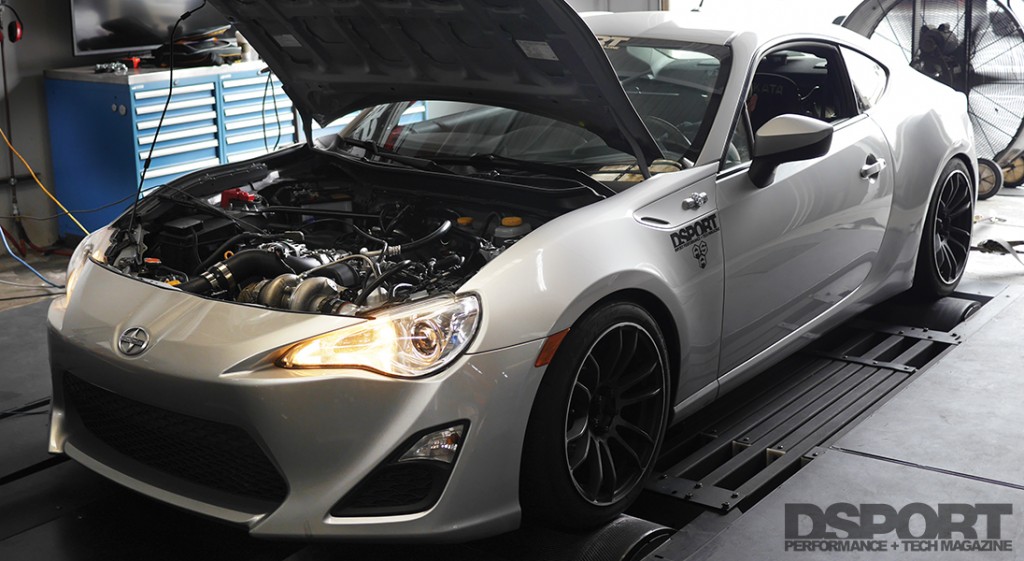 Inside Look: Full Race Motorsports