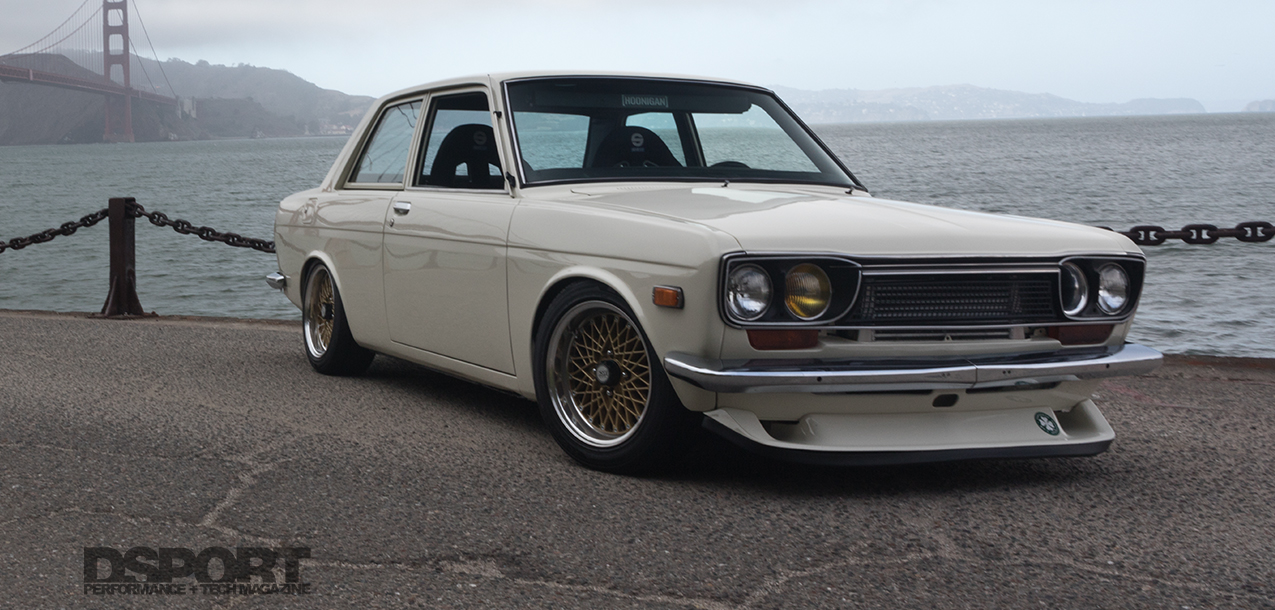 There's no denying a streetcar the respect it deserves when it performs as good as it appears.
That being said, it's not uncommon to see a show car equipped with high-end competition components and a dyno sheet to validate its potential. But in order to preserve the appearance and to keep cleaning to a minimum between shows, these machines rarely hit the track or street. But for those that build their cars to drive, wear and tear be damned if it stops them from really putting their ride to the test on the street, strip or road course.
Text and Photos by Richard Fong
---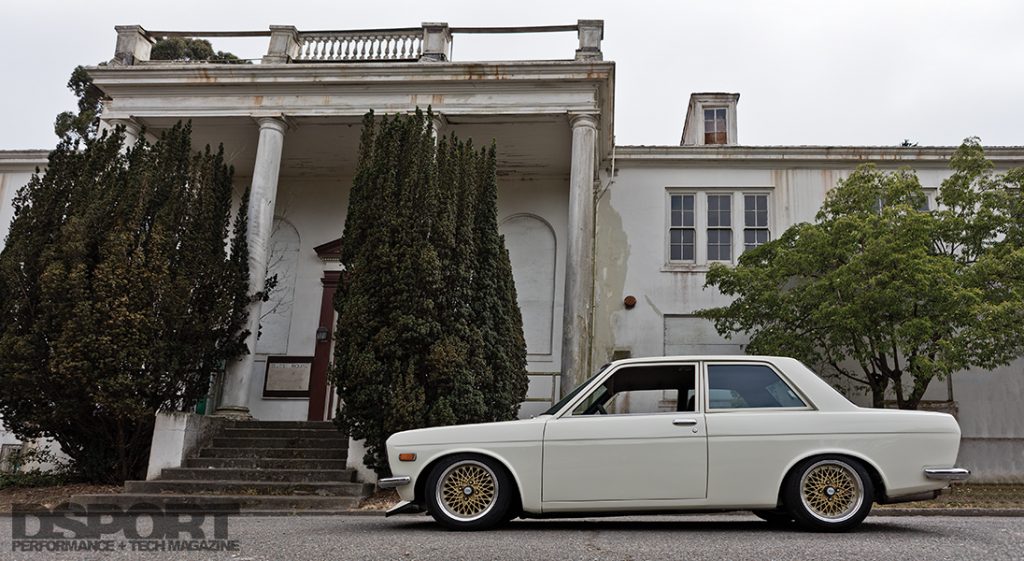 Building on a 510 Dream
Ben Webb grew up admiring the Datsun 510. He remembered watching the 510s competing at IMSA races and thinking how cool it would be to actually own one. Unfortunately, this aspiration fell by the wayside when he got older. As a teenager, he started tinkering with VW Bugs before moving on to Hondas. Like many import enthusiasts, he fiddled with B-series engine swaps into a few of his projects. He briefly embraced the air suspension craze when he dropped a Tacoma on bags, but shortly after returned to the sport compact realm with the purchase of an SC300. Just before turbocharging the Lexus, he thought about the hassles he would ultimately face when it came time to register the car. As a longtime resident of California, one of the strictest of states with regard to emissions, Webb knew he would likely encounter quite a few hurdles whenever it was time to renew his registration. He explained, "I had some painful experiences working on cars in the past and dealing with smog laws. I came really close to putting the turbo kit on the SC300, but I changed my mind at the last moment because of all the challenges keeping it legal for street use."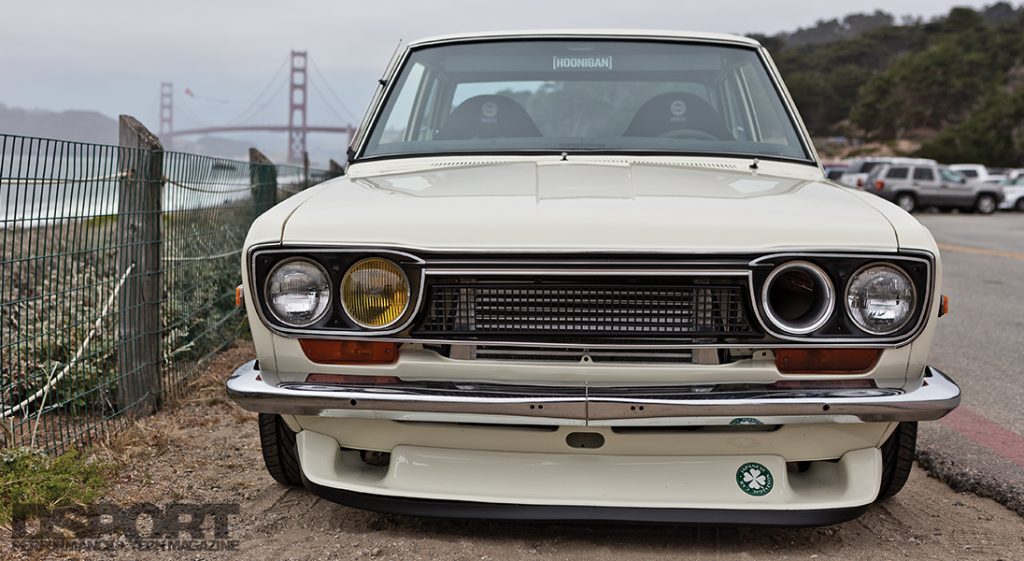 Age has its Privileges
Webb figured that the best way to avoid dealing with emissions headaches would be to seek a vehicle exempt from emissions testing. In California, it would be a vehicle manufactured prior to 1975. This was the perfect excuse to fulfill his childhood wish, as he began shopping for his old favorite, the Datsun 510. Webb eventually found and purchased this 1971 Datsun 510 coupe in 2009. Located in Southern California, it was rust free, painted primer black and benefited from an unmodified SR20 engine swap from an S13 Silvia. At this point, Webb intended to make a few refinements so that he would have a classic, smog-exempt daily driver with a touch of modern performance, reliability and safety.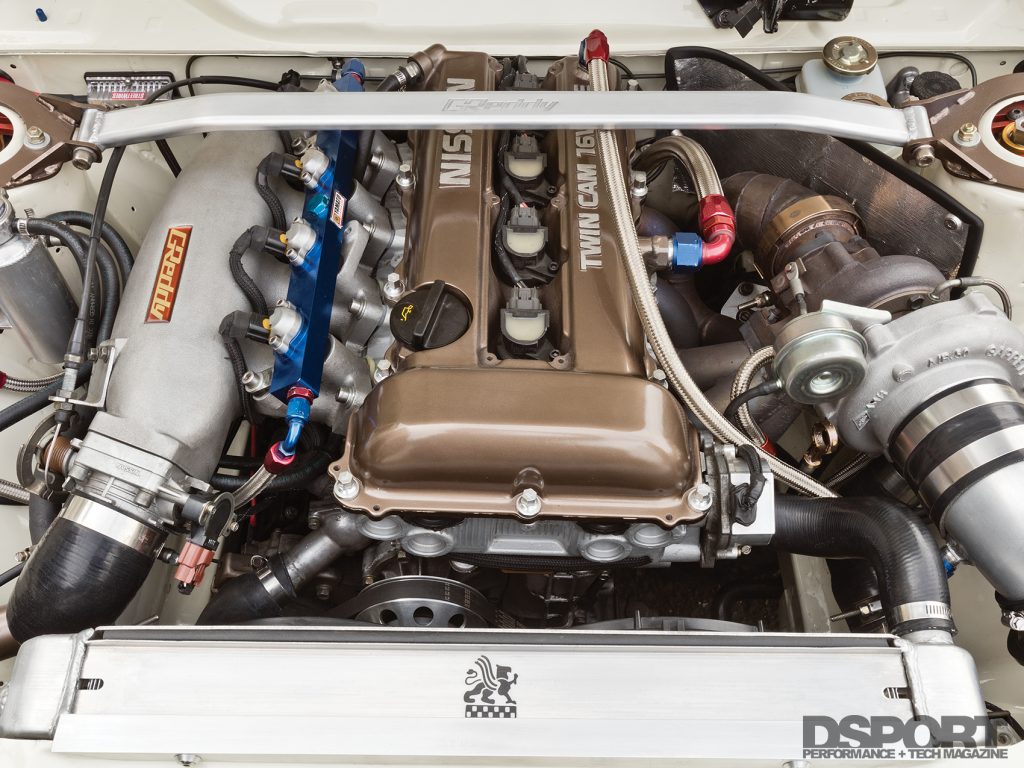 Professional Influence
The turbocharged 510 was not without its flaws however, as Webb noticed that the swap could have been cleaner, the wiring was a rats nest and other details of the build seemed hurriedly assembled. But he anticipated that shortcomings could manifest over time and still saw the project as the raw material he could refine to his personal taste. A key factor in the direction of his build could be credited to Formula Drift driver Luke Longberger.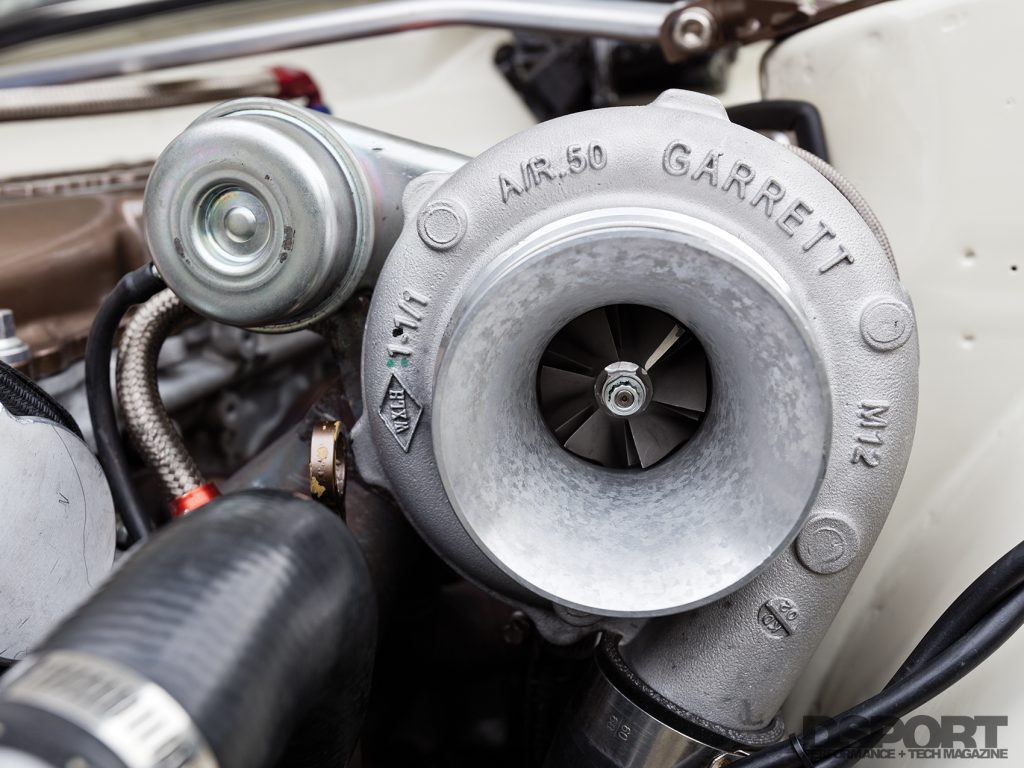 The Snowball Effect
To remedy some of the 510's issues, Webb sought assistance at a performance shop where Longberger happened to work. Longberger helped Webb iron out some issues, including an idling problem. This encounter forged a new friendship. When Longberger opened his own facility, Blu808, Webb became a regular fixture at the shop. He rewired the engine harness and redid much of the plumbing and refined the engine swap. He also learned a lot about fabrication and how professional competition builds are designed, learning what it means for a car to be "race- inspired". This moved him to step up his efforts, taking the 510 to full restomod status.
Not a Patina Proponent
While some might consider patina and other signs of "vintage" condition to be desirable, Webb wanted to give the 510 a showroom clean appearance. He stripped the chassis inside and out before having it sprayed in Datsun #637 Eggshell White, a period correct factory hue. The belly pan also received a fresh undercoat, further protecting it from the elements. Webb implemented subtle touches to the exterior, like the incorporation of a JDM Bluebird SSS grill and Bluebird taillights.
Inside the cabin, a pair of Sparco 960 seats replaced the couches up front while the door panels and the rear bench seat were reupholstered to match the Sparco themed interior. The custom CNC-cut dash panel was covered in black before a host of Auto Meter gauges were placed into the precision cut openings. As a finishing touch, a Sparco Mugello steering wheel, hub and shift knob complete the interior adornments.
Turn't Up with Boost
Webb's restomod project not only encompassed the exterior, it also enveloped the 510's transplanted driveline. Progressively upgrading the stock SR20 engine with bolt-on upgrades eventually led to cylinder head upgrades in the form of HKS valve springs, retainers and Step 2 camshafts. Longberger then fabricated a tubular exhaust manifold that positioned a Garrett GT2871R turbocharger in a top-mount configuration. While a Blu808 custom downpipe and exhaust direct spent gasses through a Magnaflow muffler, a QTP electronic exhaust cutout diverts the spent gasses straight to atmosphere with a flip of a switch.
So Much for Staying Stock
Soon after, Webb jumped at the opportunity to upgrade to a built bottom end by Victory Machine, the machine shop that works on Blu808's race engines. The engine featured Darton sleeves machined to the factory 86mm bore size. Arias 9.0-to-1 compression pistons filled the cylinders, while Eagle connecting rods join the slugs to the crankshaft. With tuner Mitch Pederson of MP Tuning calibrating the AEM engine management system to a maximum boost pressure of 21.5 psi, the 510 spun the rollers of Z Car Garage's Dynojet Dynamometer to a peak output of 373 horsepower and 333 lb- of torque.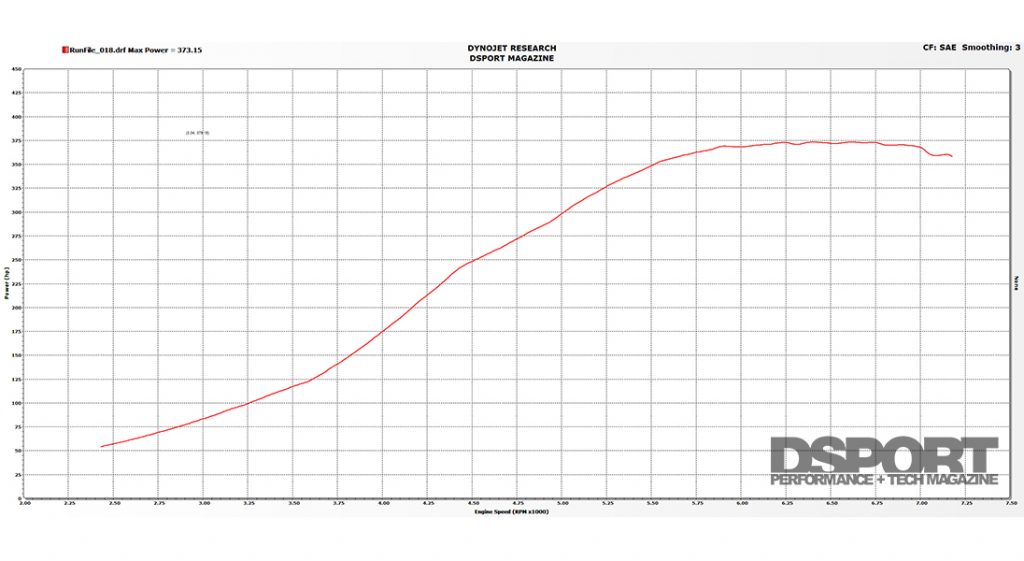 Checked off the Bucket List
Buying and building the car that inspired him at the IMSA races of his youth made one of Webb's dreams a reality. He shared a little about the experience, stating that "Seeing it all come together for the first time was really cool. Although it became much more involved than I had originally aspired, my 510 still became the restomod that I ultimately desired. My goal was to build a car that would bring me the greatest enjoyment while driving it, so I never lost focus on keeping the car streetable. Driving it on the weekends in the Santa Cruz mountains brings me a lot of satisfaction. It handles like a street-legal go kart. Since I bought the car, it seems like there has been a sharp increase in the number of Datsun owners getting together for regular meets, fun runs and swap meets, which I've really enjoyed being a part of."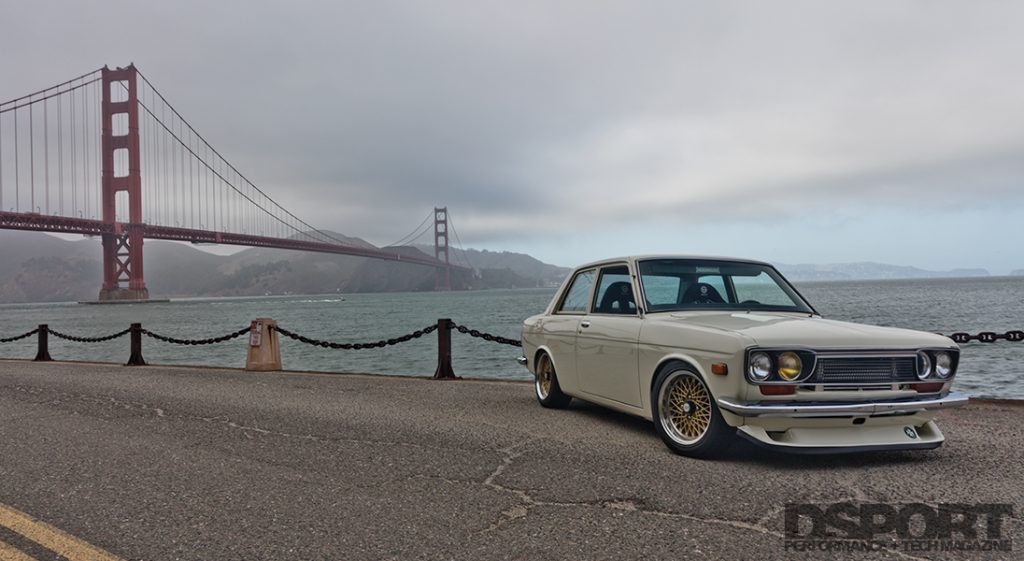 ---
SPEC SHEET
| VEHICLE | |
| --- | --- |
| Year / Make / Model: | 1971 Datsun 510 |
| Chassis Code: | PL510 |
| Vehicle Weight: | 1,950 lbs. |
| Redline RPM: | 7,000 RPM |
| Peak Boost: | 21.5 psi |
| Fuel: | 91 Octane Pump |
| ENGINE | |
| --- | --- |
| Engine Code: | SR20DET |
| Displacement (cc): | 1,998cc |
| Bore & Stroke (mm): | 86mm x 86mm |
| Peak Horsepower (@ RPM): | 373.2 whp @ 6,400 RPM |
| Peak Torque (@ RPM): | 333.8 lb-ft @ 5,500 RPM |
| Dyno Type: | Dynojet Dynamometer – Z Car Garage |
| Engine Builder: | Blu808 |
| Block Modifications: | Darton Ductile Iron Sleeves |
| Machine Work: | Victory Machine |
| Pistons/Compression Ratio: | Arias Forged Pistons, 9.0:1 Compression |
| Connecting Rods / Crank: | Eagle Connecting Rods |
| Camshafts: | HKS Step 2 Camshafts & Adjustable Cam Gears |
| Valves/Springs/Retainers: | HKS Springs, Retainers & Rocker Arm Stoppers |
| Cylinder Head Gasket: | A'PEXi 1.2mm Head Gasket |
| Head/Main Studs: | ARP |
| Intake Manifold/Throttle Body: | GReddy Intake Plenum |
| Air Induction System: | AEM 4-inch DryFlow Filter |
| | Custom Intake Pipe |
| Fuel Injectors: | HKS 555 cc/min Injectors (x4) |
| Fuel Delivery System: | Walbro 255-lph Pump |
| | Holley Fuel Pump |
| | Custom Surge Tank |
| | Summit Fuel Pressure Regulator |
| | Yamato Garage Billet Fuel Rail |
| Engine Management System: | AEM EMS Converted to Speed Density |
| Engine Management Tuner: | Mitch Pederson (MP Tuning) |
| Boost Controller: | Blitz Dual Spec |
| Spark Plugs: | NKG BRK7 |
| Exhaust Manifold: | Blu808 Custom Stainless Steel Manifold |
| Exhaust System / Downpipe: | Blu808 Custom Stainless Downpipe and Exhaust |
| | Magnaflow 3-inch Muffler, QTP 3-inch Low Pro |
| | Electronic Exhaust Cutout, ATP GT28 |
| | V-band Adapter |
| Blow-Off Valve: | GReddy Type RS |
| Intercooler: | GReddy S13 Intercooler w/ Custom Pipes |
| Cooling System: | Griffin Radiator w/ Custom CNC Shroud |
| | Spal Puller Fans (x2) |
| | GReddy Air/Water Separator |
| | Mishimoto Overflow Tank |
| | NISMO Thermostat |
| | Factory S14 Water Pump |
| Oil System: | GReddy High Capacity Pan |
| | TSR Fabrication High Flow Oil Pickup |
| | Blu808 Custom Baffled Valve Cover |
| Fuel Cell: | RCI 10 Gallon Aluminum Fuel Cell |
| Performance Electronics: | AEM MAP, AIT, Wideband UEGO |
| TURBOCHARGER | |
| --- | --- |
| Turbocharger: | Garrett GT2871R |
| Frame: | T28 |
| Compressor Wheel Specs: | 71mm Major, 51.20mm Inducer |
| Turbine Wheel Speds: | 53.9mm w/ 56 trim |
| Turbine Housing: | ATP 4-inch T04E Housing |
| CHASSIS/DRIVELINE | |
| --- | --- |
| Springs, F&R (Make & Rate): | Eibach Springs 200 lbf/in (F), 300 lbf/in (R) |
| Shocks, F&R (Make & Rate): | Koni Short Stroke Adjustable Race Shock (F) |
| | AGX Short Stroke Adjustable Shock (R) |
| | Techno Toy Tuning Coilover Kit |
| Additional Suspension Components: | Techno Toy Tuning Adjustable Camber Plates |
| | Ermish Racing RCA, Adjustable TC Rods |
| | MadDat Racing Front Swaybar |
| Transmission: | Factory S13 Silvia 5-Speed w/ B&M Short Shifter |
| Clutch / Flywheel: | ACT HD 6 Puck Clutch, Fidanza Lightened Flywheel |
| | MadDat Trans Bracket w/ Energy |
| | Suspension mount |
| Differential(s) (Make & Type): | NISMO 4 pinion R180 LSD |
| Final Drive: | 4.11:1 |
| Axles / Driveshaft: | Custom Driveshaft |
| Wheels (Make, Size & Offset): | SSR Formula Mesh 15×7-inch +1 (F), 15×7.5 +11 (R) |
| Tires (Make & Size): | Kumho Ecsta 195/50R15 |
| Brake Calipers (F&R): | 280ZX Turbo Calipers |
| Brake Rotors (Diameter, F&R): | Brembo 280ZX Turbo Rotors |
| Brake Pads (Front & Rear): | EBC Greenstuff Pads |
| Brake Lines: | Techno Toy Tuning Stainless-steel Braided Lines |
| INTERIOR | |
| --- | --- |
| Seats: | Sparco 960 Seats |
| Harnesses: | Sparco |
| Steering Wheel / Quick Release: | Sparco Mugello Wheel / Sparco Hub |
| Gauges: | Autometer Speedo, Tach, Oil, Boost & Temp |
| EXTERIOR | |
| --- | --- |
| Front Lip Spoiler: | BRE "Spook" Spoiler |
| Taillights: | JDM Bluebird Coupe Tail lights |
| Grill: | JDM Bluebird SSS |
| Paint: | Datsun #637 Eggshell White (Original Datsun Color) |
| Custom Body Work: | Shaved Rear Vents / Marker lights |