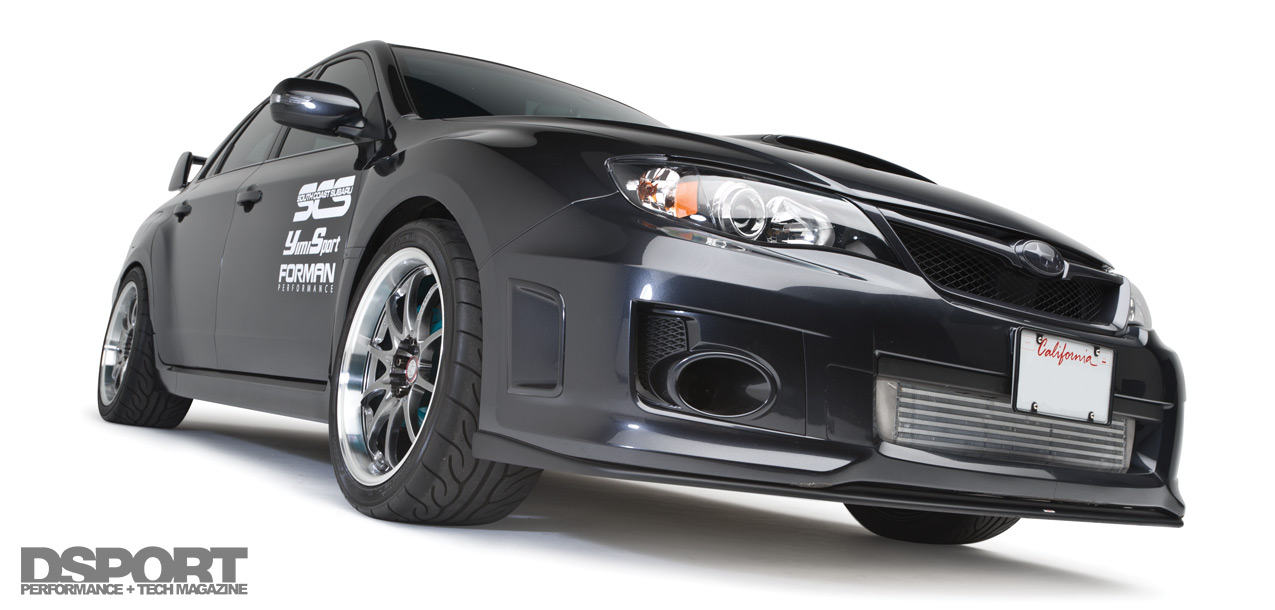 SOMETIMES IT'S HARD TO SAY GOODBYE. When one puts his passion into a build and genuinely loves the platform, parting ways is tough, as nothing else ever seems to measure up. For Michael Stephen, his 2006 Subaru Impreza STI build was a nearly perfect driving machine. It's not an exotic car and certainly doesn't cost as much as one, but Stephen enjoyed flogging it at the track and keeping up with American V8 muscle as well as some performance European models. But a fateful drive on California's Pacific Coast Highway (PCH) unexpectedly took the GDB Impreza away from him. Stephen explains, "I was driving on PCH when my 2006 STI spontaneously combusted and burned to the ground. It was later determined that a failed oil cooler hose sprayed oil on the turbocharger and exhaust manifold, causing the ensuing fire. That was a low point in my tuning experience. Afterwards, I sought other options, including the Nissan GT-R. I found that the GT-R had too much computer control. I didn't feel like I was driving the car, I felt like the car was driving me. I was also not a big fan of the GRB STI wagon. However, when I saw the 2011 GVB STI sedan and its signature wing, I was sold."
Text by Richard Fong // Photos by Michael Ferrara
---
Replacing The Fallen
After purchasing the new STI, Stephen decided that this build would be an all-around street champ. From commuting and grocery getting, to making weekend jaunts to snow country, his new STI would be able to tackle them all with ease. Little did he know that the GVB STI would become the superior successor of his beloved GDB.
Rising From The Ashes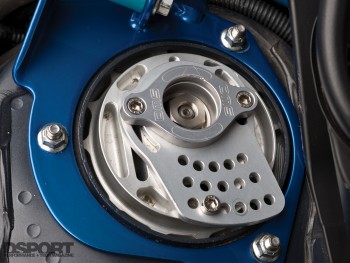 [pullquote]DMS camber plates allow a broad range of camber and caster adjustments.[/pullquote]
Like the mythical phoenix, the spirit of Stephen's old STI would reincarnate into the new chassis. Since one of his favored features of the STI is how it handles, Stephen sent the STI to Yimi Sport for suspension upgrades. Based on his prior experience, Stephen selected KW Suspension's Clubsport coilovers to keep the Yokohama-wrapped Volk Racing wheels planted in the turns. A host of Whiteline bushings and suspension upgrades added to the tack-sharp handling traits that make switchbacks so much fun. What Stephen felt made the greatest impact on handling was the OS Giken Superlock front and rear limited-slip differentials.He states, "With these LSDs in place, it feels like a totally different car. It just holds the road. Despite my efforts to find the threshold of adhesion, the STI just sticks and will not let go." The GVBs improved handling reminded him of his old STI, channeling his interest and energy away from practicality and back toward the high performance world of tuning.
Reaching Higher
While the modification process started innocently enough, it soon began to snowball out of control. Knowing that he wanted to produce in excess of 400 horsepower at the wheels, Stephen wanted to reinforce the EJ257 engine's internals. In search of consistent performance, he decided to go with a turn-key solution, a Cosworth Racing longblock. Based on his experience with Cosworth engines in his native UK, Stephen felt that this engine would be stout enough to handle his needs reliably. Cosworth Racing crate engines start as brand new OEM cores. This is to ensure spot-on assembly and function, and to avoid the potential for hidden issues that a used block might contain. The bores were honed to the proper spec before the Cosworth forged-aluminum pistons filled the cylinders. Forged-steel connecting rods make the connection to the billet-steel stroker crankshaft, bringing the displacement up to 2,520cc. The factory-fresh cylinder heads received Cosworth's CNC-port program before being equipped with a complete Cosworth valvetrain. H11 tool steel studs secure the heads to the block with Cosworth head gaskets, ensuring a positive seal at each end of the block assembly.