Forced-Induction Fury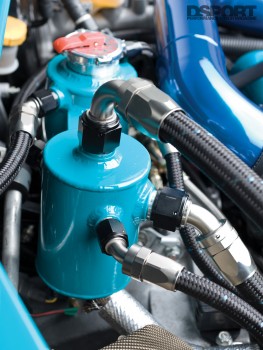 A Full-Race exhaust manifold bolted to the exhaust ports channels high enthalpy gasses into the twin-scroll turbine housing of a Forced Performance HTA3582 turbocharger. The superior scavenging effect of the twin-scroll design is a result of improved pressure distribution, which results in increased turbine efficiency and response. Custom intercooler piping links the compressor discharge to a custom Yimi Sport front-mount intercooler. Once the air charge leaves the intercooler, it enters the Cosworth intake manifold for distribution to the intake ports.DeatschWerks 1,000 cc/min injectors spray 100- octane unleaded into the airstream as it enters the combustion chambers. Fuel is supplied by a DeatschWerks 300-lph in-tank fuel pump and is distributed to the injectors by MSI fuel rails. A Yimi Sport 4-port boost controller regulates the boost pressure to a constant 27 psi. Yimi Sport's Paul Leung utilized a Cobb Tuning AccessPORT to explore and modify factory ECU fuel and ignition tables, allowing the STI to generate 559 horsepower and 496 lb-ft torque to the rollers of a Dynojet dynamometer. While the numbers look good on paper, Stephen's seat of the pants evaluation puts it into perspective. "With this new engine and turbocharger setup, the car accelerates like a Mercedes Benz SLS AMG. I'm constantly impressed by the endless torque that the engine seems to have. Even off boost it has great torque for the street."

Rising Higher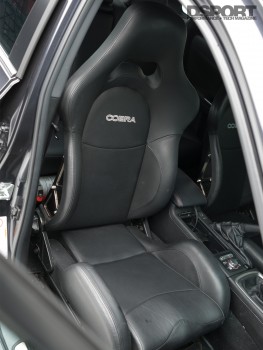 The STI has so far delivered on every level for Stephen, but he is still looking for more. He has made subtle exterior changes with a lip spoiler and a discharge vent at the side of the bumper for the oil cooler, but has plans to enhance the aerodynamics of the GVB for even greater downforce. Furthermore, Stephen plans to better equip the STI with replacement axles that can handle the shock of repeated drag-strip launches. There may even be an upgraded transmission in the future of this STI. "The beauty of this build is that it has transformed into a complete package. Power, handling, agility and nearly infinite tuning potential, all combined into one machine. There are still some upgrades that have not yet received my full attention, but I plan to address them next." Stephen continues, "In the mean time, learn from my example and be patient. I was very anxious and pushed the shop to finish the car because it was my only mode of transportation. In hindsight, I'd say don't rush a build. Let it come together naturally and don't rush the tuning shop. Let them do their work. It's less aggravation and less stressful for everyone involved."
Watch for Stephen and his reborn STI as he continues to shock
the exotics and make his way onto the racetrack.
The Boston Acoustics subwoofers andamplifier are hidden from view in the STI'spare tire